May, 8, 2013
5/08/13
12:51
PM ET
ESPN Boston's Mike Reiss reached out to me this morning for a post he was doing on former Tampa Bay and current New England running back
LeGarrette Blount
. You can read the full product
here
.

Belichick

Schiano
But the last question Reiss asked me brought up a point that's worthy of a post here. Reiss asked for my thoughts on the close relationship between New England coach Bill Belichick and Tampa Bay coach Greg Schiano.
The following is my answer to Reiss:
"It's pretty fascinating to watch. Coming into the NFL, Schiano talked about how much he respected Belichick and viewed him as his mentor. Turns out, that wasn't just lip service. The admiration seems to run both ways, with Belichick bringing in so many former Rutgers players. I know some of Tampa Bay's coaches were scheduled to meet with New England's staff this week. Supposedly, the purpose was to plan out joint practices during the preseason.
"But, given the relationship of the two head coaches, you have to wonder if this meeting also is a bit of 'think tank.' The AFC East and NFC South teams play each other this year. Belichick isn't going to give Schiano a blueprint of how to beat the Patriots. But it would help Belichick if Schiano and the Bucs can give the Jets, Dolphins and Bills a loss. And it would help Schiano if Belichick and the Patriots can knock off the Falcons, Saints and Panthers.''
I then played a little quid pro quo and asked Reiss for his thoughts on the relationship between Belichick and Schiano.
"The Belichick-Schiano dynamic reminds me a little bit of Belichick's previous connection with Florida coach Urban Meyer,'' Reiss said. "Over the years, Belichick has had a few known allies -- Meyer, Nick Saban etc. -- that are 'go-to' guys for him and whose opinions and trust trump most everything else. Schiano is definitely in that category.
"My opinion is that part of it is that Belichick's son, Steven, played for Schiano at Rutgers, which obviously hits close to home, and so Belichick got a real up-close view of how things were done at Rutgers. What he saw was pretty much reflective of how he tries to run his own program. Belichick has said as much, most recently noting that the team's three Rutgers draft picks are probably as ready for the NFL as any prospect in the draft.
"I'm sure there is more to it than that, and in the end, it comes down to trust. I'm not sure Belichick would have traded for
Aqib Talib
last year if Schiano wasn't on the other end of the trade, giving him information that he felt was genuine and accurate. Ditto for this year's trade for running back LeGarrette Blount. I'm also surprised that the teams are probably going to hold joint practices this preseason (mid-August) because they will be playing a game that counts about one month later. I think that also speaks to how strongly Belichick feels about Schiano.''
February, 17, 2012
2/17/12
5:59
PM ET
At long last, the
Tampa Bay Buccaneers
have a defensive coordinator.
The team reportedly
has hired
Bill Sheridan, who recently had been hired by Urban Meyer as Ohio State's defensive coordinator. But Sheridan is jumping to the Bucs before he even coached a game with the Buckeyes.
This is a big move for Tampa Bay coach Greg Schiano, who had been unsuccessful in pursuing several candidates for the position. Although Schiano has taken some criticism for having a staff dominated by his former assistants at Rutgers, the hiring of Sheridan gives him another coach with deep NFL ties.
Sheridan had been the defensive coordinator for the
New York Giants
in 2009. Prior to that, he was linebackers coach in New York for four seasons. He was linebackers coach for the
Miami Dolphins
in 2010.
The Bucs also reportedly
have hired
former NFL linebacker
Bryan Cox
as a defensive assistant. The addition of Sheridan and Cox gives Schiano's staff a stronger NFL flavor. In addition to his Rutgers assistants, Schiano also has hired former Giants quarterbacks coach
Mike Sullivan
as offensive coordinator. He's added former NFL head coach Butch Davis as a special assistant and long-time NFL assistant Jimmy Raye as a senior offensive assistant.
April, 25, 2011
4/25/11
11:05
AM ET
Time for a trip through the NFC South headlines.
Pete Dougherty writes about Alabama quarterback Greg McElroy as a
late-round prospect with a chance to be a sleeper
. I've thrown out the suggestion the Atlanta Falcons should take a shot on Delaware's Pat Devlin a bit later in the draft. But McElroy also could also be a fit. He'd be an instant upgrade over former Alabama teammate John Parker Wilson as the No. 3 quarterback and could challenge Chris Redman for the backup job. I could also see New Orleans taking a look at McElroy.
Atlanta tight end Tony Gonzalez has earned the right to say just about anything he wants. In a recent radio interview, Gonzalez said he's strongly
in favor of a rookie wage scale
.
Joe Person tracked down a bunch of Cam Newton's former coaches, including Urban Meyer, who had the quarterback at Florida. Read into it whatever you want, but Meyer was
willing to talk about Newton as a football player
. When asked to talk about him as a person, Meyer said, "I'm going to pass on that one."
Take a look at this
pre-draft synopsis
and go straight to Carolina. I get a little tired of people saying the Panthers need help everywhere and I know general manager Marty Hurney turns red every time he hears or sees something like that. Fact is, Carolina was 2-14 last season and it's easy to say their roster is bare. But that's simply not the case. Last year was about a lot of other things. But Carolina's roster still has plenty of talent -- Jordan Gross, Steve Smith, DeAngelo Williams, Jonathan Stewart, Ryan Kalil, Jon Beason, Chris Gamble and Charles Johnson.
Rick Stroud writes that troubled cornerback Aqib Talib
is all but gone from Tampa Bay
. I agree and have been saying that since Talib was charged with a crime in a March incident in Texas. Yes, the legal system hasn't played out and there is the chance Talib can be exonerated. But the mere fact Talib, who has a long history of off-field problems, was even involved in an incident with a gun didn't exactly flatter the NFL or the Bucs. The only thing remaining is sorting out the exit strategy. The Bucs can't do anything until after the lockout. If they don't cut or trade Talib right away, the NFL could beat them to the punch and suspend Talib.
Mike Triplett has an
interesting chat with some of the veteran Saints
who potentially could be free agents when the lockout ends and gets them talking about the uncertainty surrounding their futures.
December, 24, 2010
12/24/10
4:00
PM ET
»
NFC Final Word
:
East
|
West
|
North
|
South
»
AFC
:
East
|
West
|
North
|
South
Five nuggets of knowledge about Week 16.
The no-show bowl
. I think it's safe to say that next week's Outback Bowl between Penn State and Florida will draw this season's biggest crowd to Raymond James Stadium. Penn State fans are known for traveling and Tampa isn't far for most Florida fans to travel to say farewell to coach Urban Meyer. It's a good matchup. But, even though I'm wearing a Penn State hat as I type this, I don't see how the Gators and Nittany Lions are that much better of a matchup than Sunday's game between the
Seattle Seahawks
and the
Tampa Bay Buccaneers
. The Seahawks are very much in the hunt for the NFC West title and the Bucs still can get to the playoffs if they win this one and next week at New Orleans. This game won't be aired on local television in the Tampa Bay market, and it's probably going to draw about 35,000 fans. Blame it on the economy, the day after Christmas or whatever. But it seems pretty strange that every other game in the league with playoff implications sold out with ease.
[+] Enlarge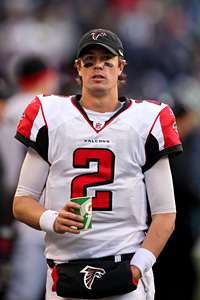 Mike Nelson/US PresswireQuarterback Matt Ryan has led Atlanta to the NFC's best record this season at 12-2.
Brees or Ryan?
We talked about this the other day. Is
Drew Brees
still the NFC South's best quarterback
or has
Matt Ryan
surpassed him this season? I believe it's a real close call and I think we'll know the verdict immediately after Monday night's game. In other words, the winner takes all -- at least for this season.
Running on empty.
The Bucs have been one of the great success stories of the league this season after going 3-13 last season. They've turned the corner and the future looks bright. But last week's embarrassing home loss to Detroit tells me the Bucs might have finally hit the wall this season. Coach Raheem Morris has squeezed every drop of talent out of his young team, but a ton of injuries appear to have finally caught up to the Bucs. Only a few weeks ago, I would have said the Bucs were headed for 10 or 11 wins. Now, the eight wins they already have is looking like a pretty realistic measure. This season has been a success in many ways. But winning against the Seahawks or next week in New Orleans would be nice, because it would allow the Bucs to close the season with momentum that can be carried over to next season.
Special rivalry
. I don't think I'm the only one who feels this way, and it's really nothing more than a hunch. But I think Monday's game between New Orleans and Atlanta will come down to special teams. My reason is simple. In their previous meeting in the Superdome in September, the Falcons won largely because
Garrett Hartley
missed a field goal. Atlanta fans like to remind New Orleans fans of that miss. And New Orleans fans like to remind Atlanta fans that the NFC South standings and the overall playoff picture might look a lot different if the Falcons hadn't been "lucky.'' Lucky or good, I think a special-teams play will make the difference in this one. Maybe it's a made or missed field goal attempt, a long return of a kickoff or punt or something else on special teams. It just seems like special teams are becoming a natural part of the NFC South's best rivalry.
High-stakes game
. This game has huge meaning for both teams. But let's boil it down to simple terms. If the Falcons win, they are the NFC South champion and will hold the No. 1 seed in the playoffs for the first time in franchise history. If the Saints win, they still have a shot at grabbing those two things from the Falcons. New Orleans also would have to win its finale against Tampa Bay and the Falcons would have to lose their finale against Carolina. If that happens, New Orleans would claim the No. 1 seed. Oh, by the way, I haven't been able to confirm it yet, but there are rumblings that Atlanta receiver
Roddy White
has invited
Trent Dilfer
to hang out on the Falcons' sideline -- or maybe not. (
Here's what Dilfer said
about the Falcons earlier this week.)