October, 2, 2014
Oct 2
8:00
AM ET
The
New York Giants
and
Atlanta Falcons
, a pair of 2013 disappointments with identical 2-2 records and hopes of factoring into their respective division races, play at MetLife Stadium at 1 p.m. ET Sunday. ESPN Giants reporter Dan Graziano and ESPN Falcons reporter Vaughn McClure present their preview:
Graziano
: Vaughn, I'm going to get to the Falcons' defense in a minute, because I have a ton of questions about that. But I'd be remiss if I didn't start by asking: What was tight end
Levine Toilolo
doing at right tackle in the loss to Minnesota, and are they going to have five real offensive linemen to suit up for them Sunday?
McClure
: The Falcons really had no other choice at the end of the Vikings game after three starting offensive linemen -- center
Joe Hawley
(ACL), left guard
Justin Blalock
(back) and right tackle
Lamar Holmes
(foot) -- exited with injuries. Two other linemen were inactive for the game. So, yes, depth is an issue with Hawley and Holmes on season-ending injured reserve. The good thing for the Falcons is that linemen
Gabe Carimi
,
Peter Konz
,
Ryan Schraeder
and rookie
James Stone
are capable of playing multiple positions. The Falcons also promoted guard
Harland Gunn
from the practice squad and signed tackle
Cameron Bradfield
. Konz's performance will be key as he steps in for Hawley, and the Falcons better hope Blalock's back responds well in preparation for Sunday.
I watched the Giants-Redskins game and was impressed with what the Giants were able to accomplish offensively. Can they sustain such momentum, particularly coming off a couple of extra days of rest?
Graziano
: They're hoping so. What the Giants are saying is that the way the offense has looked the past two games represents progress in the new system, and that's why they think it has a chance to be more "real" than what they showed in the first two games. We will see.
What has surprised me is the way the offensive line has held up in pass protection the past two games after looking like a liability in preseason and once the regular season started. If that continues, then
Eli Manning
-- who's releasing the ball about a half-second faster on average this season due to the shorter drops and quicker reads on which the new system is built -- should be in a strong position to succeed. But since they're not a quick-strike downfield offense right now, I wonder what happens if they fall behind in a game and have to get into a shootout with a high-powered offensive team. The Texans aren't that, and Washington didn't put up a fight. Atlanta has all the weapons, but is the passing game where it needs to be right now in order to take advantage of the talent?
McClure
: I think that goes back to our first question, Dan. If quarterback
Matt Ryan
gets adequate protection, he's one of the elite quarterbacks in this league. But it's hard to get that type of protection when you're using tight ends at right tackle.
Ryan actually has done a marvelous job extending plays with his feet, partly due to increased protection up front in the form of veteran right guard
Jon Asamoah
and rookie left tackle
Jake Matthews
. If Ryan can overcome whatever changes are made up front for the Giants, then maybe he'll get the offense back in high gear. That's something the Falcons haven't been able to do on the road, where they've dropped four straight. Ryan needs time to find a playmaker such as
Julio Jones
down the field.
I saw a few unheralded Giants make some plays in the last game. It seems like the Falcons' defense lets no-name players have career games every time out. What do you expect out of some of the Giants' role players?
Graziano
: My guess is that you're referring to tight end
Larry Donnell
, who caught three touchdown passes in Washington. The Giants always believe they can find productivity at tight end on the cheap, so they didn't flinch when everybody was getting on them all offseason for not having one. Donnell runs good routes and can jump high to catch the ball (he's a 6-foot-6 former basketball player), and it's to the coaching staff's credit that that's exactly what they're using him to do. He's not much of a blocker and can't do anything after the catch, but the thing he's good at, he's very good at, and as long as other teams aren't defending it well, they Gians will keep going back to it.
Fundamentally, this offense is built to operate through the run game, and it will continue to do so with an emphasis on
Rashad Jennings
as the lead back. He and rookie
Andre Williams
split carries Thursday because Jennings had 34 carries in the game just four days earlier, and they got a big lead and could ease off the gas. But it'll be Jennings to run the ball and set up play-action, and then it'll be Donnell,
Victor Cruz
,
Rueben Randle
or whoever's open when they throw it. Short stuff, timing-based stuff, and stuff designed to minimize mistakes and put the unimpressive names they have in the best possible positions to succeed.
Which brings me to this: The Falcons' defense seems to be quite good at putting opposing offenses in position to succeed. Any hope of things getting any better, or is this a defense that's going to struggle all year?
McClure
: It's going to be a struggle unless they magically come up with some way to trade for
J.J. Watt
. There are not enough playmakers on the Falcons' defense, with no elite pass-rusher and no ball hawking defensive back who will create a lot of turnovers. Throw in their defensive leader, strong safety
William Moore
, being placed on short-term IR with a shoulder injury, and you have the recipe for disaster.
The defense actually looked respectable against Tampa Bay, but that was because the offense got off to a hot start and the Buccaneers were in desperation mode early. There is no excuse for giving up 558 yards to a Vikings team playing without
Adrian Peterson
and with a rookie quarterback,
Teddy Bridgewater
. The Falcons continue to struggle with their third-down defense and continue to give up explosive plays. Manning and Jennings, among others, should be itching to put up big numbers against this pathetic defense that gives up a league-worst 8.37 yards passing per play and yields 429.8 yards per game, which is second-to-last in the league.
Defensively, how do you expect the Giants to contend with Jones,
Devin Hester
and
Antone Smith
?
Graziano
: The Giants made a change at free safety last week, benching
Stevie Brown
for
Quintin Demps
, who was signed as a kick returner and has good speed on the back end. That change was made because Brown was struggling, but also with an eye toward the speed matchups they had coming up on the schedule --
DeSean Jackson
last week, the guys you mention this week, and
Jeremy Maclin
and the Eagles next week.
Demps will play in the post while
Antrel Rolle
can move up in the box, and they'll likely plaster cornerback
Dominique Rodgers-Cromartie
on Jones and use
Prince Amukamara
on whoever the second receiver is.
Trumaine McBride
, who was a starter last season, has replaced the injured
Walter Thurmond
as the nickel. McBride is a high-effort guy, but you can win physical matchups against him. The Giants rely on Rodgers-Cromartie's and Amukamara's ability to hold up in man coverage, but they believe they have enough speed with Demps and weakside linebacker
Jacquian Williams
to help supplement that as needed. If Rodgers-Cromartie is limited this week with his thigh injury, that could affect things. But as of now, that's the plan.
Good stuff, Vaughn, thanks. Travel safe, and I'll see you Sunday.
July, 8, 2013
7/08/13
4:03
PM ET
Monday's news that
Victor Cruz
is finalizing a five-year, $43 million
contract extension
with the
New York Giants
could have implications for
Mike Williams
and the
Tampa Bay Buccaneers
.
Factoring in Cruz's $2.879 million restricted tender for this year, the deal is worth $45.879 million over six years and includes $15.6 million in guaranteed money.
That sets some parameters for the Bucs and Williams because he and Cruz are somewhat similar. They both are young No. 2 receivers. Williams plays opposite
Vincent Jackson
, and Cruz is New York's No. 2 receiver after
Hakeem Nicks
(when Nicks is healthy).
Cruz has had slightly better numbers than Williams the past two years. But the Bucs have made it clear they want to keep Williams, who is headed into the final year of his contract, for the long term.
To make that happen, they likely will have to give him a deal similar to the one Cruz got.
December, 14, 2012
12/14/12
1:30
PM ET
»
NFC Final Word
:
East
|
West
|
North
|
South
»
AFC
:
East
|
West
|
North
|
South
Five nuggets of knowledge about the Week 15 games:
Good news/bad news:
Coming off a loss to the
Carolina Panthers
, the
Atlanta Falcons
can take solace in the fact they've won their previous 11 games immediately after a loss. The Falcons have not lost back-to-back games since 2009. They also are playing in the Georgia Dome, where they've won 10 straight games (the NFL's longest active home winning streak). So everything appears to be in Atlanta's favor. Until you consider this -- the Falcons have not won a home game against the
New York Giants
since 1978.
[+] Enlarge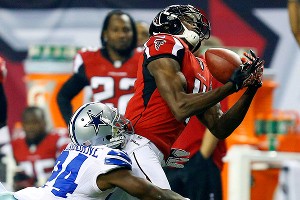 Josh D. Weiss/US PresswireWith three more receiving yards Julio Jones will reach 1,000 yards for the season.
Terrific tandems:
The meeting between the Falcons and Giants will feature the two most prolific pairs of wide receivers in the NFL since the start of the 2011 season. In that span, Atlanta's
Roddy White
and
Julio Jones
have combined for 4,392 receiving yards, while New York's
Victor Cruz
and
Hakeem Nicks
have combined for 4,384 yards. By the way, Jones needs only three receiving yards to reach 1,000 for the season. That would make Jones and White the first pair of Atlanta receivers to hit 1,000 yards since
Tony Martin
and
Terance Mathis
in 1998.
A record they don't want:
The
Tampa Bay Buccaneers
are allowing 311.6 passing yards per game. At that pace, they would give up 4,986 passing yards by the end of the season, which would be an NFL record. The current record was set last season when the
Green Bay Packers
gave up 4,796 yards.
A record he doesn't want:
New Orleans Saints
quarterback
Drew Brees
leads the league with 32 touchdown passes and is tied with
Andrew Luck
for the league lead with 18 interceptions. Since 1970, Lynn Dickey (1983) and Brian Sipe (1979) are the only quarterbacks to lead the league in both touchdowns and interceptions.
Intentional grounding:
The Carolina Panthers have been making the most of quarterback
Cam Newton
's running ability. He leads the team with 640 rushing yards. The last quarterback to finish a season as his team's leading rusher was Philadelphia's
Donovan McNabb
in 2000.
September, 17, 2012
9/17/12
9:15
AM ET
BUFORD, Ga. -- I've set up temporary NFC South Blog headquarters here because it was a convenient and familiar stop on the way down from Charlotte on Sunday night. This is usually where I stay when I visit the Falcons during training camp at their nearby Flowery Branch facility.
I'll work out of here during the day Monday and head for the Georgia Dome late this afternoon for the "Monday Night Football" game between the
Atlanta Falcons
and
Denver Broncos
.
But let's start the day of with some statistical reflections on the Sunday games involving the Buccaneers, Panthers and Saints, with some help from ESPN Stats & Information:
In hindsight, maybe the Bucs shouldn't have blitzed Eli Manning so much in their 41-34 loss to the New York Giants. When Tampa Bay sent a defensive back after Manning, he completed nine of 14 passes for 228 yards and two touchdowns. In the fourth quarter alone, the Bucs blitzed Manning six times. In those situations, he completed four of six passes for 164 yards, including an 80-yard touchdown to Victor Cruz with 6:59 remaining.
The Bucs signed receiver Vincent Jackson as a free agent because they wanted a downfield threat for quarterback Josh Freeman. So far, that's working out according to plan. Jackson was targeted eight times on passes at least 15 yards downfield. He caught five of them, all coming on throws of at least 17 yards, and finished with 128 yards and a touchdown.
The Bucs extended their road losing streak to eight games.
After rushing for only 10 yards in a season-opening loss to Tampa Bay, the Panthers rushed for 219 yards and three touchdowns on 41 attempts in Sunday's 35-27 victory against New Orleans. It's crucial to point out that a big part of the reason the Panthers had so much success running the ball was because they took advantage of quarterback Cam Newton's ability to run the option. Of Carolina's 41 rushing plays, 23 were designed options and the Panthers had 143 yards and a touchdown. In Week 1, the Panthers only ran one option play and it went for a five-yard loss.
Newton rushed for a career-high 71 yards and scored his 15th career rushing touchdown. That ties Newton with Steve Grogan for most rushing touchdowns by a quarterback in his first two seasons. Grogan set the record in 1975-76. With 14 games remaining, I doubt Newton's going to remain tied with Grogan.
Carolina safety Charles Godfrey returned an interception nine yards for a touchdown. That's a new team record for the shortest interception return for a touchdown in team history.
Last year, New Orleans' Drew Brees led the NFL with a 59.8 completion percentage on throws of more than 10 yards downfield. In New Orleans' 0-2 start, Brees hasn't been nearly as efficient on such throws. He's completed 18 of 36 passes (50 percent) of more than 10 yards.
The Saints have allowed 75 points in two games, tying them for worst in the league. The 75 points are the third-most allowed in team history through two games.
The Saints are 0-2 for only the second time in the last 15 seasons. The only other time they've lost their first two in that span was 2007, when they started 0-4 and failed to make the playoffs.
September, 12, 2012
9/12/12
10:39
AM ET
Watching
Roddy White
rack up dropped passes last year was kind of like watching a guy chasing a home-run record.
White
It seemed White was putting one (sometimes more than one) on the ground every game and running away with the league lead in dropped passes. He finished with 14 and we pretty much kept weekly tabs on his count in this blog.
But I just got the list of drops from Week 1 from ESPN Stats & Information and White's not in his usual spot at the top of the list. In fact, he's not even on the list.
The top spot belongs to
Victor Cruz
of the Giants, who dropped three passes in his opening game. If Cruz continues on that pace, he'll shatter White's mark.
Two of White's teammates -- receiver
Julio Jones
and fullback
Lousaka Polite
-- had drops in Week 1. But the only other NFC South receiver to drop a pass was New Orleans'
Marques Colston
.
In his drop-free opener, White had six catches for 87 yards.
January, 1, 2012
1/01/12
11:30
PM ET
Three things to know about next Sunday's Atlanta Falcons-New York Giants wild-card game.


1. Take the next step.
Since arriving together in 2008, coach
Mike Smith
and quarterback
Matt Ryan
have produced four consecutive winning seasons. That's great, but the big knock on Smith and Ryan is that they have yet to win a playoff game. When they were the No. 1 seed last year, they lost at home to the No. 6 Packers. Going on the road to a cold-weather venue will be difficult. But Atlanta went all-in this season with the trade up to draft
Julio Jones
and sign defensive end
Ray Edwards
. They need a postseason victory to make this season any sort of success. Ryan also needs to shed the label that he can't win the big one.
2. Stop the pass rush.
The Falcons had problems protecting Ryan early in the season and that caused lots of problems. The offensive line has played better lately. But the Giants feature a very strong pass rush. They have
Jason Pierre-Paul
and
Osi Umenyiora
is back from an injury. The Giants can generate pressure with their front four alone. The Falcons are going to have to use their running backs and tight ends to give left tackle
Will Svitek
some blocking help.
3. Slow down Victor Cruz.
The New York receiver has come out of nowhere to become one of the league's top receivers. Cruz has lots of speed and has been making lots of big plays downfield. If cornerback
Brent Grimes
, who has missed time with a knee injury, is healthy, he and cornerback
Dunta Robinson
can match up with Cruz and the short and mid-level passing game. But safeties
William Moore
,
Thomas DeCoud
and
James Sanders
will have to step up and do a better job providing help than they did in the regular season. Of course, it would also help if Atlanta can generate a pass rush. There are some signs that's possible. After a slow start, defensive end
John Abraham
has come on strong in recent weeks.