NFC South:

vinnie sunseri
August, 14, 2014
8/14/14
1:30
PM ET
As long as the training camp injuries are minor enough, teams can always find a silver lining to them. They mean more opportunities for the backups to develop and be evaluated.
That's been the case with the
New Orleans Saints
this summer at a few positions -- namely quarterback, guard and safety. With
Drew Brees
missing the past two weeks with a strained oblique, the Saints have been able to see how backups
Ryan Griffin
and
Luke McCown
fit in with the first-string offense against the first-string defense.
[+] Enlarge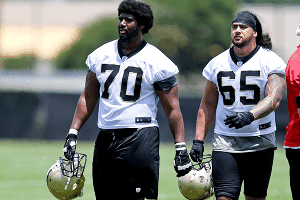 Derick E. Hingle/USA TODAY SportsMarcel Jones, No. 70, and Senio Kelemete have benefited from getting first-team reps in camp.
Likewise, they've gotten a long look at backup guards
Senio Kelemete
and
Marcel Jones
, who by all accounts have stepped up big-time while starting guards
Jahri Evans
and
Ben Grubbs
have been nursing injuries. And young safeties like
Vinnie Sunseri
,
Marcus Ball
and
Pierre Warren
have all taken advantage of increased opportunities while starter
Jairus Byrd
is recovering from back surgery.
"That can only help us," Saints offensive tackle
Zach Strief
said, specifically referring to the situation at guard. "Look, Jahri's gonna need some reps to get ready and play, and we've got time to get him healthy. [In the meantime], I still can't say 'Cel or Marcel.' I'm still calling him Jah. Me and Jah kind of have our own language that we speak, and it's not in our playbook. And yet it's hard for me not to speak that language. So I think the cohesiveness between us will be there, and the same on the other side.
"But to get these guys in, give them a chance, you talk about guys that have grown in this camp, Marcel Jones, Senio Kelemete, really tons of growth. I mean, they really have played well and have gotten a lot of good reps against good players."
Saints coach Sean Payton pointed out that the same thing happened at the receiver position last year when
Kenny Stills
and
Nick Toon
got a ton of experience with the first-string offense because of injuries -- something that obviously gave Stills a huge boost in his rookie season.
"You don't know what position group it is going to be, but it's somewhat typical of training camp," Payton said. "And it's important for the next guy up to know what to do and take advantage of the opportunity."
The starting units should play a little more in Friday's second preseason game against the
Tennessee Titans
-- possibly into the second quarter, or longer at thinner positions. Here's a look at how the snap counts were divided in the Saints' preseason opener last week at the
St. Louis Rams
:
OFFENSE (67 Snaps)
Quarterback – Ryan Griffin 38, Luke McCown 17,
Logan Kilgore
12
Receiver –
Brandin Cooks
37,
Joe Morgan
36, Nick Toon 23,
Robert Meachem
18,
Marques Colston
14,
Seantavius Jones
13,
Brandon Coleman
12,
Charles Hawkins
4
Tight end –
Josh Hill
32,
Nic Jacobs
21,
Jimmy Graham
17,
Benjamin Watson
12
Running back –
Travaris Cadet
25,
Mark Ingram
15,
Khiry Robinson
14,
Derrick Strozier
10,
Timothy Flanders
4
Fullback –
Austin Johnson
28
Center –
Tim Lelito
39,
Jonathan Goodwin
16,
Matt Armstrong
12
Tackle –
Bryce Harris
44,
Thomas Welch
44, Zach Strief 17,
Terron Armstead
17,
Tavon Rooks
12
Guard –
Jason Weaver
50, Senio Kelemete 40, Marcel Jones 32,
Manase Foketi
12
DEFENSE (75 snaps)
Safety – Marcus Ball 43, Vinnie Sunseri 35, Pierre Warren 35,
Ty Zimmerman
27,
Rafael Bush
13,
Kenny Vaccaro
13
Cornerback –
Corey White
40, Stanley Jean-Baptiste 35,
Trevin Wade
35,
Brian Dixon
27,
Derrius Brooks
20,
Patrick Robinson
13,
Keenan Lewis
13,
Rod Sweeting
10
Outside linebacker –
Keyunta Dawson
27,
Khairi Fortt
26,
Kasim Edebali
25,
Ronald Powell
21,
Junior Galette
13, Chidera Uzo-Diribe 10,
Parys Haralson
6
Inside linebacker –
Kevin Reddick
39,
Todd Davis
27,
Ramon Humber
23,
Kyle Knox
21,
David Hawthorne
13,
Curtis Lofton
13
Defensive end –
Glenn Foster
35,
Tyrunn Walker
32, Rufus Jonson 24,
George Uko
21,
Akiem Hicks
13,
Cameron Jordan
13
Defensive tackle –
Lawrence Virgil
27,
Brandon Deaderick
26,
Brodrick Bunkley
11
SPECIAL TEAMS (31 snaps)
Ball 14, Sunseri 14, Dawson 13, Reddick 13, Edebali 12, Fortt 12, Jean-Baptiste 12, Knox 12, Powell 12, Davis 11, Hill 11, Zimmerman 11, R.Johnson 10, Wade 10,
Justin Drescher
9, S.Jones 9, Cadet 8, Bush 7,
Derek Dimke
7, Dixon 7, Humber 7,
Thomas Morstead
7, Uzo-Diribe 7, Coleman 6, Harris 6, Jacobs 6, Sweeting 6, White 5, Cooks 4,
Shayne Graham
4, Hawthorne 4, Warren 4, Armstead 3, Bunkley 3, Goodwin 3, Hicks 3, Jordan 3, Kelemete 3, Lelito 3, K.Robinson 3, P.Robinson 3, Strief 3, Vaccaro 3, Virgil 3, Watson 3, Welch 3, Armstrong 2, Brooks 2, Foketi 2, Griffin 2, M.Jones 2,
Robert Quinn
2, Rooks 2, Weaver 2, Flanders 1, Lofton 1, Strozier 1
August, 11, 2014
8/11/14
5:35
PM ET
A daily review of the hot topics coming out of
New Orleans Saints
training camp:
Are people tired of hearing about Brandin Cooks' daily exploits yet? I honestly don't think that we in the media are over-hyping the Saints' rookie receiver. He simply makes one or two of the biggest plays on the practice field every day. As quarterback Luke McCown said Monday, "He's got next level speed ... and quickness. We find him in positions where he's just separating from guys regularly." That was absolutely the case again Monday during an otherwise-sloppy practice in the rain. As Cooks said, he's from Corvallis, Oregon, so he's used to this weather. Cooks had two breakaway plays for big gains on short passes -- once cruising about 75 yards for a touchdown on a screen pass. Cornerback Keenan Lewis valiantly gave chase the whole way but didn't really have a chance. "He's a special player," McCown said. "I think that's easily recognized for any amount of time you spend watching him. He's a smart, heady player that you only have to teach a certain route or step or technique once, and he's got it down, and he begins to operate like a veteran. So the sky's the limit for that kid."
Two other rookies who haven't made an overwhelming amount of highlights during camp had arguably their biggest moments to date Monday -- safety Vinnie Sunseri and linebacker Khairi Fortt. Sunseri made a great diving interception during full-team drills (after Fortt probably would have had a sack on the same play if they were live tackling). Sunseri also broke up a deep pass intended for tight end Josh Hill. Fortt also had another would-be sack.
While we're on the subject of guys operating in the shadows, I'll give a little love to defensive tackle Brodrick Bunkley and linebacker Parys Haralson. Bunkley had a great run stuff early in practice to add to his sack from the other night in the preseason game. Although Bunkley hasn't made quite the impact the Saints were hoping for when they signed him in 2012, he was probably playing his best football yet in New Orleans during the second half of last season. Haralson, meanwhile, has stormed inside for would-be sacks on each of the past two days of practice in full-team drills.
Monday's practice made me second-guess my decision to add undrafted rookie tight end Nic Jacobs to my projected 53-man roster in place of receiver Joe Morgan. Jacobs had a rough practice, dropping one pass and having a ball stripped away from him by safety Pierre Warren after a catch. But then again, it's the 6-foot-5, 269-pounder's prowess as a blocker and special teams asset that made me put him on the 53-man roster in the first place. … Meanwhile, Morgan had two great catches in practice Monday -- especially impressive on a rainy day. As I said Monday morning, I'm not ruling Morgan out of the battle against Nick Toon and Robert Meachem for the fourth or fifth receiver jobs by any stretch. I just don't think the Saints will keep all three of those veteran receivers, so I decided to omit Morgan.
The Saints could get a chance at a do-over in the rain Tuesday. There's more rain in the forecast for their scheduled 8:50 a.m. ET practice. They also have a walk-through scheduled for 4:30 p.m.
May, 10, 2014
5/10/14
9:00
PM ET
METAIRIE, La. -- The
New Orleans Saints
didn't make much of a splash on the final day of the draft Saturday. No big-name players. No quarterbacks. Probably no one that will come in and compete for a starting job right away.
But by my count, the Saints did wind up addressing five of their top six needs in this year's draft class. Not bad.
Here's how I had them ranked heading into the draft:
1. Receiver:
Check. The Saints traded up to snag dynamic Oregon State receiver
Brandin Cooks
in Round 1. I obviously loved the pick, based on my previous recaps.
2. Cornerback:
Check. They drafted a big, long-armed corner in Nebraska's
Stanley Jean-Baptiste
in Round 2.
3. Center/guard:
Nope. That's the one spot the Saints missed out on. Coach Sean Payton said it wasn't a deep class for centers, and the grades just never matched up. The Saints are high on
Tim Lelito
's potential, though, and there's still a strong chance they'll bring in veteran
Jonathan Goodwin
for competition.
4. Outside linebacker:
Check. They drafted Florida's
Ronald Powell
in Round 5. He's not purely a pass-rush specialist, but that's one of his skills. And Payton said they envision him as a strong-side outside linebacker to start with (
Parys Haralson
's current job). Powell is a tremendous athlete who was rated as the No. 1 high school player in America by ESPNU four years ago before battling some inconsistency and a torn ACL in 2012. His upside is intriguing.
5. Inside linebacker:
Check. Cal's
Khairi Fortt
in Round 4. Payton said the Saints envision him as a weakside inside linebacker (
David Hawthorne
's current role). He's another guy who is still more potential than production after missing the 2012 season because of knee surgery (not an ACL, and not expected to be a lingering issue). But he's another impressive athlete who can help on defense and special teams.
6. Offensive tackle:
Check. Kansas State right tackle
Tavon Rooks
(Round 6) wasn't high among scouting analysts heading into the draft. But the Saints liked what they saw from his athleticism and his potential to grow into his frame. He'll be battling backups such as
Bryce Harris
and
Marcel Jones
for a roster spot.
BONUS:
I didn't rank special teams coverage as an individual category. But the Saints got a nice boost in that area with all four of their defensive draft picks -- especially Alabama safety
Vinnie Sunseri
in the fifth round. Sunseri is a strong-safety type who could also potentially see the field in a role similar to former Saints/Alabama safety
Roman Harper
as a blitzer and in run support.