October, 24, 2012
10/24/12
2:32
PM ET
Hall of Fame quarterback
Warren Moon
said there's a
troubling racial undertone
to the criticism of Carolina quarterback
Cam Newton
.
"I heard somebody compare him to
Vince Young
,'' Moon told Yahoo! Sports. "It's the same old crap -- it's always a comparison of one black to another black. I get tired of it.''
Moon also said it's wrong to suggest the second-year quarterback is a bust.
"I think a lot of this is because so many people want to say, 'I told you so' about him but couldn't because he was so good last year," Moon said. "I think people are overreacting. How can he be a bust? He just had one of the great years a rookie has ever had, and now he can't play? Come on."
Take a look and listen as Stephen A. Smith and Skip Bayless discuss Moon's comments.
November, 28, 2011
11/28/11
8:47
AM ET
If you're a fan of the
Atlanta Falcons
, you're probably asking yourself this question: Who is T.J. Yates?
First off, he'll probably be the guy starting for the
Houston Texans
against the Falcons on Sunday. We all know starter
Matt Schaub
suffered an injury last week. On Sunday, replacement
Matt Leinart
, who at least was a name, suffered a shoulder injury Sunday that could sideline him for the rest of the season.
That leaves Yates, unless Houston goes out and brings back
Warren Moon
or Dan Pastorini.
So here's a quick overview of Yates:
The Texans picked him in the fifth round (No. 152 overall) in this year's draft.
Yates played at North Carolina from 2007 through 2010.
He holds 37 North Carolina records, including career and single-season passing yards.
Yates appeared in his first NFL game Sunday after Leinart was injured. He completed eight of 15 passes for 70 yards.
May, 11, 2011
5/11/11
9:03
AM ET
Time for a quick trip through the NFC South links.
Brett Favre
made headlines recently when he said he was ready for a new career. Most people took that to mean Favre was headed toward broadcasting or coaching and that might be the case. But the agent for Favre and recently-drafted Carolina quarterback Cam Newton made it sound like Favre, who says he's retired from playing, could be looking at a part-time job. The agent said Favre could end up
working with Newton during the lockout
. Might not be a bad idea. Newton's had some help from
Warren Moon
and a private quarterbacks coach, but getting some hands-on experience with one of the best quarterbacks ever isn't going to hurt.
Jeff Duncan writes that Reggie Bush's actions are only enhancing the impression
the running back wants out of New Orleans
. He's right. When the Saints first drafted
Mark Ingram
, I thought coach Sean Payton would find a way to keep both players in the backfield. Payton's had a long and close relationship with Bush, the first player he ever drafted. But Bush sure seems to be doing everything he can to make sure that relationship breaks up.
Although there has been a ton of speculation that he wants out of Carolina, wide receiver
Steve Smith
still has not officially said that. In fact, Smith talked to Pro Football Weekly on Tuesday and
addressed his situation
.
"What I want to do is be classy and not tip my cards, be respectful to the (Panthers) organization,'' Smith said. "It's not me saying, 'Yes, I want a trade.' It's still a family matter, and when my family feels it's the appropriate time, our actions will show how we feel."
Testimony gets under way in a
civil trial
for Carolina linebacker
Jon Beason
. Although criminal charges were dropped, Beason is being sued for damages in an incident in which a man claims he was punched by the linebacker in a night club. Beason has denied ever hitting the man.
Atlanta's unofficial players-only minicamp that started Tuesday was attended by about 30 players, including nine of the 22 starters from last season's playoff game. Linebacker
Akeem Dent
was the
only rookie in attendance
.
Tampa Bay defensive tackle
Brian Price
, who had surgery that included four screws being inserted into his pelvis, isn't able to run yet. But Price said he continues to work on his rehabilitation and
hopes to be able to run soon
.
February, 5, 2011
2/05/11
7:31
PM ET
His nickname, "Prime Time," alone suggests style over substance. But those who witnessed the early NFL years of
Deion Sanders
insist the flashy cornerback had at least as much substance as style.
"He was Deion Sanders six days out of the week,'' said
Atlanta Falcons
senior director of media relations Frank Kleha, who was with the team throughout the Sanders years. "He was Prime Time on the field on Sundays. He wasn't a brash talker in locker room or anything close to it. He wasn't just good teammate in the locker room. He was great teammate in the locker room.''
[+] Enlarge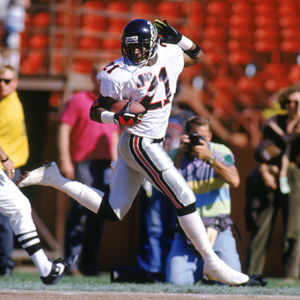 Otto Greule Jr/Getty ImagesIn a 14-year career Deion Sanders played in 188 games, had 53 interceptions for 1331 yards, and scored 19 return touchdowns.
Now, Sanders is headed for the ultimate locker room of greatness. He was elected to the Pro Football Hall of Fame on Saturday and will be inducted to the shrine in Canton, Ohio this summer. He'll be remembered as a flamboyant guy who did great things with the
Dallas Cowboys
and
San Francisco 49ers
, had stops with the
Washington Redskins
and
Baltimore Ravens
and also played Major League Baseball. (Here's a
photo gallery chronicling

Sanders' NFL career.)
But Sanders' time with the Falcons was hugely significant for the player and the franchise and should not be forgotten. Although the Falcons have had some other Hall of Famer players pass through for a year or two, the franchise was without a true Hall of Famer -- until now.
Sanders becomes the first player drafted by the Falcons to be elected to the Hall of Fame. As the fifth overall pick in the 1989 draft, Sanders didn't arrive quietly. He was playing for the New York Yankees as he waited for a contract to get done with the Falcons. Just a matter of days before the deal was agreed to, Sanders hit a home run for the Yankees. He arrived in Atlanta on a Wednesday and that Sunday made his NFL debut.
In a game at the old Fulton County Stadium against the Los Angeles Rams, Sanders attempted to field a punt, dropped it and then scooped up the ball and took off down the right sideline for a touchdown. That was just the start of spectacular things to come.
There was the 1990 game against the Houston Oilers in which Atlanta coach Jerry Glanville was going against his former team in a high-profile game. Sanders picked off Hall of Fame quarterback
Warren Moon
and returned it for a touchdown. As best as anyone can recall, that's the play where Sanders began his tradition of high-stepping into the end zone.
And there was the final game ever at Fulton County Stadium in 1991, when
Tim McKyer
intercepted a
Dave Krieg
pass and lateraled the ball to Sanders, who cut his way through virtually the entire Seattle offense on his way to a touchdown.
Sanders spent five seasons with Atlanta, the same amount of time he spent in Dallas, where he drew even more attention. But Sanders' Atlanta days were a memorable ride. He came along at a time when the franchise was down and didn't have any stars.
Sanders gave them instant star power. Almost exclusively due to Sanders' presence, the Falcons started getting some nationally-televised games. Wait, make that "Prime Time'' games.
December, 27, 2010
12/27/10
4:22
PM ET
I'm going to break my rule of leaving for the stadium three hours before kickoff and extend it to four hours. That's largely because I believe it could be a little tricky getting around downtown Atlanta and the Georgia Dome tonight.
For the record, I'll be arriving at the Georgia Dome with several colleagues, but I think it's important for Falcons fans to know that Trent Dilfer will not be with me.
Anyway, I'll touch base as soon as I get settled into the Georgia Dome. Also, Matt Williamson from Scouts Inc. and I will be taking part in Countdown Daily, an in-game chat with readers and others from ESPN joining in. We'll post an item on the blog that will take you into Countdown Daily an hour or two before kickoff.
In the meantime, let's turn to ESPN Stats & Information for a few nuggets to hold you over as we wait for the showdown between the Saints and Falcons.
Drew Brees, with 391 completions this season, needs nine to reach the 400-mark for the third time as a pro. All other players in NFL history combined have produced just five 400-completion seasons: Warren Moon, Drew Bledsoe, Rich Gannon, Kurt Warner and Peyton Manning have one each.
The Saints allowed 202 rushing yards to the Falcons on Sept. 26 in an overtime contest in which Atlanta had 50 rushing plays. But last week, the Saints allowed 208 yards to the Ravens on only 39 carries -- an average of 5.3 yards per carry. It was the first time since the 2008 season that New Orleans had let an opponent amass 200 rushing yards and average five yards per carry.
Garrett Hartley missed a 29-yard field goal in overtime when the Falcons and Saints met on Sept. 26 at New Orleans. Matt Bryant later won the game for Atlanta, 27-24, with a 46-yard field goal, and Hartley spent the next two weeks on the inactive list while 46-year-old John Carney took his spot. It was the NFL's shortest field-goal miss in overtime since an Atlanta-Tampa Bay game in Tampa on Christmas Eve of 2005. In that game, Atlanta's Todd Peterson had a 28-yard overtime attempt blocked and Bryant, then with Tampa Bay, missed from 27 yards on the next possession. Bryant eventually won it for the Buccaneers with a 41-yard field goal.
Matt Ryan's passer rating in 2010 is 90.5; he could become the first Falcons quarterback to finish a season with a rating of 90 or higher (minimum: eight starts) since Chris Chandler earned a 100.9 rating for the 1998 team that wound up playing in the Super Bowl.
Everything's working in the Falcons' favor this season: Opposing kickers have made only 13 of 21 field goal attempts against Atlanta; that rate of 62 percent is the lowest against any NFL team. (You have to go back to 2003 to find the last NFL team against which opposing kickers had such a low percentage; that year, the Redskins "held" their opponents to a 61-percent rate.)
The Falcons have won eight straight, but over the last three games, their opponents have run for 454 yards and have averaged 5.8 yards per carry. The last NFL team to win three straight games despite allowing at least 450 rushing yards and at least 5.8 yards per carry was the Saints in 2006.
John Abraham joined the 100-sacks club two weeks ago, and with a sack last week at Seattle, he now has 101.5 sacks. His single-game high of four sacks came while playing for the Jets against the Saints back on Nov. 4, 2001, his second season in the league, but he has had only two sacks (including one this year) in eight games against New Orleans since then.
December, 1, 2010
12/01/10
1:22
PM ET
Matt Bryant
made a big kick for the
Atlanta Falcons
on Sunday. He also made history Wednesday.
Bryant was named the NFC's special teams player of the week. Bryant also won the award in Week 4 of this season. That's where the history part comes in. Bryant also won the award twice with the
New York Giants
in 2002 and with the
Tampa Bay Buccaneers
(once in 2006 and once in 2008.
That puts Bryant in elite company. He joins Chris Doleman, Brad Johnson and Warren Moon as the only players in history to win player of the week awards with three different teams.
Bryant made a 47-yard field goal with nine seconds left Sunday to give the Falcons a 20-17 victory against Green Bay.