October, 2, 2014
Oct 2
5:19
PM ET
CHARLOTTE, N.C. -- And then there were three.
There was a time not too long ago when the
Carolina Panthers
were as deep as any team in the NFL at defensive end.
Johnson
Pro Bowler
Greg Hardy
was starting on the left side after leading the team in sacks last season with 15.
Charles Johnson
, third on the team's all-time sack list, was on the right side.
Behind them was
Wes Horton
,
Mario Addison
and second-round draft pick
Kony Ealy
. Waiting in the wings was
Frank Alexander
, serving a four-game suspension.
But as Addison stood on the practice field on Wednesday, reality sunk in.
"There were only three of us," he said.
Hardy is on the commissioner's exempt list until his domestic violence case is resolved. Alexander is suspended for the next 10 games for violating the league's substance abuse policy after coming off a four-game suspension.
And Johnson was in the training room for the second straight day with a hip flexor.
Williams
Coach Ron Rivera is optimistic Johnson will return on Friday, but as we've seen throughout this season when you don't practice on Wednesday or Thursday you typically don't play.
So the Panthers are making adjustments. They are rotating defensive tackle
Kawann Short
(6-3, 315) and linebacker
Jason Williams
(6-1, 245) at end. They've even worked tackle
Star Lotulelei
(6-2, 320) there some.
It's all hands on deck.
Rivera spent more time on Thursday talking about Williams, a former end in a 3-4 scheme, in that role. But that's assuming Johnson can go. If he can't, Short could play a bigger role.
His teammates don't seem concerned.
"First of all, you have to know what you're doing, and Kawann knows all the defensive end plays, alignment, all that kind of stuff," Horton said. "He brings his own strengths to the table. Being a bigger guy, he can bring a solid power rush.
Ealy
"He can play it. I know all the coaches are confident he can play it. If Charles isn't ready to go, there's a good chance he'll be out there."
Addison is comfortable if Short or Lotulelei moves outside.
"He will kill it, man," he said specifically of Lotulelei. "Anything you throw in front of Star, he'll kill it."
The added size on the edge definitely could stop the bleeding for a defense that has surrendered 391 yards rushing the past two weeks against Baltimore and Pittsburgh. Short and Williams also could create matchup issues on the corner that could help create pressure for a unit that has only one sack the past two games.
Johnson, who has 54 career sacks, has none in four games.
"One thing [Williams] showed in the preseason is he's a terrific blitzer coming off the edge," Rivera said. "If he was a little bit taller, he would be a starting outside linebacker in a 3-4 defense -- that's for sure."
Ealy said the past two days have been "heavy" concerning the extra reps the three healthy ends have taken. He also said that's good from the standpoint of added conditioning and experience.
"I'm very comfortable," the former Missouri standout said. "I'm not worried if somebody doesn't start or can't go. ... You'll see a different side of Kony Ealy. You'll see the player I was in college."
The numbers may be down, but the confidence isn't.
"We've got to step it up more if Charles doesn't play," Addison said. "We've still got a couple of men left that can get the job done."
September, 19, 2014
Sep 19
3:00
PM ET
CHARLOTTE, N.C. -- On at least one play during Sunday's 24-7 victory against Detroit the
Carolina Panthers
lined defensive ends
Charles Johnson
and
Mario Addison
in the middle at tackle in order to create more quarterback pressure.
It's called, appropriately, "NASCAR."
Addison
Johnson
"We put four guys out there and say, 'Go fast,'" coach Ron Rivera said on Friday.
The formula is simple, and one that might have to be used more to apply pressure with 2013 sack leader
Greg Hardy
on leave of absence until his domestic violence case is resolved.
The intent is to put as much pressure as possible on the quarterback with the front four, allowing the linebackers to drop into coverage. It works hand-in-hand with the cornerbacks being physical with wide receivers in the first five yards, to throw off the play's timing.
It's a philosophy that helped Carolina lead the league in sacks last season with 60, without having to blitz a lot.
Rivera said there will be times when you will see defensive tackle
Kawann Short
surrounded by three ends, or four ends and no tackles. It will always be the fastest and freshest players the Panthers have in obvious passing situations.
Regarding fresh, Rivera said he has to find a way to cut down on the snap counts for Johnson. With Hardy out against Detroit, the team's third all-time leader in sacks (54) was on the field for 62 of 72 defensive snaps.
That was 18 more than the next defensive lineman and 28 more than the next end.
Johnson was double-teamed much of the time because the Lions didn't have to worry about Hardy on the other side. He had no sacks for the game and has none for the season.
"Will he continue to get doubles like he did last week?" Rivera said. "If he's getting doubled, then other guys have got to step up, a la what happened with Mario [2.5 sacks]."
Among others Rivera cited as needing to step up was second-year tackle
Star Lotulelei
, who also has no sacks.
"We're going to be physical," Rivera said. "We're going to buy that extra step. But we want the four fastest to go, just to get up in there and haul butt."
Rivera said he likely will stick with the rotation he used to replace Hardy at right defensive end against Detroit.
Wes Horton
started and played mostly on first and second down. Addison played mostly on third down and pass rush situations.
Second-round draft pick
Kony Ealy
began mostly on third down, but worked more into the rotation on first and second. He could be used to give Johnson a break.
"We've got to be smart," Rivera said. "One of the things we've got to be aware of is that we don't wear Charles out."
September, 19, 2014
Sep 19
11:20
AM ET
CHARLOTTE, N.C. --
Wes Horton
doesn't have a catchy nickname like
Greg Hardy
's, aka the Kraken, the player he and a platoon of others are replacing at right defensive end for the
Carolina Panthers
.
So let's give him one.
How about Gemini Jr.?
Before he began chasing quarterbacks, Horton chased his father around the original set of "American Gladiators," a television phenomenon that ran between 1989 and 1996 featuring amateur athletes against the show's gladiators in tests of agility and strength.
[+] Enlarge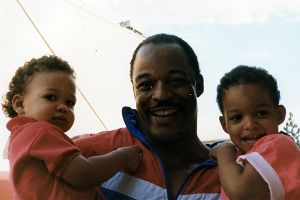 Courtesy Wes HortonMichael Horton was Gemini, one of the six original "American Gladiators." Here, he holds his son Wes, left, a Panthers defensive end, and his son Shane, right, a linebacker with the Toronto Argonauts.
Michael Horton was one of the six original gladiators. He was known as Gemini, apparently fitting because of his split personality: calm one second, aggressive the next.
"It was a hot show," said Wes, who was born a year into the show. "[My dad] was kind of the man around town for a while. It was cool to play on the sets and travel around the country and do all kinds of crazy contests, throwing people around and being a big, strong guy."
Wes still throws people around, only now it's offensive tackles and running backs -- and an occasional quarterback. He got his first start in Sunday's 24-7 victory over Detroit after Hardy was placed on the inactive list.
With Hardy out indefinitely after going on the commissioner's exempt list until his domestic violence case is resolved, Horton will get more opportunities.
Next up is Pittsburgh for a Sunday night game at Bank of America Stadium.
"It's just going to come down to more snaps from all of us and being consistent with those snaps," said Wes, who will share the position with
Mario Addison
and
Kony Ealy
. "It's not enough to show flashes and have a big play here and move on to the next game.
"We've got to be impact players."
Wes' father was all about flash. From a tight red, white and blue spandex costume to swinging on ropes and tackling contestants, he was a muscle man's superhero.
"I can still get in the spandex very easily," said Michael, now a consultant on physical fitness in the Los Angeles area. "I'm in as good a shape now as I was then."
Wes isn't so sure about his father wearing spandex, but the being-in-shape part he won't deny.
"He trains me in the offseason," Wes said. "Pretty much every aspect of football, he shoots me advice. He's my No. 1 critic after games. I always call him and say, 'Pop, how'd I do?'"
Michael knows football. He spent nine years between the NFL, Canadian Football League and USFL before turning to television. While he never made it past what was then the taxi squad in the NFL, he always knew Wes would.
"He probably should have gotten drafted, but that's another deal in itself," Michael said of his 6-foot-5, 270-pound son, who was signed by Carolina as an undrafted free agent out of Southern Cal in May 2013. "He's on course to be a very good football player, and his work ethic will get him there."
Wes played mostly on first and second down against Detroit. He was the run-stopper, the player who did all the dirty work. Addison got the headlines with 2.5 sacks even though he played six fewer snaps (28).
Wes is OK with that, too, although he'd one day like to be an every-down player.
"Wherever they want to put me on the field, I'm more than willing to step in there and give it everything I have," said Wes, whose brother Shane is a linebacker for Toronto in the CFL.
In some respects, Wes is like his father. He's a gentle giant off the field. Then, when the whistle blows, he turns on the aggression.
But he wants to make one thing clear: He never dreamed of wearing spandex and being an America Gladiator. As much fun as he had playing on the Powerball, Swingshot and Eliminator on the show co-hosted by former NFL quarterback Joe Theismann, his goal was to be in the NFL.
Wes still could use a nickname, though.
Let's let his father pick one.
"Oh, gosh," Michael said. "He would probably say something easy like 'Terminator.'"
September, 15, 2014
Sep 15
8:00
AM ET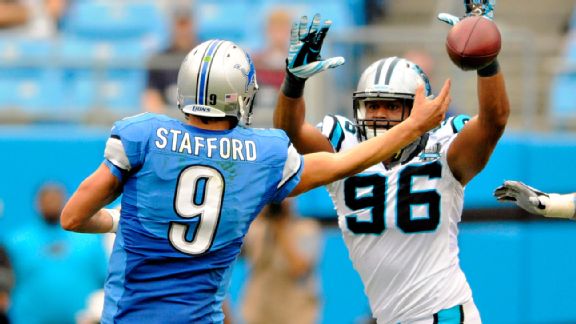 AP Photo/Mike McCarnWes Horton helped the Panthers keep pressure on Lions quarterback Matthew Stafford.
CHARLOTTE, N.C. -- Replacing defensive end
Greg Hardy
wasn't as easy as it looked for the
Carolina Panthers
on Sunday.
It took two players.
You could argue three.
Wes Horton
played first and second down for much of the 24-7 victory over the
Detroit Lions
. He occasionally gave way to second-round draft pick
Kony Ealy
. He was the run-stopper, doing the dirty work that doesn't draw headlines.
Mario Addison
came in on third down and obvious passing situations. He got the headlines with 2.5 sacks.
Hardy can stop the run and get the headline sacks. He had a team-best 15 sacks a year ago to earn his first Pro Bowl berth. He also can play tackle and drop back into pass coverage.
[+] Enlarge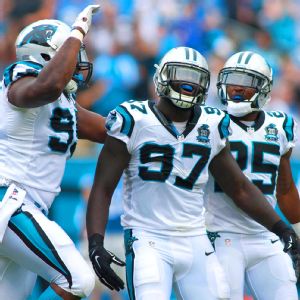 Jeremy Brevard/USA TODAY SportsMario Addison (97) notched 2.5 sacks of Stafford.
But Hardy didn't play on Sunday. The Panthers deactivated him under intense public scrutiny surrounding his July 15 conviction for assaulting and threatening his ex-girlfriend.
Hardy is arguably the team's most valuable defensive player outside of linebacker
Luke Kuechly
, the reigning NFL Defensive Player of the Year. Hardy played 51 of 56 snaps in the opener at Tampa Bay, a 20-14 victory. Addison was in for 10 snaps and Horton 13.
"Greg is a high-energy guy," outside linebacker
Thomas Davis
said after the victory over Detroit. "He brings an attitude to our team, and we definitely missed him out there."
Coach Ron Rivera said Hardy will return and play again this season. He didn't say whether it would be Sunday night against Pittsburgh or the following week at Baltimore, but he made it clear Hardy likely would play before his Nov. 17 appeal in front of a jury.
Fortunately for the Panthers, they have the numbers to replace him. And after two more games, they'll have even more depth with
Frank Alexander
returning from a four-game suspension for violating the league's substance abuse program. Rivera said Alexander was the most valuable player in training camp.
What Sunday showed was the Panthers not only have one of the best fronts in the NFL, they have one of the deepest.
"Absolutely," Horton said. "It doesn't matter who gets the start. Everyone is trained at a high level."
Against Detroit, they all played at a high level. Let me tell you about the two main characters.
Horton (6-foot-5, 265) signed with Carolina as an undrafted rookie out of the University of Southern California last season. He had two sacks and eight tackles in 2013.
He wears 96. He has a tightly trimmed chinstrap beard. His dad, Mike Horton, was Gemini on "American Gladiators." Wes had two sacks last season, both against Tampa Bay.
Addison is a fourth-year player from Troy, originally signed by the
Chicago Bears
as an undrafted free agent in 2011. After bouncing between Indianapolis and Washington, he finally settled in at Carolina near the end of the 2012 season.
He had 2.5 sacks in a reserve role last season. The Panthers gave him a two-year extension in June. During a trip to Puerto Rico to celebrate he fell off a jet ski and thought he was going to drown.
"I've never been so scared in my life," he said during training camp. "I don't know how to swim, so without the life vest I would have died."
Addison wears No. 97. He also has a beard, but it is long and scruffy. He is considered undersized at 6-2 and 255 pounds. But what he lacks in size he makes up for in speed.
"He's one of the fastest guys I've ever seen at practice," center
Ryan Kalil
said. "The guy runs around like he's a linebacker."
The speed came in handy late against Detroit when the Lions had to pass. Their tackles couldn't match Addison's first step coming off the edge.
Rivera calls him a "situational football player for us."
"He is speed off the edge and a forceful special teams guy," he said. "Guys understand their roles, and they do their roles the best that they can. That was a great example for us."
It also was a reminder of how much it takes to replace Hardy.
August, 13, 2014
Aug 13
8:00
AM ET
CHARLOTTE, N.C. -- You hear it all the time, how an athlete plays harder and produces more in the final year of his contract because he's playing for his future.
When you add to off-the-field issues that said athlete has to overcome to help his image and marketability, you'd expect an increase in effort.
[+] Enlarge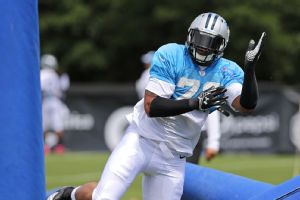 AP Photo/Chuck BurtonGreg Hardy has put legal issues aside and shown an impeccable work ethic during the Panthers' training camp.
So it should come as no surprise that the two players
Carolina Panthers
coach Ron Rivera mentioned as his training camp MVPs -- at least during the time spent at Wofford College in Spartanburg, S.C. -- were defensive ends
Frank Alexander
and
Greg Hardy
.
Alexander has been suspended the first four games for violating the NFL's substance abuse policy. While he has one more year left on his deal, his salary-cap number ($777,563) is low enough that the defensive line-rich Panthers wouldn't hesitate to cut him if he didn't perform at a high level.
Hardy has been found guilty by a judge of assaulting and threatening ex-girlfriend Nicole Holder, a verdict he is appealing to a jury trial. The 2013 Pro Bowl selection is not guaranteed anything after the $13.1 million he will receive this season as the team's franchise player.
In other words, how both perform will determine their value and where they play next season.
Rivera wasn't surprised by Hardy's effort. Hardy always practices hard, so it would have been a bigger shock had he not done well.
That Hardy was able to main such a high level with legal issues hanging over him doesn't surprise Rivera, either.
"No, I'm not concerned with Greg, because he's able to take what he's able to focus on, and he's focusing on this, and we all know there's nothing he can do about it until the process takes care of itself," Rivera said of Hardy, whose next court date is Nov. 17, with the likelihood of being pushed to 2015.
Hardy never was better than Tuesday's final practice in Spartanburg, dominating the tackles and guards on one-on-one pass rush drills and knocking down two passes in coverage during team drills. He got to one more than 20 yards downfield covering tight end
Greg Olsen
, the team's leading receiver last season.
Alexander is a different situation. A fourth-round pick out of Oklahoma in 2012, inconsistency has kept him off the field. According to Rivera, that had more to do with his lack of playing time last season than being ejected in the opener after throwing a punch at Seattle offensive lineman
Breno Giacomini
.
"The penalty is not the concern," Rivera said. "It's always consistency with anybody that we rotate."
It took Hardy into his third season to produce the consistency that made him one of the league's best pass rushers. He went from a combined seven sacks in his first two seasons to 11 in his third and 15 in his fourth.
Rivera would like to believe Alexander's progression has more to do with maturity than playing for his future.
"He knows he made a mistake and he knows he's got to make it right," Rivera said. "And he'll be ready to go when we get out of that four weeks, and we'll go from there.
"For a player that continued to make mistakes like he was for a first-, second- and third-year player, this is about when you see guys; either they're going to truly show or take a back seat to some of these young guys."
Alexander has plenty of young guys breathing down his neck. The Panthers drafted Missouri end
Kony Ealy
in the second round and signed
Mario Addison
to a two-year extension averaging $1.2 million.
Wes Horton
also is playing well.
"No matter how you look at it, whether it's intended or not, the message has been sent," Rivera said.
And no matter how you look at it, the Panthers will benefit from having two players as motivated as their training camp MVPs.
November, 25, 2013
11/25/13
8:00
AM ET
MIAMI -- A review of five hot issues from the
Carolina Panthers
' 20-16 victory against the
Miami Dolphins
:
Rewards of winning:
Seven straight wins have earned the Panthers (8-3) their third prime-time game of the seaosn. NBC has picked up the Panthers' Dec. 8 NFC South showdown against the
New Orleans Saints
(9-2) for its Sunday night telecast as part of the league's flex scheduling. If the Panthers hold serve against Tampa Bay, a team it beat 31-13 on a Thursday night telecast, and the Saints lose at Seattle, which is almost unbeatable at home, this would be for the outright division lead. The teams also play in Charlotte on Dec. 22 in a game that could decide the division title.
[+] Enlarge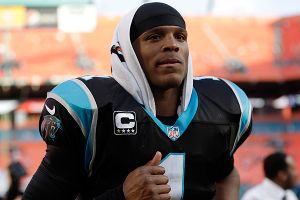 AP Photo/Alan DiazCarolina's Cam Newton made big plays when they were needed in an exciting win against Miami.
Spitting blood:
Quarterback
Cam Newton
might have to consider wearing a mouthpiece in the future. He was hit so hard by Miami's
Cameron Wake
on Carolina's first play that he called a timeout to make sure he hadn't bitten his tongue off. He doesn't like wearing a mouthpiece, because it gets in the way of calling plays and gives him dry mouth. He chews gum to keep his mouth moist. But the hit gave Newton reason to believe a mouthpiece might not be such a bad idea. "I'm not fond of wearing a mouthpiece, and hopefully my mom is not listening to this, because she always said you get one set of teeth," Newton said. "It's something I need to look at if we continue to have a problem."
Spitting blanks:
Newton was 0-for-7 with an interception on throws of at least 15 yards downfield on Sunday. It was his first career game with at least seven attempts of that range and no completions. Newton also struggled against four or fewer rushers, completing only 41.7 percent of his passes. He had a 64.2 completion percentage against those fronts through the first 10 games. But Newton was good when it counted, completing a pass to
Steve Smith
that turned into a 19-yard gain on fourth-and-10 from his own 20 with just over two minutes remaining to keep alive the game-winning drive. He also ran 8 yards for a first down on a fourth-and-1 play from his own 41.
Three men and a sack:
The Panthers were without sack leader
Charles Johnson
(knee), but his replacements did just fine. Yes, replacements. It took
Mario Addison
,
Wes Horton
and
Frank Alexander
to replace Johnson. Addison had a sack and tackle for loss, Alexander had three tackles, and the trio helped hold Miami to 52 yards rushing on 3.1 yards per carry. I'm not saying Johnson wasn't missed, but the Panthers were allowing 3.9 per carry with him.
Boom, boom, boom:
Punter's often get overlooked, but
Brad Nortman
deserves props for his effort against Miami. He is a big reason the Panthers were able to keep the Dolphins from spending most of the game in Carolina territory. He had punts of 72, 61 and 58 yards, averaging 56.7 yards on seven punts. His net average of 46.6 was well above his 39.2 season average.
November, 21, 2013
11/21/13
2:33
PM ET
CHARLOTTE, N.C. -- There is no arguing that end
Charles Johnson
is a valuable member of the
Carolina Panthers
' defensive front. He leads the team in sacks with 8.5, and the defense is allowing 1.5 yards more per play with him not on the field.
So if the sprained right knee Johnson suffered in the third quarter of Monday night's win against New England keeps him out of Sunday's game against Miami -- which it is looking like will be the case -- it will be a loss.
But it shouldn't be game-changing.
[+] Enlarge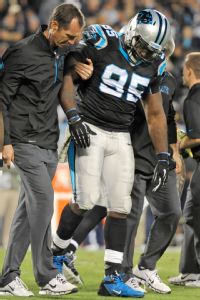 AP Photo/Mike McCarnThe Panthers, who might not have Charles Johnson on Sunday, have made depth a team strength.
One of the strengths of the Panthers (7-3) has been the overused "next man up'' cliché. When a player has missed time with an injury or been replaced because of poor play, there hasn't been a significant drop-off in performance.
In some cases, performance has improved.
For example:
So there is no panic on the league's No. 3 defense that Johnson might be out.
"Charles is a great player," middle linebacker
Luke Kuechly
said. "Don't get me wrong, he's great at rushing the passer. But one thing we have, especially on the defensive line ... I've noticed no matter who the front four is, they've done a great job."
Coach Ron Rivera says whoever has the best week of practice between
Mario Addison
,
Frank Alexander
, and
Wes Horton
will start at left end if Johnson can't go. But that doesn't mean you won't see other players there as well.
"I'm telling you, man, we're all the same player," right end
Greg Hardy
said. "If we need to put Dwan out there at end, he can go out there. We put a tackle out there against Atlanta when me and [Johnson] went out.
"Everybody can do the same job."
Hardy is the best example. He's played everywhere from end to nose tackle.
"It's the way we've been taught, and things have been instilled in us over the two or three years that Coach Rivera has been here," Hardy said. "It's finally hitting home with everybody. Everyone is just buying in."
The coaches prepare for these moments. They rotate Addison, Blackburn and Horton in so they are prepared to step up when times like this come up.
"Greg's one of those guys that plays all four spots," Kuechly said. "But all those guys do a good job of playing spots. A lot of that falls on [the coaches]. They're getting guys prepped and ready to go. That's what makes it effective, when you can bump guys around and play different positions."
April, 30, 2013
4/30/13
10:04
AM ET
The
Carolina Panthers
announced Tuesday morning that they have agreed to terms with 13 undrafted rookies.
The list is headed by Louisiana Tech quarterback
Colby Cameron
, who might have a chance to compete with
Jimmy Clausen
for the No. 3 spot.
The rest of the list includes Rice tight end
Taylor Cook
, Sam Houston State receiver
Trey Diller
, Southern California defensive end
Wes Horton
, South Carolina linebacker
Damario Jeffrey
, East Carolina guard
Robert Jones
, Alabama defensive back
Robert Lester
, Abiline Christian kicker
Morgan Lineberry
, Jacksonville State guard Tori Mobley, Michigan defensive end
Craig Roh
, Oklaohma defensive tackle
Casey Walker
, Louisiana Lafayette defensive back
Melvin White
and Penn State fullback
Mike Zordich
.