April, 5, 2012
4/05/12
11:12
AM ET
There's a big focus on New York on Thursday as the Saints appeal their suspensions and punishments for their bounty program and we'll stay on that all day. But let's take a quick run through some other NFC South headlines.
Although he was very close to former Tampa Bay coach Raheem Morris, veteran cornerback Ronde Barber said it's a good thing new coach Greg Schiano is
running a tighter ship
. He's right. Morris was a nice guy and was well liked by his players. But it became painfully obvious last season that he wasn't running a very structured program and at least some of his players were taking advantage of that. It quickly has become obvious that Schiano is running a much more structured program.
Atlanta quarterback Matt Ryan showed up at Augusta National. He wasn't a spectator for the Masters. He was
working as a caddie
. Ryan will get back to his regular job April 16, when the Falcons begin their offseason program.
At a gathering to celebrate former Carolina receiver Muhsin Muhammad taking over a restaurant chain, Panthers owner Jerry Richardson said it often is difficult for athletes to
adjust to the business world
. Muhammad might be wise to take some notes from his former boss. Richardson is the ultimate success story of a former player in the business world. Richardson had a brief career as a receiver with the Baltimore Colts in the Johnny Unitas days. He then started a fast-food franchise that grew into a restaurant empire that gave Richardson the resources he needed to start the Panthers as an expansion team in 1995.
In some non-bounty news involving the Saints, a federal judge
refused to dismiss
a lawsuit over whether the phrase "Who Dat'' can be trademarked or is public domain. The case is scheduled to go to trial later this month.
Former Atlanta safety James Sanders
has left for Arizona
as a free agent. Sanders provided stability in Atlanta's secondary as William Moore and Thomas DeCoud went through some growing pains. But Moore and DeCoud have progressed and that made Sanders expendable.
December, 26, 2010
12/26/10
5:00
PM ET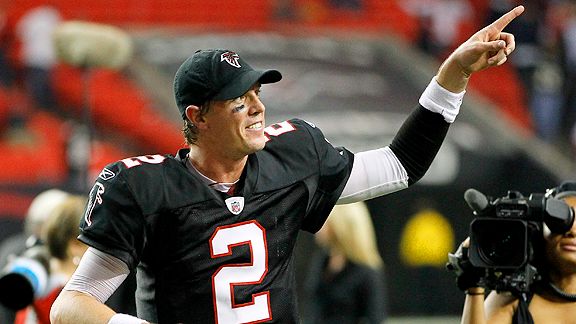 Kevin C. Cox/Getty ImagesQB Matt Ryan is far from a bust, but one has to wonder if he can lead Atlanta to playoff success.
The NFC's -- and maybe even the NFL's -- most inhospitable stadium for visiting teams doesn't appear all that intimidating.
Drive into downtown Atlanta and it's tough to even spot the Georgia Dome until you're almost upon it. Surrounded by the usual big-city skyscrapers, including the CNN Center and Phillips Arena, the dome is almost hidden.
There really is no signature on this place, home to the
Atlanta Falcons
since 1992. No pirate ship like Tampa Bay's Raymond James Stadium. No spine-tingling chills like when you walk into Lambeau Field. No constant chants of "Who Dat'' like in the Louisiana Superdome.
So why is it that this nice, ordinary stadium suddenly has become a nightmare for visiting teams?
[+] Enlarge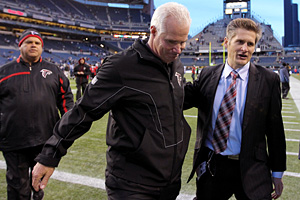 AP Photo/Greg TrottCoach Mike Smith, center, and GM Thomas Dimitroff focused on making the Falcons younger in key areas this offseason.
We'll explore some possible reasons soon. But first, let's consider how the Falcons -- who play the defending champion
New Orleans Saints
on ESPN's "Monday Night Football" -- have turned the Georgia Dome into their safe haven the past three seasons.
Let's start in 2008 because, aside from the glory year (1998), that's pretty much where any real positive history for this franchise started. In the aftermath of the Bobby Petrino and
Michael Vick
fiascos, owner Arthur Blank hired general manager Thomas Dimitroff and coach Mike Smith and they drafted quarterback
Matt Ryan
.
Since that triumvirate has been in place, the Falcons have been pretty much invincible at home. They're 19-3 in the Georgia Dome. As they head into the NFC South showdown with New Orleans, the Falcons are 6-0 at home this season, which makes them the only NFC team that's undefeated at home.
Look into the recent history a little more and a couple of other impressive statistics pop up. Even those three home losses in three years are a bit inflated, or at least distorted. Two of them came last year when Ryan and running back
Michael Turner
were sidelined with injuries against Philadelphia and New Orleans.
In games Ryan has started in the Georgia Dome, the Falcons are 19-1. The single loss came to Denver in Ryan's rookie year. Since then, Ryan has won 15 consecutive home starts.
Now, let's look at some possible reasons for the success. In general, in any sport, it's almost always easier to win at home. There is no doubt Atlanta's fans have played some role in the recent home success. Still, it's kind of curious that Smith -- a man who is a pure no-frills football coach -- has to step up and be a cheerleader at times. Smith has to remind Atlanta's notoriously late-arriving crowd to be punctual.
"We had our game against Baltimore on Thursday night [Week 10, a 26-21 Falcons' win] and I talked about the fans trying to get there early,'' Smith said this week. "I think it is going to be imperative for us to get that dome rocking as we get ready for our biggest rival; the defending Super Bowl champs the
New Orleans Saints
coming in here on Monday night. I encourage everybody to come on down to the dome and get ready to roll."
There's no doubt success breeds success and Atlanta is warming up to the Falcons, who have put together three consecutive winning seasons after not producing back-to-back winning seasons until last year. Mayor Kasim Reed has been promoting a pep rally for Monday at noon in City Hall, and the Atlanta City Council has declared Dec. 27 as "Atlanta Falcons Day''.
Those things are very positive developments, but let's be real honest here. The Georgia Dome crowd never has developed a strong identity. Going into the Georgia Dome isn't exactly like going into Cameron Indoor Stadium, where Duke basketball fans actually believe they can influence the outcome of a game. It's not like the Superdome where the noise got so deafening in last year's Saints championship season that I invested in a set of ear plugs.
This is a town where the Braves have long been the city's passion. College football isn't far behind because you've got Georgia Tech in town, and the University of Georgia not far away. As the unofficial capital of the South, Atlanta has pretty large pockets of fans that are obsessed with Clemson, Auburn, South Carolina and Tennessee.
But you can see traditions starting to change and you can hear the Georgia Dome starting to get louder. The "Rise Up'' video, featuring actor Samuel L. Jackson, that's played at the start of each home game this season has given the Falcons, their fans and the Georgia Dome something pretty close to a signature. I wouldn't say the video quite puts fans into a frenzy, but it's getting close to that point.
Falcons' fans have never been what you would call rabid, and there still are times when you'll see linebackers
Mike Peterson
or
Curtis Lofton
waving at the crowd to make noise.
[+] Enlarge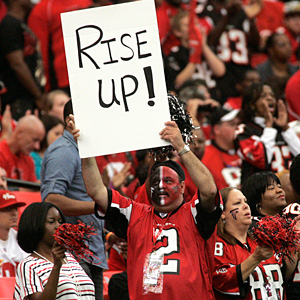 AP Photo/John AmisAtlanta fans are warming up to their Falcons, and the "Rise Up'' video that's played before games is popular.
But something special is building in the Georgia Dome. If the Falcons win Monday night, they clinch the NFC South title. More importantly, they also clinch the No. 1 seed throughout the NFC playoffs, which would mean they wouldn't have to leave the friendly confines of the Georgia Dome. Even in the glory year, the 14-2 Falcons were the No. 2 seed because Minnesota went 15-1 that season. The Falcons have never had home-field advantage throughout the playoffs. The next time they get on a plane might be for a Super Bowl trip to Dallas.
"We know what's at stake,'' Smith said. "I think our guys are aware of the situation. We have said many times we like where we're at and we know where we're at and we know what we have to do. Again, I think just like we've tried to approach every game it's really not about our opponent it's about us and going out and playing as well as we possibly can play. If we do that we're going to like the outcome and we're going to look up and like where we're at."
If this home dominance continues, in a few years, we might look back on all this and search for a chicken-or-egg scenario. But that's not necessary. The answer to this one is obvious and we've watched it play out.
"The Birds'' came first in this scenario. Or at least their success came first. Smith and Dimitroff have built a solid football team, highlighted by Ryan. They have made the Georgia Dome a tough place for opponents to come into simply because opponents have to come in and play a very good team.
Since the day Smith arrived in 2008, he's been talking about "the process,'' and the fans and the Georgia Dome are all part of that. Fans are catching on as the playoffs get closer. The Braves and all those college teams still get their share of attention.
But the Falcons are no longer an afterthought. They're so solid that they're tough to beat anywhere, and it's even more pronounced in the Georgia Dome.
This "process'' isn't quite complete, though. With each win, the fans seem to get louder and more involved. That should be a scary thought for teams that might be coming to Atlanta for the playoffs.
They're going to have to face a good football team and a crowd that's just starting to hit its stride. Take that combination and the Falcons just might be impossible to beat in the Georgia Dome.
March, 5, 2010
3/05/10
5:06
PM ET
On a very busy first day of free agency, we haven't had time to get to everything going on in the NFC South. So let's catch up on some other developments with a quick trip through some headlines.
The battle over "Who Dat'' takes another twist with a Louisiana corporation
filing a lawsuit
against the NFL.
D. Orlando Ledbetter's got a
new mock draft
up and his pick for the Falcons is a bit of a surprise when most people are assuming the Falcons will draft a defensive end or a linebacker with the No. 19 pick. Instead, Ledbetter's got them taking center Maurkice Pouncey. Hey, this might not be a bad call. Veteran center Todd McClure is getting older and this could be a need position.
Former Tampa Bay quarterback Jeff Carlson has a
good overview
of how the Bucs sit at his former position. I especially agree with him when he says Josh Johnson can be a quality backup to Josh Freeman. Johnson's a guy with some talent and some intangibles. He's a good guy to have behind the franchise quarterback.
Washington general manager Bruce Allen said the Redskins
did not
pursue free-agent defensive end Julius Peppers.
There was an internet report earlier today that the Buccaneers had "huge'' interest in Green Bay defensive end Aaron Kampman. There may be some interest there, but nothing is imminent. Tampa Bay general manager Mark Dominik told WDAE's Steve Duemig that the Bucs aren't in
hot pursuit
of anyone. But don't completely rule out Kampman. He's an older guy coming off a knee injury. If he sits out there a bit and the price tag drops, then the Kampman scenario could become huge.
You can see the entire
transcript
of Jake Delhomme's farewell news conference in Carolina here.
Derrick Brooks acknowledges his
playing days
likely are over. This should have come a year ago. But the Bucs still need to wrap this up the right way because Brooks is the best player in franchise history. Re-sign him for a day, call a news conference to formally announce his retirement and give him a proper sendoff.
New Orleans linebacker Scott Fujita has
scheduled a visit
with the Cleveland Browns on Saturday. But don't rule out him re-signing with the Saints.