NFC South:

wildcat formation
December, 1, 2011
12/01/11
4:08
PM ET
With Tampa Bay quarterback
Josh Freeman
not throwing
during the portion of Thursday's practice that was open to the media, you have to start wondering if he'll be able to play Sunday against Carolina.
[+] Enlarge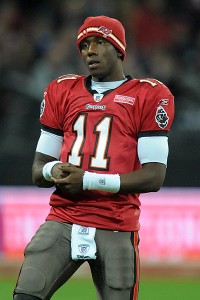 Kirby Lee/Image of Sport/US PresswireBucs quarterback Josh Johnson might get an opportunity to start on Sunday against Carolina.
Freeman suffered a right shoulder injury at the end of last Sunday's loss to Tennessee, coach Raheem Morris said. Freeman was limited in Wednesday's practice.
Freeman has not missed a start since taking over the job midway through his rookie season. But it now appears possible that streak could end at 36 games.
If it does, backup
Josh Johnson
would get the start and the Bucs likely would activate Rudy Carpenter from the practice squad to be the No. 2 quarterback.
Johnson is a completely different style of quarterback than Freeman. First off, Johnson is much smaller at 6-foot-3, and he's listed at 205 pounds. When you see Johnson in person, you wonder if that weight might be a little inflated. Johnson's not a classic drop-back passer, and he definitely doesn't have the same arm strength as Freeman.
But Johnson's biggest strength might be his running ability. He's exceptionally fast. Before he was drafted by the Bucs in the fifth round in 2008, Johnson's 4.44-second 40-yard dash was the best time of any quarterback at the scouting combine.
The Bucs have used Johnson, 25, in the Wildcat formation at times this year and he's run five times for 17 yards. He also has attempted seven passes this season, completing two for 14 yards.
Johnson came out of the University of San Diego and was chosen as Most Valuable Player in the 2008 East-West Shrine Bowl.
Johnson's most extensive playing time came in 2009, the year the Bucs drafted Freeman. Tampa Bay's plan was to bring Freeman along slowly, and the Bucs opened the season with
Byron Leftwich
as their starter.
That didn't last long. On Sept. 27, 2009, Johnson replaced an ineffective Leftwich and went on to start the next four games, before Freeman took over. Most of Johnson's career passing stats came in 2009.
He's completed 53.4 percent of his passes for 810 yards, four touchdowns and eight interceptions. The Bucs likely would adjust their play-calling to take advantage of Johnson's running ability if he does have to start.
Johnson also could be looking at extra incentive if he gets a start or two. He has said he aspires to be a full-time starter at some point. That's not likely to happen in Tampa Bay as long as Freeman is around.
But, if Johnson gets to play and makes the most of it, that could help him down the line. Johnson is scheduled to become an unrestricted free agent after this season.
November, 21, 2010
11/21/10
6:56
PM ET
Time to wrap up Tampa Bay's
21-0 victory
against San Francisco.


What it means:
The Bucs are 7-3. This victory wasn't as dominant as the score might indicate, but who cares? When you go across the country and win, it shows you're a good football team. We'll keep in mind it came against a bad San Francisco team with
Troy Smith
as the quarterback. But a shutout in the NFL is still hard to come by. This isn't the dominating Tampa Bay defense of old but this kind of game builds confidence. The Bucs generated a steady pass rush for the first time all year and the run defense also had perhaps its best showing.
What I liked:
Undrafted rookie running back
LeGarrette Blount
continues to impress and he ran with plenty of power against San Francisco. But the best news of all with Blount is that he still has plenty of room for improvement. At the moment, he's just getting by with power and athleticism. He can take his game to another level if he can learn to hit the right hole and make better decisions.
What I didn't like:
The Bucs used
Josh Johnson
in the Wildcat formation as the quarterback a couple times and had success. They also used the backup quarterback as a receiver on a couple of plays, but that didn't result in anything. There's no doubt Johnson is a good athlete. Maybe I'm old school but I believe you only use gimmicks like the Wildcat formation when you don't have a real quarterback. With
Josh Freeman
, the Bucs have a very real quarterback and it doesn't make sense to take the ball out of his hands.
The rise continues:
Defensive tackle
Gerald McCoy
, the third overall pick in the draft, got off to a slow start. But he's come on strong the past couple games. That continued against the 49ers as McCoy had a sack and put pressure on the quarterback several times while turning in a solid game against the run.
Earning his salary:
The Bucs gave left tackle
Donald Penn
a huge contract in the preseason. Penn's responded by having a very solid year as a blocker. But he elevated his game to a new level Sunday. On a tackle-eligible play, Penn caught a touchdown pass from Freeman in the fourth quarter.
What's next:
The Buccaneers travel to Baltimore to play the Ravens on Sunday. Initially scheduled for a 1 p.m. start, this game already has been "flexed'' to 4:15 p.m. ET.
March, 2, 2010
3/02/10
11:34
AM ET
Florida quarterback
Tim Tebow
is working to refine his throwing motion. Will he play QB or some other position in the NFL? Let's assess his chances of landing in the NFC South.

Atlanta:
Unless Tebow wanted to switch positions and the Falcons thought he could play tight end or somewhere else, there's no chance of him landing in Atlanta. They've got
Matt Ryan
as their franchise quarterback. Coach Mike Smith and offensive coordinator Mike Mularkey aren't big believers in gimmicks. They rarely use the Wildcat formation and they're not going to change and disrupt their offense.
Draft probability:
No chance.

Carolina:
The Panthers probably are in the market for a quarterback in free agency or the draft. At the moment, they have an uncertain situation with
Matt Moore
and
Jake Delhomme
as the only real options to start. Tebow has a history as a winner, and the Panthers have done their homework on him. But coach John Fox and general manager Marty Hurney have to win big this year, and they've always believed it takes too long for a quarterback to develop from the time he's drafted. Tebow is just adjusting to an NFL throwing motion. It's very unlikely Fox and Hurney will take him because they don't have the time for him to develop.
Draft probability:
Low.

New Orleans:
Yeah, it's tempting to think about the possibilities of what a great offensive mind like Sean Payton could do with Tebow. But do you really think Payton is going to do anything that potentially would take the ball out of Drew Brees' hands?
Draft probability:
No chance.

Tampa Bay:
The Bucs have young quarterbacks in
Josh Freeman
and
Josh Johnson
. Freeman clearly is the franchise guy. If the Bucs do anything at quarterback, it will be to add a veteran free agent to help mentor Freeman. They have 10 draft picks and lots of needs. A project at quarterback isn't one of them.
Draft probability:
No chance
December, 27, 2008
12/27/08
10:00
AM ET
Posted by ESPN.com's Pat Yasinskas
Since the mailbag was more than overflowing this week, I'm doing a special Saturday edition of team-by-team mailbags. We'll start with the Carolina Panthers.
Gabe in Waxhaw, NC, writes: Pat, What do you think about the Panthers running a power option with both Williams and Stewart in the backfield? I know Fox likes to run with a lead blocker but wouldn't the presence of the other running back in the backfield open things up for the other running back. Also, I know this would probably never happen but what about running the wildcat with Steve Smith at quarterback? Everyone talks about how we need to get him the ball more, why not give it to him from the start? Thanks!!
Pat Yasinskas: Interesting idea and I wouldn't rule it out at some point in the future. Not saying it will be an every-down thing, but I could see DeAngelo Williams and Jonathan Stewart lining up together at times. Yes, John Fox is pretty traditional. But offensive coordinator Jeff Davidson can be innovative at times and it wouldn't shock me to see the Panthers do that a bit. As for putting Steve Smith in the Wildcat formation, I'll give a similar answer. Might be something to try on rare occasion, but I don't think it's something the Panthers would think about on any sort of regular basis. You don't want to have your best wide receiver get hurt on a running play up the middle.
---
Casey in parts unknown writes: I have never understood the media's love affair with the Panthers. Jake Delhomme is a very marginal quarterback. Matt Ryan is clearly a better quarterback on film and in every statistical category than Delhomme, and their running game is only a few yards better than ours, though they have a considerable touchdown advantage (only because Norwood has disappeared). Their two main defensive players, Peppers and Beason, are wildly overrated. Even when they lose, they are still ranked high, considerably higher than my Falcons. You know, the team that has outscored the Panthers head-to-head? They are in a one of the smallest markets, much smaller than the Giants, who are also overrated (again, marginal quarterback), so what's the fascination? Am I missing something?
Pat Yasinskas: Wow, this one's a little different than what I get from Carolina fans, who regularly say the national media doesn't give the Panthers enough attention. I'll disagree with you on Jon Beason; I think he's an elite linebacker. Peppers is an elite defensive end, but, at times in his career, hasn't played to his potential. As for Jake Delhomme, the guy has won some big games in his career and he's been around for a long time. Delhomme, Peppers and, most of all, Steve Smith are household names on the national level and Fox is a well-known coach. I don't think Atlanta's been slighted by the national media. The Falcons have gotten a lot of attention with their remarkable season. But Matt Ryan and Michael Turner are relatively new superstars and their reputations are just starting to spread. The attention will only grow as the Falcons head into the playoffs.
November, 18, 2008
11/18/08
5:04
PM ET
Posted by ESPN.com's Pat Yasinskas
I'm going through the mailbag and there's more than enough to have a take for each of the NFC South's four teams. Not sure if I'll get all four done tonight, but whatever remains will be posted Wednesday. I'm going to start with the Carolina Panthers.
I apologize for not being able to answer every single question, but I tried to choose ones that represented a lot of others. We'll touch on whether the Panthers should hit the panic button after two ugly wins, the mysterious play of Jake Delhomme and, as usual, ponder the age-old question of if the Panthers are getting enough respect.
Wildcat in Charlotte writes: Hey Pat, I have a question about the wildcat formation. 2 years ago on Christmas eve the Panthers were playing the falcons. the season was over at this point and jake delhomme was injured. Chris Wienke was playing QB and he attempted 7 passes I believe the entire game. We had Deangelo Williams taking direct snaps the entire game. We just kept running and they could not stop it. Henning was the offensive "mastermind" of the wildcat formation was he not? Doesn't he coach the Dolphins offense now? So isn't he the person behind this whole craze?
Pat Yasinskas: I remember that game (and the mad dash home with a bearded and jolly friend I'll call "Stan'' riding shotgun to Charlotte for Christmas) very well. Yes, Williams took a lot of direct snaps that game and Weinke only threw a handful of times. The Wildcat formation worked to perfection. And, yes, Dan Henning is now the offensive coordinator for the Miami Dolphins, so it would seem save to say he's the mastermind of this whole thing. But hang on just a second. I don't want to sell Henning short because he's a good football coach and person, but in the days after that game, there were some rumblings around Bank of America Stadium that it was actually coach John Fox who came up with the idea for the formation. Nobody would ever say for certain. Maybe it was Henning, maybe it was Fox or maybe it was a combination of the two.
---
Jordan in Cullowhee writes: Do you think that after the panthers preformence running the ball today, that this solidfies them as a superbowl contender?
Pat Yasinskas: I was definitely impressed with the way the Panthers ran against Detroit and I think DeAngelo Williams and Jonathan Stewart are a great combination. But I'd like to see Jake Delhomme and the passing game bounce back before I stamp Carolina's ticket to the Super Bowl.
---
Adam inCharleston, SC writes: Hi Pat, Love your column. I've followed the Panthers since '95, and follow Jake since he started to throw for the Panthers. My observation has been that Delhome is a QB with some sort of multiple personality performance (not disorder). Great performances are followed by dismal ones, and I struggle to recall a mediocre performance from the Cajun. His poorer performances can usually be blamed on injured offensive lines, tight coverage, ext. But these last two weeks leave me without an excuse for the Jeckle-and-Hyde persona we've seen. What's up with Jake, and which Jake will finish out the year?
Pat Yasinskas: I'm getting this question from a lot of people and I'm asking myself the same thing. I've seen most of Delhomme's games live since he came to the Panthers and I caught the last two on tape and it's very tough to figure out why he's struggling so badly. I've seen him make bad plays before or even have a bad game and bounce back in the next. But I've never seen him have two horrible games like these back to back. After the Oakland game, I thought maybe it was just a fluke. But, after the Detroit game, I'm wondering about Delhomme's health and if his elbow or thumb is causing problems. The Panthers say he's healthy, but you still have to wonder if he keeps playing like that.
---
Chris in Raleigh, NC writes: Pat, I've been seeing a lot of comments about the Panthers performance against the Raiders and the Lions. Granted, they weren't pretty, but in the end they held Oakland to 6 points and they ran for nearly 300 yards against the Lions. Plus, they WON the games. Granted, Jake didn't look like a worldbeater, but isn't there the possibility that the guys were looking past these two scrub teams and toward the remaining six games? So what if they came out a little flat?
Pat Yasinskas: Good point, Chris. I know a lot of folks are disappointed the Panthers didn't just roll through the Lions and Raiders and there were some things in those games that raised concerns. But, you're right, the Panthers did get two wins and that's all that really matters. Now, they've got six games remaining where they're going to have to be sharper than they were against Oakland and Detroit.
---
Doug in Durham, NC writes: I have a simple question that I think everyone in North Carolina is thinking right now. Why is no one talking about the Panthers? I understand that the NFC East dominates the headlines due to the fact that at the beginning of the season it was the best division in the NFL, but right now you have to think that the NFC South is the best division in the NFL and the Panthers are leading it.
Pat Yasinskas: I understand your passion for the Panthers, but I don't think they're being sold short right now. As a matter of fact, I get similar questions from Tampa Bay and Atlanta fans. I don't the NFC South, as a whole, is being sold short either. I've talked about how it's close or might even be the best division in football for a while now. The Panthers are ranked No. 3 in our Power Rankings for the second straight week and I spotted Steve Smith on the cover of a national publication last week. Their game against the Falcons has been moved to a later time slot to give them more national exposure. Not sure how much more attention they could be getting right now.