NFC South:

Willie McGinest
January, 31, 2013
1/31/13
2:00
PM ET
NEW ORLEANS -- The glitz is still here, but the tone this Super Bowl week just doesn't seem to fit with the celebrations on Bourbon Street or the free and easy nature of the host city.
The issue of player safety has been as topical as
Ray Lewis
' last game or brothers Jim and John Harbaugh coaching against each other.
We've heard predictions that the NFL will be gone in 30 years, or at least reduced to a game of two-hand touch. President Barack Obama hypothetically has wondered whether or not he would let a son play football. Current players have said they "signed up" for a violent game and all that may eventually come with it, even as thousands of former players are pursuing lawsuits claiming the NFL failed to warn them of the long-term effects of concussions.
ESPN.com surveyed a group of current and former players and executives to get their thoughts on the player-safety issues.
The group included current San Francisco linebacker
NaVorro Bowman
, former NFL cornerback Eric Davis, current Baltimore safety
Ed Reed
, retired quarterback Bobby Hebert, former NFL director of officiating Mike Pereira, former linebacker Willie McGinest, current San Francisco linebacker
Aldon Smith
, NFL Players Association president Domonique Foxworth, current Baltimore linebacker
Terrell Suggs
, retired lineman Shaun O'Hara, current San Francisco fullback
Bruce Miller
, longtime
Dallas Cowboys
executive Gil Brandt and current San Francisco guard
Alex Boone
.
[+] Enlarge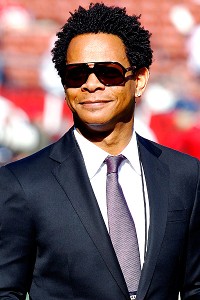 AP Photo/Kevin Terrell"Let's be real honest," former NFL safety Eric Davis said. "It's a gladiator sport. Coliseums were built for it."
Here are the highlights of their answers to the hot-button questions:
Where do you see the NFL in 30 years?
Brandt:
"I don't think we're Montgomery Ward. Montgomery Ward, at one time, was the leading retailer in the world and they made the mistake of saying we're not going to go into the little towns, we're just going to go into these big places, and they stood still. The league may doze, but it will never close. They're always looking for ways to make things better. They've been working on making the game safer and they'll continue to make it safer."
Pereria:
"I see it not a whole lot different than it is. I think the league will go as far as it can and still go further than it is now to try to make the game safer. But I don't think it's going to make the league disappear as some people have said. I think this is still a once-a-week game that people get very passionate about their games."
McGinest:
"I think the NFL definitely is going to be here to stay. I think that this is the best game in the world. I think that they're doing everything in their power to keep it that way and to make it one of the safest games. I don't think it's going to look different. I think they're just changing certain things to make it safer. If you're talking about hit zones, if you're talking about staying away from head shots and stuff like that, that's not something we're not used to hearing. So I don't think we're going to go back to leather helmets with no face masks or no helmets. This game is going to be the way it is. I just think they're doing everything and taking every precaution to make it safer."
O'Hara:
"Football is not going to disappear in 30 years. Will it look different? Of course it'll look different. Look at the game 30 years ago to today -- different game, different rules, different equipment. So 30 years from now, absolutely, it'll be a different game."
Are the safety concerns overblown?
Foxworth:
"My responsibility is just to protect the rights of the players and their health and safety, so I don't think that there can be enough [attention given to safety issues], especially given some of the things that have happened as a result of some of the head injuries. I'm pretty sure that those players and their families would say that there's no such thing as too much attention on the health and safety of the guys. So I come from that standpoint, and, being a former player, it's something I'm keenly aware of from a personal standpoint, and a lot of my friends are in this league and I know a lot of our kids may potentially be in this league. So it's very important that we put as much effort, time and money toward evolving the game and the science of the game as we can."
Smith:
"The game is what we signed up for. We didn't sign up for tennis. We didn't sign up for swimming and didn't realize we were going to go out there and get tackled. We signed up for football, which we knew was a physical sport."
Davis:
"Let's be real honest. It's a gladiator sport. Coliseums were built for it. People like to watch it and we're talking about big, strong, fast men. There are going to be collisions. There are going to be injuries. Do all the things you have to do to make it as safe as possible, but the reality is there's always going to be some danger."
Hebert:
"A little bit. But the NFL is so popular because it's the modern-day gladiator. I mean, I don't know what that says about mankind. But you can also look at boxing and ultimate fighting and how popular they are. Fans don't want to see flag football. I still think football will be here. You can change it, but you can only change it so far."
McGinest:
"I think it's necessary based on some of the studies, some of the former players and what they're going through, some of the players now. It's necessary. And it's also showing that the NFL cares about its players. If they're taking time to put on these full-on studies and they're going through every precaution with the testing of the gear and the helmets and they are willing to change certain things about the game to make sure that it's going to be here and be a safer game, it has all the signs of going in the right direction."
Boone:
"I just never understood how you change the game when you have players who are bigger, stronger and faster every year. It's just football. It's going to be physical. It's a physical sport. There are going to be injuries, but we're doing things to correct it.''
What one change would you make to improve safety?
Pereria:
"The safety issue is really all about the head. That's something the league has been focusing on for a long time and they'll continue to focus on making the rules broader than they are right now. Right now, only nine players are protected in certain situations. Can you go further? Possibly. The whole notion is going to try to be to get the head out of the game and get back to the wrap and tackling as opposed to lowering the head. They're serious about that, and they should be. To me, as I watch so much football on Sundays, it's already made a difference. You see situations where a defender really has a chance to blow up a receiver and he doesn't. To me, that means the rules are taking effect and that the fines have made a difference."
Davis:
"They're making the game safe for quarterbacks and star players. But they're not making it safer for all players. You never hear of a defenseless running back. You never hear of a defenseless linebacker. Defensive players aren't protected. Unless you make it safer for all players, I don't think you're doing as much good as you can. You have to put everyone on equal footing."
Reed:
"Defensive players should be protected, too. Offensive guys, quarterbacks in general, shouldn't be treated better than everybody on the football field.''
McGinest:
"I would take out the chop-block. That's another thing we don't talk about. A lot of emphasis is on the head, guys getting concussions and stuff, but there are also a lot of players getting their ACLs knocked out because now guys are diving. Now that they know they can't go high, guys are starting to attack with chop-blocking. That's also knocking guys' careers either out or messing them up. Not everybody's
Adrian Peterson
coming back from those injuries. A lot of guys, they take the wrong hit on the knee, they're never the same player."
O'Hara:
"I think the only real way to get everybody on the same page is to somehow get all the players in the NFL and all the coaches in the NFL and all the referees, get everybody in the same building and have, 'This is what is acceptable and this is what is not.' No second- and third-person regurgitation of the facts and, 'Here's what we're looking for,' because that needs to be consistent and everybody needs to hear the same message. Centralize the education, basically."
What else can be done to make things safer?
Hebert:
"I think you truly have to take it out of the players' hands as far as whether you're going to go back into the game or not after a head injury. As a player, when it comes to your teammates, you never want to be looked upon as a wuss. You want to be a tough son of a gun. To me, it totally has to be out of the hands of the players."
[+] Enlarge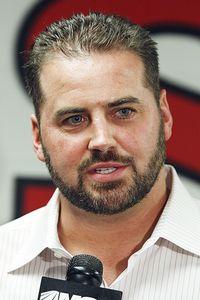 AP Photo/Mel Evans"You wouldn't give your son a circular saw and let him go and start whittling wood," former lineman Shaun O'Hara said. "You would teach him how to use that."
Davis:
"Look, the guys I played with and the guys that are playing now were schooled a certain way. It's too late for us and maybe too late for the guys still playing in the NFL. But the next generation is where a difference can be made. The kids that are coming into Pop Warner now need to be taught how to tackle properly. And maybe, just as importantly, they have to be taught that if you get dinged, if you take a hit to the head and you don't feel right, you go straight to the coach or the doctors and tell them immediately. People do that with ankle injuries. You hurt your ankle, you come out of the game. Head injuries need to be treated the same way."
Foxworth:
"In nine years, you can ask me that question and I'll have a definitive answer. But I don't know. We don't know how much damage repetitive hits do or whether it's the big knockout blows that do the damage. There are just so many questions. We're not sure about the best treatments and the quicker recovery time and if there are any precursors that make someone predisposed to have these kinds of brain injuries. Those are questions that will be answered by this Harvard research, and at that point, I think we can be able to set forth clear protocols of how to treat a player after a practice or how many hits [before] it's time to sit a guy out. Those sorts of things that are changes that can be made easily."
Brandt:
"I think it's like the Internet. People that are older, like myself, are not Internet-savvy. Kids that are 7 or 8 know more about it than I do. I think it's a thing that you build from the bottom up. Where I think we have a problem is that we have a lot of youth football leagues and the guys that are coaching sometimes get overzealous. I think we're gradually educating that element."
Would you let a young son start playing football right now?
Bowman:
"I'm not going to deter my kids from the game. When they see the game, they understand what it's all about. It's a physical game."
Suggs:
I respect [the president's comments] for the simple fact that this is a very physical and dangerous sport, especially considering that with the concussions and the current findings of Junior Seau. A parent would be reluctant [to let] his or her child play football. I think, if you play the game right and you play it appropriately, that injuries are part of the game.''
Pereria:
"Sure, I would. But I'd also be out there with him, coaching and working with the coaches to make sure that the game, at that level, is being coached properly and that kids are keeping their heads up and abiding by the rules that are still in the NFL rule book, which defines tackling as wrapping your arms around the opponent and taking him to the ground."
Miller:
"Everyone has their own opinions, but I would let my kid play football. It's a violent game, but not too violent. At the same time it builds character, hard work, dedication, responsibility. All of those things are important. They are taking caution to be careful and concerned for the players' safety and taking that into account more."
Foxworth:
"My son's so young, I like to think that we would have made advances by the time he's old enough to play to make it safer. Given the current state of the game, I wouldn't stop him from playing it, but I'd be very cautious about the exposure and the frequency with which he may come into contact with those type of dangers."
O'Hara:
"If my son wanted to play football, I would absolutely let him. I would drive him. But I would teach him. You wouldn't give your son a circular saw and let him go and start whittling wood. You would teach him how to use that. There's a proper way to use power tools. So my issue is, when I hear parents say, 'I don't want him to play football,' well, it's because you don't want to take the time to teach him how to do it right. Or you don't know how to teach him right. So that, to me, is a big sticking point. When I see kids that want to play football, I just want them to learn it the right way. We need to make sure our coaches are teaching our kids the right way to do things, because for every one kid that gets hurt, that's something that could affect a whole lifetime."
April, 15, 2009
4/15/09
1:00
PM ET
| | |
| --- | --- |
| | |
| | Paul Spinelli/Getty Images |
| | After being traded to Tampa Bay and signing a new, hefty contract, Kellen Winslow will be one of the most prominent faces of the Buccaneers' new regime. |
Posted by ESPN.com's Pat Yasinskas and James Walker
When head coach Eric Mangini and general manager George Kokinis took over in Cleveland and head coach Raheem Morris and general manager Mark Dominik were hired in Tampa Bay, the four men instantly began re-shaping their franchises.
No move was bigger for either team than the deal the Browns and Buccaneers made for tight end Kellen Winslow at the start of free agency. In exchange for a second-round pick this year and a fifth-round choice in 2010, the Bucs got Winslow and the Browns got rid of him.
There are two ways to look at this deal. Cleveland got rid of a potential headache because Winslow was looking for a new contract and might not have fit with the new regime. On the flip side, he might be a perfect fit in Tampa and the Bucs already have turned around and given Winslow a new six-year contract worth $36.1 million.
The trade comes with potential positives and negatives for both teams. James Walker and Pat Yasinskas take a look at who might be the winner in the Winslow trade.
Why didn't Winslow fit with Cleveland? How does he fit in Tampa?

James Walker: When the Browns changed regimes, the writing was pretty much on the wall for Winslow. Mangini and Kokinis wanted to start over -- completely. Cleveland quickly went on a purge where it traded or released veterans such as Winslow, receiver Joe Jurevicius and offensive tackle Kevin Shaffer. The Browns also didn't retain in-house free agents such as safety Sean Jones and veteran linebackers Andra Davis and Willie McGinest. To put it bluntly, there aren't many players on Cleveland's current roster that Mangini is enamored with, because he wants to win or lose with his players. Winslow had trade value so the Browns didn't pass up the opportunity. He was also in his sixth year and wanted a new contract, so that played a factor as well. Winslow's skill sets could have fit with the Browns on the field, so I doubt this particular move had much to do with talent. But in terms of personalities, Winslow is not shy about speaking his mind, while Mangini often likes his team shrouded in secrecy. This oil-and-water combination probably would not have worked anyway. So this was a good separation for both sides.

Pat Yasinskas: Tampa Bay is starting over, too, and one team's trash is another's treasure. The new contract should make Winslow happy and he's landing in an offense that's going to be built largely around his skills. Offensive coordinator Jeff Jagodzinski will build a downfield passing game around Winslow and wide receiver Antonio Bryant. While Winslow's outspoken nature caused him some problems in Cleveland, that shouldn't be an issue with the Bucs. Morris is only 32 and excels at relating to players. Morris also isn't one of those coaches who tries to control his players' actions and words at all times. He lets them be individuals and Winslow will be allowed to be himself. The change of surroundings also give Winslow a fresh start and that could help more than anything. Although there will be lofty expectations because of the contract, he won't be under the microscope as much as he was in Cleveland. Tampa Bay fans are intense, but this isn't a situation like Cleveland, where Winslow's high draft position meant anything less than perfection was failure.

How will the Browns replace him and how will the Bucs use him?

| | |
| --- | --- |
| | |
| | Jerome Davis/Icon SMI |
| | The Browns will attempt to replace Winslow with a committee of tight ends, including free-agent signee Robert Royal. |
James Walker: The Browns no longer have a tight end with 80-catch potential on their roster. So they are hoping to replace Winslow's production by committee. Cleveland signed former Buffalo Bills tight end Robert Royal, who could be a serviceable starter but never had more than 33 catches in a season. The Browns also have veteran Steve Heiden returning from a serious knee injury and second-year player Martin Rucker, who is still learning but has some potential. If the three tight ends can contribute a combined total of 50-60 receptions next season, I think Cleveland's coaching staff would be happy with that type of production. The tricky thing is Winslow's ability to create mismatches in the middle of the field would have made life much easier for Cleveland's quarterbacks, particularly Brady Quinn, who often likes to check down to his short and intermediate options. If Quinn is the starter, I think he is going to miss Winslow's presence the most. Winslow has tremendous hands and was one of the few consistent weapons in Cleveland's offense the past few seasons who showed up ready to play every week. So how will Winslow be utilized in Tampa's offense, Pat?

Pat Yasinskas: James, while Cleveland is going away from having a pass-catching tight end as a big part of the offense, the Bucs are going in the exact opposite direction. Tight end wasn't a big part of the offense in former coach Jon Gruden's system, but it will be with Morris and Jagodzinski. They've scrapped Gruden's West Coast offense and will go with a system that is supposed to balance the run and the pass. The Bucs don't yet know if Luke McCown or Byron Leftwich will be their quarterback. But they do know they want the quarterback throwing often to Winslow and Bryant. The Bucs have plenty of depth at tight end with Alex Smith, John Gilmore and Jerramy Stevens on the roster. Those other three tight ends will get some playing time and they'll be asked to take on some blocking duties in the running game. But Winslow wasn't brought in here to be a blocker. He'll line up at tight end, but he'll also get some snaps in the slot and out wide. It's a pretty safe guess that the Bucs will be looking to get somewhere around 80 catches out of Winslow.
Did the Bucs overpay with the $36.1 million contract extension?

Pat Yasinskas: There's no doubt Tampa Bay went overboard in giving Winslow a new six-year deal that makes him the highest-paid tight end in history. In theory, that kind of contract should go to the league's best tight end. Winslow hasn't qualified as that -- yet. But the Bucs based this deal on his enormous potential. Yes, it's true he hasn't ever fully reached his potential.

The Bucs are banking Winslow can stay healthy and be the best tight end in the league. They're going to make him a focal point of the offense and his acquisition was the first big move by Dominik and Morris. The contract is a further statement about how huge a role the Bucs want Winslow to play.
James Walker: After watching Winslow the past three seasons, I think he's going to do well in Tampa, and the change of divisions will help his production to the point where fans could forget the extension.

Nothing against your NFC South, Pat. But Winslow had to face the top-flight defenses of the Pittsburgh Steelers and Baltimore Ravens four games a year and still put up very good numbers. He had tremendous battles with Steelers safety Troy Polamalu and Ravens safety Ed Reed, and those two players often said Winslow was one of their toughest matchups annually. I would guess Winslow is licking his chops looking at some of the safeties and linebackers in the NFC South, compared to the personnel he had to face earlier in his career. As you mentioned, Pat, health is the only question.

As far as your contract theory, contracts are relative to the current market. Two years ago Daniel Graham of the Denver Broncos was the highest-paid tight end. Last season it was Dallas Clark of the Indianapolis Colts. And those are not the league's two best tight ends. A year from now someone else likely will become the highest paid at the position, because that's how the market works.
How will this trade work out?


Kellen Winslow
TE
Tampa Bay Buccaneers


2008 STATS
REC
YDS
TD
AVG
LNG
43
428
3
10.0
30
Pat Yasinskas: After firing Gruden and releasing Derrick Brooks, the Bucs were lacking star power. The Glazer family, which owns the team, likes star power and they got some flash in Winslow. He instantly gives the team a big name and his personality should help liven up a locker room that didn't have a true spirit last season. Yes, the price tag was steep and there are plenty of other needs the Bucs could have filled if they kept their second-round pick. But they would not have gotten an instant star in the second round. They get that in Winslow and, for better or worse, he'll be one of the front men for this new regime.

James Walker: For the Browns, they will probably use the additional second-round pick (No. 50 overall) on either a receiver or a running back. Cleveland's offense was abysmal and ranked No. 31 out of 32 teams in the NFL in 2008. The Browns used four different quarterbacks and couldn't get anything established on the ground or through the air. So help at running back or receiver makes the most sense. This is particularly the case if the Browns trade No. 1 receiver Braylon Edwards. There have been talks involving at least one team in the New York Giants. The Philadelphia Eagles also are a possibility. In addition, Donte Stallworth's legal situation makes the receiver position a priority. The Browns need all the help they can get. So there is some pressure on Cleveland to select the right player with this pick, particularly since the team gave up one of its best players.

Who got the most of this trade?

Pat Yasinskas: Things could change in the long term if the Browns hit big with their draft picks. But there's no question the Bucs are the winner in the short term. They got a very good player, who still has the potential to become great. If he does, the price tag won't be that big a deal. I've always thought NFL general managers treat draft picks too preciously and are too hesitant to part with them. I'm glad Dominik broke that tradition because I believe that any pick beyond the first round is just a guess anyway. There's no guessing with Winslow. We already know the guy is good. Yes, he had some injury problems and has been a little controversial at times. But there's no question he's one of the most tale
nted tight ends in the league. Now, he'll get his chance to produce.

James Walker: Although I have no problem with Cleveland starting from scratch, I do also believe Tampa got the most of this trade. It will pay immediate dividends for the Buccaneers, because they get a proven commodity. No tight end Tampa would have drafted this year comes with the game-breaking ability of Winslow, particularly if they chose to draft a tight end in the second round or lower. The Browns now have two second-rounders (No. 36 overall and No. 50) to plug an additional hole. But as I mentioned, they have to nail the pick first to get value in return for this trade. With a first-year general manager leading his first draft, there certainly are no guarantees. A fifth-rounder in 2010 is pretty much a non factor. It won't help Cleveland next season, and statistically there is a little probability a fifth-round pick could ever significantly help unless the Browns found a gem. This is a "win-now" league and Tampa helped itself the most to win in 2009. The Browns might be able to help themselves with this trade down the road. Maybe.