NFC South:

Willis McGahee
June, 14, 2013
6/14/13
3:06
PM ET
Time for a look at some team-by-team highlights from Friday's NFC South chat:
ATLANTA FALCONS
Bobby G (Agawam, Mass):
I expected after Clabo's official June 1st exit that Atlanta would have made one last move, has Ryan's contract moved to a higher priority from three weesk ago ?
Pat Yasinskas:
Still think you could see something with
Richard Seymour
.
big blue (smynra, ga) [via mobile]:
While not being politically correct who would you take first roddy or Julio?
PY:
Probably Julio, especially if your parameters are for a few years down the road. But Roddy is still a very good receiver.
Patrick (Charlotte):
Even though Jackson is younger than Turner shouldn't there be some concern that in terms of carries Jackson has a lot less tread on the tires (Jackson 2395 to Turners 1639).
PY:
Just look back to last season. Turner obviously ran out of gas. Jackson looked like he still had something left.
CAROLINA PANTHERS
Ayodele Alakija (Manchester, England):
Pat, so much talk of
Armanti Edwards
doing well at OTA's has me interested about our WR's. Do you see the Panthers taking 5 or 6 WR's into the season? Who do you honestly think gets cut??
PY:
Can easily see them keeping six. They're going to have some tough choices. Ginn and Edwards looked good in minicamp. But they also have Adams, Gettis and Pilares besides the two starters.
Marcus (Asheville, NC):
What is your assessment of Armanti Edwards' mini camp performance? It seems like each year we hear rumblings of how good of a camp he is having.
PY:
Not to over-hype it, but I was there and it was very noticeable that he was having a very good minicamp.
Brad (Fayetteville):
Recently there has been additional talk about
Steve Smith
going into the Hall of Fame. Reality or does he still have a lot to prove?
PY:
Probably needs to put up big numbers for a few more years. With
Marvin Harrison
coming eligible for HOF next year, that's going to raise the bar for WR numbers.
NEW ORLEANS SAINTS
Sean (Vegas):
Can we just get this out of the way and agree Graham is certainly a top 100 player and due to Gronk's current injury, the clear cut best TE in the NFL?
PY:
I think he's easily a top 100 player. He'll be ranked highly in my NFC South top 25, which will kick off Monday.
Saints Fan Up North (new jersey):
Will the Saints try to get someone in F.A. to take Butlers place or go with what they have?
PY:
I think they'll give
Martez Wilson
a long look in the preseason. If he's ready, they'll go with him. If not, you could see them pick somebody up.
RockKnuteney (Slidell, LA):
Do you know if
Benjamin Watson
has one of these no practice clauses, like
Tony Gonzalez
? Did not see him all of the OTAs or minicamp? Would like him to be part of a two-headed monster at TE for the Saints.
PY:
He was there, but not participating in workouts. Was working with trainers on the side. Think he's recovering from some sort of injury, but can't remember right now what it was. Didn't seem like they were too worried about it though.
TAMPA BAY BUCCANEERS
Clayton (Atlanta):
How much of an impact do you think Revis will have in the early season?
PY:
I think he'll be ready for start of season and will be highly motivated for opener against the Jets.
Josh (the burg):
Do you really think that
Luke Stocker
will step up this season for the Bucs?
PY:
I think he'll be a role player. Crabtree might catch more passes.
Scott (Northglenn, CO):
TB possibly kick the tires on
Willis McGahee
?
PY:
Have not heard anything definitive on that. But I started to wonder about that the moment he was released.
Here's the
complete transcript
of Friday's NFC South chat.
October, 16, 2012
10/16/12
3:17
PM ET
As I said earlier, when the ESPN.com Power Rankings were released, I'm not really convinced the
Atlanta Falcons
are the
best team
in the NFL.
It's not like I see anyone dramatically better and it's hard to argue with putting the league's only undefeated team at No. 1. But my opinion is based largely on what I've seen the Falcons the last three weeks. They've needed last-minute drives to win against bad teams.
But let's take a look at this
Insider post
by Football Outsiders. I go by sense and feel, but the Football Outsiders go by hard numbers and they're coming up with the same conclusion I am about the Falcons.
They point out several things that throw rain on Atlanta's parade, starting with the fact the teams the Falcons have beaten are a combined 12-22 and none has a winning record. It also is pointed out that only two of Atlanta's future opponents have winning records at the moment.
Football Outsiders also points out the shortcomings of Atlanta's running game. It would be nice to have a running game, but I'm not sure this is all that big a deal. The Falcons came into the season wanting to be more of a passing team and they're accomplishing that.
But, if you're looking for a flaw that could really bring down the Falcons in the postseason, Football Outsiders has it. It points out how Denver's
Willis McGahee
, Washington's
Alfred Morris
and Kansas City's
Jamaal Charles
and Carolina's multi-faceted backfield all had an easy time running on the Falcons.
Think about the possibility of the Falcons having to stop
Matt Forte
,
Frank Gore
or
Ahmad Bradshaw
in a playoff game?
If they finally are going to win a postseason game in the
Mike Smith
era, the Falcons are going to have to improve at stopping the run.
They'll get some relief soon when defensive tackle
Corey Peters
comes off the physically unable to perform list. Peters will help, but I'm not sure he solves everything.
If the Falcons really want to go far into the postseason, coordinator Mike Nolan better start finding ways to make the run defense better.
December, 19, 2010
12/19/10
7:30
PM ET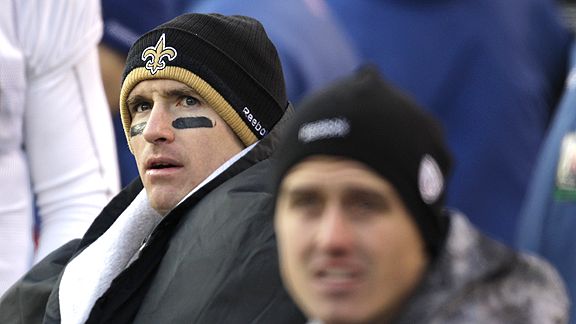 AP Photo/Rob CarrDrew Brees and the Saints will likely have chilly road stadiums in their postseason future next month.
BALTIMORE -- In a postgame locker room where there easily could have been talk of frustration, doom or even meetings to plan the return of the Lombardi Trophy, there simply wasn't.
"If we are a wild-card, then obviously our trip to the Super Bowl is on the road,''
New Orleans Saints
quarterback
Drew Brees
said after a 30-24 loss to the
Baltimore Ravens
on Sunday. "If that's what we have to do, that's what we'll have to do.''
Nobody summed up the situation the Saints (10-4) face any better than Brees. Nobody even took a different tack than Brees. From head coach Sean Payton on down, the Saints were taking the loss for precisely what it was.
"It's a disappointing loss, a tough loss,'' Payton said. "You credit Baltimore. It was a hard-fought game. I thought both teams played hard and, in the end, they made more plays than we did.''
Ordinarily, the above quote would not have been transcribed off my tape recorder and it certainly wouldn't have been used. It's the kind of meaningless stuff coaches spew every week. But, in this case, it is entirely accurate.
On a chilly day at M&T Stadium, two good teams played a good game and the Ravens (10-4) came out with a narrow win. There's no real shame in any of that, but let's keep the part about chilly days in distant stadiums and playing against very good teams in mind.
Last season's dream of playoff games in the comfy Superdome are fading fast.
"I think we're a very good road team,'' Brees said. "We just ran into a very good opponent.''
Well, if the Saints really are going to repeat as champions, losing close games on the road isn't going to be good enough. There is the Dec. 27 road game at Atlanta, the team that has the lead in the NFC South. After that, there's a regular-season-ending home game with Tampa Bay, but that might be the last time the Saints see the Superdome until next season.
Heck, unless they're lucky enough to draw the NFC West champion in a playoff game, they probably have faced their last easy opponent until next season. Sunday's temperature at kickoff was 34 degrees. There was no snow and the sun even came out a few times, but the Saints potentially could face road trips in the playoffs where the setting could be far worse than Baltimore.
They could end up in places like Philadelphia, New York or Chicago in January.
"The fact is, we still had a chance to win at the end,'' Brees said. "That's all you can ask for.''
That's all true. The Saints were in it all the way until Brees had a pass intercepted with one minute, 47 seconds left.
If nothing else, though, Sunday showed that things aren't going to get any easier for the Saints. In fact, in a lot of ways, it showed some pretty major flaws that can be exploited.
Let's start with the run defense, because the Ravens started and finished with their run offense. Baltimore's
Ray Rice
carried 31 times for 153 yards and a touchdown. Factor in a few carries by
Willis McGahee
, highlighted by a 28-yard run, and quarterback
Joe Flacco
and the Ravens gained 208 yards on the ground.
"Our game plan was to stop [Rice],'' New Orleans safety
Malcolm Jenkins
said.
Chalk up that game plan -- or at least the execution of that game plan -- as pretty much a total failure.
"We didn't stop the run at all,'' veteran safety
Darren Sharper
said. "It just comes down to tackling the guy with the football. We know we can play with this team or any team. It was just more about the fundamentals, more about not tackling.''
Well, guess what? The Saints probably are going to face a few more good running backs before all is said and done. There's Atlanta's
Michael Turner
next week (and maybe later in the playoffs) and Tampa Bay's
LeGarrette Blount
in two weeks. And if you look at the other running backs the Saints potentially could face in the playoffs, you'll see some pretty good ones. If the Saints keep going the way they are, you could even end up seeing some running backs play a lot better than they really are.
"Our defense is about creating turnovers,'' Jenkins said. "When they put the ball on the ground for 150 yards, that makes it tough to get turnovers.''
If you really want to knock this point home, you might want to factor in what Rice did as a receiver out of the backfield. He caught five passes for 80 yards and a touchdown on a day when Flacco was completing only 10 of his 20 passes for 172 yards.
Were the Saints too focused on stripping the ball from Rice and forgot about tackling him?
"We were doing the same thing we've been doing,'' Payton said. "Obviously, they rushed the ball pretty well, so we'll look to clean some of that up.''
It might be a good idea to clean up
all
of that. It clearly isn't panic time for the defending champions. But it's approaching. The Saints must figure out how to stop the run and win games played in distant, cold-weather stadiums.
"Everything is ahead of us,'' Sharper said. "If we win our next two games, we are in a good position. We need to come back from today. This was a tough loss to a tough team.''
Maybe that's all this was -- or maybe it was a sign of what's starting to look like a tough road for the Saints.