NFC South:

worst to first
August, 30, 2012
8/30/12
12:31
PM ET
We're going to roll out our season previews and predictions shortly.

But, as we wait for that, let's talk about NFC South history. For the longest time, we had a trend of teams going from worst to first in the division. It happened with Carolina in 2003 and Atlanta in 2004. Tampa Bay did it in 2005 and New Orleans did it in 2006.

The Bucs did it again in 2007 and the trend was broken in 2008, although Atlanta did go from last to second in the division that season. In 2009, the Saints went from worst to first and then went on to win the Super Bowl.

Since then, the trend has stopped in the division. But there might be a little hope for the Bucs, who went 4-12 last season, this year. Elsewhere in the league, teams have shown the worst-to-first trend isn't done.

The Chiefs did it in 2010. The Broncos and Texans did it last season. In the last 11 seasons, 18 teams have gone from worst to first.
April, 12, 2012
4/12/12
1:00
PM ET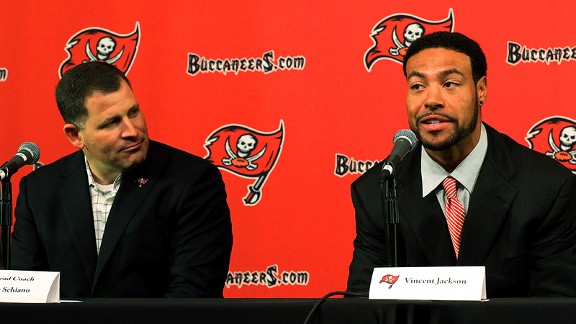 Cliff Welch/Icon SMIA free-agent class led by Vincent Jackson, right, could push Greg Schiano and the Bucs into contention.
The best thing about living in much of the South is that you can leave the door open in December and January. The flip side is, you never know who's going to walk in.
That's been demonstrated repeatedly throughout most of the decade the NFC South has been in existence. Worst to first isn't just a hokey slogan in this division. It's been a reality.
Not counting the inaugural season (because there was no defending champion or reigning last-place team in a division that didn't exist before 2002), there have been six NFC South teams that finished fourth in the division one season and ended up winning it the following year. The trend started with the
Carolina Panthers
and their miraculous run to the Super Bowl in the 2003 season.
The
Atlanta Falcons
pulled off worst to first in 2004. The
Tampa Bay Buccaneers
did it twice -- in 2005 and 2007. So did the
New Orleans Saints
. They did it in 2006 and again in 2009, the season after which they won their only Super Bowl.
But the worst-to-first trend has stopped since then. The Saints and Falcons have stayed consistently good and managed only to flip back and forth between first and second place.
This could be the season in which things get back to normal. Let's be clear that I'm not ready to write off the Saints, as long as they have
Drew Brees
at quarterback, or an Atlanta roster that's loaded with talent and has the potential to click at any moment.
But you look at what has happened in New Orleans and what
hasn't
happened in Atlanta this offseason and you have to wonder if it's at least possible that new Tampa Bay coach Greg Schiano is about to pull off a miracle on Dale Mabry Highway or if Carolina linebacker
Thomas Davis
knew what he was talking about when he said the Panthers are
headed for the Super Bowl
.
The Saints' bounty program has left them without coach Sean Payton for the entire season and they have little chance of pulling anything off in the draft because they don't have a pick until the third round. They lost some free agents, like
Carl Nicks
and
Tracy Porter
. Plus, there's the very real possibility that multiple players could face suspensions for their roles in the bounty program. Maybe adversity becomes a rallying cry for the Saints and they stay atop the division. Or maybe the bottom falls out of what was a great three-year run.
If that happens, the Falcons would seem the logical choice to step up. They did go 10-6 last season, although you could say they underachieved slightly throughout the regular season and tremendously in their playoff loss to the
New York Giants
. And what have the Falcons done to improve their roster this offseason?
Ladies and gentlemen, I present linebacker
Lofa Tatupu
and guard
Vince Manuwai
, two guys who didn't play in the NFL last season.
Yeah, I know how the Falcons like to point to their
roster continuity
and
changes at offensive and defensive coordinator
as reasons they'll be better this season. Those are valid points. But, still, the way last season ended, you have to at least wonder if the Falcons have already started their downhill slide.
[+] Enlarge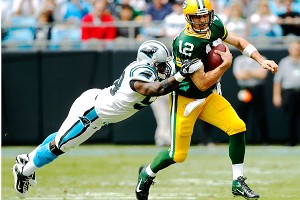 AP Photo/Bob LeveroneThe return of linebacker Thomas Davis should provide an immediate boost for Carolina's defense.
Then, you look at the Buccaneers and Panthers and you see two teams that almost have to be on the rise. In the case of the Bucs, that's mainly because they can't go any lower.
Tampa Bay ended last season on a 10-game losing streak. Raheem Morris left for London at 4-2 last October, looking like the NFL's next great coach. That guy hasn't been seen since. But Schiano is in his office now and he seems to be saying and doing all the right things. He got rid of safety
Tanard Jackson
and coaxed safety
Ronde Barber
into coming back for one more year. Plus, Schiano has one luxury Morris didn't last year -- a free-agent class.
A year after punter
Michael Koenen
was their big addition in free agency, the Bucs went out and made one of the league's biggest splashes. They signed receiver
Vincent Jackson
, Nicks and cornerback
Eric Wright
.
Mix those guys in with some young talent (
Josh Freeman
,
Gerald McCoy
,
Adrian Clayborn
and some others), let Schiano restore a little order in the locker room and on the practice fields and worst to first at least seems like a possibility.
But, even if the Saints and Falcons slip, the Panthers could be ahead of the Bucs. They only won six games last season, but it might have been the most positive six-win season in NFL history. With Ron Rivera taking over for John Fox, the Panthers suddenly realized the NFL became a passing league a few years ago and started playing catch-up. They used the No. 1 overall draft pick on
Cam Newton
and suddenly had one of the NFL's most prolific offenses.
The problem was the Panthers couldn't do the one thing they always did under Fox -- play defense. That was largely because defensive tackle
Ron Edwards
was lost to injury in training camp and linebackers
Jon Beason
and Davis quickly followed. All three are expected back and that instantly should give Carolina a better defense. It only needs to be a little better, because Newton and that offense are going to score enough points for the Panthers to stay in the game with anyone.
Can the Panthers and/or the Bucs pass the Saints and Falcons?
We'll see. It's only April and the NFC South door looks to be wide open. Let's see if it's still ajar -- or maybe even off the hinges -- in December.
August, 7, 2011
8/07/11
6:22
PM ET
We all know the history of NFC South teams going from worst to first. It's happened six times since the division began play in 2002.
In the other two seasons that it didn't happen, the last-place team from the year before ended up with a winning record. That would be the 2008
Atlanta Falcons
and the 2010
Tampa Bay Buccaneers
.
Tampa Bay's gone from worst to first twice in 2005 and 2007. So has New Orleans. The Saints did it in 2006 and also in 2009, when they won the Super Bowl. The only other team in the NFL that's gone from worst to first twice since 2002 is the
Kansas City Chiefs
. They did it in 2003 and again last year.
So maybe there is hope for the
Carolina Panthers
this season. I know they were 2-14 a year ago, have a new coaching staff and play in a very tough division. But NFC South history has shown that anything is possible.
December, 21, 2010
12/21/10
8:45
AM ET
Let's take a look into the mailbag and see where today's hot spots are in the NFC South.
Anthony in Atlanta
says (and I'm cleaning this up generously so we can use it here) I put too much emphasis on team wins instead of individual passing and statistics in
this piece
about
Matt Ryan
. He also said I was "promoting a statistically mediocre to slightly-above-average quarterback.''
Pat Yasinskas:
Last time I checked, team wins are the only statistic that really matter. Ryan goes out and wins games and that's his job. He's done it pretty well. Put him in a system like
Peyton Manning
plays in and he might put up some kind of the numbers you prefer. But the Falcons don't play offense that way. Put a lot of other quarterbacks in Atlanta's offense and they don't run it as efficiently as Ryan does and they don't win as many games. There's not a quarterback out there with more wins than Ryan this season, so yeah, I'll include him on the "elite'' list. Quite honestly, I say Ryan has had a better season than
Drew Brees
. And I still think Brees is an elite quarterback.
---
Risden in Raleigh, N.C.
pointed out
Steve Smith
was bowing to the crowd at the end of Sunday's home finale and asked if this could be the end of an era for the wide receiver in Carolina.
Pat Yasinskas:
I think we all know Smith is a very emotional guy and you could read from his actions that he might be out of Carolina after this season. But one thing I've learned about Smith is it's best not to try to read his mind. Although I don't think anyone would blame him if he asked to be traded to a winning team with a prolific quarterback, there are no indications he has told management he wants out of Carolina. Maybe that's coming. But maybe it's not. It's pretty much up to Smith.
---
Ethan in New York
points out that this is going to be one of those rare seasons when the NFC South's general rule of "worst to first'' does not apply.
Pat Yasinskas:
Good point. But if I'm the
Carolina Panthers
, I still look at what happened this season as a positive for next year. The
Tampa Bay Buccaneers
went 3-13 last year and they're not going to win the division. But they also will not finish any worse than 8-8. A swing of five wins or more in the NFL is huge. This will be only the second time since the NFC South came into existence in 2002 that a team hasn't gone from last place to first place. The other was in 2008, when the
Atlanta Falcons
went from 3-13 to 11-5 and a playoff berth.
---
Guy in Asheville, N.C.
asked about the relationship of Carolina coach John Fox and general manager Marty Hurney and if it deteriorated over time. He also asked a similar question about the relationship between Fox and owner Jerry Richardson.
Pat Yasinskas:
That's a question I'm glad somebody asked. It would probably take a book, or at least more room than we're allotted for mailbags to properly detail those situations. I might try to do a more extensive post on that before Fox is gone at the end of the season and I've touched on some of it in the past. I'll try to summarize as concisely as possible here. Yes, Hurney and Fox were once joined at the hip. Hurney led the coaching search and Fox was his guy, although the Panthers gave some consideration to Tony Dungy, who was ticketed for Indianapolis, and a few others. But Fox was the guy Hurney wanted, and they were friends going back to their days working for the
San Diego Chargers
. In the early years in Carolina, Fox, Hurney and Richardson were a very tight-knit group. I can tell you Fox and Richardson won't be exchanging Christmas gifts this year or in the future. But Hurney and Fox have not had a falling out. There are certain things they haven't seen eye to eye on, particularly the team's youth movement and how to execute it, but they still have a friendship. It might not be what it once was, but there is no bitterness between Hurney and Fox. Hurney, in some ways, has been caught in the middle between the owner and coach. Again, there's a lot more, and I'll try to do something more extensive later on. But I think this is simply one of those cases where a group that functioned very well together at one point, might have stayed together too long. Things got stale and people didn't stay on the same page. The other thing I'd point out in this one is that nobody was completely wrong or completely right here. Fox, Hurney and Richardson all contributed, in different ways, to things falling apart in Carolina.
August, 14, 2010
8/14/10
4:10
PM ET
There has been a lot of talk, particularly from Tampa Bay's fans, about the NFC South's tendency to have a team go from worst to first.
Let's explore this phenomenon a little because it is a big part of the NFC South's history. In every season since the division began play in 2002, the last place team has jumped to first place the following year with only one exception: 2008.
Since divisional realignment, that has happened 12 times all around the league and precisely half of them have come from the NFC South. Also, each NFC South team has done it at least once. Here's the complete history of the team's that went from worst to first.
2003 Carolina Panthers. Went from 7-9 to 11-5 and reached the Super Bowl.
2004 Atlanta Falcons. Went from 5-11 to 11-5.
2005 Tampa Bay Buccaneers. Followed a 5-11 season with an 11-5 year.
2006 New Orleans Saints. Jumped from 3-13 to 10-6.
2007 Tampa Bay Buccaneers. Went from 4-12 to 9-7.
2009 New Orleans Saints. Followed an 8-8 season with a 13-3 record and a Super Bowl championship.