July, 30, 2012
7/30/12
12:00
PM ET
METAIRIE, La. -- As he prepares for his third NFL season, it sounds as if New Orleans tight end
Jimmy Graham
has figured out the secret to NFL success.
"I was told to never tug on Superman's cape," Graham said.
He was talking about quarterback
Drew Brees
. Graham noted how the quarterback challenged him to a sprint race at the start of training camp and said he let Brees win. Graham was partly joking, but there was some deep wisdom in his words.
More than ever, the Saints are Brees' team. They've been through an offseason unlike one any other team has faced. They've been through the painful drama of the bounty scandal and they'll move forward without coach Sean Payton, who is suspended for the season, and general manager Mickey Loomis, who is suspended for the first eight games.

Brees, the league's highest-paid player, is coming off a season in which he set a NFL single-season record for most passing yards. No, let other teams try to tug on Brees' cape. If the Saints really are going to endure all this adversity successfully, they need Brees' skill and leadership more than ever. They need to ride the coattails of the most positive thing they have at the moment.
Brees knows this high-flying offense as well as anyone, including Payton. The Saints remain loaded at offensive skill positions. There's little doubt this team still is going to score a lot, and that alone will keep it competitive.
But Brees can't do everything by himself. Even before the word "bounty" started flying in March, the Saints knew they had to overhaul their defense. That became clear in last season's playoff loss to San Francisco. That's why defensive coordinator Steve Spagnuolo was hired. Predecessor Gregg Williams had a gambling philosophy, going all-out to produce turnovers. The negative side effect was that the Saints gave up too many big plays.
Spagnuolo brings a more balanced philosophy. Sure, he wants turnovers, but he also wants to be able to shut down offenses from time to time. A big theme of this camp is the installation of Spagnuolo's defense. Even though that's not his side of the ball, Brees shows a lot of interest in the defense. Even in camp, the Saints are implementing game plans.
"[Spagnuolo] is going to try to find every flaw, just like we are going to do to them,'' Brees said. "Along the way, I am certainly going to be picking his brain as to what he is seeing with our offense, how we can improve. That is how you help one another. That is a habit that we got into, me talking to the defensive guys, even if it is just the secondary guys, saying, 'You give away that blitz whenever you do this.' We are competing against each other, but in the end we are on the same team. I want them to be able to go out and have as much success as possible, just like they want us, on game day, to have as much success as possible."
Maybe that's the best way to improve the New Orleans defense. Practice against Superman every day. After you've been through that, everything else should be easy.
[+] Enlarge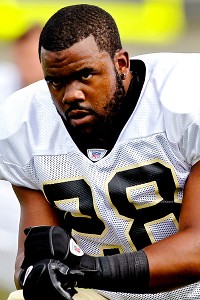 Derick E. Hingle/US PRESSWIREMark Ingram rushed for 474 yards and five touchdowns during his rookie season with the Saints.
THREE HOT ISSUES
1. Mark Ingram's playing time
. Fan expectations for Ingram might be significantly higher than the team's. That's somewhat understandable, because the Saints traded back into the first round in 2011 to draft Ingram. He played at a college powerhouse (Alabama) and won a Heisman Trophy. Instant stardom was expected by fans, but it didn't turn out that way in Ingram's rookie season.
He finished with 122 carries for 474 yards and five touchdowns. Injuries were part of the reason his numbers weren't bigger. But even before the injuries, Ingram shared playing time with
Darren Sproles
and
Pierre Thomas
, and
Chris Ivory
did a nice job joining the rotation after Ingram's injury problems started. Ingram had a couple of offseason surgeries and said he's completely healthy.
But that doesn't mean Ingram suddenly is going to become a 300-carry guy. New Orleans' offense is based on diversity, and that's not going to change. The Saints aren't going to take playing time away from Sproles, who set an NFL record for all-purpose yards last season, and Thomas is going to play because he has earned it with his performance.
Assuming Ingram stays healthy, I expect him to get more carries than last season, but a 200-carry season for about 800 yards is a reasonable expectation.
2. Will the linebackers be better than last season?
I think they'll be markedly better. Many believe the season-long suspension of
Jonathan Vilma
is going to hurt the Saints. If this were two or three years ago, I'd agree. But Vilma was bothered by knee problems last season, and his age seemed to be catching up to him. I think free-agent addition
Curtis Lofton
is an upgrade over Vilma in the middle. In fact, I think Lofton is pretty similar to what Vilma was two or three years ago. The Saints will be just fine in the middle.
Plus, the Saints didn't sit still at outside linebacker. They signed free agents
David Hawthorne
and
Chris Chamberlain
. It looks as if Hawthorne is well on his way to winning a starting job. That leaves Chamberlain competing with
Scott Shanle
,
Will Herring
and
Jonathan Casillas
for the other starting job. There's no true favorite here, and Shanle is the fallback option as the safe choice because he's smart and dependable. But Chamberlain, Herring and Casillas are more athletic and at least come with the possibility of producing big plays. The hope is that one of those three can step forward to win the starting job.
3. Can the offensive line, minus Carl Nicks, be as good as last season?
Nicks took the big money and left for Tampa Bay in free agency. Losing a player many scouts consider the best guard in the NFL must take a toll. But the Saints already had
Jahri Evans
, who might be the closest thing to Nicks. Loomis did a nice job getting
Ben Grubbs
to replace Nicks. Grubbs isn't quite on the Nicks/Evans level, but he's an above-average player and came at a much lower salary than Nicks. The Saints build their offensive line around the interior, and Evans and Grubbs will form a very strong guard tandem.
Brian de la Puente
did a nice job taking over at center last year and should be fine with Grubbs and Evans surrounding him. The tackles are more of a question. The Saints are sticking with
Jermon Bushrod
on the left side and
Zach Strief
on the right. They're serviceable, but Bushrod and Strief aren't all-pros, and the presence of Evans and Grubbs should be enough to keep this offensive line among the better ones in the league.
REASON FOR OPTIMISM
Spagnuolo's history.
There is legitimate concern about the pass rush, because Spagnuolo likes it to come mostly from his front four. Aside from defensive end
Will Smith
, who will serve a four-game suspension at the start of the season, the Saints don't have a proven pass-rusher. Many fans are worked up about the potential of
Junior Galette
and converted linebacker
Martez Wilson
. Those guys could turn into something, but maybe fans aren't looking in the right direction.
Second-year pro
Cameron Jordan
might be a big factor. Yeah, I know that sounds like a stretch because Jordan had one sack as a rookie, but he was a first-round pick and still has plenty of untapped potential. There's more than that, though. Look at Spagnuolo's past. When he became defensive coordinator for the
New York Giants
in 2007,
Justin Tuck
had gone through two NFL seasons with one sack. In Spagnuolo's first season, Tuck had 10. In 2008, Tuck recorded 12.
If Spagnuolo can get anything close to double-digit sacks from Jordan, he may have short- and long-term answers for his pass rush.
REASON FOR PESSIMISM
How much adversity can one team take?
The Saints will use all that happened to them in the offseason as a rallying cry, providing strong motivation. But it's tough for any team to ride one emotion (anger, in this case) for an entire season. This franchise has been through a lot, and you have to worry about that taking a toll at some point.
[+] Enlarge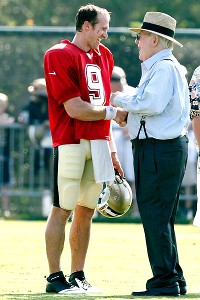 Derick E. Hingle/US PRESSWIREWith a new contract and instability in the coaching staff, Drew Brees will be asked to be even more of a leader for Tom Benson's Saints.
You also have to worry about the Saints being a target for opponents, especially those who spent the past few months hearing that the bounty program had targeted some of their own players. Then throw in the fact that assistant head coach Joe Vitt, who has run the team in Payton's absence, must serve a six-game suspension at the start of the season. At that point, the Saints are expected to make another of their assistants the acting head coach. Yes, this is a veteran team with outstanding leadership, but it sure looks like a lot of things are stacked against the Saints.
OBSERVATION DECK
January, 11, 2012
1/11/12
9:41
AM ET
Let's take a look at the top Wednesday morning headlines from around the NFC South.
Jacksonville's hiring of Atlanta offensive coordinator Mike Mularkey as head coach probably means Carolina offensive coordinator Rob Chudzkinski will be
staying with the Panther
s. Chudzinski also interviewed for the Jacksonville job. No other teams have asked permission to interview Chudzinski.
New Orleans running back Pierre Thomas is coming off one of the
best games of his caree
r. He had 121 all-around yards in the playoff victory against Detroit. Thomas, who was bothered by an ankle injury last year, said he's healthy. The Saints have used Thomas in a rotation with Darren Sproles and Chris Ivory and all three running backs look fresh.
Giants defensive end Jason Pierre-Paul said that after facing the Falcons he agrees with teammate Justin Tuck who previously said the Atlanta
offensive line plays dirty
. Funny, but the Atlanta offensive line wasn't slowing Pierre-Paul down in Sunday's playoff game.
Atlanta has
20 potential unrestricted free agents
and the list is heavy on defensive players. Defensive end John Abraham, middle linebacker Curtis Lofton, safety Thomas DeCoud and cornerback Brent Grimes are not under contract. I assume re-signing Lofton and Grimes will be at the top of Atlanta's wish list. The Falcons have a fair amount of cap money and should be able to afford to keep both.
Marty Schottenheimer, who interviewed for Tampa Bay's coaching job, said he's
intrigued by the young talent
the Buccaneers have.
The Times-Picayune has its
weekly graphic
on Drew Brees' passes. Take a look at what he did on deep passes against the Lions. I see only one incomplete pass.
Since the Bucs seem intent on going with an older coach, Charlie Campbell
throws out a suggestion
. He writes the Bucs should hire Monte Kiffin, who is the defensive coordinator at the University of Southern California. Kiffin hasn't been an NFL head coach. But he had a long run as Tampa Bay's defensive coordinator and was very popular with the fans.
January, 6, 2012
1/06/12
1:30
PM ET
»
Wild-Card Final Word
:
Bengals-Texans
|
Lions-Saints
|
Falcons-Giants
|
Steelers-Broncos
Three nuggets of knowledge about Sunday's Falcons-Giants playoff game:
[+] Enlarge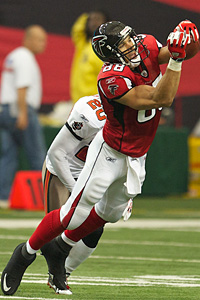 Dale Zanine/US PresswireWill star Falcons tight end Tony Gonzalez finally notch his first playoff win on Sunday?
Not a hard road.
The Falcons aren't known as a great road team, especially when they have to play outdoors. But traveling to MetLife Stadium shouldn't be as frightening as many people think. The home-field advantage isn't as big a deal as one might consider. Since 2004, home teams are 13-15 in wild-card playoff games.
Protecting Matty Ice.
It already has been established that one of the biggest matchups in this game will be Atlanta's offensive line against New York's pass rush. The Falcons had a tough time protecting
Matt Ryan
early in the season, even against base defenses. But Atlanta's offensive line has been better of late. In his past seven games, Ryan has 12 touchdowns and no interceptions against four or fewer pass rushers. But, with
Osi Umenyiora
,
Justin Tuck
and
Jason Pierre-Paul
, the Giants are one of the league's best at generating a pass rush from their front four.
Gonzo's unlucky streak.
Atlanta tight end
Tony Gonzalez
probably will be a first-ballot selection to the Pro Football Hall of Fame. He already holds virtually every receiving record for tight ends. But there's one thing Gonzalez never has done. He's gone through his entire career without winning a playoff game. Gonzalez's 238 regular-season games without a playoff win are the most by a position player in the Super Bowl era. Gonzalez played in three playoff games with Kansas City and was with Atlanta last season when the Falcons lost to the Packers.
January, 5, 2012
1/05/12
6:24
PM ET
Let's take a look at some of Thursday's top headlines from around the NFC South.
New Orleans defensive coordinator Gregg Williams said he gets upset when people say Saturday's playoff game with Detroit will be a
high-scoring contest
. I see it that way and I think a lot of fans and media are with me on that. If Williams wants to change the perception, the way to do that is to get his defense to go out and shut Detroit's offense down.
Shaun Powell writes that Giants defensive lineman
Justin Tuck
didn't accomplish much
by referring to the Atlanta offensive line as "dirt bags.''
Atlanta's
Julio Jones
says he realizes the Falcons
gave up a lot
to draft him. But it's looking like he's living up to the expectations.
Carolina coach Ron Rivera said the one thing quarterback
Cam Newton
can improve on is leadership
. Rivera said Newton fared well in that area as a rookie, but was careful to not step on the toes of veterans. Rivera said that won't be an issue next year, because Newton will be a veteran.
The Bucs
interviewed
Mike Sherman for their job as head coach in Texas on Thursday. They also interviewed Titans defensive coordinator Jerry Gray in Texas on Wednesday. The Bucs are expected to interview a few more candidates before getting down to decision time.
January, 3, 2012
1/03/12
10:08
AM ET
The
Atlanta Falcons
have long been nicknamed "The Dirty Birds'' and their offensive line occasionally has been accused of playing dirty.
But
New York Giants
defensive end
Justin Tuck
has a
new nickname
for Atlanta's offensive linemen and it's not pretty.
"Most people would call them dirt bags," Tuck said Monday. "But it is what it is. We got to make sure we do our job, and, if we are doing our job well, then they will be upset and they will be trying to do things to get us off our game. We've got to take that as a compliment."
Some opponents also have claimed the Falcons intentionally flop when there's an extra shove after the whistle to try to draw penalties. Tuck doesn't disagree with that accusation.
"Yeah, we have seen it," Tuck said. "We know that they have that quote-unquote reputation. But in a way it is kind of exciting. ... In the same sense you got to protect yourself, and hopefully the referees have 20-20 vision this week."
September, 27, 2009
9/27/09
12:09
PM ET

Posted by ESPN.com's Pat Yasinskas
TAMPA, Fla. -- We just got the list of today's inactives and it's pretty interesting for both the Bucs and the Giants.
Each team has declared a key injured player active. Tampa Bay receiver
Antonio Bryant
is on the active list. So is New York defensive end
Justin Tuck
, although I suspect the Giants will use him cautiously.
Tampa Bay's inactives include running back
Earnest Graham
, center
Jeff Faine
, offensive lineman
Marc Dile
, receiver
Maurice Stovall
, defensive tackle
Dre Moore
and defensive end
Kyle Moore
. Josh Freeman is the inactive third quarterback.
New York's inactives are running back
Danny Ware
, cornerback
Aaron Ross
, cornerback
Kevin Dockery
, tackle
Adam Koets
, receiver
Domenik Hixon
, receiver
Hakeem Nicks
, linebacker Clint Stintim and defensive lineman
Chris Canty
.
September, 27, 2009
9/27/09
11:25
AM ET

Posted by ESPN.com's Pat Yasinskas
TAMPA, Fla. -- I'm here at Raymond James Stadium for the game between the Giants and Buccaneers.
Check back in a bit for the inactives, but I'm pretty sure New York's
Justin Tuck
and Tampa Bay's
Maurice Stovall
will be out.
August, 26, 2009
8/26/09
4:29
PM ET
Posted by ESPN.com's Pat Yasinskas

TAMPA, Fla. -- There could be even another element to the quarterback situation for the Buccaneers.

The team could be looking to trade one of its quarterbacks for a draft pick. Coach Raheem Morris wouldn't confirm an NFL.com report that the Bucs are shopping three of their quarterbacks for a trade, but he didn't deny it either.

"Oh, man, they're Nostradamus," Morris said when asked about the report. "Everybody in this league, all 32 teams around this time start calling front offices. I can't control who calls us. Everybody's interested in everybody's roster and everybody's looking to nit-pick off everybody's roster. Everybody has talent and you're trying to accumulate the best talent on your football team. That's just all that talk is what that is."

But it makes total sense for the Bucs to at least try to find out what the market value might be for Byron Leftwich, Luke McCown or Josh Johnson. They're not about to let go of rookie Josh Freeman, who they call their franchise quarterback.

But that's likely in the future. For now, it appears the Bucs will open the season with either Leftwich or McCown as their starter. They're about even at this point and a potential trade could play into Morris' decision, although the Bucs likely would be able to get only a late-round pick (at best) for any of their quarterbacks.

Leftwich, a former starter in Jacksonville, probably has more trade value because of his experience. McCown has only seven starts. Johnson, a second-year pro, has yet to play in an NFL game and probably wouldn't bring much in a trade.
December, 17, 2008
12/17/08
12:00
PM ET
| | |
| --- | --- |
| | |
| | Rex Brown/Getty Images and Tim Heitman-US PRESSWIRE |
| | Jake Delhomme's Panthers travel to the Meadowlands to take on Eli Manning's Giants Sunday night in a battle of 11-3 teams. |
Posted by ESPN.com's Matt Mosley and Pat Yasinskas
In what could end up being an NFC Championship Game preview, the New York Giants (11-3) and the Carolina Panthers (11-3) will square off Sunday night in the Meadowlands. At one point, the Giants appeared to have a firm grip on the No. 1 playoff seed, but they've now lost two straight games. The Panthers seem to be hitting their stride and a win would make them the favorite to represent the NFC in the Super Bowl.
After an intense negotiation over the debate format, NFC South blogger Pat Yasinskas and NFC East blogger Matt Mosley have agreed to discuss a few issues that may or may not affect Sunday's game. After you've finished reading, we encourage you to continue the debate in the comments section -- or in Pat's personal e-mail account.
Who has the advantage at quarterback in this game? Jake Delhomme has the experience, but Eli Manning is wearing the ring.
Pat Yasinskas: Yes, Manning has the ring and the pedigree, but that's all he's really got on Delhomme. Did Manning carry the Giants to the Super Bowl last season? No, he played above average, but the reason he won was because he had a great team around him. Delhomme gets bashed (sometimes even by Carolina fans), but this guy is one of the most underappreciated quarterbacks ever. He doesn't have the ring, but he's been to a Super Bowl and two NFC Championship Games. He's not an exceptional talent in any way, but he's won throughout his career. You want proof of how much he means to the Panthers? Look at what happened last year when he was hurt. The Panthers went 7-9 and didn't make the playoffs. With him, they're on the verge of claiming the No. 1 seed. Manning's got the name and the measurable qualities, but Delhomme's got everything else. I'll take the guy with intangibles and the real Steve Smith any day.
Matt Mosley: Pat, I hate to see you minimize what Manning accomplished in last year's playoffs by saying he played "above average." He completed more than 60 percent of his passes during the four-game stretch, and that included a 21-of-40 performance when it was 9 degrees below zero in Green Bay. He threw six touchdowns and only one interception, and he played a major role in one of the greatest plays in Super Bowl history. Everyone in the Giants' locker room believes that Manning's the best quarterback in the NFC, and that's why the Giants don't have a sense of panic right now. Manning has faced more scrutiny in New York than Delhomme will ever experience in Charlotte -- and he's somehow come out on the other side. I'm a fan of Delhomme's work from way back, but he's completed less than 60 percent of his passes this season and he's thrown 14 touchdowns and 12 interceptions. You're suggesting that Delhomme has all the intangibles that can't be measured. Manning has a certain piece of jewelry that's fairly easy to measure.
Have the Panthers surpassed the Giants as the best rushing team in the league?
MM: It's remarkable how even these teams are in the running game. They both average a little over 30 attempts per game and they gain 4.8 yards per carry. The Giants still hold a slight edge in total rushing yards, but it's almost too close to call. The loss of Brandon Jacobs hurts the Giants far more than Plaxico Burress, although both players make a difference. Jacobs is a huge part of this team's identity. Derrick Ward and Ahmad Bradshaw are capable backups, but Jacobs sets the tone. The Panthers are a little bit more explosive in the running game. Both DeAngelo Williams and Jonathan Stewart can take it to the house, as evidenced by the fact that the Panthers lead the league with six carries of 40 yards or more. The Giants have only two. For some reason, Tom Coughlin doesn't trust Bradshaw enough to give him meaningful carries. That's the guy who needs to touch the ball more. He's a game-changing player who touches the ball about three or four times a game. Makes no sense to me.

PY: Carolina's running game is clicking at the right time and coach John Fox has the kind of offense he hasn't truly had since the 2003 Super Bowl season. Williams and Stewart are a great mix of speed and power, but they're not the real reason this running game has suddenly become the best in the NFL. The real reason is the offensive line. After Jordan Gross, Jeff Otah and R
yan Kalil each missed some time early in the season with injuries, Carolina has had its "real" line intact for most of the last four games and it's shown. The Panthers have been dominant up front and people are only just starting to realize how good this offensive line is. Gross made the Pro Bowl this year and Otah and Kalil might be only a year away.
We just mentioned how Carolina's offensive line is clicking. The Giants' offensive line was exposed by the Cowboys' pass rush. Who's got the better offensive line right now?

PY: Even though I grew up just down the road from Giants guard Chris Snee's hometown (Montrose, Pa.), I cover the NFC South, so I give the edge to the Panthers. Offensive lines are all about chemistry and continuity, and Carolina has that going for it right now. Fox and general manager Marty Hurney blew up last year's offensive line and they don't have a single regular starter in the same place as last year. That's because the Panthers wanted to get bigger and more physical up front. We've talked about how that's shown up in the running game, but it's also shown up in the passing game. The Panthers protect Delhomme well and Gross might be having the best year of any left tackle in the NFL. Sundays are easy for him because he spends the rest of the week trying to block Julius Peppers in practice.
MM: Pat, if the Giants make it to the Super Bowl, I think you just volunteered to do the definitive Snee feature story. You know, how the small-town kid grew up to marry the head coach's daughter. But you may be going a bit overboard on the Panthers' offensive line. I watched it get overwhelmed by the Vikings for five sacks early in the season and the Falcons sacked Delhomme three times in a 45-28 win last month. The Giants' offensive line is coming off a dreadful performance against the Cowboys, but the Mauler from Montrose, Snee, and center Shaun O'Hara earned their trips to the Pro Bowl. The Giants have given up a ton of sacks to the Cowboys. Against the rest of the league, they've been excellent. And David Diehl has had a solid year as well. Give me the Giants' offensive line, although the Panthers are coming on strong.
What will Giants defensive coordinator Steve Spagnuolo do to slow down Steve Smith and how will the Panthers counter? Teams routinely take Terrell Owens out of games. Why can't they do it against Smith?
MM: It takes skill to bring up T.O.'s name in a Panthers-Giants debate, but it's something we all learned in ESPN.com's blogger orientation. Spagnuolo will mix up the coverages, but I think Corey Webster will end up on Smith quite a bit with some help over the top. On several occasions in Week 15, I saw the Giants line up like they were going to cover T.O. with safety James Butler and then middle linebacker Antonio Pierce raced directly over to the receiver at the snap. It was a strange-looking double-team, but T.O. didn't accomplish much of anything in the game. Everything starts with stopping the run. On a couple of occasions last Sunday, the great Justin Tuck broke outside containment and allowed Tashard Choice to turn the corner. The Giants have to stay in their gaps or Stewart and Williams will find a lane. The Giants know how much Delhomme depends on Smith and I think they'll try to take the receiver out of the game. And honestly, I think they'll be successful. But that leaves other people open.

PY: Perhaps the best quality about Smith is he's so relentless. I won't even attempt to get into Smith's psychological makeup, but let's just say the guy's been told all his life he's too small and he constantly proves that wrong. You live your whole life like that and it becomes a habit, so you're not going to give up when you get double-teamed. The guy's a fierce competitor and he's going to find ways to get open no matter what. Plus, Delhomme relies on him -- too heavily at times. Delhomme will throw into coverage, but Smith will bail him out more times than not. Spagnuolo is a great defensive mind, but I don't envy him this week. He almost has to pick his poison. He can make it a priority to shut down Carolina's running game or he can make stopping Smith the first order of business. Neither one is easy.
Which team has the best chance of having success in the playoffs?

PY: The best advantage the Panthers have going for them right now is momentum. The Giants had a rough outing against Dallas and haven't looked as good as they did early in the year. Carolina is playing better than it has all year. Yes, the Giants went through a Super Bowl run last year and they know how to win. But so do the Panthers. They've been to a Super Bowl and an NFC Championship Game under Fox and they're hungry after two subpar seasons. The Panthers are peaking at the right time and this, essentially, is a playoff game because it could determine home-field advantage in the NFC. That's a huge plus for whoever gets it, but keep this in mind: Fox brought the Panthers into Giants Stadium for a playoff game after the 2005 season and shut out the Giants.
MM: To the players on these two teams, 2005 is ancient history. Last season, the Giants were awful in a Week 15 loss to the Redskins. They came back and clinched a playoff spot against the Bills and then used a narrow loss against the Patriots as the impetus for a Super Bowl run. You brought up the "intangible" word earlier in the proceedings. The Giants have more intangibles than the Panthers. The two running backs for Carolina have no clue what it's like to be in the playoffs. The Giants' roster is full of players who know exactly how it feels. If the Giants win this game, they'll go right back to being Super Bowl favorites. No one circles the wagons or designs a motivational T-shirt like Tom Coughlin. The Giants win this game and regain some of the momentum they lost over the past two weeks. You heard it here first. Pat, let's do this again. Maybe before the NFC Championship Game between the Cowboys and Falcons.