December, 8, 2011
12/08/11
1:00
PM ET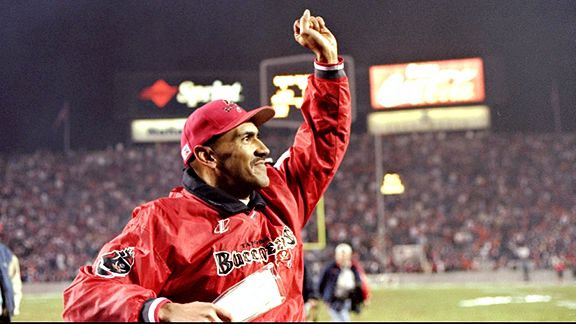 Jamie Squire/AllsportA return by Tony Dungy would reinvigorate a flagging Buccaneers fan base.
There is one man on the planet who could solve everything that is wrong with the
Tampa Bay Buccaneers
.
One man who, with the simple nod of his head, would sell out Raymond James Stadium instantly, stop the losing, put an end to just about all the trouble off the field and give the Bucs credibility and respectability with their fans and across the league.
His name is Tony Dungy.
Let me be clear: I'm not saying it will happen. Raheem Morris is still coaching the Bucs, and the team already has picked up his contract option for 2012. But the Bucs are on a six-game losing streak and seem to be in total chaos. Dungy seems happy away from coaching and may not ever want to get back into the business.
I'm not saying the Glazer family, which owns the Buccaneers, has decided to fire Morris. And if that decision does come, I'm not saying the Glazers would pursue Dungy.
I'm simply saying I believe the Glazers should make a run at Dungy, who coached the team from 1996 to 2001.
Go after Dungy with an open checkbook and promise that never again will he be ordered to fire Mike Shula (in Hawaii) or any other assistant.
Maybe Dungy simply shrugs off any overture and stays with his broadcasting career and ministry work. But maybe, just maybe, Dungy would be tempted.
I ran the scenario by three people who worked closely with Dungy at one time or another. None of them knows whether Dungy wants to coach again. But all three agree that if there is one coaching job that might tempt him, it would be Tampa Bay. Dungy lives in the Tampa area.
I used to think that there was no way Dungy would even want to work for the Bucs again. The Glazers fired him and Dungy is a fierce competitor. He can be stubborn and, although he comes across as very humble, Dungy has a deep streak of pride.
Would his principles allow him to go back to work for people who fired him?
[+] Enlarge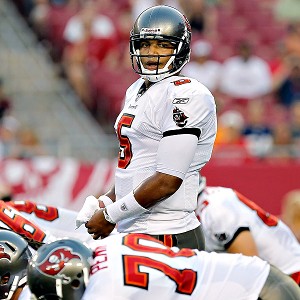 J. Meric/Getty ImagesTony Dungy would have a talented, franchise quarterback in Josh Freeman.
They just might. If the Glazers came begging, Dungy might feel he has the upper hand, and that's important to a man with his pride. But Dungy's not an egomaniac who would want to handle every personnel matter. General manager Mark Dominik appears to be in the good graces of ownership, and he's got three years remaining on his contract. Dominik is following a plan of building through the draft, which is pretty similar to the route Dungy took the first time he was with the Bucs.
Take some of the money that's being saved by not signing free agents and wave it in front of Dungy. It could pay huge dividends immediately and down the road.
Hire Dungy and, bad economy or not, there will once again be a waiting list for season tickets. Dungy is a beloved figure in Tampa Bay, and fans who never warmed up to Morris and his young team (and grew tired of Jon Gruden and his failure to put together a consistent winner after winning a Super Bowl with Dungy's team) would be ecstatic if the best coach in franchise history came back.
Dungy would clean up a locker room that has a lot of guys who have had off-field troubles. Dungy's not going to walk into One Buccaneer Place and tell
Aqib Talib
and
Tanard Jackson
to hit the road. He believes in second chances (see his extensive work with
Michael Vick
). He would lay down the law with Talib, Jackson and everyone else in the locker room. He'd tell them they have to toe his line, which is located in a completely different place than Morris' line, and instantly would cut them if they ever got in trouble again. Any player who has played for Dungy will tell you the last thing they ever wanted was to let him down.
That would translate into discipline on the field -- something the Bucs have lacked during the Morris years or even in Gruden's tenure.
Dungy is a defensive guru. He could fix Tampa Bay's defense, which already has lots of draft picks and money invested in the front four.
In his previous stint with the Bucs, the only two knocks on Dungy were that he couldn't win "the big one'' and he never found a franchise quarterback.
But Dungy dispelled all that when he went to Indianapolis. He won a Super Bowl there. Dungy also inherited
Peyton Manning
, who was a bit more gifted than
Trent Dilfer
and
Shaun King
. Dungy didn't bring his boring offense to Indianapolis. He adjusted and let Manning do what he does best.
That's another thing that could make a return to the Bucs attractive to Dungy. The Bucs have all sorts of flaws, but the one positive thing they have going for them is they have a franchise quarterback in
Josh Freeman
. Yeah, I know Freeman's not having a good season, but he is a big-time talent.
Give Freeman a good supporting cast and some stable coaching, and the Bucs are winners. If Dungy were to take the job, he might be wise to keep offensive coordinator Greg Olson or quarterbacks coach
Alex Van Pelt
or both. Freeman likes them both, and some continuity would help his development.
But Dungy wouldn't have much trouble putting together a strong staff. In all likelihood, Indianapolis is going to have a coaching change. That means a bunch of coaches who once worked for Dungy would be available. Heck, Dungy might even be able to pry Monte Kiffin away from his son, Lane, and the University of Southern California. Kiffin decided to leave the Bucs near the end of Gruden's time. Kiffin and Gruden got along fine, but I don't think they ever had the strong bond Dungy shared with Kiffin.
As the Bucs have struggled to sell tickets and try to get their fans to understand why they're building almost exclusively through the draft, team officials have said they want to give fans a team they can love again.
They haven't made any progress in that area this season. There's one easy way to get fans to love the Bucs again: Go out and hire the coach who made them lovable in the first place -- if he'll take the job.
May, 2, 2011
5/02/11
9:56
AM ET
I'm not trying to curb the enthusiasm in the Carolinas after the Panthers used the No. 1 overall pick in the draft on quarterback
Cam Newton
. It's a move with huge upside and we'll find out a few years down the road if it was indeed the right move.
However, there's an discouraging statistic, courtesy of the Elias Sports Bureau, that suggests Newton and coach Ron Rivera face an uphill battle. Since 1990, seven rookie head coaches have had the No. 1 overall pick and used it on a quarterback.
None of them has won a postseason game. Think Mike Nolan and
Alex Smith
in San Francisco, Dom Capers and
David Carr
in Houston, Marvin Lewis and
Carson Palmer
in Cincinnati, Chris Palmer and
Tim Couch
in Cleveland, Lane Kiffin and
JaMarcus Russell
in Oakland, Jim Schwartz and
Matthew Stafford
in Detroit and Steve Spagnuolo and
Sam Bradford
in St. Louis.
There seems to be hope for Stafford and Bradford to become successful quarterbacks. Carson Palmer had some good times in Cincinnati, but wants out of there and may get his wish. Other than that, all of the guys on the above list have flopped.
If you want to find a rookie head coach who used the No. 1 overall pick on a quarterback, you have to go all the way back to Jimmy Johnson. Back in 1989, he took Troy Aikman with the first pick, a move that helped the Cowboys become a dynasty for much of the 1990s.
December, 14, 2008
12/14/08
7:34
PM ET
Posted by ESPN.com's Pat Yasinskas
ATLANTA -- Monte Kiffin confirmed Sunday what's been pretty obvious for a couple of weeks.
The defensive coordinator will leave the Buccaneers after the season to join his son, Lane, who was hired recently as the head coach at the University of Tennessee. As you might expect, Kiffin said the decision came down to family and that's understandable. Give the Bucs, who have blocked some assistant coaches from moving on in the past, credit for not standing in the way of this one.
Kiffin has been with the Bucs since 1996 and has as much to do with the franchise's turnaround -- and continued success -- as anyone, and that includes the likes of Tony Dungy, Jon Gruden, Derrick Brooks, Warren Sapp and John Lynch. Kiffin earned the right to do what he wanted.
November, 30, 2008
11/30/08
7:34
PM ET
| | |
| --- | --- |
| | |
| | Nelson Chenault/US Presswire |
| | Tampa Bay Bucs defensive coordinator Monte Kiffin appears to be leaving the NFL ranks to join his son Lane at the University of Tennessee. |
Posted by ESPN.com's Pat Yasinskas
TAMPA, Fla. -- What happened on the field at Raymond James Stadium on Sunday was something Tampa Bay fans should savor.
It's going to go down as one of the final chapters of a story that won't get fully appreciated until it's over. Yes, Monte Kiffin's time as the Buccaneers' defensive coordinator -- heck, his time as the best defensive coordinator in the NFL -- appears to be coming to an end.
The man who's made the Bucs respectable since 1996 apparently will join his son, Lane, who officially will be announced as the University of Tennessee's new coach on Monday. There were no denials after the Bucs defeated the Saints, 23-20.
"It's all just speculation,'' Kiffin said. "That's all it is. I can honestly tell you it's speculation, just like it came up with the Raiders, it came up two years ago, it came up last year. So all I'm going to talk about and stay focused on is Monday Night Football, the Carolina Panthers and how about this game we just played?''
If you're still clinging to hope that Kiffin will stay in pewter forever, think again. He was given several chances to shoot down the stuff he called speculation.
"No, no, no,'' Kiffin said. "I'm going to talk about our football team.''
That's the Buccaneers, for now, and Kiffin is the kind of old-school guy who means what he says. This guy is no Bobby Petrino. He's not going to leave his team in the middle of a playoff run.
But he wouldn't deny all that could change after the season.
"Well, we'll see,'' Kiffin said. "It's all speculation. It really is. I'm just telling you, that's all I can tell you, it is speculation.''
So speculate away and picture Kiffin on Rocky Top and wearing orange and white next season. Funny, those were the same colors the Buccaneers used to wear when Kiffin arrived in Tampa Bay in 1996.
Thirteen seasons later, it might be time to move on. Kiffin is 68 and has a chance to bring instant credibility to his son's regime. And, really, is there anything left to prove with the Bucs?
No, Kiffin's done it all and let's not forget that. Years from now, people will look back and give Tony Dungy, Warren Sapp, John Lynch, Derrick Brooks and Ronde Barber credit for taking the Bucs from laughingstock to annual playoff contender. They'll talk about how Jon Gruden came in and got the team its first Super Bowl and kept them consistently competitive through time.
It would be a shame if history doesn't include Kiffin in those conversations. He's meant as much to this franchise as any of the above and he's done it through two regimes that are about as different as can be.
For 13 years, Kiffin (and Brooks) has been the constant on the Tampa Bay defense. Play along here and ask yourself what you think of when you think of the Tampa Bay Buccaneers?
I'm guessing you're saying either the pirate ship in the end zone or great defense. It wasn't always that way around here and Kiffin's a big part of the reason.
Back before Kiffin followed Dungy to Tampa Bay, the Bucs played in an old stadium that was a shrine to concrete and they lost an awful lot. There was talk of the team moving to Los Angeles, Sacramento or Orlando.
But a funny thing happened before the Bucs could bolt. All of the sudden, they got very good. Kiffin came in preaching aggressive defense and showing his players movies with animals attacking one another to fire them up the night before a game. He brought the "Tampa 2 Defense'' into the NFL's vocabulary and watched as former assistants Herm Edwards, Mike Tomlin, Lovie Smith and Rod Marinelli went on to head-coaching jobs.
All the while, Kiffin was a rock as coaches and players came and went. You just kind of thought he'd always be here. But that's no longer looking like the reality.
"Tonight isn't about Monte Kiffin,'' Kiffin said. "It's about the Tampa Bay Buccaneers, our defensive football team, Jon Gruden, our offense, our special teams and a great, great win. And we're 9-3.''
That's all true, but the Bucs are 9-3 largely because they have Kiffin. Sunday's win had Kiffin's signature all over it. Six days after New Orleans ran up 51 points against Green Bay, Kiffin's defense made Drew Brees look rather ordinary. The Bucs intercepted Brees three times and held him to a quarterback rating of 60.2. Sure, Brees threw for 296 yards, but that's 4 yards less than 300 and that's another tribute to Kiffin. The last time the Bucs allowed a quarterback to throw for 300 yards was Brees in the season opener.
"I thought Monte did a great job once again mixing up his defenses,'' Gruden said. "We played some man-to-man, we blitzed, played some different kinds of zone and our guys played well. Our defense played really well and I hope they get a lot of credit.''
This defense will go on after Kiffin. In the last couple of years guys like Barrett Ruud, Tanard Jackson, Aqib Talib and Gaines Adams have started to emerge as the heir apparents to Brooks and Barber. On the current staff, Larry Coyer and Raheem Morris have the résumés to step in as defensive coordinator and there's always the possibility former Bucs defensive line coach Rod Marinelli could become available if he's fired as Detroit's head coach.
Tampa Bay's defense isn't going to suddenly fall apart if Kiffin leaves. His Tampa Bay legacy will continue to grow as long as this season goes on -- and it should go on long after that.
November, 30, 2008
11/30/08
4:06
PM ET
Posted by ESPN.com's Pat Yasinskas
TAMPA, Fla. -- The defense just won another game for the Buccaneers, but now the leader may be gone.


Defensive coordinator Monte Kiffin will join his son, Lane, who is taking over as the University of Tennessee's head coach, according to ESPN's Chris Mortensen. Kiffin's been with the Bucs since 1996 and is the architect of the Tampa 2 defense.
That defense just shut down one of the league's best passing attacks as Phillip Buchanon and Jermaine Phillips intercepted New Orleans' Drew Brees twice in the fourth quarter to seal the game.
Kiffin and the Bucs haven't commented on the situation yet. I'll be heading down to the locker room and we'll see if Kiffin or Tampa Bay coach Jon Gruden will confirm anything.
November, 30, 2008
11/30/08
1:54
PM ET
| | |
| --- | --- |
| | |
| | Thomas B. Shea/Getty Images |
| | Monte Kiffin will reportedly join his son, Lane, at the University of Tennessee. |
Posted by ESPN.com's Pat Yasinskas
TAMPA, Fla. -- It looks like Monte Kiffin, the best defensive coordinator in the National Football League, will be leaving the league.
ESPN's Chris Mortensen is reporting Kiffin will join his son, Lane, who is taking over as head coach at the University of Tennessee. Mortensen reports Monte Kiffin will finish the season with the Bucs. He's been Tampa Bay's coordinator since 1996.
The Bucs haven't made any comment on the situation, but there are some in-house candidates if Kiffin does leave. Defensive backs coach Raheem Morris, who has been mentioned as a candidate for coordinator positions elsewhere in the past, would seem to be the most likely candidate.
Another possibility could be former Tampa Bay defensive line coach Rod Marinelli. He currently is coaching the winless Detroit Lions, but could be out of a job after the season is over.
November, 29, 2008
11/29/08
4:27
PM ET
Posted by ESPN.com's Pat Yasinskas
It appears Lane Kiffin is going to be the next coach at Tennesee, so the question has to be asked.
Will his father follow?
That's Monte Kiffin, the longtime defensive coordinator for the Tampa Bay Buccaneers. At that bizarre press conference where Al Davis announced Lane Kiffin's firing from the Raiders, he said the son tried to bring his father to Oakland. Will he try to bring him to Tennessee?
Time will tell and you never know what might happen with father-son dynamics involved. But my best guess on this is Monte Kiffin will stay with the Bucs. That opinion is just based on some logic.
First, Monte Kiffin makes more than a lot of head coaches in the NFL and in college. He'd have to take a cut in pay to go to Tennessee. He'd also have to leave an area where he's been for a long time and is very comfortable. All that's part of the reason Kiffin hasn't pursued some NFL head-coaching jobs in the past.
It's also been a long time since he's coached on the college level and he's got plenty of talent on Tampa Bay's defense. Sure, Ronde Barber, Derrick Brooks, Kevin Carter and Chris Hovan are getting older. But Kiffin's done a nice job this season of developing a new nucleus of his defense. Barrett Ruud's emerging as a top middle linebacker, defensive end Gaines Adams has shown flashes of potential, safety Tanard Jackson already is good and getting better and rookie cornerback Aqib Talib is going to be a very good player.
This defense is going to be good for a long time and Tampa Bay management is going to do everything in its power to keep Kiffin. That doesn't guarantee anything, but there are plenty of reasons for Kiffin to stay with the Bucs.
October, 1, 2008
10/01/08
3:29
PM ET
Posted by ESPN.com's Pat Yasinskas
TAMPA, Fla. -- Monte Kiffin is known for putting together aggressive defenses on the field.
When it came time to defend his son, Kiffin took a passive-aggressive approach. Lane Kiffin was fired as coach of the Oakland Raiders on Tuesday and was criticized by owner Al Davis in his news conference announcing the move.
"It was a long day and I really don't want to go there and all due respect to you guys and you guys have been great in this matter,'' Monte Kiffin said.
Kiffin was asked if he was proud of how his son had handled the situation.
"Take the high road,'' the Tampa Bay defensive coordinator said. "That's all you can do.''
Kiffin declined to comment on Davis' contention that Lane Kiffin wanted to bring his father to Oakland as the defensive coordinator.
October, 1, 2008
10/01/08
2:55
PM ET
Posted by ESPN.com's Pat Yasinskas
TAMPA, Fla. -- Some hilarious stuff from Denver coach Mike Shanahan on his conference call with the Tampa Bay media.
Shanahan, who had a well-publicized parting with Oakland and Al Davis, provided a unique perspective on the Raiders' firing of Lane Kiffin.
"I was a little upset because Lane actually lasted 34 days more than me,'' Shanahan said with a laugh. "That means Al likes Lane better than me. I was a little upset with that. Our records were fairly close, but I just thought I'd lighten the mood a little bit.
Shanahan then kept the mood light.
"You think about it, it doesn't seem fair,'' Shanahan said. "I was 8-12. He was 5-15, but he got 34 days more paid than I did. It doesn't seem right.
Shanahan sure sounded like a man who believes he's had the last laugh on Davis.
"Anyway, I told people the press conference speaks for itself,'' Shanahan said. "I don't have to say anything.''
September, 30, 2008
9/30/08
6:28
PM ET
Posted by ESPN.com's Pat Yasinskas
Just watched the press conference where Raiders owner Al Davis officially announced the firing of coach Lane Kiffin and there were a couple of revelations tied to the NFC South.
Davis said Kiffin wanted to hire his father, Monte Kiffin, as defensive coordinator. Monte Kiffin was at the time, and still is, the defensive coordinator for Tampa Bay. Davis said the team never attempted to hire Monte Kiffin and that he called Tampa Bay general manager Bruce Allen to tell him what Lane Kiffin wanted to do. Davis said he did not violate the NFL's tampering rules.
I will try to get Monte Kiffin's reaction to this tomorrow when I go out to Bucs' practice.
Also, Davis revealed Lane Kiffin was a candidate for the University of Arkansas job late in the 2007 season. Davis said he told Arkansas officials they could pursue Kiffin after Oakland's season was over. Davis said Bobby Petrino, who was coaching the Atlanta Falcons at the time, learned of Lane Kiffin's interest in the Arkansas job. Davis implied Petrino stepped up his interest in the Arkansas job to get ahead of Kiffin and that's why he left the Falcons with four games remaining in the 2007 season.
September, 30, 2008
9/30/08
3:34
PM ET
Posted by ESPN.com's Pat Yasinskas
Oakland's firing of Lane Kiffin may be an AFC West story, but it brings to mind two current NFC South head coaches.
Tampa Bay's Jon Gruden and Carolina's John Fox have done just fine since getting away from Al Davis' dysfunctional empire. Gruden won a Super Bowl and Fox has been to one.
The fact that neither of them could stand to be with Davis any longer and they both have moved on to better things should provide some encouragement for Kiffin. He'll get another coaching job, whether it's in the NFL or at the college level.
There is no shame in clashing with Davis. In fact, it's a badge of honor. I remember when Fox was on the verge of being hired by the Panthers in 2002. I asked an NFL executive if Fox's mysterious departure from his spot as Oakland's defensive coordinator raised a red flag. The executive said the fact Fox didn't see eye-to-eye with Davis would be viewed as a plus by many around the league.
Fox had to pay his dues, first as a consultant for the Rams and, later, as defensive coordinator for the Giants, but he's done just fine. So has Gruden. He got himself "traded" out of Oakland and beat the Raiders in the Super Bowl the next season.