NFC South:

Rita Benson LeBlanc
January, 23, 2015
Jan 23
4:53
PM ET
METAIRIE, La. -- Though it might be hard to believe with all the family drama that has erupted over the past two days, team owner Tom Benson's intent was to ensure stability and continuity for the
New Orleans Saints
and
Pelicans
franchises.
Those might seem like odd word choices, considering that Benson, 87, is now in a high-profile, high-stakes legal battle with his daughter and grandchildren, who levied scathing accusations about Benson's mental capacity and the intentions of his wife, Gayle,
in a lawsuit filed Thursday
.
But "stability" and "continuity" were precisely the terms used to describe Benson's decision to transfer ownership of his vast business empire to Gayle upon his death.
Multiple sources within the two sports franchises, both on and off the record, applauded the move. Many believe the transition will be much smoother if Gayle Benson becomes owner instead of Tom Benson's adopted daughter, Renee Benson, and grandchildren Rita Benson LeBlanc and Ryan LeBlanc.
[+] Enlarge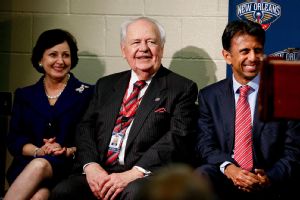 Derick E. Hingle/USA TODAY SportsThe decision of Tom Benson (center) to transfer ownership of the Saints and Pelicans to his wife, Gayle (left), upon his death has set off a high-stakes legal battle.
The two most important aspects of that transition are the franchises' long-term security in New Orleans and the current power structure remaining intact, led by president Dennis Lauscha and executive vice president/general manager Mickey Loomis.
"Continuity is very important, and this plan ensures that," Benson said in a statement released by the Saints on Thursday. "We have had the same management team in place that oversees both teams for a number of years. It has proven to be successful and it works. Dennis and Mickey will continue to run the operations as they have done day-to-day for the last 10 years or so. They consult with me daily, but they will continue to have the same authority they have always had with making decisions, large and small, and this will continue even when Gayle becomes owner."
"We have nothing but [Tom Benson's] unequivocal support, and that is important. We have been a successful franchise because of it. Nothing will change with that when Mrs. Benson becomes the owner," Loomis said in a statement released Thursday morning. "That stability creates an environment so that players and coaches want to come here."
Benson had long intended to groom his granddaughter as his successor, but multiple sources indicated that Rita Benson LeBlanc never developed into the protégé he hoped she would -- with inconsistency in her attendance, accountability and interest level in team matters.
The concern with her being thrust into the position of ultimate power is more about unpredictability than anything else, according to sources.
Sources confirmed that ownership uncertainty was a concern during negotiations for Saints coach Sean Payton's most recent contract extension, which was signed in January 2013. The NFL initially denied a clause that would allow Payton to break the contract if Loomis was ever fired, suspended or left the organization.
Gayle Benson, 67, is widely liked and respected throughout the organizations, according to sources both on and off the record. Pelicans coach Monty Williams and Saints players
Drew Brees
and
Jimmy Graham
were among those who praised her on Thursday.
So the plan to transfer ownership was met with a sigh of relief throughout the Saints and Pelicans organizations on Wednesday night, according to multiple sources -- at least until Thursday afternoon, when Benson's family fought back with the lawsuit.
There are also legal issues involving the family trust that could make an ownership change difficult. Ideas of any sort of "smooth transition" are pretty much out the window for now as the two sides appear set for a lengthy legal battle.
What's being contested now is why Benson was motivated to push his daughter and grandchildren out. The lawsuit alleges his declining mental capacity and the growing influence of Gayle Benson are the leading causes -- claims that Benson denied in a statement Thursday night.
The lawsuit also stresses that Gayle Benson has never owned, operated or managed a substantial business enterprise, has not received any formal training on how to do so and stated publicly that she had no interest in football, basketball or sports in general before marrying Tom Benson.
Meanwhile Rita Benson LeBlanc, 38, began working with the Saints full-time in 2001 and held the title of owner/vice chairman of the board before being fired in late December for unspecified reasons. She was listed in the team's media guide as the second-highest ranking executive overseeing management alongside Tom Benson.
She regularly attends league owners meetings and votes along with larger ownership groups. She has chaired the NFL Employee Benefits committee, among other committees she has served on with both the NFL and NBA.
However, Benson LeBlanc was not involved with the day-to-day operations of the sports teams. Her role was more in the realm of community and marketing endeavors and public appearances, according to sources.
The Times-Picayune reported in 2012 that Benson LeBlanc was placed on an unofficial paid administrative leave by Tom Benson, which one source confirmed. Benson LeBlanc has been characterized by sources and that 2012 Times-Picayune report as smart and talented, but also unfocused and abrasive at times. Sources confirmed that TP report that she had gone through 30-plus assistants over the past decade.
Benson's daughter and grandson were based out of Texas and rarely spent any time around the sports franchises. In fact, sources indicated that tension grew when Renee Benson began to spend more time around the franchises this past summer.
Although the lawsuit claims that the "petitioners have done nothing to provoke any of the above, unjustified actions and have sought and still seek to reconcile with" Benson, sources described Benson's decision as one that had been brewing over recent years and months as he battled more frequent health issues -- and that the family relationships continued to worsen in recent months.
It was widely known, according to sources, that Rita Benson LeBlanc and Gayle Benson did not get along -- a relationship that never improved and ultimately forced Tom Benson to make a decision between the two as he evaluated the future of the franchises.
The details of the lawsuit filed against Benson on Thursday also paint the picture of a gradual but intense deterioration of the family relationships.
"This is something I have thought about and prayed about for a while now," Benson said in his statement, adding that his recent knee surgeries have "given me time to reflect on a number of issues that we will face in the distant future."
May, 20, 2012
5/20/12
4:59
PM ET
The
New Orleans Saints
officially announced a series of re-structuring moves at the top positions in their organization Sunday afternoon.
Most significantly, Dennis Lauscha, who previously was executive vice president/chief financial officer, has been promoted to team president. Rita Benson LeBlanc, who is the granddaughter of owner Tom Benson and previously held the titles of owner and executive vice president, now becomes the vice chairman of the board. The team said LeBlanc will expand her duties to include enhanced management responsibilities with Zelia, LLC, which includes such properties as Benson Tower, Champions Square and various interests in automotive, real estate, banking and multi-media platforms, including New Orleans television Fox 8 (WVUE).
I don't think the shakeup has anything to do with the bounty scandal. Instead, it comes after Benson agreed to purchase the New Orleans Hornets and his other businesses continue to grow.
"With the continued growth of our holdings and various interests, it makes perfect sense at this point in time to announce the growth of our upper management structure," Benson said. "We have seen the visibility and vastness of our holdings increase and that requires more management responsibilities and I'm confident that the leadership skills of Rita, Dennis and Mickey (Loomis) will continue to flourish given their enhanced responsibilities."
There had been previous reports that LeBlanc was on administrative leave due to conflict with her grandfather. Benson downplayed those reports, saying LeBlanc had taken a vacation and that her
role is expanding
, not being reduced.
Loomis will continue to serve in his role as executive vice president and general manager, although he will be suspended for the first eight games of the 2012 season for his role in the bounty program. Since the arrival of coach Sean Payton in 2006, Benson has allowed Payton and Loomis pretty much full control of football operations.
Lauscha make take on some added roles, including helping oversee the Hornets, but he has been instrumental in running the Saints' business matters for 15 years and that's expected to contiule. Lauscha will continue in his role on the team's board of directors and will continue to oversee financial operations of the team. He'll take on the added duties of overseeing the team's marketing, ticket operations, legal department and community affairs.
April, 23, 2012
4/23/12
4:08
PM ET
In an offseason that has been filled with controversy for the
New Orleans Saints
, we now have even more.
This one doesn't relate to the bounty program, but it could have major implications.
[+] Enlarge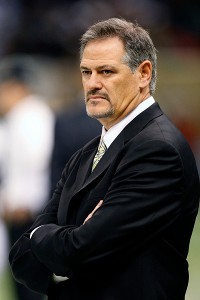 AP Photo/Bill HaberSaints' GM Mickey Loomis, already suspended for eight games next season, could be facing more punishment from the league.
ESPN's "Outside The Lines" just reported that New Orleans general manager Mickey Loomis
allegedly had an electronic device in his Superdome suite
that had been secretly re-wired to enable him to eavesdrop on visiting coaching staffs for nearly three seasons, from 2002-04. That allegedly took place before coach Sean Payton and quarterback
Drew Brees
arrived in 2006. Sources told "Outside The Lines" that the listening system was disabled when Hurricane Katrina hit New Orleans in 2005 and not restored. (Greg Bensel, Saints vice president of communications, said Monday on behalf of the Saints and Loomis: "This is 1,000 percent false. This is 1,000 percent inaccurate.")
This is significant on several levels. First, the report suggests that state and federal law might have been violated, and the situation has been reported to the U.S. Attorney in New Orleans. There is no indication yet if any charges will be filed. We'll wait for law enforcement and the lawyers to figure that out. I won't even speculate about what civil liabilities Loomis and the Saints could be exposed to.
But there are huge potential implications elsewhere. Loomis is suspended without pay for the first eight games of the 2012 season for his role in not stopping the Saints' bounty program. This latest news isn't going to persuade commissioner Roger Goodell to shorten Loomis' suspension.
In fact, this has the potential to lead to a longer suspension, or even more punishment for Loomis and the Saints. Although this incident allegedly took place quite a long time ago, it won't sit well with Goodell. He fined the
New England Patriots
$750,000 and forced them to forfeit a first-round draft pick for Spygate. You can make a case that listening to opposing coaches during a game is worse than videotaping signals on the sidelines and using that information.
Throw in the whole situation surrounding the bounty system, and I don't see how this can lead to anything positive for Loomis or the Saints.
Saints owner Tom Benson has stood by Loomis and Payton, who is suspended for the entire 2012 season. But you must wonder if news of more alleged wrongdoing by Loomis might prompt Benson to fire his general manager.
I know Benson has other things going on. He recently purchased the NBA's New Orleans Hornets. Brees hasn't been able to work out a long-term contract with the Saints, and that's not a positive for Brees, Benson or the Saints. The team is waiting to see if players will be suspended for their roles in the bounty program. Benson also reportedly has put his granddaughter, Rita Benson LeBlanc, on
unofficial administrative leave
. LeBlanc had been viewed as the heir apparent to Benson, but it doesn't sound as if the owner is anywhere near ready to step aside.
That might be a good thing, because the Saints have all sorts of turmoil to deal with. Someone must clean up this mess. It's Benson's team, so we'll wait and see where he goes from here.
This offseason just keeps getting worse for the Saints.
April, 23, 2012
4/23/12
10:04
AM ET
Time for a look at the Monday morning headlines from around the NFC South.
Just when it seemed like the offseason couldn't get any more bizarre for the Saints, it has. Jeff Duncan reports that executive vice president Rita Benson LeBlanc, who had been viewed as the likely successor to her grandfather, Tom Benson, has been away from the team for several months. Duncan writes that LeBlanc was placed on
unofficial administrative leave
.
The Falcons open their offseason program Monday, but cornerback Brent Grimes is
not expected to attend
. Grimes is carrying the franchise tag and has not signed his tender. There haven't been any recent talks about a long-term contract, because Grimes' agent and the team have been busy getting ready for the draft. But talks should resume after the draft.
Richard Walker writes that the Carolina Panthers
should trade down
from the No. 9 overall pick in the draft. I don't think that's a bad idea, because the Panthers could add an extra draft pick or two. But, as I always say, it's easy to talk about trading down. But it's hard to actually make it happen. There aren't offers to trade down at every stop in the first round, and the Panthers might be sitting past the point where teams are looking to jump up to.
The Saints reportedly have
restructured the contract
of middle linebacker Jonathan Vilma. No surprise there. Vilma had been scheduled to count nearly $7.7 million against this year's cap. He's aging and is coming off an injury, and the Saints had to knock his cap figure down because they have very limited cap room. Vilma also is facing a possible suspension for his role in the Saints' bounty program.
Scott Reynolds writes that defensive tackle Amobi Okoye, a first-round pick by Houston in 2007, has
a chance to shine
with the Buccaneers. At worst, Okoye should be able to contribute as part of a rotation with Gerald McCoy, Brian Price and Roy Miller. At best, Okoye could be a starter if McCoy and Price, who each have struggled with injuries, continue to have problems.
After going through their first minicamp, the Buccaneers don't seem to have
any problems
with new coach Greg Schiano's more structured approach. They shouldn't. Raheem Morris' laid-back approach didn't work. The Bucs are coming off a 4-12 season, and that's not going to earn anyone the right to have easy practices in training camp or minicamp.
Former Atlanta safety Ray Easterling was
the lead plaintiff
in the first wave of concussion-related lawsuits against the NFL. He died last week, and police said his death was a suicide. For all those who say the NFL came down too hard with punishments on the Saints' bounty program, I point to this and other similar situations as to why the NFL acted the way it did. As these lawsuits move through the court system, the NFL can't afford to have the impression out there that it tolerates things like bounty programs.
January, 5, 2012
1/05/12
1:01
PM ET
I would like to urge all Saints fans to read this
excellent profile
on Rita Benson LeBlanc by Elizabeth Merrill.
LeBlanc is the granddaughter of Saints owner Tom Benson. She's the heir apparent to take over the franchise. But she already is very involved in the day-to-day operations of the club.
There's no question LeBlanc is the most powerful woman in the NFC South. She might even be the most powerful woman in the NFL.
The Saints had a lot of lean years in their early existence. But they've emerged as a model franchise since Hurricane Katrina. Their role in the New Orleans community is bigger than it ever has been and LeBlanc has played a big role in all of that.
October, 4, 2011
10/04/11
2:24
PM ET
It's now official. The Louisiana Superdome has become the Mercedes-Benz Superdome.

A news conference was just formally held to announce that Mercedes-Benz USA has bought the naming rights to the Superdome for 10 years.

Louisiana Governor Bobby Jindal, Saints owner Tom Benson and executive vice president Rita Benson LeBlanc and officials from Mercedes-Benz took part in the ceremony.

"This announcement today means we are gaining the partnership of a world-class company while generating savings for Louisiana taxpayers,'' Jindal said. "This partnership agreement is estimated to significantly reduce or eliminate taxpayer funding currently spent to support the Saints. From a place of last refuge in Hurricane Katrina, to a facility where we recently invested $85 million for improvements to help attract corporate sponsorship from world-renown Mercedes-Benz USA, the Superdome is a symbol of our State's success in not only rebuilding, but building back better than ever. Louisiana is making a comeback and the nation is taking notice."

Jindal's right on this one. I've been to New Orleans many times since Hurricane Katrina and see improvements every time I go back. The Saints have played a major role in that comeback and the selling of the naming rights should help the entire state.

"We felt strongly it was essential that if we were to offer the name of our building to a company, it would be one that all of our fans and the state of Louisiana would be proud of,'' Benson said. "The investment being made by a premier international brand who believes in 'the best or nothing,' is a tremendous compliment to all of those who worked so hard to make the stadium what it is today."
July, 18, 2011
7/18/11
2:59
PM ET
The New Orleans Times Picayune lists Saints owner Tom Benson as
the most influential person
in the city's sports world.

No doubt Benson is a huge force and the Saints are more popular now than they've ever been. But I'm not thoroughly convinced Benson belongs at the very top of this list. He's not a hands-on owner like Jerry Jones or Daniel Snyder.
There's nothing wrong with that approach and Snyder and Jones haven't had huge success of late. But I think one of Benson's strengths is that he surrounds himself with good people. There are some of his employees who are a little further down the list and I think you could make a case that each of them might be the most influential person in New Orleans sports.
Start with quarterback
Drew Brees
. He's more than just a great football player. He's a community leader and a symbol of the city. Brees' arrival in the aftermath of Hurricane Katrina went a long way in turning around the fortunes of the Saints and the city.
Coach Sean Payton and general manager Mickey Loomis also are on the list, but I think a case can be made that they belong closer to the top. Like Brees, Payton and Loomis are major reasons why the Saints have become a model franchise.
Finally, there is Rita Benson LeBlanc. She's the granddaughter of the owner and she's more powerful than a lot of people realize. She's the heir apparent to her grandfather, but she already plays a prominent role on the business side. She also has taken the lead role in the team's community relations.
March, 21, 2011
3/21/11
5:36
PM ET
NEW ORLEANS – Some quick hits from around the division as we work on a variety of things at the NFL owners meeting.
New Orleans Saints owner/executive vice president Rita Benson LeBlanc
has been selected
to Sports Business Journal's "Forty Under 40'' list. It's the third time she's been chosen.
Ira Kaufman writes about how the NFC South just
might be the league's toughest division
. In these parts, we call that preaching to the choir.
Matt Williamson
breaks down the NFC South's quarterbacks
. We all know plenty about Drew Brees, Josh Freeman and Matt Ryan. Carolina is the wild card, and Williamson's got a pretty strong opinion on what the Panthers should do at that position going forward.
October, 29, 2008
10/29/08
1:18
PM ET
Posted by ESPN.com's Pat Yasinskas
Give New Orleans coach Sean Payton some credit for finally saying what he and most of the organization made obvious last week. The last place Payton and most people associated with the Saints wanted to be was London.
That was pretty obvious as the team took a bunker mentality through much of the week. The Saints stayed at what was essentially a castle an hour north of London, severely limited media access and just went about business. You can't question the result because the Saints got a win, although the fact the Chargers are flat-out bad played a big role.
In some ways, you have to wonder if the Saints made things more difficult than they needed to. They were grumpy all last week and, although they went through the motions they had to, they didn't exactly embrace a role as ambassadors of American football. That was a bit of a contradiction because Saints executive vice president Rita Benson LeBlanc, the daughter of owner Tom Benson, is on the league's international committee and she played an enthusiastic role in trying to expand the game's appeal.
That's something the NFL is gung-ho about and commissioner Roger Goodell said there's a possibility of two international games next season. There also has been talk about having each team play one international game a year at some point. That's probably going to happen because the game was an economic success.
But, before the league goes too far down the international road, it might want to listen seriously to Payton's gripes. He had some very valid points about the logistical difficulty of playing overseas and he's the guy who came home with a win.
October, 23, 2008
10/23/08
2:06
PM ET
Posted by ESPN.com's Pat Yasinskas


WATFORD, England -- Saints executive vice president Rita Benson LeBlanc, the daughter of owner Tom Benson, said there will be a New Orleans feel to Wembley Stadium on Sunday.
The game with San Diego, after all, technically is a "home'' game for the Saints. They'll try to take advantage of that and boost the profile of New Orleans and the NFL.
"The exterior of Wembley Stadium itself is going to have all the manner of fan festival, the lights, the spirit and all the musical elements as far as those things that are really true to New Orleans and our culture,'' LeBlanc said. "In fact, to help our economy back home, they're also using a New Orleans-based company that does that sort of production all over the world.
"They'll have a parade type element with a giant-sized football player at the front, which is very near and dear as far as Mardi Gras sentimentality for New Orleans. You'll get a feel for that.''
Although the Saints will have only seven games at the Superdome, LeBlanc said many fans from New Orleans have decided to plan vacations to London around the game.
"We have 4,000 to 5,000 season ticket holders and people that we've been in touch with that we expect to be coming over,'' LeBlanc said. "Our season-ticket holders and suite holders and sponsors had first priority first on tickets before they went out to the mass public. It's been exciting to see that many people travel. In New Orleans, we like to party and celebrate a little bit. You'll see some black and gold New Orleans fans running around London and having fun.''