October, 20, 2014
Oct 20
2:35
AM ET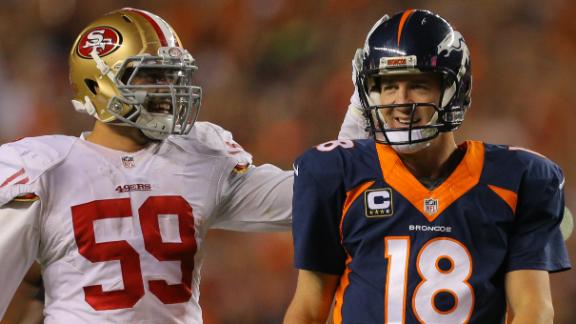 DENVER -- Peyton Manning put on an absolute clinic Sunday night in the
Denver Broncos
' 42-17 beatdown of the
San Francisco 49ers
.
Sure, he set a new NFL record for career touchdown passes with Nos. 507, 508, 509 and 510, and he also had as many TD passes against the 49ers as he did incompletions -- four -- in completing 22 of 26 passes for 318 yards and a passer rating of 157.2.
[+] Enlarge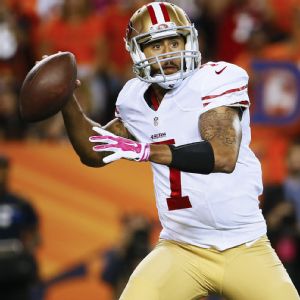 AP Photo/Jack DempseyIf you're keeping score, Colin Kaepernick is just 468 touchdown passes behind Peyton Manning on the all-time list. But Kaepernick would do well to learn from Manning's record-breaking night.
But perhaps the most important thing he accomplished on his record-setting night, at least as far as the 49ers are concerned, was setting an example for
Colin Kaepernick
to follow in his nascent career.
No doubt, they are two different quarterbacks with polar-opposite skill sets. But Kaepernick had a front-row seat to, well, the greatness that is Manning when he is firing on all cylinders.
That greatness includes touch passes, reading defenses and calling audibles in and out of plays depending upon what the defense shows him at the line.
"He's a great player," Kaepernick said. "He's able to put up a lot of points. He's proven that. We knew we were going to have to score points regardless."
Kaepernick actually had more passing yards than Manning at halftime, though the 49ers trailed 21-10 at intermission. And Kaepernick, who is only 468 touchdown passes behind Manning, flashed by leading the 49ers 80 yards in seven plays with no timeouts to close out that first half.
His 4-yard touchdown pass to
Stevie Johnson
with 11 seconds remaining in the half gave him a touchdown pass in 14 straight games, the third-longest such streak in franchise history behind Steve Young (17 games, from Oct. 9, 1994, through Oct. 15, 1995) and Jeff Garcia (15, from Dec. 3, 2000, through Dec. 2, 2001).
But with the 49ers playing catch-up and Kaepernick needing to pass, the Broncos merely pinned their ears back and dominated the Niners' decimated offensive line. Kaepernick was sacked a season-high six times and he passed for only 74 yards in the second half to finish with 263 yards on 24-of-39 passing with a touchdown and an interception.
Still, having a front-row seat to history should allow Kaepernick to glean something from Manning going forward, no? Well, so long as Kaepernick wants it.
It sounds like he does.
"He's a very smart player," Kaepernick said. "He knows where he wants to go with the ball, how he wants to attack different defenses."
So, you could add that your arsenal, your QB bag o' tricks, so to speak?
"Very much," Kaepernick said.
Niners coach Jim Harbaugh is not one to compare players, but on this night, the former quarterback seemed in awe of Manning. (A bit of trivia: The last QB to start a game for the
Indianapolis Colts
before Manning was the No. 1 overall pick of the 1998 draft? Harbaugh.)
"I'm sure there are some things [he can glean from Manning]," Harbaugh said. "He's one of the greats, and that certainly was on display tonight."
And then some.
"You're playing against a coordinator when you're out there," 49ers free safety
Eric Reid
said.
Whatever lessons Kaepernick took home from Denver will have to wait for a while. The only way he will see Manning this up close and personal again would be if the 49ers and Broncos meet in the Super Bowl.
"I hope we do," Kaepernick said.
He's not the only one who feels that way in the 49ers' locker room.