May, 10, 2014
May 10
6:38
PM ET
»
NFC wrap-ups
:
East
|
West
|
North
|
South
»
AFC
:
East
|
West
|
North
|
South
TEMPE, Ariz. -- A wrap-up of the
Arizona Cardinals
' draft.
Click here
for a full list of Cardinals draftees.
[+] Enlarge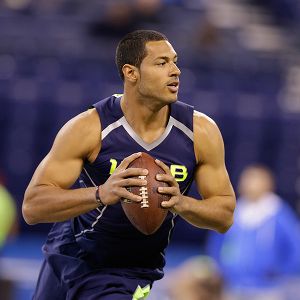 AP Photo/Michael ConroyVirginia Tech's Logan Thomas could be the Cardinals' starter by 2015.
Best move:
Drafting
Logan Thomas
. Quarterback has been a touchy subject around the Cardinals all offseason, especially since
Carson Palmer
has just one more year on his contract. Adding Thomas gives the Cardinals an option for the future. The best part of drafting Thomas is, as long as Palmer stays healthy, he won't be forced into action this coming season. The longer Thomas can sit behind Palmer and learn Bruce Arians' offense, the better he'll be in the long run. Anyone watching the Cardinals in 2013 saw how long it took for the offense to grasp the intricate scheme Arians installed. Having a young quarterback immersed in it for about 10 months before he's handed the keys will allow him to make a seamless transition. It'll also take at least that long for Thomas to be ready to start. He has the physical tools, but there are accuracy issues that need to be addressed. It's a small trade-off for having a quarterback who can eventually be a starter.
Riskiest move:
Trading out of the 20th pick in the first round ended up working out for the Cardinals, but it was their riskiest move of the draft. Had the Cardinals missed out on safety
Deone Bucannon
, the shape of their entire draft would have changed. And if there was one pressing need for Arizona this year it is at safety. Their inability to cover tight ends was no secret, so finding a tall, physical safety in the first round was almost imperative for the Cardinals to make a run at the playoffs. If Bucannon had been off the board before No. 27, the Cardinals would've been in trouble.
Most surprising move:
Drafting multiple players at the same position. The Cardinals used this draft to stock up at wide receiver and defensive end, but they left a few needs on the board. Arizona wanted to improve at speed receiver but picking
John Brown
in the third round and then
Walt Powell
in the sixth round created a logjam. Both bring different attributes to the field, but they're similar in stature and rely on speed to earn their keep. How many of the same type of player is needed? The same question can be asked about the defensive ends Arizona selected. The Cardinals drafted
Kareem Martin
in the third round and then
Ed Stinson
in the fifth. General manager Steve Keim said Stinson was the backup plan if another team had drafted Martin, but Arizona opted for both. Like the receivers, Martin and Stinson are touted as different pass-rushers but either one would've fit Arizona's need. The Cardinals finished the draft with holes at right tackle and linebacker.
File it away:
This draft class will have three players who'll be considered "hits" in a few years. Bucannon can become an instant starter while utilizing his range and size, especially against the run. Tight end
Troy Niklas
has the size and athleticism to emerge as one of the best tight ends in the league, especially in Arians' offense. And if Thomas can fix his accuracy issues, he can wind up being the Cardinals starter in 2015.
May, 10, 2014
May 10
2:50
PM ET
TEMPE, Ariz. --
Logan Thomas
wasn't picked in the fourth round to be the
Arizona Cardinals
' starting quarterback in 2014.
He wasn't even picked to be
Carson Palmer
's backup.
[+] Enlarge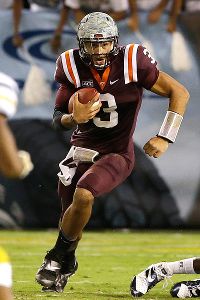 AP Photo/John BazemoreLogan Thomas, a 6-foot-6 quarterback out of Virginia Tech, will be an ideal project for Cardinals coach Bruce Arians.
But a year from now, the Cardinals may have a starting quarterback who'll be a refined, polished version of the man drafted 120th overall. That's what can happen after Thomas, the former Virginia Tech quarterback, spends a year on the bench under the tutelage of Palmer, Cardinals coach Bruce Arians and assistant coach Tom Moore.
"I think it's completely just learning how to be a professional in general," Thomas said.
"I have the opportunity to sit back, watch and learn, and learn from a guy who's been in the league for a good amount of time and has had a lot of success in the league as well. I really have the opportunity to learn. And learning at this age is something anybody needs and then once I get my shot is when you really start moving forward."
Thomas was one of few players in this draft who fit the mold of an Arians-style quarterback. He's 6-foot-6 and 250 pounds with "probably one of the strongest arms in the last 10 years," Arians said last week. The physical tools to be a starter are there, but Thomas isn't ready to be handed the keys to an offense just yet. His accuracy has come under scrutiny, not just by so-called experts, but Thomas as well.
He's the ideal project for Arians, who worked out Thomas in April at Virginia Tech. Accuracy and vision is something Arians can fix. Height, speed and arm strength, however, can't be taught.
But Thomas isn't a weekend project. His off-target percentage was 25 percent his last two seasons at Virginia Tech. During that stretch, his QBR was 47.6. For perspective, the top 10 quarterbacks ranked by Scouts Inc. all had a QBR of more than 60 since the start of the 2012 season. Some of that had to do with the fact Thomas had three different offensive coordinators in as many years. Each had their own philosophy and asked for different things. Arians understood that and has referred to Thomas' success during his sophomore season.
Through the smokescreens put out by Arians and Cardinals general manager, however a piece of truth could be pieced together. They weren't about to draft a quarterback in the fourth round or later who couldn't overtake either
Drew Stanton
or
Ryan Lindley
. Thomas has the ability to do both, although winning the third-string job is more likely to start the season.
Arians' offense best runs with a quarterback the size of Thomas who has similar mobility. Look at
Ben Roethlisberger
, a young
Peyton Manning
and
Andrew Luck
. All have the size and feet to get out of trouble and make plays with their legs.
Thomas might be a better physical specimen than all of them. Now, it's about refining the football part of him.
"I think it kinda shows he's willing to work with a guy and build him up and create him into a pretty much a monster in the way they play football," Thomas said. "For me, I couldn't have gone into a better situation. I'm very blessed."
May, 8, 2014
May 8
5:20
PM ET
All the mock drafts have been put to bed. The predictions have been made. All that's left is for the
Arizona Cardinals
to call Radio City Music Hall.
Atop the Cards' 120-player board are the top 20 prospects Arizona has targeted during a year of evaluations. But, in reality, about 15 of those 20 aren't realistic possibilities for the Cardinals.
After scouring dozens of mock drafts across the Internet and participating in the
ESPN NFL Nation Mock Draft
, I've settled on about eight players I believe Arizona's pick will come from.
Here's my pool of Cards' draft possibilities:
Ryan Shazier
, LB, Ohio State
C.J. Mosley
, LB, Alabama
Morgan Moses
, OT, Virginia
Cyrus Kouandjio
, OT, Alabama
Deone Bucannon
, S, Washington State
Ra'Shede Hageman
, DT, Minnesota
Justin Gilbert
, CB, Oklahoma State
Odell Beckham Jr.
, WR, LSU
May, 8, 2014
May 8
1:00
PM ET
ESPN draft experts Mel Kiper Jr. and Todd McShay have released their final mock drafts of the year in Insider pieces. Both men have the
San Francisco 49ers
getting a receiver.
In Kiper's mock

, he has Indiana's
Cody Latimer
going to the 49ers at No. 30. If the 49ers -- who reportedly are trying to trade up for a receiver -- stay at No. 30, Latimer would be a tremendous value. I'd be surprised if he is there, as I think he'll go in the 22-26 range.
A lot of people,
including me,
think the 49ers will attempt to trade up for a top receiver such as LSU's
Odell Beckham Jr
.
McShay agrees.

But the rule of this mock is there are no trades. So, McShay admitted he fudged some and had Beckham slide to the 49ers at No. 30. He knows it's unlikely, but because the 49ers' pursuit of Beckham appears real, he made this pairing.
May, 7, 2014
May 7
3:00
PM ET
We held our
NFL Nation mock draft
this week on ESPN.com and on SportsCenter.
I took Florida State receiver
Kelvin Benjamin
for the 49ers at No. 30.
But that was not my intention. I tried to trade up. I tried a lot. Spanning picks 15-28, I made nine inquiries. Nine of them. I never truly came close to executing a deal. There was some potential with Kansas City at No. 23. But I wasn't giving up the No. 30 pick.
I think the 49ers would like to draft twice in the first round, so that was my goal. I wouldn't worry my lack of trade success will translate into trouble for the 49ers finding a trade partner Thursday night. I think the actual decision makers may be more willing to move back than the folks I was trying to convince.
Honestly, I don't love the Benjamin choice, but he was really the only way I thought I could go. I would have been much more satisfied if he was my second first-round pick and I was able to get a cornerback earlier. Even without a trade, I thought I might get TCU cornerback
Jason Verrett
, but his slide ended at No. 28 to Carolina. Yes, I talked to Carolina about a deal, too.
At No. 30, in addition to Benjamin, I considered Vanderbilt receiver
Jordan Matthews
and Fresno State receiver
Davante Adams
as well as Auburn pass-rusher
Dee Ford
. In the end, I went with Benjamin, whose size and skill can translate into big NFL success.
But, overall, I leave this exercise disappointed. I wanted to get a cornerback and a receiver. But no one would play with me.
April, 30, 2014
Apr 30
2:30
PM ET
There has been speculation throughout the NFL draft season that the
San Francisco 49ers
could be a prime candidate to move up in the first round next Thursday.
A potential trade partner could be the
Baltimore Ravens
. The Ravens hold the No. 17 pick. Ravens general manager Ozzie Newsome told reporters Wednesday that they have already received calls for the pick.

Let's look at some reasons how the 49ers (who have the 30th overall pick in the first round) and the Ravens could be trade partners.
49ers have done it before:
This move up would be 13 spots. The 49ers did exactly that last year when they went from No. 31 to No. 18 in a trade with Dallas to take safety
Eric Reid
, who became a Pro Bowl player as a rookie. In addition to No. 31, the 49ers gave Dallas No. 74, in the third round.
Teams work well together:
We know these two teams communicate. Of course, Jim and John Harbaugh are the respective coaches of the 49ers and the Ravens. Plus, the two teams have been in contact this spring putting together a joint workout in August. Newsome and 49ers general manager Trent Baalke have had dealings in the past. And the Ravens sent receiver
Anquan Boldin
to the 49ers last year.
Potential targets:
The 49ers' top needs are at cornerback and receiver. The cornerbacks expected to go in the top 20 are Oklahoma State's
Justin Gilbert
, Michigan State's
Darqueze Dennard
and perhaps Virginia Tech's
Kyle Fuller
. The receivers who could be taken in that range include LSU's
Odell Beckham Jr.
and Oregon State's
Brandin Cooks
. The 49ers have been studying both players intensively.
What would it cost?
The 49ers have a few packages to offer. They could offer No. 30 and No. 77, in a similar deal to the Dallas swap. Or they could offer No. 56 and No. 61, and perhaps even those two picks with No. 84 or No. 129.
Have they already talked?
Newsome said they've had preliminary talks with teams, and Baalke said last week it is routine for him to have initial talks prior to the draft with potential trade partners to discuss potential scenarios.
It's already been suggested:
Former Tampa Bay general manager and current ESPN analyst Mark Dominik
suggested a 49ers-Ravens trade for No. 17

in an Insider piece last week.
April, 10, 2014
Apr 10
12:15
PM ET
Owners of the No. 32 and final pick in the first round of this year's draft by virtue of the team's first Super Bowl win, the
Seattle Seahawks
still can get a player who can help them defend their title in 2014.
Seattle could use another playmaking receiver, along with help at cornerback and defensive and offensive line to replace players who left in free agency.
ESPN draft analyst Todd McShay's
fourth 2014 NFL mock draft

is available at ESPN Insider, and his selection for the Seahawks should help fill the void at a positional need.
March, 6, 2014
Mar 6
12:23
PM ET
Todd McShay's third NFL mock draft for 2014 is out on ESPN Insider today. The Super Bowl champion
Seattle Seahawks
are loaded, and should very much be back in the mix to repeat next year. But there are a few spots that could use attention.
Sidney Rice
and
Red Bryant
are gone already, and free agency could strip them of
Golden Tate
,
Breno Giacomini
,
Michael Bennett
and other significant players. That would leave the door open for what direction Seattle goes at the very end of Round 1. They covet defensive linemen and could go that way, and should consider adding another cornerback rather high in this draft, especially if they are hit hard at that position in free agency.
A pass-catcher is certainly an option at 32, but to me, the best scenario would be Seattle selecting a big powerful right tackle/guard type, as their offensive line was the weakest area of their team in 2013.
Whom does McShay have the Seahawks drafting at No. 32?
Let's take a look
:

To continue reading this article you must be an Insider
March, 6, 2014
Mar 6
11:00
AM ET
Todd McShay's third NFL mock draft for 2014 is out on ESPN Insider today. The Niners just resigned
Anquan Boldin
, giving them a nice core of pass catchers in Boldin,
Vernon Davis
and
Michael Crabtree
, the latter of whom should be back to full health in 2014 as quarterback Colin Kaepernick's go-to receiver. But this area of the draft is loaded with exciting wide receivers, and adding a young one to the squad could pay off huge for San Francisco. A speed wideout in particular should be coveted.
The 49ers also should add an interior offensive line prospect at some point, and love collecting defensive linemen with upside.
Donte Whitner
probably will not be back, so adding a high-end safety prospect next to last year's first round pick,
Eric Reid
, could be the move here.
But right now, cornerback is San Francisco's top need, and the 30th overall pick could be a nice spot to land a new cornerback. Also, considering that this is a very talented team without too many huge holes to fill, they could move up for the guy they covet, as they did for Reid; San Franciso has more picks in this draft than any other team.
Whom does McShay have the 49ers drafting at No. 30?
Let's take a look

:
To continue reading this article you must be an Insider
March, 6, 2014
Mar 6
11:00
AM ET
Todd McShay's third NFL mock draft for 2014 is out on ESPN Insider today.
This is an intriguing draft for the St. Louis Rams, as they have two picks in the top half of the first round at Nos. 2 and No. 13, respectively. I view offensive line as a huge need for the Rams, and locking up two of their own,
Rodger Saffold
and
Shelley Smith
would be prudent free-agent moves after some cap maneuvering. Independent of that I could see them going with one of the top tackles with the second pick (McShay had them taking Auburn's
Greg Robinson
in his second mock) or after trading back.
The secondary is another need area for the Rams, because though several of the Rams' young lesser-known members of their secondary showed some promise last season, adding one high-end guy could go a long way toward completing a potentially great defense. Many consider wide receiver a huge need for this team, but to me, addressing that issue in free agency makes much more sense considering how many early picks they used on wide receivers recently and how young this position group is right now.
I am also in the camp that using a second- or third-round pick on a quarterback would be a wise move for the Rams.
Whom does McShay have the Rams drafting at No. 2 and No. 13?
Let's take a look

:
To continue reading this article you must be an Insider