NFC West:

Carolina Panthers
October, 23, 2014
Oct 23
8:00
AM ET
The
Seattle Seahawks
and
Carolina Panthers
are reeling as they enter Sunday's 1 p.m. ET game at Bank of America Stadium.
The defending Super Bowl champion Seahawks have lost two straight games to fall to 3-3, two games behind Arizona in the NFC West. The defending NFC South champion Panthers have gone 1-2-1 over their past four games and fallen to 3-3-1. They still lead the division because the other three teams have defenses that are just as porous as Carolina's.
Seattle and Carolina are meeting for the third straight year in Charlotte, with the Seahawks winning the previous two by scores of 16-12 and 12-7.
ESPN Seahawks reporter Terry Blount and ESPN Panthers reporter David Newton are here to break this one down for you:
Newton:
Terry, the folks in Seattle have to be a bit shocked the Seahawks are .500 and two games out in the division. Is there a sense of concern at this point?
Blount:
Nobody is jumping off the Space Needle, but you'd better believe the fans are concerned and a bit bewildered. There is time for the Seahawks to recover, but can they? The team hasn't played well at the line of scrimmage on either side of the ball. They can't get much of a pass rush, and the offensive line has been whistled for 14 penalties in the past three games. Injuries to key starters have hurt them: tight end
Zach Miller
, center
Max Unger
, cornerback
Byron Maxwell
and especially middle linebacker
Bobby Wagner
, who was playing the best football of his career until suffering a nasty turf toe injury two weeks ago.
You're probably getting this question a lot, but what in heaven's name is going on with the Carolina defense? The Panthers have gone from No. 2 in the NFL last season in points allowed (15.1) to a team that has given up at least 37 points in four games this season. What has been the biggest factor in the dramatic change?
Newton:
Not sure the editors will give me the space to fully explain this one. You can start with the loss of defensive end
Greg Hardy
, who is on the commissioner's exempt list until his domestic violence case is resolved. It's hard to replace everything he did. But it goes much deeper than that. You can also look to the secondary. There are three new starters: strong safety
Roman Harper
, free safety
Thomas DeCoud
and cornerback
Antoine Cason
. They're making every quarterback look like
Peyton Manning
the way receivers are running free. The lack of a pass rush has hurt. Teams are hitting Carolina with a lot of quick passes to negate the four-man rush, just as I suspect is happening in Seattle. But, as linebacker
Thomas Davis
said earlier in the week, the Carolina defense as a whole simply isn't playing smart and swarming to the ball as it did last season.
Seattle quarterback
Russell Wilson
is playing at high level. Where has he shown the most improvement and how will his threat as a runner affect an undisciplined Carolina defense?
Blount:
Dave, it's scary to think where the team would be without Wilson. He single-handedly won the Redskins game on Oct. 6, becoming the first quarterback in "Monday Night Football" history to pass for more than 200 yards and run for more than 100. His brilliant 80-yard drive in overtime defeated Denver last month, a game the defense tried to give away at the end of regulation. He's doing almost everything at a higher level now in his third NFL season, but most importantly, he understands where he needs to go with the football more quickly and when to tuck and run. That has been essential considering Wilson had been under duress more than any other QB. Believe it or not, he rarely looks to run. He has to run to avoid pressure. The key for any defense is trying to cut off the perimeter and keep him in the pocket -- easier said than done.
Rookie wide receiver
Kelvin Benjamin
looks as if he's everything the Panthers hoped he would be as a first-round pick. But do they miss
Steve Smith
, and do you think Benjamin can be as good as, or better than, Buffalo rookie receiver
Sammy Watkins
?
Newton:
Benjamin hasn't disappointed. He's 13th in the NFL in receiving yards with 477, and his five touchdowns are one more than Smith has in Baltimore. I'm not sure Benjamin would have developed as quickly if Smith were in Carolina. As I've said before, overall the team is better at wide receiver than it was a year ago.
As for where Benjamin stacks up against Watkins, I'd say they're pretty much the same player except Watkins has more explosive speed. But Benjamin runs routes much better than anyone gave him credit for coming out of college. He's a player even Seattle's talented secondary will have to pay extra attention to. And you do that at the expense of leaving open
Greg Olsen
, who leads all tight ends with 493 receiving yards.
I found the comments by Seahawks receiver
Doug Baldwin
on the
Percy Harvin
trade interesting. Has that been a distraction, and how will that affect the Seattle offense?
Blount:
Baldwin admitted after the St. Louis loss this past weekend that the shock of the Harvin trade, which happened less than 48 hours earlier, had an impact on the way the Seahawks started the game in getting behind 21-3. However, I firmly believe the impact going forward will be a positive one. Harvin's anger issues -- fights with teammates and taking himself out of two games -- were more than anyone could tolerate any longer.
It also was a problem on the field because Seattle revamped its entire offense to revolve around Harvin. The Seahawks got away from what they do best: run the football to set up open receivers downfield. They looked like last year's offense in the second half against the Rams, scoring on three consecutive drives of 80 yards or longer. Wilson set another NFL record, becoming the first player in league history to pass for more than 300 yards and rush for more than 100 in a game. Baldwin had his best game of the season with seven catches for 123 yards and a score. Trading Harvin was addition by subtraction in so many ways.
I'm shocked to see that
Cam Newton
is Carolina's leading rusher with 190 yards. What has happened to the Panthers' running game?
Newton:
You wouldn't be shocked if you looked at all the injuries, a new line and opponents putting eight in the box to stop the run. Panthers all-time leading rusher
DeAngelo Williams
has missed the past three games with an ankle injury and has played less than six quarters this season.
Jonathan Stewart
has missed three starts.
Mike Tolbert
is on injured reserve. If you've heard the names
Darrin Reaves
,
Fozzy Whittaker
and
Chris Ogbonnaya
, you're either related to them or desperate in a fantasy league.
Then there's the line, which took another blow last week when starting right guard
Trai Turner
suffered a knee and ankle sprain that will keep him out this week. At one point Sunday, undrafted rookie
David Foucault
, who should be on the practice squad developing, was playing left tackle. I could go on, but I won't.
January, 12, 2014
Jan 12
11:35
AM ET
By
ESPN.com staff
| ESPN.com
Join our ESPN.com NFL experts for playoff football between the San Francisco 49ers and the Carolina Panthers.
Contribute your thoughts and questions beginning at 1:05 p.m. ET. See you there.
January, 10, 2014
Jan 10
10:00
AM ET
Perhaps no two teams in the NFC are more alike than the
Carolina Panthers
and
San Francisco 49ers
, who meet at 1:05 p.m. ET on Sunday at Bank of America Stadium for the right to advance to the NFC Championship Game.
They both have big, physical, mobile quarterbacks.
They both have offenses built around the running game.
They both rely on physical, highly ranked defenses built around stopping the run first.
Their regular-season meeting at Candlestick Park showed just how close they are. Carolina won 10-9 on Nov. 10 in one of the more physical games of the season.
The rematch has all the ingredients to be just as close and physical.
ESPN.com Panthers reporters David Newton and 49ers reporter Bill Williamson are here to break it down.
Newton:
Bill, hope you have thawed out from the trip to Green Bay. The first game between these teams was an old-fashioned NFC bruiser. Do you see the rematch being anything different?
Williamson:
You're right, David, the first 49ers-Panthers matchup was one of the most physical games of the 2013 NFL season. I think we are going to see a similar game. These teams are similar, and are both really good teams. So this is going to be another close, physical game.
I do think more points will be scored. A huge difference for the 49ers is they will have receiver
Michael Crabtree
this time, and you have to assume tight end
Vernon Davis
won't leave this game early, as he did in the Nov. 10 meeting. Crabtree has made this a different team since he returned Dec. 1 from a torn Achilles. He had his best game of the season last week at Green Bay with eight catches for 125 yards. David, do you think the Panthers are prepared to deal with Crabtree?
Newton:
They better be, or it could be a long day. I suspect they will take a similar approach to their Dec. 22 victory over New Orleans, which has talented receivers and Pro Bowl tight end
Jimmy Graham
. And remember, Crabtree was facing a Green Bay defense that was ranked 24th against the pass and 25th overall. Carolina's defense ranks sixth against the pass and second overall. That's a significant difference.
To me it doesn't come down to Crabtree as much as it does to the pass rush. Carolina led the league in sacks with 60 and has 15 in the past two games. The Panthers will try to push quarterback
Colin Kaepernick
out of his comfort zone like they did in the first meeting, when they sacked him six times. The secondary is a huge part of that. They mix things up with complicated zone coverages that make it difficult for receivers. They also are physical with them. To stand a chance, the Panthers have to duplicate the kind of effort they had in the first game. If they pressure Kaepernick that way again, Crabtree won't be as effective.
Speaking of quarterbacks, the 49ers did a nice job on
Cam Newton
in the first game. This will be Newton's first playoff game. Are the 49ers worried about him?
Williamson:
The 49ers certainly respect Newton and are wary of him. But I don't think they are overly fretting about him. The 49ers just beat
Aaron Rodgers
. He's the best quarterback in the NFL. So they can handle Newton.
I think what gives the 49ers confidence that they can continue to have success against Newton is that their defense is so athletic. So it matches up well against Newton. He did come up with some big third-down passes against the 49ers. So San Francisco has to find a way to keep him from making clutch plays. That means the 49ers have to keep pressure on him throughout the down. If Newton athletically beats the 49ers, they will have a tough day.
David, my last question for you is: What do you think the Panthers can do overall to ensure they move on to the NFC title game?
Newton:
Bill, because I see the defense doing its part, for me it all comes down to Newton. As left tackle
Jordan Gross
said this season, as Newton goes, so go the Panthers. This will be his biggest challenge on his biggest stage, but he's a lot more confident now than he was the first time these teams met. He has since engineered last-minute, game-winning drives to beat New England, Miami and New Orleans. I believe you'll see him throw caution to the wind when it comes to running. Having favorite receiver
Steve Smith
back will help as well. If Newton can handle the big-game atmosphere as he did in college, the Panthers have a chance. Having said that, what do the 49ers have to do?
Williamson:
San Francisco has to take advantage of what it has now, but didn't have when it last played Carolina -- and that's better offensive weapons. Crabtree has been back for six weeks, and the offense is much better. Having a healthy Davis makes the 49ers better in this game, as well. But they can't spoil those advantages. San Francisco must find the end zone a couple of times. The 49ers had just three field goals against the Panthers in November, and settling for field goals has been an issue all season.
Because points are going to be at such a premium, the 49ers have to do what it takes to find the end zone, at least two times in this game. If not, another close loss to Carolina might be on the horizon.
.
January, 5, 2014
Jan 5
9:15
PM ET
Three things to know about the
San Francisco 49ers
' matchup at the
Carolina Panthers
in the NFC divisional round at 1:05 p.m. ET Sunday:

1. Rematch:
All
Colin Kaepernick
said about the
Carolina Panthers
on Sunday night, after the 49ers secured their trip there with a 23-20 win at Green Bay was "we owe them." The Panthers beat the 49ers in San Francisco, 10-9, on Nov. 10. It was one of the NFL's most physical games of the season. Both offenses struggled as both teams played brilliant defense. Expect another low-scoring game, although the point total likely will exceed 19 this time around.
2. Young quarterback battle:
This will be a terrific national spotlight game for two of the better young quarterbacks in the league, Kaepernick and Carolina's
Cam Newton
. One of these two quarterbacks is heading to the NFC Championship Game. Newton was the No. 1 overall pick in the 2011 draft. Kaepernick, who already has been to one Super Bowl, was taken in the second round.
3. Great linebacking play:
The first meeting was highlighted by stellar defensive play, particularly by the inside linebackers. San Francisco's
NaVorro Bowman
and
Patrick Willis
and Carolina's
Luke Kuechly
are among the game's best middle linebackers. Bowman and Kuechly are legitimate NFL Defensive Player of the Year candidates. Expect this matchup to be run through these guys once again.
November, 8, 2013
11/08/13
10:00
AM ET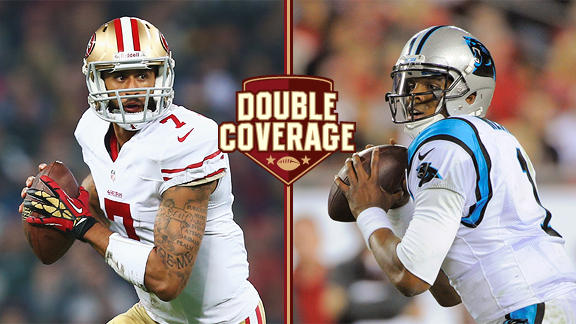 Getty Images, AP PhotoQuarterbacks Colin Kaepernick, left, and Cam Newton highlight a matchup of NFC playoff contenders.
SAN FRANCISCO -- A few weeks ago, this didn't appear to be a premier game.
But the
Carolina Panthers
kept on winning. Now, before the
San Francisco 49ers
have to tangle with potential playoff opponents New Orleans and Seattle in the coming weeks, looms another major NFC test in the form of the Panthers on Sunday at Candlestick Park.
This will be matchup featuring two of the hottest teams in the league. The 49ers have won five straight, the Panthers four straight. ESPN.com 49ers reporter Bill Williamson and Panthers reporter David Newton take a look at the intriguing matchup:
Newton:
These teams appear similar, built around a strong running game, a versatile quarterback and strong defense. Where do you believe the 49ers have the biggest advantage?
Williamson:
They totally believe in what they do. This is a confident team in all phases of the game. San Francisco is deep and focused, and it rarely misfires as a team. The 49ers stick to their plan and have confidence it will eventually wear opponents down. That is particularly true concerning the ground game on both sides of the ball. The 49ers know they are better than most opponents, and they just go out and try to prove it. I think they will try to stuff the Panthers early and get in their heads. David, the Panthers are certainly clicking themselves. Do you think they are up to this task?
Newton:
Because their five wins came against teams with a combined 8-33 record, the critics are wary. So, the Panthers are relishing the opportunity to prove that their winning streak isn't a fluke, that they deserve to be mentioned as a serious contender. The only team they have faced with a record currently above .500 is Seattle, which beat Carolina 12-7 in the season opener. The Panthers believe they should have won that game, too. Like San Francisco, this group is very confident. The Panthers have an attitude and hunger that, with a decent amount of talent, make them dangerous. They won't be intimidated by San Francisco's résumé, particularly Carolina's defense, which is playing as well as any in the league. Just ask the Seahawks, who struggled to score 12 on Carolina, then scored 29 against the 49ers in Week 2. This is a playoff-caliber defense that should keep the Panthers in most games. Their biggest challenge will be stopping
Colin Kaepernick
. He appears to have picked up where he left off last season. How has he improved?
Williamson:
He's a perfect fit for this coaching staff. What coach Jim Harbaugh and offensive coordinator Greg Roman excel at is taking what opposing defenses give them. They will run inside or outside, will use Kaepernick on the ground or through the air and can exploit defenses using receiver
Anquan Boldin
or tight end
Vernon Davis
, depending on what is given to them. Kaepernick plays along perfectly. He is patient and doesn't care about his own stats. He happily executes the game plan. David, do you think Panthers have a chance of frustrating Kaepernick by closing all those gaps?
Newton:
That's the game plan, whether it's a running quarterback such as Kaepernick or a pocket passer. The goal is to stuff the run and make a team one-dimensional, and they've done that well enough to rank second in the league against the run. But running quarterbacks are a concern. Seattle's
Russell Wilson
didn't put up huge numbers in the opener, but he kept the chains moving and completed a high percentage of throws (76 percent, 25 of 33). Buffalo's
EJ Manuel
did the same thing. Carolina had a combined three sacks in those games. The Panthers have averaged more than three a game since. What will the 49ers do to counter the play of
Cam Newton
?
Williamson:
The 49ers respect Newton. They have been talking about how physical Newton is and how they must respect his game. Again, the defense in San Francisco starts with stopping the run. Then, the 49ers tee off on the passing game. This has been a very stingy defense, but Newton is on a roll and will be the best quarterback this San Francisco defense has seen since
Andrew Luck
beat it at home in Week 3. David, do you see Newton succeeding in this game?
Newton:
Most of Newton's success this season has come against defenses ranked in the lower half of the league. Most of it has come because he has gotten comfortable taking what the other team gives him, mostly short stuff, so he's been completing a high percentage of passes the past month. San Francisco has one of the best pass defenses in the league, so I look for Newton to use his legs more early to get into a rhythm, and I look for the Panthers to try to run to take the pressure off Newton. His confidence is at an all-time high, but the 49ers have a defense that can change that quickly.
.
October, 20, 2013
10/20/13
10:00
AM ET
By
ESPN.com staff
| ESPN.com
Join our ESPN.com NFL experts as they break down the St. Louis Rams' visit to the Carolina Panthers. Contribute your thoughts and questions beginning at 1 p.m. ET. And, be sure to visit our
NFL Nation Blitz page
for commentary from every game, as well as fan photos and the latest buzz from Twitter. See you there.
October, 18, 2013
10/18/13
12:00
PM ET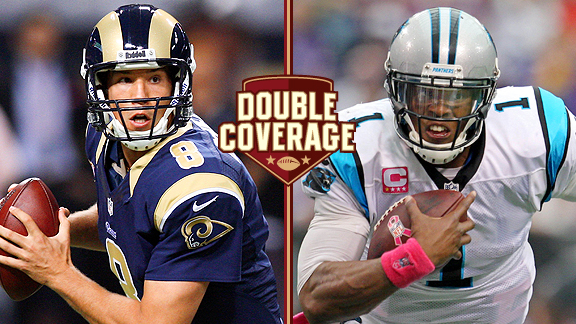 USA TODAY SportsQuarterbacks Sam Bradford and Cam Newton led their teams to victory last week.
The
Carolina Panthers
and
St. Louis Rams
put on an offensive showcase in a 2003 NFC divisional playoff game at the Edwards Jones Dome. The Rams overcame an 11-point deficit in the final 2:39 of regulation and the Panthers ended the 29-23 double-overtime thriller with a 69-yard touchdown catch by
Steve Smith
.
They were two teams loaded with offensive weapons, from St. Louis'
Marshall Faulk
and
Isaac Bruce
to Carolina's Smith and
Stephen Davis
. They had identities.
Fast-forward 10 years to Sunday's game at Bank of America Stadium, where both the Panthers (2-3) and Rams (3-3) are searching for an identity. ESPN.com Panthers team reporter David Newton and Rams team reporter Nick Wagoner are here to break down the 2013 version of this matchup:
David Newton:
Nick, it seems both teams have been waiting for their quarterbacks to become consistent winners since they were drafted No. 1, St. Louis'
Sam Bradford
in 2010 and Carolina's
Cam Newton
in 2011. Why has it taken so long for Bradford to get there, if he is?
Nick Wagoner:
Well, I don't think he is there yet. This is the first year Bradford has had any sort of continuity in terms of scheme, and in the past he's dealt with a mediocre receiver corps and offensive lines that aren't much better. He's not devoid of blame, though. Bradford has had issues in the past with going through progressions and locking onto receivers, among other fundamental problems. He's been up and down this year, but has done a really good job of protecting the ball. Now that the Rams seem to have some semblance of a competent running game, he's been better in the past couple of weeks.
Ultimately, the jury is still out on whether he's the long-term answer, but if he can continue to take care of the ball and toss touchdown passes in leading the Rams to more wins, that picture suddenly gains clarity.
I'm going to ask you to try to analyze Newton. From afar, it seems he struggles with consistency. Is that the case and how do you think he's adjusted to life after Rob Chudzinski?
Newton:
Cam Newton's consistency remains a question. Yes, his career-high 143.4 passer rating against Minnesota in Game 5 was impressive, but do you know the last time he topped 100.0 in consecutive weeks during the first six games? Never. Sunday was only the second time this season he completed more than 60 percent of his passes and only the eighth in the past 21 games. His passer rating looks like a yo-yo -- 97.3 to 79.8 to 104.4 to 47.8 to 143.4.
As for life without Chudzinski, it has been a learning process. New offensive coordinator Mike Shula is attempting to go with a more traditional ground game out of the I-formation, but each week he's figuring out better ways to utilize his quarterback's natural abilities. In the long run, he'll make Newton a better quarterback who will have a much longer career relying on his arm more than his legs.
While we're on offense, Carolina's running game ranks seventh in the NFL and the Rams rank 30th against the run. Is this misleading or an area you expect the Panthers to exploit?
Wagoner:
Without question, it's the latter. Carolina would be silly not to attack heavily in the run game. The Rams' problems really seem to come in the back seven. Linebacker
Alec Ogletree
has trouble getting off blocks and is inconsistent tackling, and the Rams aren't getting reliable run support at safety.
Darian Stewart
has filled in for rookie
T.J. McDonald
and has really struggled. On top of that, the Rams continue to have issues with being consistently assignment-sound with everyone fitting the proper gaps on run plays.
The Rams' offense, on the other hand, has started to find success in recent weeks with rookie
Zac Stacy
as the lead back. Carolina has been quite good statistically against the run. Not that the Panthers were bad against the run last year, but what allowed them to go from middle of the pack to upper tier in that area, and do you think that level of success will be sustained over the course of the year?
Newton:
First, yes, the Panthers can sustain it. No question the front seven is one of the best in the league. The addition of first-round pick
Star Lotulelei
and second-round pick
Kawann Short
at tackle has been key, particularly Lotulelei. He has been as disruptive in the middle as any tackle the Panthers have had since
Kris Jenkins
was a four-time Pro Bowl selection here. End
Greg Hardy
has stepped up his game as well, even though statistics might not show it.
Then there is the real strength of this group, the linebackers. Trading
Jon Beason
to the Giants has been a positive. With Beason out and
Chase Blackburn
in, defensive coordinator Sean McDermott has had more flexibility with his schemes.
Thomas Davis
is playing more on the weak side, where Beason was, and has three sacks over the past three games. He has never had more than 3.5 in a season. Blackburn can play either spot as well. And while his tackles are down because Davis and Blackburn have been making so many plays, middle linebacker
Luke Kuechly
continues to perform at the level that earned him the NFL Defensive Rookie of the Year a season ago.
This unit is fundamentally strong. It doesn't need a lot of elaborate blitzes to stop the run or pressure the quarterback. Just ask
Adrian Peterson
how good the Panthers are. He had a season-low 62 rushing yards, and 31 of those came on one carry.
An area that rarely gets discussed in Double Coverage is special teams. Panthers kicker
Graham Gano
, who has been flawless on field goals, has had only one kickoff
not
reach the end zone all season. How key have special teams been for the Rams?
Wagoner:
The Rams' special teams have been alternately excellent and awful. They have perhaps one of the best coverage units in the league, with punter
Johnny Hekker
and kicker
Greg Zuerlein
having been nearly flawless in their respective disciplines and the young cover guys getting down the field and making tackles consistently. But the Rams have racked up 18 special-teams penalties, with the bulk of those coming on punt returns. That has been maddening for them because many of those infractions have wiped out long returns from rookie
Tavon Austin
. Progress was made Sunday in that regard, and the Rams even got a touchdown on kick coverage against Houston. The talent is in place in all areas of the special teams. They just need to keep eliminating mistakes and be more consistent.
Getting back to Carolina's defense, I see that the Panthers haven't been too shabby against the pass this year, either. Does that group have any real weaknesses or areas that opponents have been able to exploit? If so, what are they?
Newton:
The secondary was suspect before the season and even into the first two games. Since injuries shook things up in Week 2, the Panthers have found the right combination and been solid. They give up passes underneath, as their 68.4 completion percentage -- second worst in the NFL -- attests. Minnesota took advantage last week when
Matt Cassel
completed 32 passes. But Carolina tackled well and held most of those to short gains.
If I had to pick one weakness, though, I would say left cornerback
Josh Thomas
. He's solid against the run but soft at times against the pass. If the Rams are to put many points on the board they'll definitely have to do it through the air.
.
September, 8, 2013
9/08/13
10:00
AM ET
By
ESPN.com staff
| ESPN.com
Join our ESPN.com NFL experts as they break down the Seattle Seahawks' visit to the Carolina Panthers. Contribute your thoughts and questions beginning at 1 p.m. ET. See you there.
September, 6, 2013
9/06/13
12:00
PM ET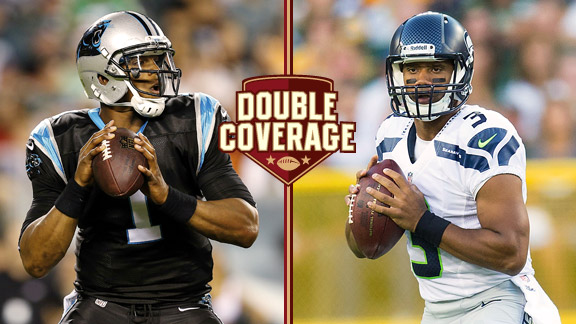 AP Photo, USA TODAY SportsCarolina puts Cam Newton's athleticism on the line versus confident Seattle QB Russell Wilson.
The
Seattle Seahawks
are the sexy pick to win the Super Bowl, with the hot quarterback featured in GQ magazine. The
Carolina Panthers
are the wannabe team with the once-hot quarterback who has lost some of the luster off his cover-boy status.
But there's one thing these teams have in common as they prepare to open the 2013 NFL season on Sunday at 1 p.m. ET.
Slow starts.
Carolina has the worst opening-day record in the league at 6-12. Seattle ranks 30th, with only the
New Orleans Saints
and Panthers behind them. The winner will at least emerge with a chance to change that.
So how do they stack up in what appears a mismatch? Panthers team reporter David Newton and Seahawks reporter Terry Blount are here to tell you.
Let's get right to the question most people are asking: Who is the better quarterback? Carolina's
Cam Newton
or Seattle's
Russell Wilson
?
Newton:
I know Wilson and the Seahawks are the sweethearts of the league after making the playoffs last season. But if I were starting a team, I'd take Newton, and not because we share the same last name. I know the Panthers would. They talked last season about drafting Wilson to back up the first pick of the 2011 draft before Seattle got him in the third round. Backup! Look, Wilson is a solid player who is surrounded by a better supporting cast than Newton has had in his first two seasons and has again this year. Wilson does some great things with his arm and legs. He makes good decisions. Newton would kill for his completion percentage of 64.1 last season. But Newton is one of those special players who, at 6-foot-5 and 245 pounds, can do things the 5-11, 206-pound Wilson can only dream of. Go back and look at the 72-yard touchdown run Newton capped with a flip into the end zone in a 30-20 victory against a one-loss Atlanta team last season and you'll see what I'm talking about. Wilson's biggest edge comes in leadership, and I believe you'll see Newton step it up in that department this year. I see his stock on the rise. Of all the first-year quarterbacks who made the playoffs last year, Wilson is my choice to have a sophomore slump.
Blount:
Newt, I honestly tell you that the Seahawks coaches and players would take Wilson every day of the week, and frankly, I think so would most NFL coaches. In the more than 30 years I've covered sports, I've never met a more impressive young man than Wilson. He's just one of those once-in-a-generation-type athletes who you look at him and listen to him, then you say, "This guy is going places in life." Yes, Cam has more experience, and, obviously, more size. He's an exceptional athlete, a man that Seattle coach Pete Carroll called "a phenomenal talent." But he isn't the team leader that Wilson is, and won't make as many good decisions at key moments as Wilson will.
Let's turn to a team question. Which team will show more improvement this season? Not the better record, but bigger step forward? The Seahawks, who were 11-5 and a playoff team? Or the Panthers, who were 7-9?
Blount:
That's a tough one. I think Carolina could finish with a winning record this season and possibly make the playoffs, which would be a nice improvement over 2012. But since I picked Seattle to go 12-4 and reach the Super Bowl this year, I'll have to go with the Seahawks.
Newton:
Definitely a tough one. I don't see Carolina making the playoffs, but I do see the Panthers coming close to a winning record. And they will improve on defense with the return of
Jon Beason
at linebacker and more talent at tackle. How much they improve overall depends on the progression of the offensive line, which didn't look good during the preseason. Seattle has all the pieces to make a Super Bowl run, but I still think the Seahawks are the second-best team in their division, behind San Francisco. They did so many good things last year it's hard to see them making a substantial improvement. If they do, it really will be Super Bowl or bust.
Now to the game. Last year, Seattle won 16-12 in a defensive struggle in Week 5. Do you see this game being similar?
Newton:
Definitely. And if it's not, Seattle could make it ugly, because Carolina can't win a shootout. The strength of both teams is defense. We're probably looking at two of the top 10 units in the league. Both are used to practicing against the run-option that Newton and Wilson ran well at the end of last season, so they'll be prepared to handle it. The key for Carolina to make this a defensive battle will be the secondary. Will it be the unit that had a league-high 10 interceptions during the preseason, or the one that was soft most of last season?
Blount:
The defenses typically are ahead of the offenses at the start of the season, so that could play into a matchup with two strong defensive units. However, I do expect this game to have a little more scoring than the one last year, because I think both quarterbacks will play better than they did in that game. You're spot-on about the secondary, Newt. I think both secondaries are the key. Seattle might have the best defensive backs in the league and the Panthers looked much improved. But no secondary can cover these receivers forever. What this could come down to is which defensive unit does a better job rushing the passer and which is better able to contain two of the best running quarterbacks in the league.