NFC West:

Green Bay Packers
January, 6, 2014
Jan 6
1:00
AM ET
By
ESPN.com staff
| ESPN.com
January, 5, 2014
Jan 5
2:40
PM ET
By
ESPN.com staff
| ESPN.com
Join our ESPN.com NFL experts for playoff football between the San Francisco 49ers and the Green Bay Packers on wild-card weekend.
Contribute your thoughts and questions beginning at 4:40 p.m. ET. See you there.
January, 3, 2014
Jan 3
10:00
AM ET
The
Green Bay Packers
and
San Francisco 49ers
have met so often of late that they're becoming like division rivals.
Sunday's NFC wild-card playoff game at Lambeau Field will be the fourth meeting between the two teams in the past 17 months. They played in Week 1 of the 2012 season and again in the divisional round of the playoffs that season. They opened the 2013 season against each other again.
The 49ers won all three games.
ESPN.com 49ers reporter Bill Williamson and Packers reporter Rob Demovsky discuss what, if anything, might be different this time around.
Demovsky
: Bill, the Packers have seen quarterback
Colin Kaepernick
beat them with his feet like he did in last year's playoff game, when he rushed for 181 yards, and also beat them with his arm, like he did in the season opener this year when he threw for 412 yards. What has he been doing better lately, running or throwing, and how do you think coach Jim Harbaugh will try to attack the Packers' defense this time around?
Williamson
: Rob, he's been a pass-first quarterback all season as he showed in Week 1. That was his best game of the season. But Kaepernick has been playing at a high level in the past five games with
Michael Crabtree
back on the field. Kaepernick's Total QBR during the past three weeks is the highest in the NFL. Rob, I'm intrigued to see what the offensive attack is going to be. We all remember the cat-and-mouse game in Week 1 about the read-option attack that never materialized. I could see the 49ers hitting the Packers with it early to get them off-balance and try to go back and forth throughout the game.
Rob, what do you think the Packers are expecting from Kaepernick this week?
Demovsky
: I'm not sure they know what to expect. Defensive coordinator Dom Capers pointed out that last year, the 49ers had the bye week in the first round of the playoffs and therefore had plenty of time to tinker with their game plan and install new looks like the read-option. They don't have that luxury this time around. That said, maybe Harbaugh didn't use much read-option during the season because he wanted to keep his quarterback from getting hit. Now that it's win-or-go-home time, maybe he'd be more willing to risk it. Either way, the Packers know they have to limit the big plays -- whether on the ground or through the air -- that have killed them in the previous meetings.
In the opener this year, receiver
Anquan Boldin
dominated the Packers. Now that Crabtree has returned, what dimension has he added to the offense?
Williamson
: It's changed everything. This is a much better, varied, dangerous offense. Crabtree is not 100 percent, but he is still able to help. It makes Boldin even more dangerous. He was double- and triple-teamed because the 49ers didn't have many weapons. With a trio of Crabtree, Boldin and tight end
Vernon Davis
, Kaepernick has some firepower.
Rob, do you think the Packers are giving Boldin extra thought this week because of the damage he caused in Week 1?
Demovsky
: I'm sure they are, but they've changed the way they cover since that game. They're more willing to match up
Sam Shields
on the opponent's best receiver now, whereas early in the year they simply played Shields on one side of the field and
Tramon Williams
on the other. They're also cognizant of what the return of Crabtree means for the passing game. Also, the Packers didn't have safety
Morgan Burnett
in the Week 1 game and although Burnett has had an inconsistent year, they're hoping his presence on the back end helps slow down the 49ers' passing game.
From here, the 49ers look as though they have one of the NFL's best group of linebackers with
Patrick Willis
,
NaVorro Bowman
and
Ahmad Brooks
. What makes those guys so effective and how can the Packers attack the heart of the 49ers' defense?
Williamson
: And don't forget
Aldon Smith
. The young star has been playing at a high level for the past month-plus. He came back in November after missing five games while receiving treatment for substance abuse. But you are right; Bowman, Willis and Brooks all made the Pro Bowl. They are dominant. Bowman has been playing out of his mind and he is a legitimate NFL Defensive Player of the Year candidate.
Rob, do you think containing the linebackers is the key for offensive success from
Aaron Rodgers
' unit?
Demovsky
: That's certainly going to be one of the keys, because they could impact both the passing game when their ability to pass rush and the running game because of how they can clog up the middle, where
Eddie Lacy
likes to churn out yards. The Packers' second-level blocking is going to be more critical in this game than perhaps at any time all season. If they let those linebackers get loose, it could spell trouble.
August, 17, 2013
8/17/13
12:17
PM ET
EARTH CITY, Mo. -- The Rams and Packers kick off tonight at 8 ET at the Edward Jones Dome.


St. Louis is coming off a 27-19 loss in the preseason opener at Cleveland and makes its home debut for 2013.
Hometown fans hoping to see the Rams unveil some of the new weapons they acquired in the offseason will likely leave disappointed as all indications are that the team will again stick to the vanilla game plan it used last week.
With that in mind, here are five things that are worth keeping an eye on as the Rams host Green Bay.
Right tackle redux:
Projected starting right tackle
Rodger Saffold
suffered a dislocated left shoulder two plays into the opener in Cleveland. He hasn't practiced all week and won't play against the Packers.
Joe Barksdale
, who replaced Saffold last week, has taken almost all of the work with the first-team offense in practice this week and will make the start in Saffold's place.
Barksdale fared pretty well in Saffold's stead last week and the chance to start could give him some valuable reps for a group of backup offensive linemen that doesn't have much in the way of experience.
Behind Barksdale, the Rams don't have much in the way of tackles.
Chris Williams
, who started last week at left guard, could get a look at right tackle. The same can be said for rookie
Barrett Jones
and
Brandon Washington
, both of whom are projected to play on the interior but have filled in at right tackle this week.
Spread it around
: The majority of the starting offense played just 14 snaps last week, leaving for another week the long anticipated first looks at tight end
Jared Cook
and receiver
Tavon Austin
. Neither caught a pass against the Browns as Austin was targeted once and Cook did not get a look.
Starting wideout
Chris Givens
stole the show last week with three catches for 82 yards and will again be involved, but the Rams would like to at least get the likes of Austin and Cook an opportunity or two to contribute.
Going deeper:
All week, Rams coach Jeff Fisher has made it known that the first units will play a little longer on both sides of the ball. Part of that is to get the primary starters a few more reps than they had last week, but the other reason is he wants to get some of his younger players who are down the depth chart a chance to play with the top units.
Namely at running back and receiver, don't be surprised if youngsters such as
Zac Stacy
,
Terrance Ganaway
,
Benny Cunningham
,
Brian Quick
and
Stedman Bailey
see a few snaps with the first-team offense.
Looking at linebackers
: Veteran
Will Witherspoon
is all but certain to step into the starting role in place of suspended starter
Jo-Lonn Dunbar
. Dunbar is eligible to play but Fisher made it clear he wants to use the main workload to prepare the players who will start on the season on Sept. 8.
Witherspoon is a known commodity as he enters his 12th season in the league. Rookie starter
Alec Ogletree
will also look to bounce back from a rough start last week in Cleveland.
What might be more intriguing in this area is the hunt for talented depth that can serve as reliable backups for the starting group.
Josh Hull
is the only backup linebacker with any game experience but the Rams have some intriguing options that figure to get work with the No. 2 defense.
The three undrafted rookies --
Ray Ray Armstrong
,
Daren Bates
and
Jonathan Stewart
-- have flashed potential during camp and proved to be potential long-term contributors on special teams. It seems likely at least one of those three will make the active roster and tonight's game serves as the next chance to make a strong impression.
Corner three
:
Cortland Finnegan
and
Janoris Jenkins
are pretty well entrenched as the starters at cornerback.
Trumaine Johnson
entered camp as the likely third corner in nickel packages after he finished the 2012 season as the team's third corner.
Johnson is probably still in the lead to fill that role again this year, but rookie
Brandon McGee
seems to be at least stating his case for the job.
McGee got some reps with the first-team defense as the third corner in practice this week and it's worth monitoring to see if he gets a shot to do it in the game. Considering Fisher's statement that he wants to give some different young guys a chance to play with the first team, it's entirely possible McGee will at least get a few reps in that role.
January, 9, 2013
1/09/13
12:00
PM ET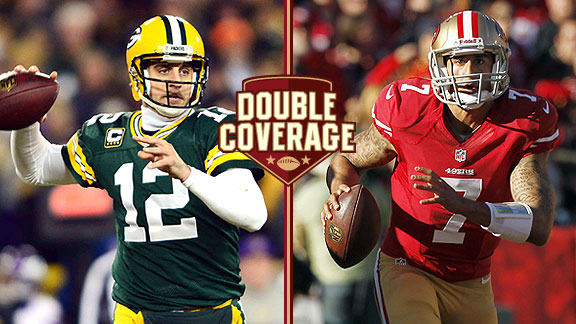 USA TODAY SportsThe play of Green Bay's Aaron Rodgers, left, and San Francisco's Colin Kaepernick will go a long way in deciding the outcome of Saturday's divisional playoff matchup.
The 2012 season began at Lambeau Field for ESPN.com's NFC West and NFC North bloggers. The
San Francisco 49ers
had a Week 1 date against the
Green Bay Packers
, which meant that Mike Sando and Kevin Seifert would be working side by side in a game that figured to be a (early) playoff preview.
Except -- oh, that's right -- Sando got caught up in
Russell Wilson
-mania, bailed on the trip to Green Bay and left Seifert to chronicle the 49ers'
wire-to-wire victory
. So it's only fair to let Seifert have the first word in this discussion of Saturday night's rematch in the divisional playoffs at Candlestick Park.
Seifert:
Yeah, Mike, I remember turning to you during the game to express surprise at how much better the 49ers seemed that day -- and there was only an empty seat next to me. I know you were busy tracking your guy Wilson, but I can tell you firsthand that the 49ers physically manhandled the Packers that day. They walked into Lambeau, took a 10-0 lead early in the second quarter and never looked back. Both teams have changed since then, but there was a clear physical advantage there. I remember seeing
Frank Gore
bulldozing into the second level and popping outside, an issue the Packers would face later in the season against
Adrian Peterson
as well. (Gore gained 72 of his 112 yards outside the tackles.) So I'll ask you: Are the 49ers still as physical of a team as they were in Week 1?
[+] Enlarge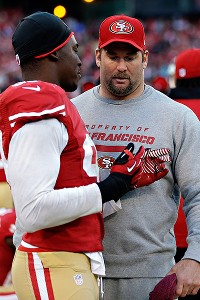 AP Photo/Marcio Jose SanchezAldon Smith, left, and the 49ers' defense weren't as productive with Justin Smith out of uniform.
Sando:
That's just how we roll in the NFC West, Kevin. It has become the new Black and Blue division. The 49ers are still a physical team. Their offense is pretty much unchanged from that standpoint. I expect a rested Gore to run the ball effectively. If the 49ers are smart, they'll involve
Colin Kaepernick
in the running game, adding another dimension. The big question for San Francisco is whether the defense can be as physical with
Justin Smith
playing through a triceps injury. Smith will have had 27 days between games by the time he suits up for this one. If he is at full strength, the 49ers will be just as physical now as then. If not, the entire defensive front is compromised. San Francisco doesn't have great depth along the line.
Seifert:
We'll dive deeper into that Smith issue in a bit, but let's pick up with the 49ers' read-option capabilities with Kaepernick. I realize it's a small sample size, but the
Minnesota Vikings
had some success Saturday night using Peterson and
Joe Webb
in a similar type of option arrangement. They ran the read-option six times and gained 65 yards on it. Gore isn't as dominant of a runner as Peterson, but I would say Kaepernick is a more reliable scrambler than Webb. Regardless, the 49ers could have some success with it Saturday night. It's a lot to keep track of. But even typing the name "Joe Webb" reminds me what can happen when a quarterback makes his first NFL playoff start. Kaepernick has to be a bit of a question mark in this game, doesn't he?
Sando:
Kaepernick is a different kind of question mark. The conventional and advanced stats say he has been as good as or better than
Alex Smith
. Kaepernick ranks third in Total QBR (76.8) behind
Peyton Manning
and
Tom Brady
.
Matt Ryan
is fourth, and
Aaron Rodgers
is fifth. That doesn't happen by accident. But the identity of the offense is changing, and the process has been a little unsettling for a team that had a pretty strong identity for more than a year. The offense can be much more explosive with Kaepernick. He has had a couple of 50-yard runs in fourth quarters and his arm strength has opened up the field, but Gore hasn't been as comfortable running from the pistol formation. It throws off his timing.
Vernon Davis
has disappeared from the passing game.
Kendall Hunter
,
Mario Manningham
and
Kyle Williams
have landed on injured reserve.
Randy Moss
' playing time is up. There has been a lot of change packed into a short window, and there's a sense almost anything could happen, good or bad.
Seifert:
Well, that certainly settles things. Anyway, I was in the Packers' locker room Saturday night after they beat the Vikings, and the team seemed to have every expectation that the 49ers would try to run the ball down its throats, especially with an inexperienced quarterback making his first playoff start. The Packers know Gore steamrolled them in Week 1, but they feel as though they've had a lot of practice against Peterson since then. Even though Peterson had 409 yards against them in two regular-season games, the Packers did a nice job bottling him up in the playoffs. (Most of Peterson's 99 yards in that game came after the Packers had a three-score lead.) But we've now spent, oh, about 800 words discussing Gore and Kaepernick in this matchup and have barely mentioned the two most important words in this game: "Aaron" and "Rodgers." With all due respect to the Smiths, Justin and Aldon, Rodgers will be the best player on the field Saturday night. You can have your Colin Kaepernick.
[+] Enlarge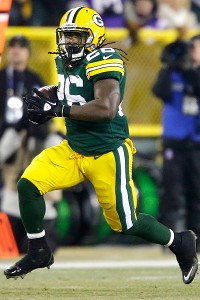 AP Photo/Jeffrey PhelpsDespite his size, DuJuan Harris was effective as a rusher for Green Bay.
Sando:
That's an interesting take on Kaepernick. I think he's better than that. He went into Gillette Stadium, threw four touchdown passes and had the 49ers up 31-3 on Tom Brady. Kaepernick and Rodgers both have 5-2 starting records since Kaepernick entered the lineup. Kaepernick is averaging more yards per drop back in part because he has taken half as many sacks (since Week 11, when both have been starting). Kaepernick has a higher Total QBR over that span. He has 10 touchdown passes and three picks. Rodgers has 14 touchdowns and three picks. Rodgers is completing 67.6 percent of his passes, while Kaepernick is at 62.5 percent. I'm giving the QB edge to the Packers in this game, but I'm not sure it's as lopsided as conventional wisdom would suggest. Is Rodgers playing lights out, or was Greg Cosell -- the NFL Films analyst -- right when he said Rodgers is "leaving an awful lot of plays on the field" through tentative play from the pocket?
Seifert:
There is no doubt Kaepernick has been productive and efficient. We in the NFC North were his first victims -- the Week 11 romp over the
Chicago Bears
. But as you're fond of saying, Mike, usually we can find a statistical split to tell whatever story we want to tell. On Rodgers-Kaepernick, I'll just throw out a few things. First, Rodgers enters this matchup having thrown 11 touchdowns without an interception over his past four games. Kaepernick has seven touchdown passes and three interceptions in his past four. Rodgers is 5-2 as a postseason starter and has the highest passer rating (105.4) in NFL playoff history. If my math is right, Kaepernick is winless as a playoff starter. Finally, on Cosell's analysis, I will say that other media observers have made similar suggestions about Rodgers' tentativeness. Ron Jaworski is one. I'm not smart enough to know how many plays Rodgers has left on the field, but I do know I would rather him pass up a few, and take a few extra sacks, than follow a more reckless approach that might hit a few more big plays but also almost certainly lead to more mistakes. Rodgers makes enough big plays; he led the NFL in touchdown passes per attempt (7.1 percent) this season. But he also has the single-best quality for a quarterback in the playoffs: He rarely throws interceptions. Rodgers' career interception ratio is 1.73, the best in NFL history by a long measure. Of all the statistical indicators, interceptions might be the one most directly correlated to postseason success and failure.
Sando:
That brings us back to the beginning. Justin Smith and that 49ers defense must affect Rodgers. I'm not sure they'll be able to do that well enough.
Aldon Smith
had 19.5 sacks this season, but none after Justin Smith played his final regular-season snap against New England in Week 15. When it comes right down to it, I'm less sure what to expect from the 49ers on either side of the ball. Their special teams also have gone from a major strength to a consistent liability -- at kicker, in the return game and in coverage. The more I think about this game, the more I think Kaepernick has to be Rodgers' equal, or close to it. That's a lot to ask, but the 49ers made the quarterback change with this type of game in mind. When I think about the Packers' allowing three touchdown passes to the Vikings'
Christian Ponder
in a meaningful Week 17 matchup, I'm inclined to take the 49ers at home. You won't see me at the betting window putting a wager on it, though.
Seifert
: The best thing the Packers have going for them in this game is that they have built a more balanced offense around Rodgers in the second half of the season. If you think back to Week 1, they were such a pass-happy offense that they ran more than half of their plays against the 49ers -- 31 of 61 -- without a single running back on the field. Now they're in a position where they've run for at least 100 yards as a team in six of their past nine games. I think this is a great and fun matchup. Heading west to win a playoff game at Candlestick is tough -- just ask the
New Orleans Saints
last year -- but it's not impossible to envision a Packers victory. Hopefully Mike joins me this time.
November, 4, 2012
11/04/12
11:18
AM ET
By
ESPN.com staff
| ESPN.com
Join our ESPN.com NFL experts as they break down the NFC clash between the Arizona Cardinals and the Green Bay Packers.

Contribute your thoughts and questions starting at 1 p.m. See you there.


September, 24, 2012
9/24/12
6:34
PM ET
By
ESPN.com staff
| ESPN.com
Join our ESPN.com NFL experts as they break down the Green Bay Packers match up against the Seattle Seahawks.

Contribute your thoughts and questions at 8:30 p.m. ET. See you there.


September, 9, 2012
9/09/12
2:30
PM ET
By
ESPN.com staff
| ESPN.com
Join our ESPN.com NFL experts as they break down the NFC showdown between the San Francisco 49ers and the Green Bay Packers.

Contribute your thoughts and questions beginning at 4:30 p.m. ET. See you there.


December, 20, 2011
12/20/11
12:30
PM ET
When the NFC West looks down, it sees not only the AFC South, but also the once-mighty NFC East. The view is more pleasing than at any point since divisional realignment in 2002.
Consider it a historic shift, a watershed moment, the week when light finally shined upon the no-longer-worst division in football -- except, of course, when power outages at Candlestick Park temporarily left San Francisco and Pittsburgh in the dark.
The 49ers' 20-3 victory over the Steelers on "Monday Night Football" capped a 3-1 week for the NFC West, one that moved up three teams from the division in ESPN's NFL Power Rankings heading into Week 16.
The 49ers moved up two spots to No. 3, passing Baltimore and New England. The Seahawks improved a league-high five spots to No. 15 after blowing out the
Chicago Bears
at Soldier Field. The Cardinals climbed two spots to No. 17 after beating Cleveland.
The
St. Louis Rams
remained 31st and ahead of Indianapolis even though I moved them down to No. 32 on my ballot. The other voters are forgiven. They likely had better things to do than watch every snap of St. Louis' 20-6 home defeat to an utterly unimpressive
Cincinnati Bengals
team.
Despite the Rams' low standing, NFC West teams ranked 16.8 on average, better than teams from the NFC East (17.5) and AFC South (21.6). NFC West teams ranked just below teams from the AFC East (16.5) and AFC West (16.4).
And now, a closer look at the rankings heading into Week 16:
Falling (11):
Tennessee Titans
(-7),
Buffalo Bills
(-4), Chicago Bears (-4),
New York Giants
(-4),
Baltimore Ravens
(-3),
Oakland Raiders
(-3),
Denver Broncos
(-2),
New York Jets
(-2),
Pittsburgh Steelers
(-2),
Jacksonville Jaguars
(-2),
Tampa Bay Buccaneers
(-1).
Rising (12):
Seattle Seahawks
(+5),
Dallas Cowboys
(+4),
San Diego Chargers
(+4),
Kansas City Chiefs
(+3),
San Francisco 49ers
(+3),
Arizona Cardinals
(+2), Cincinnati Bengals (+2),
Detroit Lions
(+2),
Washington Redskins
(+2),
Cleveland Browns
(+1),
New England Patriots
(+1),
New Orleans Saints
(+1).
Unchanged (8):
Atlanta Falcons
,
Carolina Panthers
,
Green Bay Packers
,
Houston Texans
,
Indianapolis Colts
,
Miami Dolphins
,
Minnesota Vikings
, St. Louis Rams.
Deadlocked:
We broke one tie this week. The Seahawks prevailed over the New York Giants at No. 15 based on the first tiebreaker, head-to-head results.
Like minds:
All five voters ranked the Packers first, the Saints second and the Vikings 30th.
Agree to disagree:
Walker continues to see the Eagles and Chargers as strong teams finally living up to their potential. Others continue to mark them down for overall struggles this season. That helps explain why Philly, more than any other team, invited polarizing views.
"I gave a lot of credence to how both teams are playing down the stretch in these important games," Walker said. "The Eagles and Chargers are two very dangerous teams right now. If either gets into the playoffs, look out."
Walker also kept New England ahead of the 49ers.
"The Patriots have won six straight games," he said. "The 49ers are 2-2 in their last four. San Francisco also lost the head-to-head with Baltimore. So I kept the Ravens ahead of the 49ers, too, despite an impressive win."
A look at the Eagles and the six other teams generating high-low disparities of at least six spots in the rankings:
Eagles (8): Walker ranked them 13th, higher than any other voter ranked them. Sando, Clayton and Fox ranked them 21st, lower than any other voters ranked them.
Cardinals (7): Sando 13th, Kuharsky 20th.
Raiders (7): Clayton 15th, Kuharsky 22nd.
Titans (7): Kuharsky 16th, Walker 23rd.
Bengals (6): Fox 10th, Sando 16th.
Chiefs (6): Sando 18th, Kuharsky 24th.
Seahawks (6): Sando 12th, Walker 18th.
Power rankings histories:
These
colorful layered graphs
show where each NFL team has ranked every week since the 2002 season.
Ranking the divisions
: Teams from the AFC North (13.0 average) maintained the highest ranking on average, well ahead of teams from the NFC North (15.1). The AFC South was the lowest-rated division.
A voter-by-voter look at changes of at least five spots since last week:
Sando: Titans (-9), Giants (-6), Cardinals (+5), Seahawks (+5), Chargers (+6), Chiefs (+9).
Clayton: Bills (-5), Raiders (-5).
Kuharsky: Seahawks (+5).
Walker: Titans (-9), Chiefs (+6), Eagles (+6).
Fox: Giants (-5).
For download:
An Excel file -- available
here
-- showing how each voter voted this week and in past weeks.
The file includes a "powerflaws" sheet pointing out potential flaws in voters' thinking by showing how many higher-ranked opponents each team defeated this season.
A quick primer on the "powerflaws" sheet:
Column Y features team rankings.
Column Z shows how many times a team has defeated higher-ranked teams.
Change the rankings in Column Y as you see fit.
Re-sort Column Y in ascending order (1 to 32) using the standard Excel pull-down menu atop the column.
The information in Column Z, which reflects potential ranking errors, will change (with the adjusted total highlighted in yellow atop the column).
The lower the figure in that yellow box, the fewer conflicts.
October, 5, 2011
10/05/11
4:02
PM ET
With the
St. Louis Rams
' bye week arriving mercifully, the team need not worry about adding to its injury list.
Scratch that.
In the latest development suggesting that 2011 could become a lost season for St. Louis, the only remaining starting-caliber cornerback on the roster,
Bradley Fletcher
, suffered a
knee injury
during a collision with receiver
Mike Sims-Walker
in practice Wednesday.
Fletcher will undergo an MRI to assess the severity of the damage. The team has already lost starting cornerback
Ron Bartell
to a broken neck and No. 3 cornerback
Jerome Murphy
to a broken ankle.
Al Harris
,
Josh Gordy
and the recently signed Rod Hood join Fletcher and fellow starter
Justin King
as the cornerbacks on the roster.
The Rams' next opponent, Green Bay, knows a thing or two about exploiting defensive secondaries. Subtracting Fletcher, arguably the team's No. 1 corner when everyone was healthy, would spell disaster for the Rams against the Packers, in my view.
Update:
Meant to include the passage below as well.
Also from the you-could-not-make-this-up department: Rams defensive coordinator Ken Flajole pulled a groin muscle while administering drills during practice Friday.
"I think he's OK, but I'll be teasing him after," coach Steve Spagnuolo told reporters Wednesday.
June, 21, 2011
6/21/11
1:52
PM ET
ESPN.com's NFL writers rank the top 10 up-and-coming assistant coaches in the league today. Next week: Top players overall.
Seven NFL teams named new head coaches after last season, tapping into a pool that included experienced coordinators and relatively unknown assistants alike. The class of 2011 featured longtime candidates (Leslie Frazier, Ron Rivera). It also included a trusted position coach in Mike Munchak (
Tennessee Titans
) and a couple of relative hotshots in Hue Jackson (
Oakland Raiders
) and Pat Shurmur (
Cleveland Browns
).
Who will comprise the NFL's next batch of head-coaching candidates? That was the question ESPN.com hoped to answer in this week's edition of the offseason Power Rankings. We established one ground rule by eliminating any assistant who has already had a permanent head-coaching job. The idea was to develop a list that focused on the "next wave" of coaching candidates.
No less than 24 NFL assistants received at least one vote, a reflection of both the variables involved in head-coaching searches and the relative lack of national name recognition for all but the most highly regarded assistants.
So in that vein, it was no surprise to see four well-known assistants at the top of our list, headed by
New York Giants
defensive coordinator Perry Fewell -- who placed first or second on six of the eight ballots.
Dallas Cowboys
defensive coordinator Rob Ryan finished second, followed by
New York Jets
offensive coordinator Brian Schottenheimer and Arizona offensive line coach Russ Grimm.
Fewell is an ideal candidate in many ways, having spent time as the
Buffalo Bills
' interim coach in 2009 and leading a substantial turnaround of the Giants' defense last season. Fewell interviewed for four head-coaching jobs last winter, and NFC East blogger Dan Graziano suggested that experience, along with a high profile afforded to coaches in New York, make him "the most likely guy on the list to be a head coach soon."
Just don't bother forwarding his name to AFC South colleague Paul Kuharsky, who couldn't find room for Fewell on his 10-man ballot. Kuharsky noted the Giants' poor performance in Week 2 last season against the
Indianapolis Colts
, during which quarterback
Peyton Manning
threw three touchdowns and cruised to an easy 38-14 victory.
"Certainly I'm letting one game overinfluence my ballot," Kuharsky muttered. "But Fewell's plan for the Giants against the Colts last season was so bad that I could not help but score him down for it. Was he not familiar with how Peyton Manning and Indianapolis operate?"
We can't cover every coach who received votes in this exercise, but let's hit some of the more interesting names that received attention.
Another Ryan?
Deserved or not, Ryan has long been considered a loose cannon. There is little doubt about his schematic prowess, but hiring him would require a confident owner ready to make a leap of faith.
The success of twin brother Rex Ryan with the Jets might have softened the perception of that risk, and collectively we see Rob Ryan on the doorstep of a job.
"Similar to Rex, Rob Ryan is good with X's and O's and has the type of outgoing personality players want to be around," AFC North blogger James Walker said. "I think both are equally important in today's NFL. Both brothers say exactly what's on their mind, and before that scared off a lot of teams. But Rex broke the ice with his success in New York and that could help Rob in the future."
The next generation:
Schottenheimer has turned down more opportunities to interview for head-coaching jobs than he has actually submitted to. He has nixed requests from the
Miami Dolphins
and Bills in recent years, but he did interview for the Jets' job that ultimately went to Ryan. I placed him atop my ballot (he finished No. 3 overall) because I think NFL people have made up their mind that he is the kind of young and innovative assistant who can turn around their franchise. (Think: Cowboys coach Jason Garrett.)
Schottenheimer's pedigree doesn't hurt -- he's the son of longtime NFL coach Marty Schottenheimer -- and I'm not sure how closely teams will dissect the specifics of the Jets' offensive performance. Graziano, on the other hand, thinks Schottenheimer is close to coaching his way out of the golden-child image he cultivated and left him off his ballot.
"Having spent a good amount of time around that team the past couple of years, I just feel like defensive coordinator Mike Pettine is the more likely guy to end up a head coach," Graziano said. "Schottenheimer's under a ton of pressure as Ryan defers the offensive responsibilities to him. I feel like, if the offense has a bad year, he could end up in trouble or even out of a job. And given their youth at quarterback and running back and the uncertainty of their receiver situation, a bad year for the Jets' offense is possible.
"Now, he could be a genius, make chicken salad and be the next hot name eight months from now. But I think there's the potential that he may have already peaked as a hot coaching prospect and that he might not be set up to succeed in New York."
The big fella:
Four years ago, Grimm thought he would be the next
Pittsburgh Steelers
coach. He moved to Arizona after the Steelers selected Mike Tomlin instead, and we view his status as a head-coaching candidate with wide disparity.
AFC West blogger Bill Williamson put Grimm atop his ballot, and AFC East blogger Tim Graham had him No. 2. Kuharsky and I left him off.
Williamson thinks Grimm has moved to "the top of the food chain" largely because most of his "hot-name" contemporaries have already gotten jobs. As well, Graham suggested that it will soon be Grimm's turn because he is still well-regarded throughout the league.
Personally, I couldn't get past Grimm's well-publicized gaffe after interviewing with the
Chicago Bears
, after which he referred to the team owners as the "McClaskey" family. I also agree with NFC West blogger Mike Sando, who ranked Grimm No. 8 and wondered: "Is he still ascending? Grimm seems content coaching the line in Arizona. He has plateaued and doesn't seem to be losing any sleep over it."
Welcome back:
Unless you're a college football fan, you might not have heard of
Jacksonville Jaguars
offensive coordinator Dirk Koetter. He spent six years as the head coach at Arizona State, but has drawn some quiet acclaim for his work with the Jaguars and made a strong impression while interviewing with the
Denver Broncos
last winter.
"In a setting where he won't have to deal with boosters and can shine for being a smart X's and O's guy with strong coaching DNA," Kuharsky said, "I think he'd do far better. He's smart and will interview quite well. He really impressed John Elway and the Broncos before losing out to John Fox's experience. St. Louis wanted him as coordinator, but Jacksonville wouldn't let him go. He's heading into the final year of his contract. How
Blaine Gabbert
develops early on will have a big bearing on Koetter's future."
Secret weapon:
In two years, the
Tampa Bay Buccaneers
have developed quarterback
Josh Freeman
into one of the better starters in the league. The man largely responsible is offensive coordinator Greg Olson, who navigated a disastrous 2009 preseason -- coach Raheem Morris promoted him in the middle of training camp after firing Jeff Jagodzinski -- and NFL teams often seek out coaches with success developing young quarterbacks.
"I think Olson deserves a ton of credit for developing Freeman so quickly," said NFC South blogger Pat Yasinskas. "Freeman threw for 25 touchdowns and six interceptions in his first full season as a starter and carried an incredibly young team to a 10-6 record. I also think people need to look at what Olson did last year with rookie running back
LeGarrette Blount
and rookie receiver
Mike Williams
. He helped make them into instant stars."
Super Bowl entitlement:
The
Green Bay Packers
were the only team to place more than one name in the top 10, as would be expected from a championship team. Assistant head coach/inside linebackers Winston Moss is at No. 6, while safeties coach Darren Perry finished No. 10. I also voted for receivers coach Edgar Bennett, who has moved over from running backs coach and is clearly being groomed for bigger things.
I'll detail my ranking of the Packers' assistants, including why I think so highly of Perry, in a future post for NFC North readers. But we'll say this for now: Moss is a strong leader who has drawn interest from the Raiders, while Perry is a disciple of Packers defensive coordinator Dom Capers and his coveted 3-4 scheme.
February, 6, 2011
2/06/11
8:55
PM ET
By
ESPN.com staff
| ESPN.com
Join our ESPN.com NFL experts as they break down the biggest game of the season: Super Bowl XLV between the Pittsburgh Steelers and the Green Bay Packers.

Contribute your thoughts and questions beginning at 5:30 p.m. ET. See you there.


February, 1, 2011
2/01/11
10:35
AM ET
By
ESPN.com staff
| ESPN.com
Join our ESPN.com NFL experts as they chat live from Super Bowl media day. We'll take your questions, post pictures and quotes of all the media day wackiness as we prepare for Sunday's big game.

Contribute your thoughts and questions beginning at 11 a.m. ET. See you there.