NFC West:

New York Giants
December, 15, 2013
12/15/13
10:00
AM ET
By
ESPN.com staff
| ESPN.com
Join our ESPN.com NFL experts as they break down the Seattle Seahawks' visit to the New York Giants. Contribute your thoughts and questions beginning at 1 p.m. ET. And, be sure to visit our
NFL Nation Blitz page
for commentary from every game, as well as fan photos and the latest buzz from Twitter. See you there.
December, 12, 2013
12/12/13
10:00
AM ET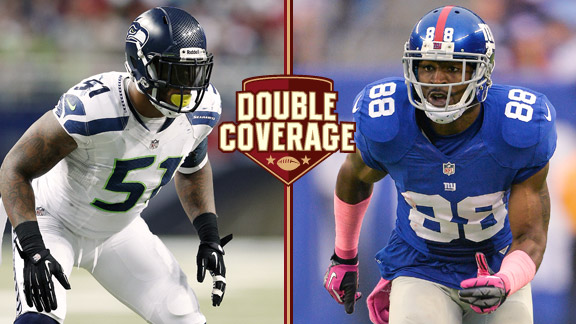 AP PhotoBruce Irvin and the Seahawks are beatable on the road. Can Hakeem Nicks and the Giants win?
The 11-2
Seattle Seahawks
have had their playoff spot wrapped up for a couple of weeks already and have their eyes on the top seed in the NFC. The 5-8
New York Giants
were eliminated from playoff contention Sunday and openly admit that they're playing for pride from this point forward. These two teams meet Sunday at MetLife Stadium -- a place the Seahawks hope to return to in early February for the Super Bowl.
ESPN.com Seahawks reporter Terry Blount and Giants reporter Dan Graziano break down the matchup between the league's best team and one of its most disappointing teams.
Graziano:
Terry, let's start with Seattle's exciting young quarterback. The Giants this year have seen
Terrelle Pryor
,
Cam Newton
and
Robert Griffin III
, who are the only quarterbacks with more rushing yards than
Russell Wilson
has. From your standpoint, what sets Wilson apart from those other mobile quarterbacks?
Blount:
Dan, there are so many intangibles about him that defy description. Some obvious ones are his character, his attention to every detail in his preparation and his underrated skills as a passer. But more than anything else, Wilson has the unusual ability to perform at his best when things appear to be at their worst. I've never seen him rattled, and he rarely makes a careless mistake. He has led the team to nine game-winning drives in his short career, and he almost did it again Sunday at San Francisco. As for his mobility, one thing that clearly sets him apart is his ability to make accurate throws downfield while he's running in either direction.
Speaking of quarterbacks,
Eli Manning
got off to a really rough start this season. What happened, and where is he now compared with seasons past when he was playing at a Pro Bowl level?
Graziano:
Manning's biggest problem at the start of the season was his protection. The offensive line, never great to begin with, was hit with injuries to key starters and never got the kind of blocking help it received in past years from supplemental positions like running back and tight end. Manning has already taken more sacks (33) than he has ever taken in a full season, and there are three games to go. He also had no running game whatsoever for the first half of the season until
Andre Brown
got healthy. And top wide receiver
Hakeem Nicks
has had an awful season in the final year of his contract. Manning obviously could play better, and he'd admit he has missed his share of throws. But I think he's a quarterback who really needs to be comfortable with his surroundings, and this year that hasn't been possible for him.
The Seahawks are so dominant at home, but while they've been good on the road they are clearly not
as
good. We know about the home crowd and the advantage it gives them, but are there on-field things they don't do as well on the road?
Blount:
One noticeable difference in the past three road games is that Wilson hasn't run much because defenses are trying to keep him in the pocket. Wilson had one carry for 2 yards last week at San Francisco, and only 38 yards on seven carries in the past three road games combined. They won two of those three games, however. Still, after Wilson ran for 102 yards at Indianapolis in Week 5 (ironically, one of Seattle's two road losses) teams have focused on not allowing him to beat them with his feet. He's running well at home (he rushed for 47 yards against New Orleans two weeks ago) but not so much on the road.
If the Giants pull off the upset Sunday, they'd send a message that despite a disappointing season, they still have the ability to get it done against the best of the best. Do you get the sense that they'll have a little added fire against a team that many people believe is Super Bowl-bound?
Graziano:
I do. A few of the Giants have already talked about that in the wake of the loss Sunday that eliminated them from postseason contention. There's a lot of talk around East Rutherford about "playing for pride," and that's not hollow with this group. They held together after the 0-6 start and have been professional in their play and their preparation since. This isn't a team that has or will quit on its season. It's just a team that's not very good. I don't think they have the personnel to hang with the Seahawks on Sunday, but if they lose it won't be for a lack of effort.
They do have a tendency to seek and drum up external motivation, and Seattle's excellent record will provide some of that. Tom Coughlin said Monday that they looked forward to measuring themselves against a team like this. The only dissenter so far is wide receiver
Victor Cruz
, who said he'd be "even more disappointed" if the Giants won this game, since it would tell him they had the capability to play with top teams all year and just didn't.
San Francisco had a strong game on the ground Sunday, and the Giants' run game has been considerably better in the second half. Is it possible to run on the Seahawks, or was that a one-game fluke by
Frank Gore
?
Blount:
Some Seattle fans might say it was a one-play fluke, the 51-yard run by Gore on the final drive that set up the game-wining field goal. Take that off the table and the Seahawks did OK against the 49ers' rushing game. However, one stat is a little scary. Of San Francisco's 163 yards on the ground, 137 were before contact, including Gore's big run. The Seahawks have been up and down on this all season. They held
Adrian Peterson
to 65 yards and allowed only 30 yards rushing at Arizona, but also had back-to-back games in which they allowed 200 yards rushing. Now they have to get it done without linebacker
K.J. Wright
, who had 80 tackles this season. He's out with a broken foot. It's hard to predict, but the Seahawks are so focused on the pass rush that they can get burned sometimes on the ground.
The Giants have struggled to stop the run, and
Marshawn Lynch
is one of the best backs in the league. I'm guessing the Seahawks are going to give him the ball early and often, especially if the weather is bad. Will the Giants load the box to try to stop Lynch?
Graziano:
Actually, stopping the run is one of the few things the Giants have done well. They've held down some top backs, such as Peterson,
LeSean McCoy
,
Alfred Morris
and
Eddie Lacy
. Until the Chargers got 144 yards on 40 carries against them Sunday, this had been a fairly consistent strength. So they'll be keyed on Lynch for sure.
Before the Packers game a few weeks ago, I asked
Justin Tuck
if Lacy reminded him of anyone. He said, "a bigger Marshawn Lynch," and then complained that they had to deal with Lynch again a few weeks later. They stacked the box against Lacy that day, but they weren't scared of
Scott Tolzien
's ability to beat them downfield even if they used single coverage on his receivers. Wilson is likely to make them think twice about committing as much to the run as they did that day, and they'll likely rely on the guys in their strong defensive-tackle rotation to get off of blocks better than they did in San Diego.
October, 14, 2012
10/14/12
1:00
PM ET
By
ESPN.com staff
| ESPN.com
Join our ESPN.com NFL experts as they break down down the NFC match up between the New York Giants and the San Francisco 49ers.

Contribute your thoughts and questions beginning at 4:30 p.m. ET. See you there.


October, 12, 2012
10/12/12
7:20
PM ET
A few more thoughts on
San Francisco 49ers
coach
Jim Harbaugh going nuclear
on
New York Giants
offensive coordinator Kevin Gilbride for suggesting 49ers defensive lineman
Justin Smith
"gets away with murder" by holding opposing offensive linemen:
Smith's responses to the uproar are entertaining on their own. They're funnier if you're familiar with his aw-shucks demeanor. He says offensive linemen hold because "they're born that way" and jokes that getting away with murder beats "getting caught with it." He calls them a colorful name, too.
Dan Graziano of our NFC East blog points to a Football Outsiders piece from before the season. That piece claims Smith not only gets away with holding, but that the 49ers' coaches instruct their defensive linemen to play that way. Players work to get every edge they can get. Offensive linemen hold regularly and get away with it. Defensive backs try to shove around receivers. No one calls them cheaters for it. Smith is a dominant player, period. Gilbride's comments should not diminish that.
Graziano also suggests Harbaugh's response -- describing Gilbride's remarks with a list of colorful adjectives -- might attune officials to calls they might not otherwise have on their radar. It might put public pressure on them to watch for Smith, but coaches routinely ask officials in private to watch certain players for certain infractions. You can bet the Giants have complained about Smith directly to officials.
Officials rarely call holding against defensive linemen. Since 2009, they've made 58 holding calls on first, second and third downs against players listed as defensive linemen (my way of excluding most special-teams plays). That includes two against Smith. Players sometimes change between defensive end and outside linebacker depending on scheme, so the numbers could change based on that factor. But it's still a call officials rarely make. As the Football Outsiders piece notes, it's a tough one for officials to see.
That's it for now. I'm heading out for a Friday-night dinner while wondering how many times per game offensive linemen get away with holding Smith. It's a lot more times than his defensive coordinator has complained about publicly, for sure.
February, 5, 2012
2/05/12
4:02
PM ET
By
ESPN.com staff
| ESPN.com
Join our ESPN.com NFL experts for the game we've all been waiting for: Super Bowl XLVI between the New England Patriots and the New York Giants.

Contribute your thoughts and questions at 4 p.m. ET. See you there.


January, 31, 2012
1/31/12
9:57
AM ET
By
ESPN.com staff
| ESPN.com
Join our ESPN.com NFL experts as they bring you all the color, quotables and craziness from Super Bowl XLVI media day.

We'll start with the New England Patriots' session at 10 a.m. and work our way through the New York Giants' session at noon. Contribute your thoughts and questions and we'll see you there!


January, 20, 2012
1/20/12
1:44
PM ET
»
Conference Championship Final Word
:
Ravens-Patriots
|
Giants-49ers
Three nuggets of knowledge about Sunday's Giants-49ers NFC Championship Game:
1. Wide receivers wanted:
Alex Smith
's passes to tight end
Vernon Davis
were the difference in the 49ers' 36-32 victory over New Orleans in the divisional round. San Francisco could use more production from its wide receivers against the Giants. Smith averaged a whopping 20 yards per attempt when targeting Davis, but the averages were minuscule for wideouts
Ted Ginn Jr.
(3.7),
Michael Crabtree
(2.8) and
Kyle Williams
(2.4). Crabtree had only 21 yards against the Giants in Week 10, his second-lowest figure of the season. Time to step up?
[+] Enlarge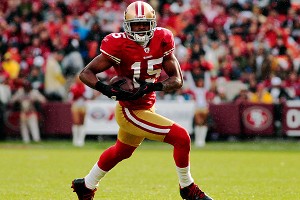 Cary Edmondson/US PresswireThe 49ers stand to benefit from better production from receiver Michael Crabtree against the Giants.
2. Breaking tendencies:
In Week 10, the Giants'
Jason Pierre-Paul
injured 49ers running back
Frank Gore
with a violent tackle on a predictable running play from San Francisco's 22 personnel grouping (two backs, two tight ends).
At the time
, I thought the 49ers could benefit from mixing in downfield strikes when using heavier personnel, especially in short-yardage situations. They have not attempted a pass this season when using 22 personnel with 1-2 yards needed for a first down. They had 21 runs and a quarterback scramble on those plays. The 49ers have called passes 15 percent of the time when needing a yard for a first down. The league average is 30 percent. This might be a good week to break from tendency.
3. Keeping Manning honest:
Giants quarterback
Eli Manning
was 7-of-9 for a season-high 155 yards and two touchdowns when using play fakes against Green Bay last week, according to ESPN Stats & Information. The 49ers should fare much better in this category if their run defense continues to hold up without committing additional defenders to the box. The 49ers' defense led the NFL in fewest rushing yards, yards per carry and rushing first downs allowed. The Giants' offense was 32nd, 32nd and 24th in those categories, respectively.
December, 20, 2011
12/20/11
12:30
PM ET
When the NFC West looks down, it sees not only the AFC South, but also the once-mighty NFC East. The view is more pleasing than at any point since divisional realignment in 2002.
Consider it a historic shift, a watershed moment, the week when light finally shined upon the no-longer-worst division in football -- except, of course, when power outages at Candlestick Park temporarily left San Francisco and Pittsburgh in the dark.
The 49ers' 20-3 victory over the Steelers on "Monday Night Football" capped a 3-1 week for the NFC West, one that moved up three teams from the division in ESPN's NFL Power Rankings heading into Week 16.
The 49ers moved up two spots to No. 3, passing Baltimore and New England. The Seahawks improved a league-high five spots to No. 15 after blowing out the
Chicago Bears
at Soldier Field. The Cardinals climbed two spots to No. 17 after beating Cleveland.
The
St. Louis Rams
remained 31st and ahead of Indianapolis even though I moved them down to No. 32 on my ballot. The other voters are forgiven. They likely had better things to do than watch every snap of St. Louis' 20-6 home defeat to an utterly unimpressive
Cincinnati Bengals
team.
Despite the Rams' low standing, NFC West teams ranked 16.8 on average, better than teams from the NFC East (17.5) and AFC South (21.6). NFC West teams ranked just below teams from the AFC East (16.5) and AFC West (16.4).
And now, a closer look at the rankings heading into Week 16:
Falling (11):
Tennessee Titans
(-7),
Buffalo Bills
(-4), Chicago Bears (-4),
New York Giants
(-4),
Baltimore Ravens
(-3),
Oakland Raiders
(-3),
Denver Broncos
(-2),
New York Jets
(-2),
Pittsburgh Steelers
(-2),
Jacksonville Jaguars
(-2),
Tampa Bay Buccaneers
(-1).
Rising (12):
Seattle Seahawks
(+5),
Dallas Cowboys
(+4),
San Diego Chargers
(+4),
Kansas City Chiefs
(+3),
San Francisco 49ers
(+3),
Arizona Cardinals
(+2), Cincinnati Bengals (+2),
Detroit Lions
(+2),
Washington Redskins
(+2),
Cleveland Browns
(+1),
New England Patriots
(+1),
New Orleans Saints
(+1).
Unchanged (8):
Atlanta Falcons
,
Carolina Panthers
,
Green Bay Packers
,
Houston Texans
,
Indianapolis Colts
,
Miami Dolphins
,
Minnesota Vikings
, St. Louis Rams.
Deadlocked:
We broke one tie this week. The Seahawks prevailed over the New York Giants at No. 15 based on the first tiebreaker, head-to-head results.
Like minds:
All five voters ranked the Packers first, the Saints second and the Vikings 30th.
Agree to disagree:
Walker continues to see the Eagles and Chargers as strong teams finally living up to their potential. Others continue to mark them down for overall struggles this season. That helps explain why Philly, more than any other team, invited polarizing views.
"I gave a lot of credence to how both teams are playing down the stretch in these important games," Walker said. "The Eagles and Chargers are two very dangerous teams right now. If either gets into the playoffs, look out."
Walker also kept New England ahead of the 49ers.
"The Patriots have won six straight games," he said. "The 49ers are 2-2 in their last four. San Francisco also lost the head-to-head with Baltimore. So I kept the Ravens ahead of the 49ers, too, despite an impressive win."
A look at the Eagles and the six other teams generating high-low disparities of at least six spots in the rankings:
Eagles (8): Walker ranked them 13th, higher than any other voter ranked them. Sando, Clayton and Fox ranked them 21st, lower than any other voters ranked them.
Cardinals (7): Sando 13th, Kuharsky 20th.
Raiders (7): Clayton 15th, Kuharsky 22nd.
Titans (7): Kuharsky 16th, Walker 23rd.
Bengals (6): Fox 10th, Sando 16th.
Chiefs (6): Sando 18th, Kuharsky 24th.
Seahawks (6): Sando 12th, Walker 18th.
Power rankings histories:
These
colorful layered graphs
show where each NFL team has ranked every week since the 2002 season.
Ranking the divisions
: Teams from the AFC North (13.0 average) maintained the highest ranking on average, well ahead of teams from the NFC North (15.1). The AFC South was the lowest-rated division.
A voter-by-voter look at changes of at least five spots since last week:
Sando: Titans (-9), Giants (-6), Cardinals (+5), Seahawks (+5), Chargers (+6), Chiefs (+9).
Clayton: Bills (-5), Raiders (-5).
Kuharsky: Seahawks (+5).
Walker: Titans (-9), Chiefs (+6), Eagles (+6).
Fox: Giants (-5).
For download:
An Excel file -- available
here
-- showing how each voter voted this week and in past weeks.
The file includes a "powerflaws" sheet pointing out potential flaws in voters' thinking by showing how many higher-ranked opponents each team defeated this season.
A quick primer on the "powerflaws" sheet:
Column Y features team rankings.
Column Z shows how many times a team has defeated higher-ranked teams.
Change the rankings in Column Y as you see fit.
Re-sort Column Y in ascending order (1 to 32) using the standard Excel pull-down menu atop the column.
The information in Column Z, which reflects potential ranking errors, will change (with the adjusted total highlighted in yellow atop the column).
The lower the figure in that yellow box, the fewer conflicts.
November, 13, 2011
11/13/11
4:50
PM ET
By
ESPN.com staff
| ESPN.com
Join our ESPN.com NFL experts as they break down the match up between the New York Giants and the San Francisco 49ers.

Contribute your thoughts and questions beginning at 4:15 p.m. ET. See you there.



September, 19, 2011
9/19/11
8:25
PM ET
By
ESPN.com staff
| ESPN.com
Join our ESPN.com NFL experts as they break down the "Monday Night Football" clash between the St. Louis Rams and the New York Giants.

Contribute your thoughts and questions beginning at 8:30 p.m. ET. See you there.