NFC West:

Tennessee Titans
December, 15, 2013
12/15/13
2:30
PM ET
By
ESPN.com staff
| ESPN.com
Join our ESPN.com NFL experts as they break down the Arizona Cardinals' visit to the Tennessee Titans. Contribute your thoughts and questions beginning at 4:15 p.m. ET. And, be sure to visit our
NFL Nation Blitz page
for commentary from every game, as well as fan photos and the latest buzz from Twitter. See you there.
December, 13, 2013
12/13/13
10:00
AM ET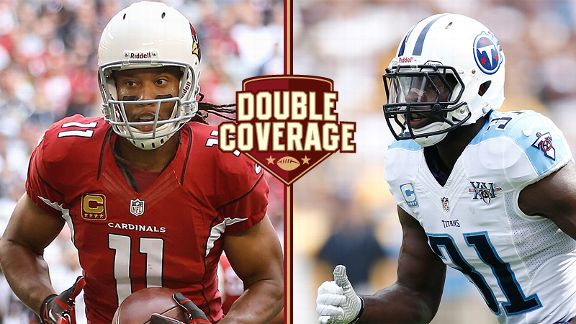 Getty Images, AP PhotoBernard Pollard and the Titans will try to hamper the playoff hopes of Larry Fitzgerald and Arizona.
In 2011, the
Tennessee Titans
had a new coach and a new feel. Mike Munchak's team missed the playoffs by a game.
Things seemed new and fresh. Since then, however, the Titans are 11-18.
The
Arizona Cardinals
come to Nashville in a position not unlike those Titans from two years ago. Arizona's on the playoff fringe, playing well and looking for its ninth win this season.
ESPN.com Cardinals reporter Josh Weinfuss and ESPN.com Titans reporter Paul Kuharsky discuss the two teams in advance of Sunday's game.
Paul Kuharsky
: Bruce Arians did masterful work filling in for Chuck Pagano in Indianapolis last season. He has a legitimate case for a second consecutive coach-of-the-year award. What have been the main ingredients in his first-year success with the Cards?
Josh Weinfuss
: There have been a few contributing factors as to why Arians has had success this season, but it starts with him changing the culture of the entire organization. He's not a micromanager around the building and he's open with the players, and they love it. Like past regimes, he doesn't sugarcoat his feelings or his perceptions of a player. He'll tell them how it is, and they've responded well to the criticism. One obvious difference is the quarterback situation, and Arians handled it differently here than in the past, naming
Carson Palmer
the starter early and sticking with him. That gave players a chance to spend all of minicamp and the offseason knowing that Palmer was in charge, and they were able to get to know him and his rhythm. Even though it took about seven months for them to pick up the offense, it would've been longer had there been any wavering with the QB decision. Lastly, Arians is simply a great offensive coach and his ability to adapt his scheme to the personnel is showing.
How much credence is there to Munchak being on the hot seat and what kind of impact has this prospect had on the team?
Kuharsky
: Oh, he's on the hot seat. How can he not be when his team is in the worst division in the league and is 0-4 against that division (1-9 if we look at 2012 and 2013)? Players remain behind Munchak and I think they respect him immensely based on his Hall of Fame playing career. There is a certain chemistry that comes out of playing for a guy who has played at the highest level. But the standard is winning, and Munchak's team has regularly lost to winning teams and to AFC South teams. An offseason revamp was supposed to brand the Titans as a team with a dominant offensive line and run game, and things haven't panned out along those lines at all. The $10 million back,
Chris Johnson
, is averaging 3.8 yards a carry, and the offensive line hasn't jelled.
How has the offensive line in Arizona come along, and how much has running back
Rashard Mendenhall
(3.1 yards a carry) yielded to rookie
Andre Ellington
(5.8)?
Weinfuss
: It sounds cliché, but the proverbial light switch was flipped in Week 8 against Atlanta. Since then, the Cardinals' linemen been corralling pass rushes, creating holes for the running backs and, maybe most important, keeping Palmer upright. The tackles were still struggling with fast and powerful edge rushers, but left tackle
Bradley Sowell
did a good job of slowing St. Louis'
Robert Quinn
last Sunday. As for the guys for whom the line is blocking, Mendenhall and Ellington have two very distinct roles on this team. Mendenhall is the workhorse, the every-down back who will pound in between the tackles until he breaks free. He suffered from a turf-toe injury for most of the season but has been healthy for a few weeks. Ellington, on the other hand, has been more of the outside back. He has an extra gear Mendenhall doesn't, where he can hit the corner and take off. And Arians likes to use Ellington out wide more. So the two are quite different and each has accepted his role.
Is it just the Titans offensive line to blame for Johnson's decline in yards per carry or is there something else in play? Backs like that can only last so long in this league. In Year 6, how much longer do you think he has?
Kuharsky
: It's definitely not just the line. That group's been slow to jell. Right tackle
David Stewart
is banged up and doesn't move well. Rookie right guard
Chance Warmack
is too inconsistent. Rookie center
Brian Schwenke
started late because of a camp injury and now has a bad ankle. Left tackle
Andy Levitre
, the big free-agent prize, has admitted he needs an offseason to get right and get to playing up to his standard. I give the line a third of the blame, Johnson a third and the play calling a third. Johnson is just too tentative and doesn't make anybody miss. And offensive coordinator Dowell Loggains can't get CJ or
Shonn Greene
into a rhythm when one of them starts to get something going. They don't seem to know how to solve a 3-4 defense, so advantage Cardinals there.
Inside linebacker
Karlos Dansby
is having a big year and could be in the Defensive Player of the Year mix. How does defensive coordinator Todd Bowles' scheme set him up for success?
Weinfuss
: Bowles made a tweak up front and it has had a ripple effect throughout the defense, helping Dansby flourish. Bowles stayed with a 3-4 scheme but changed the defensive line's responsibilities up front from a multi-gap system to single-gap. It freed up the down linemen to pin their ears back and attack, which has flushed quarterbacks out of the pocket more quickly and made runners bounce outside. That, in turn, has helped Dansby get in front of more passes and allows him to roam sideline to sideline. He leads the league with 100 solo tackles and, with the help of a new diet, is playing at the level of a linebacker five years younger.
Tight ends have raked the Cardinals' defense for most of the season, one of the few weak spots in an otherwise-talented unit. How do the Titans use
Delanie Walker
, and can they exploit Arizona's undersized secondary?
Kuharsky
: I would think they like the matchup. Walker is a tough, physical tight end who can run. He's particularly effective when he gets angry. He's coming off a game missed due to a concussion, so he could be at some risk if he takes a big shot. But I would expect
Kendall Wright
gets the most targets and Walker is second. Maybe the Cards have some insight into Walker from seeing him twice a year when he was with the 49ers. The Titans surely hope that doesn't matter at all.
December, 1, 2013
12/01/13
7:16
PM ET
INDIANAPOLIS -- An NFL team faces a division rival six times a season.
Those are six premium games with huge influence on the easiest path to the playoffs and a division title.
Sunday, with a
22-14 loss
to the
Indianapolis Colts
at Lucas Oil Stadium, the
Tennessee Titans
dropped to 0-4 in the AFC South. Indianapolis, which will win the division, moved to 4-0.
[+] Enlarge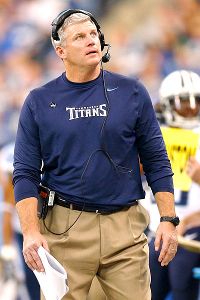 Gregory Shamus/Getty ImagesMike Munchak did not have any answers about why the Titans cannot close out games.
Since Mike Munchak took over as the Titans coach, his team is 4-12 against Indianapolis (1-5), Houston (1-4) and Jacksonville (2-3). The franchise's divisional winning percentage should be the No. 1 thing Munchak has to explain to Tommy Smith, the man who's now the head of the ownership group, when the season ends and they discuss the coach's future.
Sure, the Titans should win rematches in Week 16 at Jacksonville and Week 17 against Houston. But the Jaguars and Texans are looking forward to those games, not fearing them.
And why should they?
When it comes to the AFC South, the Titans can talk of being close and finding ways to lose and the frustrations that come with such defeats and the opportunities ahead. What they cannot talk about is some pivotal moment that changes the franchise's course, because they have proven incapable of finding such a moment.
Munchak wasn't making the blunders on the field Sunday.
He was not part of the failure to recover even one of the Colts' three fumbles. He was not the quarterback who threw three picks. He wasn't the linebacker who shoved an opponent in the back for a 15-yard penalty that resulted in a field goal. He wasn't the safety letting an easy interception bounce off his chest.
He wasn't the guy with any answers for any of that stuff, either. He has to offer some, right? He has to do something that sparks change, something to turn the rudder.
Instead he's a patient plodder talking about being close and lacking answers. A team generally takes on the personality of its coach, and this group is hitting a bulls' eye given that target.
Narrow losses show up the same as the blowouts in the standings.
The average score in the Titans' 16 division games since 2011 has been, when we round the numbers, a 24-21 loss. Seven of the defeats have been by six points or fewer. (Some players skipped the math and lumped this 8-point loss into the same category.)
That illustrates just how bad this team is at closing games.
"Things go so right for you for so long and then all of a sudden in crunch time it derails," said linebacker
Moise Fokou
, who had one of the Titans'
worst moments
in this loss. "That's something we just have to continue to work at."
"The Tennessee Titans, we are our own worst enemy," safety
Bernard Pollard
said.
Jurrell Casey
is the Titans' best defensive player and was more than the Colts interior offensive line could handle in this game. He had a sack, two tackles for a loss, three quarterback hits and consistently caused problems.
He was a third-round pick out of USC not long after Munchak was installed as the head coach.
"I just can't really understand what's the problem," Casey said. "Every game comes down to the wire. We lead in games and we let them slip away. It's the problem we've been having since Day One since I got here, and that's finishing. We have the right plays and system, the right fits, things like that. But when it comes down to nut-cutting time, we can't finish the games.
"And that's been our downfall since I've been here. Especially in divisional games, you've got to take your game to another notch. As of right now we're not getting the job done."
The Titans added nine free agents and a first-round draft pick they expected would have 16-game impact. Munchak sold them as the final piece for making a jump.
They've not been enough for the team to win in the division and the Titans, while better than 2012's 6-10 team, are not likely to finish with a significantly better record. Tennessee lost its starting quarterback to injury, but backup
Ryan Fitzpatrick
was supposed to be top-flight insurance. He is 1-4 as the starter, with three picks and a lost fumble in this defeat.
"Last year I think we only won one game in the division," running back
Chris Johnson
said. "We haven't won any yet [this year.] Since I've been here, that's just something that doesn't happen. When I first got here we always counted that we were going to win two with Houston and two in Jacksonville and then it was going to be a battle with the Colts when
Peyton Manning
was here.
"It's just a total turnaround. We have an opportunity to win the game, we're just not making plays at the end."
Munchak shared no revelation about what's wrong in the AFC South, not because he's withholding, but because he's got no revelation to share.
"That's where we're at," he said. "We're there, we can't finish the game, we make too many mistakes for whatever reason."
Dec. 1, 2013 in Indy wasn't a turning point for the Titans.
Perhaps, at least, it can be the point where Munchak retires "for whatever reason" and commits to replacing it with an actual solution.
November, 3, 2013
11/03/13
11:00
AM ET
By
ESPN.com staff
| ESPN.com
Join our ESPN.com NFL experts as they break down the Tennessee Titans' visit to the St. Louis Rams. Contribute your thoughts and questions beginning at 1 p.m. ET. And, be sure to visit our
NFL Nation Blitz page
for commentary from every game, as well as fan photos and the latest buzz from Twitter. See you there.
October, 31, 2013
10/31/13
12:00
PM ET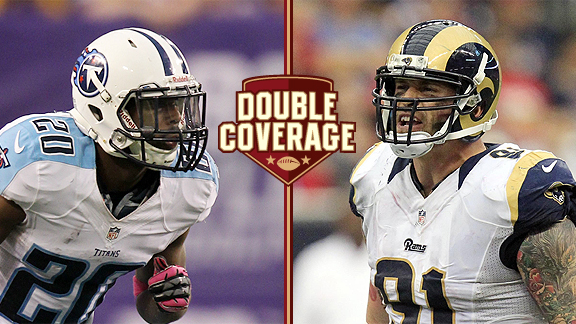 USA TODAY SportsTitans CB Alterraun Verner and Rams DE Chris Long are two of the league's best at their positions.
.
Any time the
St. Louis Rams
and
Tennessee Titans
meet, memories of Super Bowl XXXIV are sure to come to the fore. In one of the greatest Super Bowl finishes of all time, the Rams emerged with their lone championship during their time in St. Louis.
A lot has changed since, but neither team has managed to get back to the promised land and it seems like a long shot either will this season. This week, the Rams and Titans renew acquaintances at the Edward Jones Dome in St. Louis. ESPN.com Rams reporter Nick Wagoner and Titans reporter Paul Kuharsky discuss some things worth watching, including an interesting role reversal for one of the key figures in that Super Bowl.
Wagoner:
Well, it's pretty obvious what the big story is going to be this week. Jeff Fisher is facing his former team for the first time since taking over as the coach in St. Louis. As is to be expected, Fisher is downplaying that whole angle, but you were around him a lot in his years in Nashville. Do you expect Fisher to have a little something extra for his old team this week?
Kuharsky:
It would be so much better if it were in Nashville. Then we'd have the crowd reaction as a part of it, too. Still, it's intriguing. He will definitely have something (or some things) drawn up that he feels will uniquely exploit the schemes and styles of his former underlings Mike Munchak, Jerry Gray and Gregg Williams. If those things work, I'd expect Fisher will then talk about how one of his assistants who was once in Tennessee -- Chuck Cecil, Dave McGinnis or even Ray Sherman -- was instrumental in the design. Fisher didn't leave with hard feelings, and I believe he wishes the organization well. Still, any proud former employee in this sort of circumstance wants to outperform the former employer. He's talked about it meaning more for the guys on the roster who were once Titans.
Jared Cook
had a monster opening day but has been quiet since.
Cortland Finnegan
missed some time hurt. What's the status of those guys?
Wagoner:
Cook has really struggled dealing with teams giving him more attention and, more specifically, being physical with him at the line of scrimmage and downfield. He stopped on a route last week against Seattle, and it resulted in an interception. The Rams have gone back to more of a power running scheme that has also limited his snaps because he doesn't bring much to the table as a blocker. Finnegan won't say it, but I believe he was banged up at the beginning of the season; his first four games were downright brutal. He returned last week against Seattle, and for now he's working exclusively in the nickel as the team's third corner rather than just bumping inside in those situations. Given that he's only a little more than a year into a monster contract, it's hard to categorize him as anything but a disappointment for the price.
A lot will be made of the Fisher-Tennessee connection, but I'm more intrigued by the Gregg Williams situation. The way things went down with him and the Rams, and between Williams' son Blake and the Rams, had to have created some tension on all sides. What has Williams' impact been down there in Tennessee, and what exactly is his role?
Kuharsky:
By title, he's senior assistant/defense. In practice, he's not-quite defensive coordinator. Gray is still calling the plays, but Williams' influence is undeniable. This defense had no personality or attitude last season. Now it's the backbone of the team. It mixes it up and disguises its looks up front, it blitzes more often and it plays far more man-to-man.
Bernard Pollard
has been a great fit who has talked with swagger and backed it up. Some guys most people have never heard of -- defensive end
Ropati Pitoitua
and middle linebacker
Moise Fokou
-- have been very good additions. Williams certainly had a say in bringing those guys in. He has stayed in the background and seems comfortable there. I would imagine he and Gray are excited to put together a plan to make
Kellen Clemens
uncomfortable.
How do you think Clemens will respond in his second start since
Sam Bradford
went down?
Wagoner:
To paraphrase one of the great philosophers of our time, Mr. Dennis Green, Clemens proved last week against Seattle that he is what we thought he was. He's a tough, gritty, consummate professional who can occasionally extend plays with his legs and make something happen. He's also consistently inaccurate, a bit indecisive and has a knack for costly turnovers (though his two interceptions Monday night weren't completely his fault). Another week to work with the starters should help, but he was a bit sore after Monday night's game against Seattle. The Rams don't need him to throw for 300 yards and five touchdowns, but they do need him to convert in the red zone and not turn the ball over.
There are something like 16 players from the Fisher era remaining in Tennessee, one of whom is running back
Chris Johnson
. The Rams have been better defending the run the past two weeks, but they need to prove they can keep doing it. It appears Johnson has struggled after the team made efforts to help him in the offseason. What's going on with Johnson, and is he (and the Titans' offensive line) capable of taking advantage of the Rams' run defense?
Kuharsky:
The Titans are built on a philosophy of throwing it when they want to, not when they have to. That's a mistake because the revamped line and Johnson are not equipped to run it they way they think they can. Jets fans get a kick out of this, but to a large degree the Titans' hope things will get better comes from
Shonn Greene
. The bigger back was brought in as a compliment to CJ, but he got hurt in the opener and made it back only the week before the bye; he has hardly played. They need him to emerge and contribute. Based on current numbers, the Rams are the third-softest run defense the Titans will have seen this season. If they can't run Sunday, it will really speak to their issues.
Chris Long
and
Robert Quinn
looked really good against Seattle. Have they been giving everyone problems like that?
Wagoner:
Quinn certainly has. Through the first half of the season, he's really starting to realize his immense potential. I believe he's the Rams' best player right now, and have felt that way since the beginning of the season. He's an athletic freak who gives slower tackles problems. He feasts on inferior players, but he can get it done against good tackles as well. Long was banged up earlier in the season but has battled through it and is starting to find his stride. Given the situation on offense right now, the Rams need this duo to take over games on a regular basis and set the tone for a defense that, before last week, had largely disappointed this season.
.
October, 21, 2013
10/21/13
8:00
AM ET
By
ESPN.com staff
| ESPN.com
October, 18, 2013
10/18/13
12:00
PM ET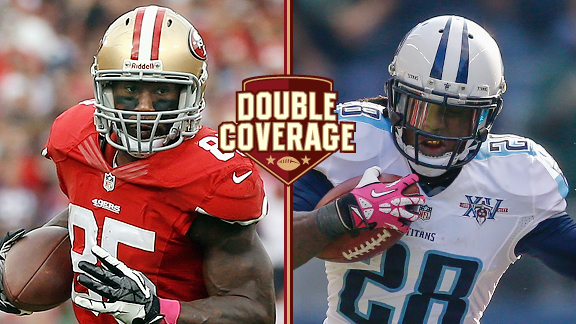 Getty ImagesTitans RB Chris Johnson will need to pick up his production in order to pull off an upset over Vernon Davis and the 49ers.
As with the Chiefs and the Seahawks the past two weeks, the Titans look at the 49ers and see a team they want to become.
While Tennessee has pledged to be run-centric and earn the tough yard, San Francisco's been doing it.
Sunday at LP Field in Nashville, the 49ers will be looking for a fourth consecutive win, while the Titans will be trying to avoid a third consecutive loss.
The Titans are probably getting the 49ers at a bad time -- those bad showings at Seattle and against Indianapolis are an old memory already, as the Niners have scored an average of 34 points over the past three weeks.
The Niners are probably getting the Titans at a good time -- with starting quarterback
Jake Locker
sidelined,
Ryan Fitzpatrick
has struggled and Tennessee has topped out at 17 points.
Let's check out some of what's been going on.
Bill, we know the Niners struggled at Seattle and against Indianapolis. What's keyed their bounce back?
Bill Williamson:
Paul, this was a team in crisis. The Niners lost to the Seahawks and the Colts by a combined score of 56-10. Star pass-rusher
Aldon Smith
went into an alcohol treatment center a day after the loss to the Colts. But on a short week, the 49ers went to St. Louis and saved their season. They focused on being the 49ers -- they went back to a power running game on offense and they rededicated to stopping the run on defense. The approach has worked beautifully. The 49ers have won three straight games and have outscored their opponents 101-34. Paul, does Tennessee have the means to stop the 49ers' run and to run on the 49ers?
Paul Kuharsky:
The Titans' defense is for real. They've made good game-to-game adjustments and have been really solid on third down. The new blood has taken a team that gave up a ton of points in 2012 and really settled things down. That starts with strong safety
Bernard Pollard
, but also includes
Ropati Pitoitua
, a run-stopping end who leads the team in sacks. Defensive assistant Gregg Williams' fingerprints are all over disguised fronts, more frequent blitzes and regular man-to-man coverage. The biggest thing for slowing 49ers running back
Frank Gore
is getting a crowd to him and tackling well, and the Titans have been pretty good at both. Quarterback
Colin Kaepernick
running could be a bigger concern, as Seattle quarterback
Russell Wilson
really hurt the Titans more than RB
Marshawn Lynch
did last week.
The Titans want to be a physical team that can run and stop the run. Kansas City and Seattle just showed them how it's done. How much does San Francisco fit that mold?
Williamson:
Yes, as I mentioned above, that is the 49ers' mantra. In a passing league, the 49ers do their work on the ground -- by running on offense and by stopping the run on defense. The focus on the run breeds success in the passing game on offense and it allows the 49ers to tee off against the pass on defense. The 49ers miss injured receivers
Michael Crabtree
and
Mario Manningham
, but Kaepernick gets it done in the passing game with tight end
Vernon Davis
and receiver
Anquan Boldin
. Davis had 180 yards receiving in Week 6. It was tied for the third-best receiving game by a tight end in the NFL in 20 years. In Week 1, Boldin had 13 catches and 208 receiving yards. Defensively, the 49ers have taken advantage of their success against the run by forcing 10 turnovers in the past three games against frustrated offenses.
Paul, do you think the Titans are capable of stopping that turnover trend?
Kuharsky:
It would take a major shift. With Locker in charge through the bulk of four games, the Titans didn't turn the ball over at all. In the past two games, they've given it away five times. And to go with his four interceptions, Fitzpatrick has put the ball on the ground three times but has gotten away with it. To play his best, Fitzpatrick probably needs to take some risks. But it's got to be smart risk. If he overthrows guys or throws too far inside on a ball that has to be outside, as he did in Seattle, the Titans will have problems. The Niners are on a good takeaway streak and the Titans are on a bad giveaway streak. If that doesn't change, the Titans will have no chance. And I see no reason from the Titans' side to think they can fix it against a tough opponent.
Bill, we see a lot of 49ers coach Jim Harbaugh's news conference personality. What's his game-coaching personality? How do you rate him as a strategist and game manager?
Williamson:
Yes, Paul, Harbaugh certainly has carved a persona for himself. But his success as a head coach cannot be denied. He built up programs at the college levels at the University of San Diego and at Stanford and then has made the 49ers an elite program again in less than three years as an NFL coach. The 49ers became an instant legitimate program when Harbaugh took over. He and his coaches are known as teachers and his game-day approach is aggressive on both sides of the ball. This team always seems prepared. It is a huge positive sign that Harbaugh's team has responded with three straight wins after it lost back-to-back games under Harbaugh for the first time. Paul, how do you see the coaching matchup unfolding Sunday?
Kuharsky:
Mike Munchak hasn't proved that he's an NFL coach with staying power yet. I give the check mark to the opponent in coaching any time it's an established head coach and staff going against the Titans. Williams has helped transform the defense as a senior assistant. But the offense is still very much a work in progress. It's a team that rebuilt that interior offensive line and said that would be the key to fixing things. And
Chris Johnson
is averaging 3.1 yards a carry and the Titans are making a change to
Brian Schwenke
at center for this game.
.
October, 11, 2013
10/11/13
12:00
PM ET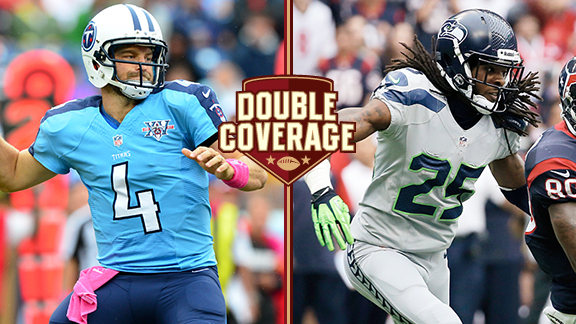 USA TODAY Sports, Getty ImagesBackup quarterback Ryan Fitzpatrick will have to face a stifling Seattle secondary and the league's best corner in Richard Sherman.
Sunday's game between the
Tennessee Titans
and
Seattle Seahawks
is a matchup between two winning teams coming off losses, and both are missing key players on offense.
Quarterback
Jake Locker
is out for the Titans. Both starting tackles --
Russell Okung
and
Breno Giacomini
-- are out for Seattle. Tight end
Zach Miller
could also sit.
The Seahawks have a 10-game home winning streak on the line, hoping to rebound after their first defeat of the season, 34-28 to the
Indianapolis Colts
.
The Titans hope to get a stagnant running game going and find some consistency with backup quarterback
Ryan Fitzpatrick
.
Paul, it looked like Fitzpatrick had a rough first outing for the Titans subbing for an injured Locker. Do you think Fitzpatrick will improve, and how difficult will it be for Tennessee to have success on offense while Locker is out?
Kuharsky:
Fitzpatrick is certainly capable of playing better than he did in the loss to Kansas City, when he had three very bad quarters and one good one. I'm not sure what the Titans can do to help him if they are unable to run the ball. If they can bring some balance with
Chris Johnson
(and maybe
Shonn Greene
, who's still trying to get back after knee surgery), it could be a lot less difficult. Fitzpatrick hardly has Locker's excellent speed, but he scrambled around pretty well against the Chiefs. With Locker in the first four games, the Titans didn't turn the ball over and overcame their deficiencies running the ball. Without him, they need Fitzpatrick to imitate the mistake-free youngster. But Fitzpatrick is more of a gunslinger than Locker and is streakier, and that's probably too much to ask.
Terry, the Titans pledged to be a great running team. It hasn't really panned out that way. Last time Johnson was in Seattle, he had a 2,000-yard season. What's the run defense going to be like?
Blount:
It's been all but impossible to run up the middle on the Seahawks. Defensive tackle
Brandon Mebane
is as strong a run stopper as there is the NFL, and it takes two blockers to handle 325-pound
Red Bryant
. If that fails, it's tough to get past middle linebacker
Bobby Wagner
. But Wagner probably won't play Sunday because of a high ankle sprain. Nevertheless, it's difficult to establish a running game on the Seahawks. Seattle is an aggressive outside pass-rushing team, so occasionally a back can get yardage outside, but not often.
Paul, Locker told us on the conference call Wednesday what a disappointment it is that he won't get to play this weekend in front of family, friends and University of Washington alumni who love him for all he did to help turn around the Huskies football program. He is a beloved guy here and a huge hero in this community. How is he viewed in Nashville?
Kuharsky:
Nothing close to that yet. People who have given him a chance know he's an eminently likable guy, a hard worker and a well-respected leader, but plenty of fans called talk radio over the offseason talking about why Fitzpatrick would be a better choice or how it should at least be a camp competition. Even after Week 2's overtime loss in Houston, when he overthrew a wide-open
Kenny Britt
on a crucial third-and-1 late in the game, there were calls for change. (It's a throw he's got to make.) The game-winning drive against San Diego showed people what he can do. Locker also had a fantastic two-plus quarters against the Jets, which seems to have done a lot to win more people over. In playing style and development arc, I think he is a lot like
Steve McNair
so far. If that holds true, impatient fans will wind up happy.
Terry, home field is viewed as such a giant advantage for the Seahawks. Can you give us a tangible feel for just how loud and crazy the atmosphere is there?
Blount:
In the San Francisco game, where the outdoor stadium decibel record was set at 131.9, it was so loud that it was difficult at times to even hear people talk in the enclosed press box. I know every team believes its stadium is one of the loudest, and I've been to most of them, but trust me, there is nothing like CenturyLink Field. It's deafening.
Paul, cornerback
Alterraun Verner
is off to an outstanding start this season with four interceptions and 11 passes defensed. Seattle cornerback
Richard Sherman
is viewed by some as the best corner in the NFL, but is Verner the most underrated?
Kuharsky:
He could have had another two picks last week on balls he didn't manage to haul in. Verner has been really good. The team wasn't sure what it had in him. The Titans knew they got a good football player out of UCLA three years ago. But as they revamped this offseason, with Gregg Williams joining the coaching staff and the Titans determined to get more aggressive, they figured a big increase in press-man coverage would move them away from Verner's strengths. They wanted
Tommie Campbell
, a faster and bigger guy to win the job. (Some wrote about how Campbell has some of what makes Sherman so good.) But Campbell didn't catch on and bombed in training camp, and Verner proved to be better. If
Coty Sensabaugh
hasn't recovered from his concussion for Sunday, Verner will start in base and move into the slot in nickel, with Campbell replacing him outside.
The Titans rush pretty well, and Verner is getting his hands on balls all over the field. Who has had the best success slowing
Russell Wilson
and how?
Blount:
Even though Seattle came back and won the game, the Texans had the most success because of their talented defensive front and all-everything defensive lineman
J.J. Watt
. Both Houston and Indianapolis took advantage of Seattle missing starters on the offensive line and teed off on Wilson on third down. Nevertheless, Wilson is the best I've ever seen making the most of a bad situation and finding the opening the defense gives him. Anticipating when Wilson will roll out and cutting off his running lanes is the key, but it is far easier said than done.
August, 7, 2013
8/07/13
4:00
PM ET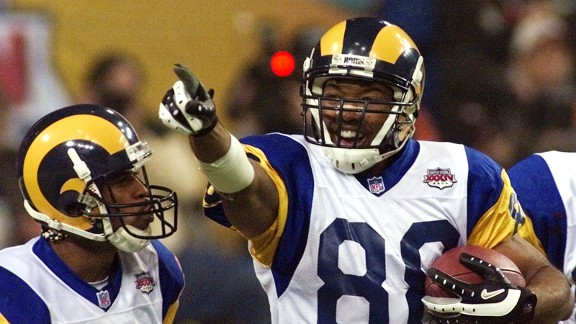 AP Photo/Chuck BurtonAfter years of feeling unwelcome by their old franchise, former Rams greats such as Torry Holt are making their way back to Rams Park at the invitation of St. Louis coach Jeff Fisher.
EARTH CITY, Mo. -- Standing between two fields at Rams Park watching practice on Monday afternoon was a group that might as well have been a part of a reunion for Super Bowl XXXIV.
Former Rams receivers
Torry Holt
and
Isaac Bruce
chatted it up with former Tennessee cornerback
Samari Rolle
, who is working in the team's coaching internship program. That trio was joined at various times by
Lance Schulters
, another former Titans defensive back in the internship program,
La'Roi Glover
, a former Rams defensive tackle and now the team's director of player programs, and former Rams tackle
Grant Williams
.
The sight of former Rams is nothing new around the team's training facility these days. Since Jeff Fisher took over as coach in Jan. 2012, he's made it abundantly clear that he's happy to welcome back former players who might want to offer some advice to his young team or who might just want to watch practice.
In the two weeks since camp started, other former Rams such as defensive back
Aeneas Williams
, safety
Keith Lyle
and linebacker
Chris Draft
have stopped by. It's not limited to Rams alumni, either. In addition to Schulters and Rolle, former Titans linebacker
Keith Bulluck
was also in town for a couple of days.
While it might be nothing new for Fisher to open the doors to past Rams, it does represent something of a departure from how things were in the not-too-distant past.
"This is home," Holt said. "I should feel comfortable and good when I come here. Myself and others, we did a lot for this organization. So it feels good to be able to step back out on this field and not be looking over your shoulder or feel like you're stepping on anybody's toes and then to be able to provide information for guys to improve their game. It's not about us, it's just about sharing what we've learned to make this organization better and try to bring back championships to this organization."
That's a feeling that Holt shared with plenty of other former Rams who didn't feel welcome or comfortable about being at Rams Park on a regular basis.
In 2011, Rams Hall of Famer Jack Youngblood told ESPN's Arash Markazi that he didn't feel like he had any connection to the team he once played Super Bowl XIV with while nursing a broken leg.
"We are their legacy but they forgot us," Youngblood said then. "They don't have anything to do with us, really. I find that unfortunate because you look at other franchises, even those that have moved, and they use their alumni in their marketing and in their organization. They use their Hall of Famers as an example for the players who are there today. They use their alumni, but the Rams have cut us out of the picture."
At the time, the Rams had begun to make inroads in their alumni program, which has taken off in recent years. As part of those efforts, the Rams signed Holt and Bruce to one-day contracts so each could retire as Rams. Most notably they welcomed back 20 prominent players from their past to celebrate the team's 75th anniversary last December.
Included in that group were a number of Los Angeles Rams, including Rosey Grier, Vince Ferragamo, Dennis Harrah,
Jackie Slater
, LeRoy Irvin and Youngblood.
That's just the tip of iceberg. Holt is back in St. Louis this week in preparation for his work as a color analyst on the team's preseason broadcasts. He joins another former Ram, Hall of Fame running back
Marshall Faulk
, in the booth for those duties.
Fisher's open-door policy should come as no surprise given his experience in the league. He's entering his 28th year coaching in the NFL and his 18th as a head coach.
Surrounded by a veteran staff with plenty of experience of its own, Fisher is undeniably comfortable in his own skin. The paranoia that can sometimes accompany first-time head coaches has long since evaporated and Fisher clearly views the opportunity to bring in any former player with wisdom to share as a positive for a team that again figures to be one of the youngest in the league.
"It feels good to be back, it feels good to be welcome and Coach Fisher gets it," Holt said. "He welcomes us. He knows the value and the importance of the guys talking to veteran guys who have been there, done it and done it at a high level because you can gain so much from that as a player. I'm thankful that I'm able to come back and coach Fisher is an excellent coach who understands the game, understands what it takes to improve his roster and he's allowing us to help out."

NFC WEST SCOREBOARD
Friday, 8/22
Saturday, 8/23
Sunday, 8/24