Of course not.
But the 49ers' last great quarterback, Steve Young, used the notion to illustrate another alleged absurdity -- the idea San Francisco should commit to a spread passing game as its primary offense because quarterback Alex Smith seems more comfortable that way.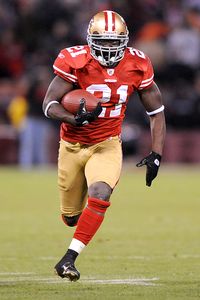 Kirby Lee/US Presswire
If the 49ers switch to a spread offense, they might as well trade running back Frank Gore, according to former quarterback Steve Young.
"It's great, it's great," Young said of the new-look 49ers offense, "but Frank Gore needs to be traded. You can't run the spread with Frank Gore being effective. He's not the guy that is going to catch the ball (like) Marshall Faulk and slash and burn (like) Joseph Addai and different guys who have thrived in the spread."
Young made the comments during his latest visit with Ralph Barbieri and Tom Tolbert on KNBR. He addressed the subject a week ago as well.
Why can't the 49ers have it both ways? Why can't they spread the field with multiple receivers, including their speedy tight ends, and still get production from Gore?
"Frank Gore is an All-Pro running back in a pro formation," Young told KNBR. "There are a lot of ways to skin the cat. And so if we're going to have to run the spread to really be successful and Frank is going to be in the game, then Frank is going to have to first of all suck it up a little bit and decide, 'Look, I'm going to have to change my game and I'm going to have to do some different things. But for the good of everybody, this is what is going to happen, and then I'm going to get mine when I get mine. I don't know how it is going to happen, but I'll wait around for it.' "
Young sounded skeptical.
"If that is how we're going to be successful for the next half-a-decade, then that is how we can kind of get to the promised land of some playoff time, then let's go all in," Young continued. "But that is what the spread does to you. You have to go all in. But I do not believe that Alex needs to have the spread to be successful. If he continues to get better and deal with pro defenses and make plays, then there's no reason why in an offseason we can't take 10,000 snaps from center and figure out a way to get really comfortable with that and then break it out next year and be a more dynamic offense."
I agree completely. Against the Jaguars in Week 12, the 49ers averaged 2.6 yards per carry on nine rushes and 4.5 yards per pass on 26 attempts from their preferred "spread" personnel group featuring Gore, Michael Crabtree, Josh Morgan, Vernon Davis and Delanie Walker. They used this grouping on 20 of 22 first-down snaps and 15 of 20 second-down snaps.
The 49ers ran only one play from their base offense and seven plays using two backs. Gore prefers running behind a fullback, but the offense has generally stagnated using that personnel. I'm very curious to see how the 49ers attack the Seahawks in Week 13. A power running game featuring Gore has worked well in the past.
"What offense do you run?" Young asked. "I think you can fiddle around with the spread, but especially with the tight end, if you are going to include the tight end, I think that you are going to have to work at trying to find sets that allow Frank to run from the I a little bit, a pro set, and find other places to get them the football and Alex to get comfortable. You can see if you blur your eyes how this might become something pretty cool."
49ers then and now
The chart shows the 49ers' personnel use on first and second downs against Seattle in Week 2 and against Jacksonville in Week 12. The team went away from its base offense featuring fullback Moran Norris as a lead blocker for Frank Gore.