Competing in NFC West starts with O-line
October, 18, 2013
10/18/13
3:15
AM ET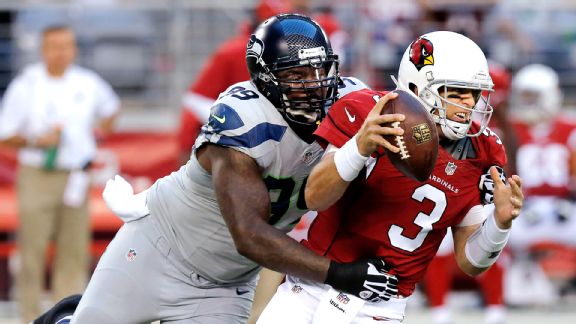 AP Photo/Ross D. FranklinThe Arizona offensive line allowed Carson Palmer to be sacked seven times on Thursday.
GLENDALE, Ariz. -- Maybe now Bruce Arians sees the dominance in Seattle and San Francisco that everyone else has talked about.
Before he took over as Cardinals coach, Arians had the bravado of a man trying to revive a lifeless franchise. Upon signing quarterback
Carson Palmer
, Arians said the Cardinals' quarterback room "is as strong as any in the National Football League." Upon signing running back
Rashard Mendenhall
, Arians said he could "carry a team to a Super Bowl." At least twice, Arians called former left tackle
Levi Brown
"elite."
And then in August, in the middle of training camp, Arians questioned the well-documented success of his new NFC West rivals.
"I don't see the dominance that everybody else talks about," he said. "One of those teams may be. It still has to be played on Sunday."
After a week that started with a 32-20 loss at San Francisco on Sunday and ended with a
34-22 defeat
at the hands of Seattle on Thursday, Arians saw first-hand that the top of the division is good. Very good.
But, more so, he found out how far his team has to go to be on their level.
There are parts of this Cardinals team that exude dominance. The defense has regularly flexed its muscle and did so again Thursday, slowing Seattle to 135 yards on the ground -- its second-lowest output this season -- and holding
Russell Wilson
to his third-worst passing outing of the year in terms of QBR. The defense created 10 of the Cardinals' 22 points, setting the offense up at the Seattle 3- and 15-yard-lines after creating turnovers. The first led to a touchdown and the second a field goal.
But while the defense was doing its part, the offense continued to sputter.
For the second consecutive game, the Cardinals had an NFC West foe within striking distance but couldn't find a way to overtake it. They're like a song on repeat that gets louder each time it plays. The issues at hand aren't anything new -- interceptions and an inability to protect Palmer or run the ball -- but they're prohibiting Arizona from making a legitimate run at the NFC West.
Fix them and the Cardinals aren't 3-4 with Atlanta coming to the desert in 10 days. But how do you fix them?
After a 5-11 season in 2012, the Cardinals thought a new coach, new offense, new quarterback and a (mostly) new offensive line would solve at least some of the problems. But the rebuilding process has been slow, and this season is already looking a lot like the last.
Fixing this team is easier said than done, but it starts and ends with the offensive line.
[+] Enlarge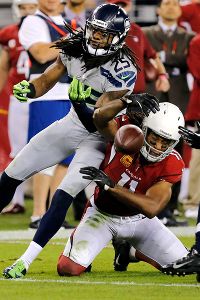 AP Photo/Ross D. FranklinLarry Fitzgerald was targeted just five times, and finished with two catches for 17 yards.
The Cardinals are struggling with simple football. They haven't been dominating the line of scrimmage, which prevents them from establishing a run game. If the Cardinals could run the ball it would spread the defense and water down the pass rush, which means left tackle
Bradley Sowell
wouldn't have been dealing with the swell of
Chris Clemons
,
Cliff Avril
and
Bruce Irvin
coming in waves Thursday. It would also give Palmer more time to throw and make better decisions.
It's like dominos. If the men up front can't establish themselves at the line of scrimmage, the whole offense begins to crumble. Thursday, Palmer was getting hit early in the first quarter. It ended seven sacks later. In early October, the Cardinals thought a change at left tackle would be the answer. They traded Brown and moved Sowell in as starter. General manager Steve Keim predicted Sowell would take his lumps, but nobody expected him to struggle this mightily.
"I don't know if they're figuring me out or whatever, (but) you get into third-and-long all game, you get into the 2-minute drill in the middle of the third quarter, and it's one-on-one battle," Sowell said. "They don't honor the run, it's one-on-one battles.
"We're passing every play, I've just got to buckle down and do a little bit better job."
Palmer continues to force balls into holes, and twice Thursday he turned receivers into defensive backs. Palmer's first pick, with Arizona down 7-0, derailed a drive in the first quarter that had already picked up 24 yards, including a third-down conversion. His second, with the Cards down 24-13, did almost the exact same thing. But when the protection breaks down, Palmer isn't able to make plays on the run.
Mendenhall was supposed to be the veteran running back that gave the Cardinals a reliable option they haven't had in the past. As the season has worn on, the running game has shown glimpses of potential, but 30 yards on 18 carries Thursday isn't enough in this league.
Blame has been put on the new offense installed by Arians. It's too complex. The playbook is too big. It has too many formations. And while there are still instances of players, especially receivers, looking like they don't know where to line up seven weeks into the season, the scheme isn't to blame.
In the glimpses we've seen, Arians' offense can look like the well-oiled machine it was in Pittsburgh and Indianapolis. Palmer has made the plays. But like everything that's built, it needs a foundation. And for the Cardinals, that's the offensive line.
When the line improves, the offense will begin to build. Until then, however, the top of the NFC West will seem as far away as the top of a skyscraper.