Rams still have long road to top of division
December, 1, 2013
12/01/13
11:30
PM ET
SAN FRANCISCO -- The view from the bottom of the NFC West Division is nothing new to the
St. Louis Rams
.
Looking up at some combination of Arizona, Seattle and San Francisco has become a fall tradition in St. Louis, a tradition being upheld by the 2013 edition of the team. After Sunday's 23-13 loss to the Niners, St. Louis now sits two games behind the Cardinals just to get out of the basement, let alone the six-loss differential with the first-place Seahawks.
Last season's Rams centered their progress on the foundation of improvement within the division after they went 4-1-1 and left teams with plenty of bumps and bruises along the way.
[+] Enlarge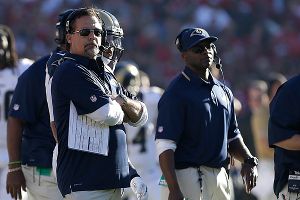 AP Photo/Tony AvelarJeff Fisher's Rams have made strides, but continue to struggle in one of the NFL's toughest divisions.
But Sunday's loss to the Niners wasn't really all that close as San Francisco dispatched the Rams in rather workmanlike fashion behind a dominant defense and an opportunistic offense.
The loss raises the perfectly legitimate question of just how much focus the Rams need in the binoculars to see how far they must travel to be a contender in perhaps the league's toughest division?
"Well, I think we've got to look at this game and see what went right, but I think right now clearly Seattle is the team to beat in our division, and that's a really good football team out there (the Niners), so yeah we've got a ways to go," coach Jeff Fisher said.
Not a whole lot went right for the Rams in their rematch with the Niners. They mustered 312 yards of total offense, but 92 came on the final drive when the Niners had backed off many of their starters.
The Rams' defense, which had been creating big plays in the team's recent wins, only found ways to allow some while helping the Niners with silly penalties. The Rams finished with 11 infractions for a whopping 105 yards.
The running game, the centerpiece of the Rams' recent success, managed 114 yards with a 4.4 yards per carry average, but couldn't get revved early in the game to create offensive balance.
"We went into the ball game knowing that it was going to be a slug-out, kind of physical game up front," Fisher said. "We liked to think we could carry on what we've been doing over the past couple weeks, but for some reason we didn't match up well against them today."
The truth might actually be that the Rams don't match up that well with the Niners on most days, at least not yet. Despite plenty of evidence to the contrary in 2012 when the Rams managed to go 1-0-1 against the Niners and outscored them by three over 10 hard-fought quarters, they didn't come anywhere near that in two meetings this season.
This season, the Rams lost both games in rather convincing fashion as they were outscored by a total of 34 points and outgained by 208 total yards.
After Sunday's loss, the Rams didn't have the shame they had from the 35-11 defeat in the first meeting, but it did drop them to 1-3 against division foes with two road games to play.
"Any loss you feel (bad), but I would say the first one was an embarrassment and this one was kind of like 'We just didn't get it done at the end of the day,'" defensive tackle
Kendall Langford
said.
The first loss to the Niners was probably the team's rock bottom, the game that spurred plenty of in-house changes on both sides of the ball. Sunday's loss wasn't as bad, which is at least one positive to take from a game otherwise devoid of glaring ones.
"Not today," middle linebacker
James Laurinaitis
said. "In that game there today, I didn't think the couple scores that they beat us by was a resemblance of kind of that gap. It's still, 'how do we play against Arizona? How do we play against Seattle?' Then we'll know. We'll know then after those games.
"After that Thursday night game, I felt extremely embarrassed about the performance. This game, I thought our front seven played pretty well, our DBs were out there flying around trying to make some plays. But we just couldn't come up with the plays. Unfortunately, they did. You've got to tip your cap to them."
So if the Rams went from embarrassed to not quite good enough, how far are they from consistently contending with established powers like the Niners and Seahawks?
Maybe not as far as they were in September, but still not close enough.