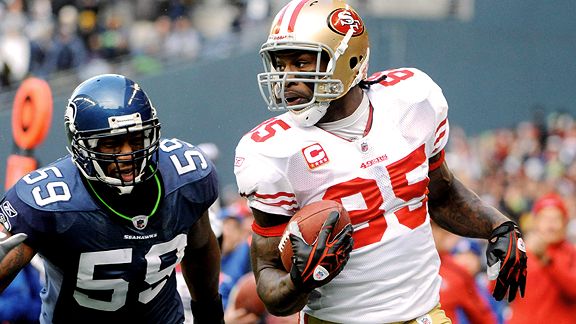 Kirby Lee/Image of Sport-US PRESSWIRE
NFC West blogger Mike Sando correctly chose 49ers wide receiver Vernon Davis as a best-kept secret in 2009, but how did he fare with his other predictions?The question was simple: I've got a column to write for Wednesday. What should it be about?
"Now that the football season is officially over," Primeau1203 wrote, "possibly revisiting preseason predictions for team expectations, player expectations, breakout players, and whatever else was prognosticated before things got going."
I liked it.
The NFC bloggers fared admirably back in July when identifying "breakout players" for their divisions. I went with the Cardinals' Dominique Rodgers-Cromartie, who earned a Pro Bowl berth in his second NFL season and first as a full-time starter.
We hit a similar theme in August, providing feature stories on players who could break out with strong performances. While I wasn't totally off-base in profiling 49ers receiver Josh Morgan, teammate Vernon Davis would have made for a better choice. I just wasn't sure the 49ers would feature Davis so much as a receiver because they had previously needed him to help in pass protection. I also wasn't sure whether Davis would rise to the challenge if the 49ers did feature him, but I did call him the "best-kept secret" on the 49ers (more below).
As for Morgan, he did increase his reception total from 20 in 2008 to 52 last season. But his yards per reception plummeted from 16.0 to 10.1 and his touchdown total held at three. As much as the increased reception totals qualify as breaking out, it just didn't feel that way.
More broadly, Primeau1203's suggestion sent me back through our season preview pages for the Cardinals, 49ers, Seahawks and Rams.
I'll revisit my team-by- team choices for best developments during camp, best additions in free agency, best veterans without a Pro Bowl and best-kept secrets, providing updated thoughts at the end of each category group.
Best developments during camp
Cardinals: "Second-year defensive end Calais Campbell appeared up to the challenge of replacing productive starter Antonio Smith, who signed with the Texans. The 6-foot-8, 290-pounder has shown an ability to play the run and the pass."
49ers: "Adam Snyder exceeded expectations at right tackle, a position the 49ers badly needed to stabilize this offseason. Snyder's toughness and attitude fit well with the 49ers' preferred offensive identity."

HasselbeckSeahawks: "Quarterback Matt Hasselbeck held up physically and made it through two exhibition games without a word from his formerly problematic back. Injury-related questions annoy Hasselbeck. He feels fine and thinks injury concerns are overrated."
Rams: "Receiver Laurent Robinson, acquired from the Falcons, showed signs of filling a massive void at receiver. He has gotten deep a couple of times in preseason."
My thoughts after the season: Campbell had 7.0 sacks and Robinson was easily the Rams' best receiver before suffering a season-ending injury. Hasselbeck's back held up fine, but the rest of his body, including his ribs and throwing shoulder, didn't fare so well. Injury concerns regarding Hasselbeck were not overrated, in other words. In San Francisco, Snyder fared OK, but the 49ers do need to address that position. All in all, I could have appeared a lot more foolish.
Best additions in free agency

McFaddenCardinals: "Cornerback Bryant McFadden. His physical style should complement Dominique Rodgers-Cromartie's pure cover skills. McFadden also brings more of the Pittsburgh mentality Cardinals coach Ken Whisenhunt has sought to instill."
49ers: "Fullback Moran Norris. New offensive coordinator Jimmy Raye needed a traditional fullback to run his offense. Bringing back Norris made Frank Gore a happy man. Gore thinks he can approach or exceed his career-best numbers from 2006."
Seahawks: "Ken Lucas from Carolina. The veteran cornerback's value to Seattle has grown significantly now that a back injury has sidelined Pro Bowl corner Marcus Trufant. Lucas gives the Seahawks' undersized secondary needed size."
Rams: "Center Jason Brown. The Rams badly needed an anchor for their offensive line. Brown seems like a strong leader. He has unusual size for a center."
My thoughts after the season: These picks were easier than they might appear because teams signed relatively few high-profile unrestricted free agents from other teams. The Cardinals signed only two, McFadden and fullback Jason Wright. Even if you view McFadden as a disappointment, he was still the best addition in free agency based on playing time alone. The 49ers used Norris less than expected, transitioning away from their run-oriented intentions. But Brandon Jones, Demetric Evans, Marques Harris and Marvel Smith were the only other UFA additions. For Seattle, Lucas played quite a bit while Trufant was away, although T.J. Houshmandzadeh might have been a better choice. It's tough to question Brown's selection for the Rams. He had a strong year.
Best veterans without a Pro Bowl
Cardinals: Karlos Dansby

Witherspoon49ers: Justin Smith
Seahawks: Leroy Hill
Rams: Will Witherspoon
My thoughts after the season: Dansby was a good choice. Smith earned a Pro Bowl berth as an alternate after another strong season. Injuries knocked out Hill. Seahawks teammate Brandon Mebane probably would have been a better choice. I whiffed on linebacker Witherspoon. He was terrific during training camp practices, only to disappear during the season. The Rams traded him to the Eagles and Witherspoon made an immediate impact. I'm just not sure why he never factored in St. Louis.
Best-kept secrets

WarnerCardinals: "Quarterback Kurt Warner, although considered an injury risk, owns the seventh-longest starting streak among active quarterbacks, counting playoffs. He hasn't missed a game to injury since 2005."
49ers: "Tight end Vernon Davis, though heavily criticized as an erratic player, was an alternate to the Pro Bowl last season. He's a sensational blocker. Increased opportunities in the passing game should pump up his numbers."
Seahawks: "The Seahawks ran a rugged training camp. They didn't hit as much as the Rams or 49ers, but new coach Jim Mora worked them harder than players anticipated. Mora's own obsession with fitness made conditioning a higher priority this season."
Rams: "The Rams had the highest-rated projected starting offensive line in the division using 'Madden 10' player ratings (with rookie Jason Smith in the lineup). The group hasn't worked together enough to validate such a rating, but some of the long-term building blocks appear to be in place."
My thoughts after the season: The first two held up quite well. Warner started 15 games and was at his best in the first round of the playoffs. Davis did indeed pump up his numbers. The Seahawks might have been in good shape from a conditioning standpoint, but they still suffered quite a few injuries. They also faded badly late in the season, rendering my best-kept secret pretty much irrelevant. I'll stand by the note on the Rams' offensive line to the extent that the line avoided injuries. The running game was productive. The line simply ran out of healthy players late in the season.
---
Arizona Cardinals

Consensus ESPN.com predicted division finish: First
Actual division finish: First
What Sando said then: "The Cardinals need more consistency on defense and a stronger commitment to the running game. They also need Kurt Warner to defy age once again."
Dissenting view: Seth Wickersham predicted a fourth-place finish for Arizona. "Too many breaks went Arizona's way last season," he wrote. "Remember, this team is coming off a 9-7 performance, lost talent on the coaching staff and is depending on a 38-year-old future Hall of Fame QB to work magic."
My thoughts now: The Cardinals did become more consistent defensively until the playoffs, when it mattered most. They did show a stronger commitment to the running game. Warner did defy age once again, missing only one game. Arizona was better on the road than I anticipated, but this prediction held up nicely.
Consensus ESPN.com predicted division finish: Third
Actual division finish: Second
What Sando said then: "The 49ers can win this division if Shaun Hill approximates his 2008 passer rating (87.5), but it'll be tough if Kurt Warner or Matt Hasselbeck stays healthy. Not sure if the 49ers can score enough points."
Dissenting view: Bill Williamson predicted a first-place finish for San Francisco. "Surprise. I've liked this team for a couple of seasons. I think Mike Singletary is going to get a lot out of this team this season. It's a winnable division and I think the young talent in San Francisco is going to come together."
My thoughts now: I thought the 49ers would finish 8-8 or possibly 9-7, and they were 8-8. But I think Williamson was right-on in predicting good things for the 49ers' young talent. Michael Crabtree was more of a contributor than expected after the contract dispute. Davis exceeded outside expectations. Chilo Rachal finished the season on a higher note after struggling early. Dashon Goldson justified the team's decision to move him into the lineup at free safety.
Consensus ESPN.com predicted division finish: Second
Actual division finish: Third
What Sando said then: "Matt Hasselbeck is looking good and building a rapport with T.J. Houshmandzadeh and John Carlson. Injuries on the offensive line could send this team south in the standings, however."
Dissenting view: Jeffri Chadiha predicted a third-place finish for Seattle, lower than any other ESPN.com prediction for the Seahawks. "They'll be better with a healthy Matt Hasselbeck returning this season," he wrote. "But the Seahawks still have too many other questions to consider them contenders."
My thoughts now: Injuries along the offensive line did indeed send the Seahawks south in the standings. And Chadiha was right in noting that the team had too many questions throughout the roster. I thought the offense would gain momentum late in the season. The opposite was true and that contributed significantly to coach Jim Mora's firing after the season. The Seahawks were worse than I expected, for sure.
Consensus ESPN.com predicted division finish: Fourth
Actual division finish: Fourth
What Sando said then: "It's tough finding more than four or five likely victories on the Rams' schedule. They open with three of their first four on the road, circumstances hardly conducive to Marc Bulger's reviving his career."
Dissenting view: Wickersham was the only ESPN.com contributor to foresee anything higher than a last-place finish for the Rams. He picked them third and wrote, "A talented front seven coupled with Marc Bulger's knowing he's gone if he doesn't produce this year will put the Rams in the 6-8 win category."
My thoughts now: Four or five victories? The Rams have five over their last three seasons. They have gone from 3-13 to 2-14 to 1-15 during that stretch. I thought they were improving until about midseason. The Rams, like the Seahawks, were worse than expected.
---
Finally, I went back into our
preseason predictions
for division winners, conference winners, MVP, coach of the year and more.
Yikes.
Jeremy Green of Scouts Inc. was the only one of 16 forecasters to pick the Saints to even win the NFC South.
I hit on three of four division winners and one of two wild-card teams in the AFC. The NFC picks weren't quite so accurate. Arizona was the only division winner I predicted right in the conference. I did hit one of two wild-card teams right (Eagles). And I could have done worse than predicting Brian Orakpo and Mark Sanchez as the defensive and offensive rookies of the year, respectively.
But my Super Bowl pick -- Patriots over Packers -- doesn't seem so good now.
Oh, well.
There's always next season.