Should 49ers make coaching change?
October, 27, 2010
10/27/10
4:05
PM ET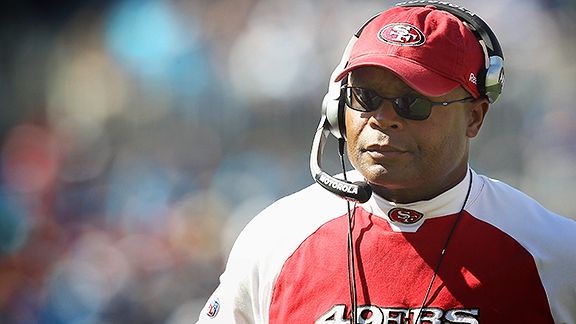 Streeter Lecka/Getty ImagesThe 49ers' disappointing 1-6 record has prompted calls for coach Mike Singletary to be replaced.
Fire the coach. Bench the quarterback. Overhaul the roster.
The
San Francisco 49ers
have tried all these things at various points over the last five-plus seasons. They might wind up doing all of them again if they continue down the path they have taken to the NFL's worst record entering Week 8. But why wait til the offseason? Why not get a jump on the coaching front at least?
The 49ers have a bye in Week 9 -- precisely the point during the 2008 season when the organization planned to fire then-coach Mike Nolan. (The 49ers moved up the date one game after word leaked that a move could be imminent.)
That 49ers team went from 2-5 under Nolan to 5-4 over the final nine games -- good for a 7-9 record that salvaged some respectability.
The current 49ers, at 1-6, are the only team in the league with more than five defeats. They've had an eventful season, to say the least.
So far, the 49ers have
dumped
unhappy 2008 first-round draft choice
Kentwan Balmer
, watched their backup running back
retire at age 23
,
negotiated a truce
between offensive starters
Vernon Davis
and
Michael Crabtree
, called
an emergency late-night meeting
following the first game,
fired their offensive coordinator
,
lost their starting quarterback
,
demoted their second-team quarterback
and even
pushed back plans
for a long-awaited new stadium. All that, and the season is not yet half over.
Time for Singletary to go?
"Can't say that I am a big Singletary fan," Matt Williamson of Scouts Inc. said. "To me, he seems like the ideal college coach: rah-rah guy, surely a great recruiter, big name. I don't how well that works at this level. Still, what do you gain by replacing him right now? I would give him the rest of the season, then probably make the change."
The evidence seems to support that assessment.
Three question to consider when mulling whether an in-season change makes sense for San Francisco: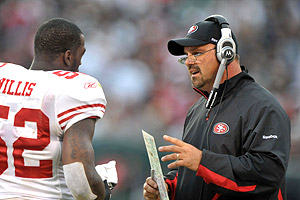 Kirby Lee/Image of Sport/US PresswireIf the 49ers decided to make a change at head coach, defensive coordinator Greg Manusky would be a logical choice.
1. Who becomes interim coach?
Defensive coordinator
Greg Manusky
stands out as the obvious choice. He was a consideration when the 49ers formulated contingency plans before Nolan's dismissal.
Manusky is a former NFL player, so he understands the game from both sides. His experience as a coordinator sets him apart from Singletary and makes him more qualified for certain aspects of the top job.
Burdening Manusky with broader duties would take away from his ability to coordinate the defense, however, and that could be a concern. These are tough times for the 49ers and Manusky would suddenly find himself thrust into a vastly different role as the face of the organization.
2. What changes would an interim coach make?
The 49ers already endured change when Singletary fired offensive coordinator Jimmy Raye.
That move empowered quarterbacks coach Mike Johnson to become the new coordinator. Johnson's background with
Troy Smith
in Baltimore surely contributed to the 49ers' decision to name Smith their starting quarterback once
Alex Smith
suffered an injury.
Replacing Singletary during the season could lead the 49ers down another path at quarterback. The interim coach might have his own ideas. The 49ers spent all offseason preaching the benefits of continuity. Changing head coaches during the season works against that principle.
3. Has Singletary lost the team?
The organization made the change from Nolan to Singletary because, as team president Jed York said, the 49ers needed more intensity. Singletary has said the 49ers need to play smarter, and that is true.
While some players have probably tuned out Singletary, none has appeared to quit on him. The 49ers have continued to play hard-fought games even though the defeats have mounted.
The 49ers aren't getting blown out. They're competing. Their last three defeats came by a combined eight points. They have a 1-3 record to show for outscoring their last four opponents by a total of one point.
In-season changes seem more appropriate when a team appears listless and fails to compete. That's why it's important for the 49ers to perform reasonably well against the
Denver Broncos
on Sunday. A lifeless performance would validate calls for immediate change.