We've taken tailgating seriously here on the NFC West blog for some time.
The guys at tailgate32 are taking it to another level.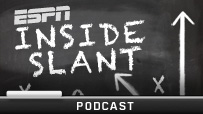 Kevin Seifert and I invited them onto the latest "Inside Slant"

podcast.
The Trupiano brothers, John and Mike, are part of a five-man crew on a mission: tailgating for a game at every NFL stadium this season.
They'll be in St. Louis (Oct. 4, vs. Arizona), Arizona (Oct. 14, vs. Buffalo) San Francisco (Oct. 18, vs. Seattle) and Seattle (Nov. 4, vs. Minnesota) over a one-month period. Treat them well if you see them. I hope to track them down if our schedules match up.
Other podcast subjects this week:
how the CBA is changing the preseason;

Maurice Jones-Drew's holdout;

the conflict between new rules for player safety and the unwritten ones in NFL locker rooms, with an NFC West mention.
Thanks to producer Drew Brooks for putting it all together. And if there's something you'd like to see discussed, please do share.