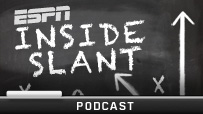 An NFL team should never evaluate a long-term investment after two games unless the evaluation makes the team look really, really smart.
This one qualifies: Cortland Finnegan to the St. Louis Rams as the centerpiece of the team's plan in free agency.
Finnegan has two interceptions, one returned for a touchdown, in his first two games with the team. In Week 2, he baited the Washington Redskins' Josh Morgan into a killer penalty in the final two minutes, living up to his reputation for edgy play. Turns out Finnegan had taunted Morgan a few years earlier, when both were with different teams.
Kevin Seifert and I discussed Finnegan in the context of the NFL's officiating situation, among other subjects, during our latest "Inside Slant" podcast.
Hope you enjoy.