Inside Slant: How NFL kicker can dominate
October, 3, 2012
10/03/12
4:03
PM ET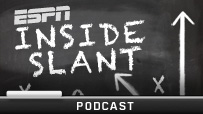 As
promised
, Kevin Seifert and I went into detail during the latest
"Inside Slant" podcast
regarding the game-changing value kicker Greg Zuerlein is providing the St. Louis Rams.
This was more than a conversation about kickers. With analysis from Dean Oliver and John McTigue of ESPN Stats & Information reveal, we demonstrated the profound effects a kicker can have if he can deliver on field-goal tries from up to 60 yards, as Zuerlein has done.
The flexibility Zuerlein has afforded the Rams accounts for more than half the team's roughly 10-point improvement in net point differential this season, according to Oliver's calculations. Zuerlein has given the Rams about 4.4 expected points per game over an average play, equating to 17 points this season. No NFL team's kicking game added more than 1.7 expected points per game last season.
The first chart, courtesy of McTigue, compares the current Rams to the 2011 pre-Zuerlein version in terms of fourth-down decision-making from the opponents' 42- to 32-yard lines.
Of course, we don't know whether Zuerlein will continue making long kicks, but he has been remarkably consistent so far. Zuerlein has made all 12 tries, including five from 40-49 yards and three from longer. He converted from 60, 58, 48 and 24 yards during a 19-13 victory over Seattle in Week 4. He made long kicks consistently during training camp.
The second chart, also from McTigue, compares the 2012 Rams against other NFL teams based on their fourth-down decision making from the opponents' 42- to 32-yard lines.
The Rams have attempted three field goals, making all three. The rest of the league has punted 40 times, attempted 24 field goals and gone for a first down 13 times.
The final chart compares the Rams' 2011 decision-making in these situations to league averages for 2011. The Rams punted seven times, attempted two field goals and went for a first down 10 times, gaining three first downs.
In all cases, game situations could compel a team to pass up a field goal even if the team's kicker could convert from long range. For example, a team trailing by four points with 10 seconds left wouldn't attempt a field goal. There were 120 field goal tries and 120 decisions to go for it last season. That is why the 29.7 percent figure appears twice (not a typo, in other words).