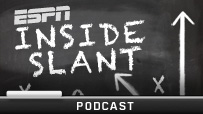 Aldon Smith needs three sacks to tie Michael Strahan's single-season record of 22.5 in one season. Breaking the record would enhance Smith's credentials for various postseason honors. But as Kevin Seifert pointed out in our latest "Inside Slant" podcast

, Jared Allen commanded exactly zero MVP votes after finishing last season with 22 sacks.
Quarterbacks have won the award for five years running. That probably will happen again even though Smith, J.J. Watt, Von Miller, Adrian Peterson and other non-quarterbacks are producing at the highest levels for players at their positions.
Kevin and I used the podcast this week to expand on the subject. Dean Oliver, ESPN's director of production analytics, explained how tough it is for a running back to affect games as much as quarterbacks do. He noted that a 100-yard game on 20 attempts would be very good for a running back, but horrible for a quarterback. Even the best running games aren't as efficient as passing games. For example, Peterson gives the Minnesota Vikings a tremendous rushing attack, but he cannot give them a tremendous offense the way a top quarterback could.