Wednesday, December 5, 2012
Inside Slant: So much Green Bay whining?

---
By Mike Sando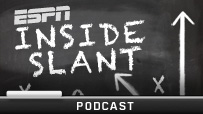 Football historians, revisionist and otherwise, might enjoy the latest "Inside Slant" podcast

examining whether how the "simultaneous catch" ruling from Week 3 could affect NFL playoff seeding.

My podcast teammate, Kevin Seifert, ruffled some Seattle-area feathers with a related piece some cast as so much Green Bay whining. I pressed those feathers back into place with some facts while explaining why football fans on the West Coast have a hard time stomaching such things.

Also in this podcast: a look at Robert Griffin III's success against single-high safety looks in light of charting from Doug Clawson from ESPN Stats & Information.


---