Wednesday, December 26, 2012
Inside Slant: Offensive Rookie of Year

---
By Mike Sando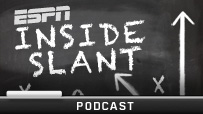 Andrew Luck and Robert Griffin III were favorites to become offensive rookie of the year in 2012.

The online sportsbook Bovada gave odds for Luck, Griffin and 15 other rookies back on Aug. 12. Russell Wilson wasn't one of the other 15. The Seattle Seahawks hadn't even named him their starter.

Wilson appears as one of the favorites this week. He's at 11-4. That ranks behind Luck (5-7) and Griffin (7-4), but Wilson is obviously gaining as Week 17 approaches. He has eight total touchdowns over the past two weeks for a team that averaging 50 points per game over its last three.

So, should it be Luck? Wilson? RG III?

Kevin Seifert and I dedicated our latest "Inside Slant" podcast

to the subject Wednesday.

The chart shows stats for all three quarterbacks through Week 16.

Luck ranked third among all NFL players in Total QBR through Week 11. He was at 75.6, behind only Tom Brady (81.6) and Peyton Manning (80.5). Luck had relatively modest traditional stats -- 12 touchdowns, 12 interceptions and a 77.2 NFL passer rating -- but he was a driving force behind his team's success.

Griffin was eighth at that point (70.7). Wilson was 18th (56.1).

The picture looks quite different in reverse.

Wilson leads the NFL in Total QBR since Week 6 and from every subsequent week to the present. He's coming off a four-touchdown game against San Francisco in which his QBR score (97.6) was the highest against the 49ers since 2008, the first year for which information is available. A week earlier, his score against Buffalo (99.3) was the highest in an NFL game this season.

Wilson has 28 total touchdowns, more than Luck or Griffin. He has increasingly carried Seattle's offense.

Griffin, meanwhile, has been steady from start to finish. He leads the league in QBR against the blitz and on passes traveling more than 20 yards past the line of scrimmage. While Luck and Wilson have already helped their teams clinch playoff berths, Griffin can join them with a victory in Week 17.

All three would be worthy candidates for the award in just about any year. Only one is likely to win.

Seifert and I offer our thoughts on the podcast. Hope you enjoy.

Side note: We also offer differing takes on how the Green Bay-Seattle game from Week 3 is affecting playoff seeding in the NFC. Basically, Seifert won't let it go.


---