NFC West:

2011 Camp Confidential NFC
August, 22, 2011
8/22/11
1:00
PM ET
EARTH CITY, Mo. -- Unfazed by the NFL lockout and energized by a new offense,
Sam Bradford
shatters perceptions of him as a young player scrambling to make up lost ground.
"We're going to push the ball down the field," the
St. Louis Rams
' second-year quarterback says with some excitement. "I think we're going to be aggressive."

Building steadily for the long term isn't the focus for Bradford and the Rams' new offensive coordinator, Josh McDaniels. They're living week to week, play to play.
It's a mindset change for Bradford and any quarterback transitioning away from a West Coast offense.
Kevin Kolb
is going through a similar adjustment after leaving Philadelphia for Arizona. Instead of honing a timing-based system designed to out-execute any defense, they're learning to change up their plan, sometimes dramatically, for each opponent. And they are reveling in the possibilities.
"We are not going to just keep the same stuff in from week to week and say, 'This is what we run, stop it,'" Bradford says. "We could come in and we could have 30 new plays in on Wednesday and they're all designed to attack what the defense's weakness is."
McDaniels retained portions of the offense Bradford learned as a rookie last season. The terminology for personnel groupings is largely the same. McDaniels also inherited most of the staff from former coordinator Pat Shurmur. But this will not be a 1-2-3 progression passing game to the degree it was last season. Bradford said he likes the changes in part because the new offense more closely resembles the one he ran at Oklahoma.
"Last year in the West Coast, you started in the same place every time, and no matter what the coverage is, you just kind of work through it and find the open guy," Bradford said. "This year, we still have progression plays where it is like that, but it's a lot more, 'OK, if the defense gives us 2, this is exactly what we want. We're going to work off the 'Mike' and we're going to high-low it and we're going to go right there. I really like that."
In another big change, Bradford will take over responsibility for making all of the pass-protection calls at the line of scrimmage. He previously leaned on his offensive line to make adjustments based on where specific defenders were lining up. That means Bradford, still only 23, will carry a heavier mental burden against a formidable schedule. The Rams play the Eagles,
New York Giants
,
Baltimore Ravens
,
Green Bay Packers
and
New Orleans Saints
among their first seven opponents. They'll find out quickly whether Bradford is ready for the new responsibilities.
"Giving it all to me, it's definitely a lot more, but at the same time, it almost makes it easier once you get everything figured out," he said, "because you know exactly what could happen with all the different scenarios."
THREE HOT ISSUES
[+] Enlarge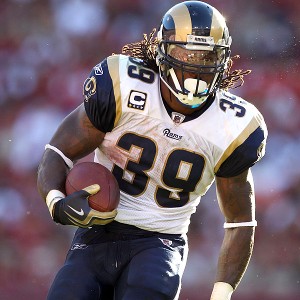 Ezra Shaw/Getty ImagesSteven Jackson's role will change in Josh McDaniels' one-back offense.
1. Steven Jackson's role.
The Rams' Pro Bowl running back has been an outspoken advocate for running behind a fullback in a traditional two-back offense. Jackson realized life would change as McDaniels installed what will be primarily a one-back system. He expects a less regimented running game and less reliance on pounding the ball between the tackles. More of his receptions will come by design instead of on checkdowns, flares and the like.
"This offense allows me to open my whole repertoire of talent and put on display the things I can do outside the tackles," Jackson said. "You don't have a fullback and I hate to lose
Mike Karney
, but at the same time, it allows me on a bigger stage to show my overall talent as a football player."
The Rams ran one-back offenses earlier in Jackson's career. He'll have to set up his blocks instead of relying on a fullback to clear the way. A basic play called "Big Jab" illustrates the differences. It's a strongside run masquerading as an inside-zone play to the weak side. The back must freeze the weakside linebacker with his eyes long enough for the offensive lineman to reach the second level.
"Things like that, you can't pick up on a live game, of course, but on the coaches' film, it makes a difference," Jackson said.
2. The thinking at wide receiver.
The Rams ran out of viable receiving options during their forgettable Week 17 defeat at Seattle last season. With an ascending young quarterback in place and multiple Rams receivers coming off injuries, this offseason seemed like a good time for the organization to invest heavily in a dynamic receiver.
Sidney Rice
was available, but the Rams didn't flinch when the division-rival Seahawks signed him to a five-year contract. The Rams signed
Mike Sims-Walker
to a one-year deal and went to camp with a mostly undistinguished group.
"A lot of people think we have to have some guy that runs 4.25 [in the 40-yard dash] and weighs 230 pounds and he's 6-foot-5," McDaniels said. "You don't have to have that guy. You can do it different ways and that is what we are going to try to do."
Danny Amendola
,
Brandon Gibson
, Sims-Walker,
Austin Pettis
and
Greg Salas
are heavy favorites to earn roster spots if healthy.
Mardy Gilyard
,
Donnie Avery
and
Danario Alexander
are fighting for one or two roster spots. None commands double-team attention or special game planning from opposing defensive coordinators.
Tight ends factor heavily into the Rams' plans for the passing game. The team envisions a "12" personnel grouping with
Lance Kendricks
and
Mike Hoomanawanui
at tight end with two wideouts and Jackson in the backfield. If teams stick with the base defense, the Rams expect Kendricks and Hoomanawanui to create coverage mismatches. If teams choose to play nickel, they can prepare to see a 6-foot-3, 240-pound running back coming their way. Either tight end could shift to fullback for another dimension.
3. Seeking to upgrade run defense.
The Rams shelled out top dollar for only one free agent this offseason. Safety
Quintin Mikell
, who broke into the NFL with Philadelphia when current Rams head coach Steve Spagnuolo ran the Eagles' secondary, brings a physical presence. The Rams are paying him $6.5 million per year because Spagnuolo pretty much had to have him.
[+] Enlarge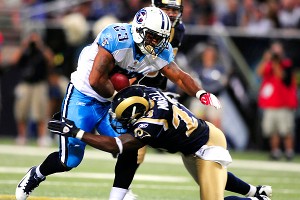 AP Photo/Jeff CurryThe Rams hope Quintin Mikell (27) can help improve the team's tackling in the secondary.
"I don't know if anyone else would be able to feel this or see this, and I can't remember when he was a rookie if he already had these mannerisms, but he plays the game like
Brian Dawkins
," Spagnuolo said. "His mannerisms, the way he's a knee-bender. He plays fast, he loves the game, he's matured."
Sitting in his office following a recent practice, Spagnuolo cued up a 2004 play he shows annually to defensive backs. Green Bay, facing first-and-goal from the Philadelphia 7-yard line in a 2004 game at Philadelphia, hands off to
Najeh Davenport
around the right side. One of the Packers' big tight ends engages No. 46 for the Eagles at the line of scrimmage. Before this year, Spagnuolo never revealed No. 46?s identity to his Rams players. It's Mikell, far lighter than his opponent, disengaging from the block and cutting down Davenport for a 1-yard loss."
"Boom, bang, bang, get out of here, and make the tackle," Spagnuolo says, taking on the voice of narrator. "I want to teach the smaller guys that size isn't a big deal, that it's about power and leverage, and if you run fast at 200 pounds and a 300-pounder is running slow, you can do that."
The Rams gave up too many long runs last season. They're expecting Mikell and fellow defensive newcomers
Justin Bannan
,
Daniel Muir
,
Ben Leber
and
Brady Poppinga
to upgrade that area.
BIGGEST SURPRISE
Gibson's development at receiver. The Rams have felt better about their restraint at receiver in part because Gibson, 24, showed up for camp ready to build on a 53-catch 2010 season. Gibson and the tough, steady Amendola have been the two best receivers in camp.
"Gibby has had a great camp," Bradford said. "He looks faster than last year. He looks more confident."
Gibson's 83-yard touchdown reception against Tennessee in the Rams' preseason game Saturday night was more than twice as long as any pass he's caught in a regular-season game.
"His route running has been great, he's picking up schemes, learning how to block and he's more of a complete receiver than he was," said Mikell, Gibson's former teammate in Philadelphia.
BIGGEST DISAPPOINTMENT
Jerome Murphy
's broken ankle.
Bradley Fletcher
and
Ron Bartell
arguably give St. Louis the best starting cornerback tandem in the division, at least until
Patrick Peterson
gets up to speed in Arizona. Depth is a concern after the Rams lost Murphy.
Al Harris
, 36, adds toughness and experience, but there isn't enough depth to comfortably weather another injury at the position. The Rams would be wise to monitor the waiver wire for cornerbacks and consider potential trade options as the regular season approaches.
[+] Enlarge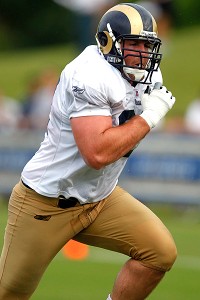 AP Photo/Jeff RobersonThe Rams expect Harvey Dahl to give the offensive line more of an edge.
OBSERVATION DECK
The Rams added veteran right guard Harvey Dahl to upgrade their talent and give their offensive line an edge. NFC West fans should remember Dahl. While with Atlanta, he enraged then-49ers coach Mike Singletary to such a degree that Singletary got into a verbal sparring match with Dahl during a game. The Rams would have reason to celebrate if Dahl's mean streak rubbed off on third-year right tackle Jason Smith.
Dahl's reputation as a brawler created an image in my mind of a player supplementing average talent with toughness. Dahl is better than that physically. He looks more like a tackle than a guard, standing 6-foot-5 and weighing about 305 pounds. He has thicker legs than Smith and has showed good athleticism in camp. McDaniels favors big guards.
Veteran newcomers have transformed the Rams from one of the NFL's youngest teams to one of the older ones, based on average age. The team took advantage of a flooded market in free agency. Most veterans signed one-year deals without salary-cap ramifications beyond this season. With so many veterans taking one-year deals around the league, a similar market could await next offseason. Teams like the Rams can have it both ways. They're relying most heavily on a young core featuring Bradford, Smith, Rodger Saffold, James Laurinaitis, Chris Long, Robert Quinn, Fletcher and others. But they also have veteran depth.
Cadillac Williams and Jerious Norwood are giving Jackson something he hasn't had in the recent past: veteran backups who command respect through their accomplishments. Jackson: "Yeah, coming here, they had their hands full. I think between my mentality on the field and how I felt as a player about the organization and what I would like to see, I think I kind of showed them in a way without saying it, 'Go fill the other areas of need and I'll take care of the running back position. I can hold down the fort and when we feel comfortable enough, then go get another running back or two.' "
Laurinaitis is seeking to become more aggressive now that he has a fuller grasp of the defense entering his third season under Spagnuolo. ESPN credited him with four tackles for loss in 2009 and eight last season. Laurinaitis wants that number to climb. "We would rather have tough, physical play where you are attacking downhill than being assignment perfect every time," he said.
Long made an interesting observation about players the Rams have added in recent years. Several were coming off recent Super Bowl victories. Fred Robbins, Poppinga and Harris are three. Long: "I don't think that's an accident."
Quinn has a chance to play about 40 percent of the defensive snaps if all goes to plan. The Rams aren't counting on him for every-down production as long as veteran James Hall remains productive. Quinn couldn't have a better mentor. Hall, 34, still goes out to practice early for one-on-one work with retired defensive tackle La'Roi Glover.
Kendricks' addition through the draft raised questions in my mind about whether Hoomanawanui still figured prominently in the Rams' plans. He does. Bradford shot me an are-you-crazy look when I shared those thoughts with him at camp. "There is definitely a place for him," Bradford said.
Jackson's carries per game could fluctuate more in McDaniels' offense because so much of the plan hinges upon what the opposing defense offers. Jackson: "That is exactly what this will represent."
August, 11, 2011
8/11/11
1:00
PM ET
SANTA CLARA, Calif. -- The sights and sounds of the typical NFL training camp aren't quite the same with
Jim Harbaugh
running things for the
San Francisco 49ers
.
The digital timers commonly used to break practices into periods do not exist there. The air horns NFL teams traditionally fire to signal transitions between periods never sound. Staffers generally responsible for managing such things can focus their attention elsewhere.
Harbaugh tracks it all himself, keeping the time in his head, sometimes without even consulting a watch. The only whistle at practice belongs to him. Harbaugh blows it when he's ready for a new period to begin. If there's a bad snap or miscue, too bad. It's on to the next play. Corrections can wait until the end of practice.
The devices teams have traditionally used to ensure practices move along on schedule would actually make it tougher for Harbaugh to push the tempo to his liking. In interviews right after practice, Harbaugh sometimes comes off as distracted, as though his mind is racing through the two-minute scenarios that helped him earn the nickname "Captain Comeback" as a player. Practice ended 12 minutes early Wednesday.
"There is no wasted time," said left tackle
Joe Staley
, a first-round draft choice in 2007. "I think that is carrying over to the mindset. This isn't just fun. This is our job."
Players accustomed to two-hour camp breaks at midday under other coaches now scarcely have any down time at all. They're in the building by 6:30 each morning and out by 9:30 each night. They do not leave the premises in the interim.
There's no more whining to a wife or girlfriend over lunch about the rigors of camp. Cupcaking, as Harbaugh calls it.
"You are always thinking football," said tight end
Delanie Walker
, who has been with the team since 2006. "That is what we needed. We needed to think football because we have a young team and they don't understand that this league is tough and if you lose focus on what we have to accomplish, that can hurt you."
THREE HOT ISSUES
[+] Enlarge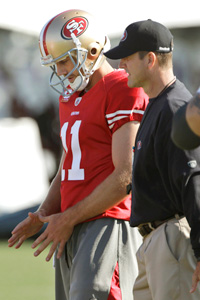 AP Photo/Paul SakumaCoach Jim Harbaugh elected to bring Alex Smith back as the starting QB despite his less-than-stellar track record.
1. Can Harbaugh fix Alex Smith?
It's a tantalizing question for those still hopeful Smith might develop into a viable starter. There's no doubt Harbaugh brings more offensive expertise to the job than his recent predecessors did. Smith has embraced learning from a coach with Harbaugh's understanding of the position. One veteran player said Smith never lost the locker room, in part because teammates knew the deck was stacked against him. "It's hard to describe what it's been like in the past as far as schematics go and how difficult it is to deal with, the situations we're put in as players," the player said. "I think with this new coaching staff, they want to put you in position to be successful. It's not just, 'We're going to run power because we're physical and we don't care if they have nine guys in the box.' Look at all the weapons we have, put them with our coaching staff and I think he's going to be productive." As always, though, it comes down to whether Smith can get it done during games. He's usually said the right things and taken the right approach during the offseason.
2. Why so many changes on defense?
The 49ers absorbed criticism early in free agency as players departed and the organization took a measured approach to lining up replacements. Defensive starters
Takeo Spikes
,
Aubrayo Franklin
,
Manny Lawson
and
Nate Clements
did not return. Another defensive starter,
Dashon Goldson
, lingered on the market before taking a one-year deal to return. Where was the urgency? It's helpful to remember the team's general manager, Trent Baalke, experienced firsthand the risks associated with aggressive free-agent spending while working for the
Washington Redskins
from 2001-04. And with a new defensive coordinator in Vic Fangio, priorities changed. Franklin was a pure two-gapping nose tackle. His replacement,
Isaac Sopoaga
, might be better suited for Fangio's slanting 3-4 scheme featuring fire-zone tactics in doses. The 49ers see the middle of their defense as even stronger following free agency. They love their depth at safety and are expecting a breakout year from
NaVorro Bowman
at inside linebacker next to
Patrick Willis
.
3. Can the 49ers 'buy in' yet again?
The 49ers are on their third head coach and seventh offensive coordinator since 2005. Most recent seasons have begun with fresh promise, followed by disappointment and even disillusionment. Here comes Harbaugh, full of energy, pumping up hopes once again. I wondered whether players would be too jaded to invest fully from the beginning. "It's not about Harbaugh getting me to buy in again," Pro Bowl tight end
Vernon Davis
said. "It's not about him. It's about the team wanting to win games. ... There is nothing anybody can do to get me to be involved. I am going to be involved whether they like it or not, because that is what I do. You go through adversity, but you have to keep believing."
BIGGEST SURPRISE
[+] Enlarge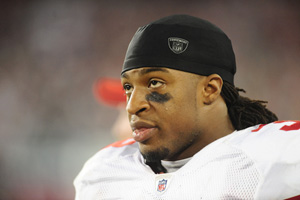 Mark J. Rebilas/US PresswireDashon Golson re-signed with the 49ers for a one-year deal after testing the free-agency waters.
Dashon Goldson's return.
The 49ers suddenly have options at safety after Goldson, a 2010 starter, returned on a one-year deal for $2 million. The situation played out perfectly for the team. San Francisco signed
Donte Whitner
and
Madieu Williams
in free agency while Goldson tested a soft market.
Reggie Smith
was having a good camp before suffering a knee injury that will keep him out for at least a couple of weeks. The team still has
Taylor Mays
as well, at least for now. Whitner (strong) and Goldson (free) project as the likely starters unless Reggie Smith can get healthy enough to make another run at the job before the season. Goldson has plenty of motivation entering a contract year. Whitner started quickly and wore down with Buffalo last season. The 49ers' offense can help him out by sustaining drives and giving the defense some rest.
BIGGEST DISAPPOINTMENT
Michael Crabtree's injury.
This marks the third lost offseason in three years for the player San Francisco drafted 10th overall in 2009. Crabtree missed camp and the first six regular-season weeks of his rookie season during a contract dispute. A neck injury prevented him from playing in a single exhibition game last summer. A foot injury has prevented Crabtree from practicing even once at camp this season. The 49ers protected themselves by signing
Braylon Edwards
to a one-year deal, but they need more in return from their investment in Crabtree.
OBSERVATION DECK
As much as the 49ers valued Spikes, they were ready to go with Bowman next to Willis on the inside. Bowman came on strong late last season, particularly in a Week 17 game against Arizona. The 49ers hope he can become a Jon Beason type. If that happens, they'll have one of the best inside linebacker combinations in the league.
Right guard Chilo Rachal has been inconsistent to this point in his career. His weight is down from the 330 range to about 310 and has dipped closer to 300 after practices. Has Rachal matured and become more serious about his craft? It's too early to say, but at least he reported to camp at a promising weight.
Increasing roster limits from 80 to 90 players has helped Harbaugh transition from college, where programs can bring 105 players to camp. It's common for Harbaugh to send the starting offense against the No. 2 defense on one field, with the backup offense and starting defense on another. That would be unusual in the NFL in the age of 80-man rosters.
In retrospect, it's pretty clear the 49ers were never serious about adding Nnamdi Asomugha, Chad Ochocinco or other big names in free agency. They've given great weight to dynamics within the locker room when deciding which players to pay handsomely.
Running back Frank Gore's brief holdout quickly became a non-story when the team promised to revisit his deal in good faith as the season progresses. Gore appeared in terrific spirits during my visit to camp. At one point during practice, Gore spotted ESPN analyst and former 49ers teammate Trent Dilfer standing near the sideline. He came over to greet Dilfer and then noticed Baalke, the GM, standing nearby. After embracing Dilfer, Gore turned to Baalke and extended a hand. They shook hands and shared a few laughs before Gore returned to his teammates. Gore, upon hearing adoring cries from a fan attending the same practice, broke away to hug her.
The 49ers are banking on a strong relationship between Harbaugh and Baalke. The two became close during the lockout. They are also competitors on the racquetball court, where Harbaugh's competitive edge comes through. Harbaugh has come back from 13-0 and 18-7 deficits to beat his GM. The coach typically begins his comebacks by dropping subtle comments designed to unnerve his opponent. He then changes up his approach, becoming less predictable. Consider it a metaphor for his coaching style. Gone are the days when lining up in a certain formation precipitated running a certain play.
The 49ers are fortunate Harbaugh agreed to retain defensive line coach Jim Tomsula from the previous staff. The bond between Tomsula and players at the position is uncommonly strong. Defensive end Ray McDonald re-signed without even testing free agency. The team made bringing back McDonald a priority, given the premium teams place on defensive linemen in the draft. Losing McDonald might have forced the team to more strongly consider drafting one early.
Edwards' addition at receiver gives the team needed size at the position while Crabtree is unavailable. "The first time I saw him work out here, I thought he was a tight end," safety Curtis Taylor said.
Rookie second-round choice Colin Kaepernick is getting high marks from Harbaugh to this point in camp. Kaepernick's mobility and arm strength stand out during practices. He also has a longer delivery, as advertised. I watched closely to see whether the delivery allowed defensive backs to jump pass routes more ably. That did not appear to be the case in practice. Kaepernick's lean frame made me wonder about his ability to take a hit to the legs. At Harbaugh's direction, quarterbacks are wearing braces on their left knees, which tend to be most vulnerable when right-handed quarterbacks deliver the ball.
Kaepernick will likely get on the field one way or another even if Smith remains the starter. There are no indications Kaepernick will start in Week 1, but Harbaugh isn't making any public declarations.
Fangio has been pushing first-round pick Aldon Smith hard in practice even though Smith flashed plenty of ability early in camp. Smith is grinding a bit while absorbing the defense. He seems to be taking Fangio's criticism in stride.
Harbaugh strongly emphasizes practicing within the context of situations, more so than I would have expected during the early stages of installing the playbook. Some fans attending a recent practice laughed when they saw punter Andy Lee take a snap from center and spike the ball to stop the clock. Count Harbaugh as one of the coaches, Bill Belichick among them, who favor sending on the punt team following third-down plays during two-minute situations when it's not clear whether the offense got a first down. If the offense gets a new set of downs, the punter spikes the ball. If not, the regular punt call remains.
It's not unusual for the 49ers' first-team offense to execute four or more two-minute drills in one day, up from one in the past. Harbaugh frames most practice reps within down, distance and time. Pro Bowl defensive end Justin Smith: "Things are a lot more detailed. Every coach at their position is pretty well near the top. Everything we've heard from them has been right on point."
The quote of camp so far came from another Smith, Alex, when asked about changes on offense: "Obviously, what we were doing wasn't working -- all of us, me included. That is the definition of insanity, right? Doing the same thing and expecting a different result."
August, 8, 2011
8/08/11
1:00
PM ET
FLAGSTAFF, Ariz. --
Kevin Kolb
has accomplished something not even
Kurt Warner
always managed during his five-year run with the
Arizona Cardinals
.
He has brought clarity to the quarterback position.
[+] Enlarge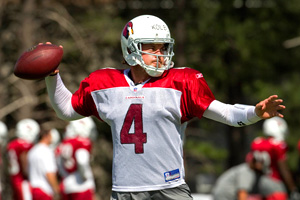 AP Photo/Matt YorkAcquiring Kevin Kolb ended the uncertainty atop the QB depth chart that plagued Arizona last season.
What a relief for Arizona.
This training camp marks only the second in five under coach Ken Whisenhunt with a clearly defined, secure starter behind center.
Matt Leinart
was the man in 2007 until an injury sidelined him. Whisenhunt propped up Leinart heading into camp the following year, but Kurt Warner won the job and kept it through 2009. Warner's retirement thrust Leinart back into the starting role again last offseason. The team cut him following a nondescript 2010 camp.
Tension and uncertainty have surrounded the position most years. That changed when the Cardinals traded for Kolb and signed him to a five-year, $63 million contract. Just as Kolb was desperate for a starting job while parked behind
Donovan McNabb
and
Michael Vick
in Philadelphia, the Cardinals have been starved for quarterback stability.
"When you look in his eyes, you can tell he really wants it," receiver
Larry Fitzgerald
said. "We're going to follow his lead."
There is some blind faith involved. Kolb has only seven regular-season starts to his credit. He played well in some, not as well in others.
Can he get it done? It's too early to say. It did become clear right away upon visiting camp that Kolb is comfortable with himself and adept at relating to teammates. That separates him from Leinart and 2010 starter
Derek Anderson
.
It was telling, I thought, when newly signed guard
Daryn Colledge
cracked wise on Kolb's fat salary.
"I'll blame one of my cadence [misunderstandings] on him," Colledge joked. "I'll do that right away since he makes more money than me."
There's an obvious comfort level with Kolb already, even if Fitzgerald resisted his new quarterback's attempts to enjoin him to chew tobacco. Kolb clearly has the requisite moxie. Then again, so did
Max Hall
. A quarterback must play well for any of it to matter.
"He has that 'it' factor, the confidence quarterbacks that need to be successful in this league," said new Cardinals linebacker
Stewart Bradley
, who was also Kolb's teammate with the Eagles. "He can make all the throws, he has all the intangibles."
THREE HOT ISSUES
1. Where's the pass-rusher?
The Cardinals went into the 2011 draft thinking pass-rusher
Von Miller
would be their guy with the fifth overall choice. They badly needed pass-rush help after relying too heavily upon aging outside linebackers
Joey Porter
and
Clark Haggans
. Miller seemingly would have been the perfect fit. Plans changed when Denver made Miller the second overall choice. While Arizona was perfectly happy taking LSU cornerback
Patrick Peterson
at No. 5, not getting Miller meant the team would have to wait another year before targeting an elite pass-rush prospect. It's an area the team will have to address next offseason even if
O'Brien Schofield
and rookie
Sam Acho
exceed expectations. In the meantime, new defensive coordinator Ray Horton appears destined to live out what his recent predecessors experienced. It's tough fielding a 3-4 defense without sufficient talent on the outside. Then again, if Miller had been there for Arizona at No. 5, the team wouldn't have gotten Peterson. In that case, the Cardinals could not have justified trading
Dominique Rodgers-Cromartie
to the Philadelphia in the Kolb deal. The Eagles then might have asked for and received greater compensation through 2012 draft choices.
[+] Enlarge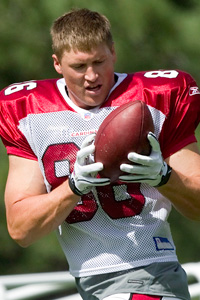 AP Photo/Matt YorkThe addition of Todd Heap might help offset the loss of Steve Breaston in the passing game.
2. Who is the No. 2 receiver?
Only Larry Fitzgerald remains from the 2008 Arizona receiving corps featuring three 1,000-yard wideouts, but the Cardinals do not sound particularly concerned. They considered adding
Braylon Edwards
in free agency, but they weren't interested enough to close the deal, particularly for a player with off-field issues.
Andre Roberts
and
Early Doucet
are the favorites to fill the No. 2 void created when
Steve Breaston
signed with Kansas City. The team is also expecting free-agent newcomer
Todd Heap
to provide a receiving option at tight end that has not existed previously under Whisenhunt in Arizona. Still, the Cardinals lack proven depth at wideout behind Fitzgerald. Durability is a concern for Doucet. Roberts showed promise as a rookie last season, but is he ready to contribute for a full season?
3. Does Kolb fit the scheme?
The West Coast system Kolb learned during his time in Philadelphia differs from the one Whisenhunt installed in Arizona. I questioned heading into free agency whether Arizona would be the best landing spot for Kolb. In general, proponents of traditional West Coast systems seek to run the same plays from different formations with more precision than the defense can muster. Out-executing opponents trumps out-scheming them. A quarterback can become as good as the system allows him to be. The Cardinals' offense relies upon matching route concepts to specific coverages. Kolb: "I like the way they put it on the quarterback to get into those concepts. As long as your quarterback can think quick on his feet, a lot of times you are going to be in the right play in the right position. It just clicks with me. ... Look at what Kurt did. He understood it. He did it at the top level and look how successful they were. There is never a ceiling of how good you can get. It's just however much you can handle as a quarterback. That is what is exciting for me."
BIGGEST SURPRISE
Cornerback depth appears OK.
Trading away Rodgers-Cromartie and losing
Michael Adams
to knee surgery would have sent the team into a panic last summer. That hasn't been the case so far. Former receiver
A.J. Jefferson
has caught the Cardinals' attention. He's even running with the starters pending Peterson's ascension. Free-agent addition
Richard Marshall
and
Greg Toler
combined for 29 starts last season. Peterson gives Arizona a special athlete and a player mature beyond his years. The biggest question is whether Arizona can generate a pass-rush sufficient enough to put the cornerbacks in favorable situations. Adams is expected back in a few weeks.
BIGGEST DISAPPOINTMENT
[+] Enlarge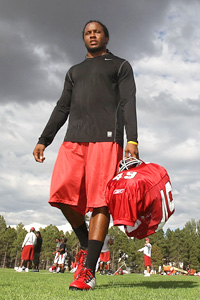 Christian Petersen/Getty ImagesRashad Johnson might be pressed into the starting lineup if Adrian Wilson misses significant time.
Adrian Wilson's injury.
The Cardinals plan to announce Monday whether Pro Bowl strong safety Adrian Wilson will require surgery following a
Saturday injury to his elbow/biceps area
. Wilson will miss time even if surgery isn't necessary. That's a setback for Wilson personally after an injured abductor slowed him last season. It's a setback for the defense because Horton, the new defensive coordinator, needs Wilson to execute some of the blitz packages planned for 2011. Third-year pro
Rashad Johnson
would likely start if Wilson were unavailable.
OBSERVATION DECK
Beanie Wells still projects as the starting running back heading into the season even though rookie second-round choice Ryan Williams has impressed. Every negative play from Wells invites skepticism regarding his ability to meet expectations as a 2009 first-round draft choice. That was the case when Wells fumbled during the first full-contact goal-line session of camp. Wells bounced back with energized runs the following day, though, and he knows the offense better than Williams at this point.
Williams looks like the better pure runner. Where Wells is more of a downhill runner with straight-line tendencies, Williams has shown he can cut effortlessly, even at high speed. One of Williams' coaches from Virginia Tech told the Cardinals he had never coached a more talented player.
Nose tackle Dan Williams was another lockout victim. He reported to camp heavy and out of shape. Williams came on strong as a rookie late last season. Like a lot of big guys, however, he would have been much better off spending his offseason operating within a structured conditioning program.
The lockout could prevent third-round choice Rob Housler from contributing much as a rookie. Housler needed a full offseason to work on his blocking and smooth his adjustment from Florida Atlantic. The Cardinals take pride in developing players from smaller programs, but there simply wasn't enough time to get Housler up to speed this offseason. Heap's addition removes pressure in the short term.
Fifth-round choice Anthony Sherman came advertised as the best fullback in the 2011 draft. It's tough to argue with that assessment after watching Sherman early in camp. He was popping people left and right. Sherman also projects as an outstanding special-teams player, another plus. Fewer teams are keeping fullbacks on the 53-man rosters, but the Cardinals will happily find a spot for Sherman. I could see them keeping four tight ends, with free-agent addition Jeff King providing flexibility through his ability to shift into the backfield as a lead blocker. Under that scenario, Arizona would go with Heap, King, Housler and Stephen Spach as its tight ends. Wells, Williams, LaRod Stephens-Howling and Sherman would be the backs.
It's tough to envision Hall returning as part of the 53-man roster. John Skelton is clearly ahead of Hall as the No. 2 option behind Kolb. Richard Bartel looks like a better prospect, too. Hall's presence in the lineup for three starts last season sent defenses into feeding frenzies. They couldn't wait to come after him. Fewer teams are likely to keep three quarterbacks on their 53-man rosters, anyway, after the NFL modified rules for game-day rosters.
Right tackle Brandon Keith is coming off knee surgery and is still shaking off the rust. The Cardinals need solid play from that position in the regular-season opener against Carolina. Panthers defensive end Charles Johnson gave right tackles problems last season. He had three of his 11.5 sacks against NFC West teams, including one against Arizona when Keith was on injured reserve. Also last season, Johnson knocked out San Francisco 49ers quarterback Alex Smith with a shoulder injury.
It's only a matter of time before Bradley supplants Paris Lenon at inside linebacker. Bradley and returning starter Daryl Washington will be asked to blitz from the inside and also to cover. The Cardinals need to find creative ways to use them as pass-rushers given the situation at outside linebacker. The scheme Bradley played in Philadelphia took his eyes off the quarterback a fair amount of the time. Bradley, a defensive end as a freshman in college, wants more chances to rush the passer. He has the size (6-foot-4, 258 pounds) to .
Keep an eye on rookie receiver DeMarco Sampson, a seventh-round choice from San Diego State. Sampson keeps making impressive catches in practice.
The Cardinals' offense figures to change in complexion following so many additions at running back and tight end. The reality, though, is that Kolb likes operating from four-receiver personnel groupings. We could still wind up seeing the Cardinals spreading the field as they did before suffering personnel losses at receiver.
Defenses tend to outpace offenses early in camp. That hasn't been the case for Arizona. Fitzgerald offered one possible explanation: the team has been running the same offense since 2007, but the defense is new.
August, 3, 2011
8/03/11
12:37
PM ET
RENTON, Wash. -- NFL training camps aren't what they used to be now that players have secured day-spa treatment from coaches under the new labor agreement.

Still, teams aren't practicing in slippers and robes ... yet.
Earl Thomas
, the
Seattle Seahawks
' second-year safety, did go through a recent practice -- make that a walk-through, just to be safe -- wearing a visor that also would have served him well standing over a Titleist. Several teammates wore ball caps.
None of this shocks the system for Seattle.
Coach Pete Carroll ran a player-friendly camp last year as well, giving the team full days off from practice. But the veterans who lauded Carroll's approach in 2010 aren't around to celebrate it this year. And therein lies the biggest difference for the Seahawks this summer.
For the first time since 2000, quarterback
Matt Hasselbeck
isn't around to offer the insights and asides that made him mandatory viewing at Seahawks camp. Middle linebacker
Lofa Tatupu
, leader of the defense since 2005, also is gone. Other veterans I polled during the inaugural Camp Carroll are also elsewhere --
Lawyer Milloy
,
T.J. Houshmandzadeh
and
Olindo Mare
among them.
This day has been coming for a while. The Seahawks are getting on with their lives, untethered from what came before.
THREE HOT ISSUES
[+] Enlarge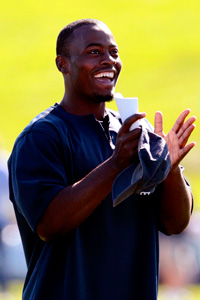 AP Photo/Elaine ThompsonTarvaris Jackson should be familiar with the Seahawks' offense since he spent five seasons with new coordinator Darrell Bevell.
1. Why Tarvaris Jackson?
The Seahawks decided it was time to move on from Hasselbeck before they had a long-term replacement lined up. Once that decision was made, the team targeted Jackson because he and the Seahawks' new offensive coordinator, Darrell Bevell, had spent five years together. Once Jackson was signed, Carroll wasted little time endorsing him as the starter. Three possible explanations come to mind. One, Jackson knew the offense. Two,
Charlie Whitehurst
hadn't asserted himself as a leader during offseason workouts when Hasselbeck was without a contract for 2011. Three, a quick endorsement gave Jackson a confidence boost following a rough run in Minnesota. There's a feeling that maybe, just maybe, Brad Childress did not give Jackson the best chance to succeed with the Vikings.
2. Who will lead the defense?
Tatupu's release following six seasons with the team leaves the defense in transition. Tatupu was instinctive and adept at getting teammates lined up properly. His play had deteriorated through injuries, but Tatupu had three Pro Bowls and a Super Bowl on his résumé. He was the defensive leader. Carroll pointed to linebacker
David Hawthorne
, pass-rusher
Chris Clemons
and defensive end
Red Bryant
as heirs. He named Thomas and strong safety
Kam Chancellor
as well. "I'm not worried about it," Carroll said. "There's a lot of very strong character kids on that side of the ball, particularly."
3. Does Whitehurst have a future?
It's tough to see him emerging in Seattle. The decision to go with Jackson even though rules prevented him from practicing right away said plenty about Whitehurst's status on the team. Whitehurst has been running the first-team offense while Jackson waits to become eligible under rules for players with new contracts. Everyone knows he's the backup even though there was never any competition. It's a tough situation for Whitehurst. Still, getting to work with the starters provided an opportunity to impress. It has not happened. Whitehurst's contract runs through the 2011 season. If Whitehurst doesn't show more as camp progresses, it's fair to wonder whether the team would consider bringing in a cheaper veteran.
BIGGEST SURPRISE
Signing Zach Miller in free agency.
Miller was on the Seahawks' radar when free agency opened. Assistant head coach/offensive line Tom Cable had high praise for Miller from their days together in Oakland. But the Seahawks never expected Miller to remain available so deep into the signing period. After a while, the Seahawks began to view Miller the way they would view a talented prospect falling to them in the draft. They felt compelled to pursue Miller with a strong offer. The Raiders made a push to keep Miller, but Seattle came through with a five-year, $34 million contract featuring $17 million in guarantees. Having Cable and former Raiders guard
Robert Gallery
in Seattle helped the Seahawks get this deal done. The team emerged from free agency with a 25-year-old Pro Bowl player.
BIGGEST DISAPPOINTMENT
Extending the lockout (sort of).
Carroll has bristled every day over the rules preventing newly signed players from practicing before Aug. 4, only one week before Seattle's exhibition opener at San Diego. Jackson,
Sidney Rice
and Gallery are among the key additions who were forbidden from participating in practices or even workouts with the team. The situation was tough for teams throughout the league, but Seattle felt challenged more than most because the team has undergone so much roster turnover. Seattle also has quite a few new coaches on the offensive side of the ball, including Bevell, Cable and quarterbacks coach Carl Smith. Going a week without getting key starters onto the field didn't make any sense from a football standpoint.
OBSERVATION DECK
[+] Enlarge

AP Photo/Elaine ThompsonRussell Okung has shown no signs of the injuries that nagged him last season.

The ankle injuries that slowed left tackle Russell Okung as a rookie last season haven't been a problem so far. Okung appears exceedingly smooth. He rides out defenders effectively during pass-rush drills, sometimes even driving them to the ground. He's a threat to flatten defenders in the running game. Another recent first-round pick on the line, James Carpenter, has made a positive first impression at right tackle early in camp. He's thick and massive. He plays with an edge. He's going to start in Week 1.
Rookie right guard John Moffitt projects as a starter, but he could need time to develop. That was my impression watching Moffitt in drills. Of course, it's not fair comparing Moffitt to Okung or Carpenter. Those guys were first-round picks. Moffitt was a third-rounder. Having youth on the line is a good thing overall. Getting the 31-year-old Gallery into the lineup is critical, however. Gallery has been serving as a coach on the field during practices. He knows Cable's blocking schemes and is already proving valuable as a resource. Durability is a concern for him.
Seattle is finished with the big-ticket purchases in free agency. The team could still add veterans at linebacker and kicker. The team lacks experience in the secondary as well. Marcus Trufant and Kelly Jennings are the only cornerbacks on the team with more than one start. Going young sounds great during the offseason, but throwing untested corners onto the field against veteran quarterbacks isn't very appealing when the games start counting. The Seahawks face Ben Roethlisberger, Matt Ryan and Eli Manning in the first five weeks of the regular season.
Strong safety Jeron Johnson and three linebackers -- Mike Morgan, K.J. Wright and Malcolm Smith -- are among the rookies impressing Seattle early in camp. Another rookie, safety Mark LeGree, is getting a chance to play safety when Thomas, the starter at free, shifts to cornerback against slot receivers. Carroll alluded to such an arrangement during the draft. One more rookie, Pep Levingston, has impressed in early one-on-one pass-rush drills. A defensive tackle at LSU, Levingston projects as an end with Seattle. He's leaner than I had anticipated, an advantage in pass-rush drills.
Seven of the 11 cornerbacks on the roster are at least 6 feet tall. Three are 5-foot-11 and one is 5-10. The biggest, Brandon Browner, goes 6-4 and 221 pounds. Impressive? Perhaps, but only three of the 11 have started an NFL game, and none of the three with starting experience stands taller than 5-11.
Size is a theme throughout the roster. Mike Williams, Rice and fellow receiver Kris Durham are at least 6-4.
The Seahawks might need to find more touches for Leon Washington if they hope to get sufficient return on their investment in him. New rules governing kickoffs figure to diminish the value of Washington and other top returners.
Seattle's front office trusted its coaches during free agency. Just about every free-agent addition has ties to a Seahawks staff member. Miller and Gallery played for Cable in Oakland. Jackson and Rice played for Bevell in Minnesota. Defensive tackle Alan Branch was an exception. Seattle added him after failing to land a defensive tackle in the draft. Ideally, Branch would be a backup. He could start for Seattle at three-technique, with Brandon Mebane moving to nose tackle. Branch will also back up Bryant at five-technique.
For the second year in a row under Carroll, the Seahawks are piping hip-hop beats and mixes into practices. A disc jockey stands behind two turntables near the front corner of the practices fields. "Halfway home and my pager still blowin' up, today I didn't even have to use my A.K. I got to say it was a good day ..." Hearing those lyrics from Ice Cube during a recent practice, I couldn't help but wonder what Chuck Knox would think of the arrangement. Did I mention times have changed in the NFL? Just a little.