NFC West:

2011 Hall of Fame vote
February, 5, 2011
2/05/11
6:49
PM ET
DALLAS -- Pro Football Hall of Fame voting is finished for another year.
Up next: formal announcement during an NFL Network broadcast beginning at 7 p.m. ET.
Officials from the Pro Football Hall of Fame swore selectors to secrecy after we learned which candidates emerged from two rounds of reductions.
We all know which candidates survived the cut, but we do not know which ones will receive the necessary 80 percent approval on a yes-no vote (often a formality).
Marshall Faulk
,
Cortez Kennedy
,
Charles Haley
,
Richard Dent
,
Deion Sanders
,
Jerome Bettis
,
Chris Doleman
and seniors candidate Les Richter were candidates with ties to teams currently aligned in the NFC West. No more than five modern candidates and two seniors candidates can qualify for enshrinement in any one year.
February, 5, 2011
2/05/11
8:00
AM ET
FORT WORTH, Texas -- A quick look at the Pro Football Hall of Fame candidates with ties to teams currently aligned in the NFC West:
Marshall Faulk, running back. Faulk began his career with Indianapolis before becoming the NFL's offensive player of the year three times in a row for the St. Louis Rams beginning in 1999.
Cortez Kennedy, defensive tackle. Kennedy played each of his 11 seasons with the Seattle Seahawks, earning eight Pro Bowl appearances and defensive player of the year honors.
Charles Haley, outside linebacker. Won five Super Bowl titles for San Francisco and Dallas, leading the 49ers in sacks for each of his first six seasons.
Deion Sanders, cornerback. Won a championship with the 49ers following the 1994 season and was one of the best cover corners in NFL history. Also an outstanding returner.
Jerome Bettis, running back. Bettis began his career with the Los Angeles Rams before earning most of his Hall credentials with the Pittsburgh Steelers. He was the Rams' leading rusher from 1993-95. Ranks fifth in all-time rushing yards with 13,662.
Richard Dent, defensive end. Won a championship with the 49ers following the 1994 season. Had 34.5 sacks over a two-year period with Chicago in the mid-1980s.
Chris Doleman, defensive end. Doleman led the NFL with 21 sacks in 1989 and was the NFC's defensive player of the year in 1992. He spent the 1996 through 1998 seasons with the 49ers.
Les Richter, linebacker. Richter played for the Rams from 1954-62 and went to eight consecutive Pro Bowls. Never missed a game.
I'm looking forward to participating in the discussion, presenting Kennedy's case to the other selectors and voting on the candidates that seem most deserving. Should be a fun day. Results will be announced during an NFL Network show beginning at 7 p.m. ET.
February, 2, 2011
2/02/11
7:15
PM ET
DALLAS -- All defensive tackles were not created alike. That goes for the great ones, too.
[+] Enlarge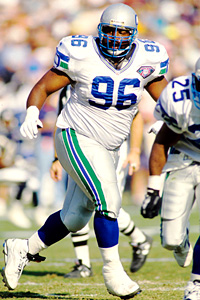 US PresswireFormer Seattle Seahawks defensive tackle Cortez Kennedy was a versatile player over his 11-year career.
Some are mostly run-stuffers, coming off the field in passing situations. Others rush the passer with little or no regard for playing the run.
Very few could dominate across all situations.
Cortez Kennedy
could, and did, during an 11-year NFL career that landed him a spot among the final 10 candidates for the most recent Pro Football Hall of Fame class. Kennedy is among the final 15 modern-era finalists again this year, and I'll be presenting his case to the other selectors during our annual meeting Saturday.
Several themes have emerged during my research into Kennedy's career. I'll expand upon them here one by one, drawing upon coaches and players' first-hand knowledge.
Sheer physical dominance
Very good players sometimes enjoy great careers. Some lean heavily on savvy and preparation. Not all of them dominate physically. Kennedy generated superior power and sudden quickness from a massive lower body.
"Cortez was the most dominant interior lineman that we ever faced and certainly the very best against the run," said former
Oakland Raiders
guard
Steve Wisniewski
, an eight-time Pro Bowl choice between 1989 and 2001.
Seattle scrapped its 3-4 defense to rebuild around Kennedy at a time when Kennedy's college coach at Miami, Jimmy Johnson, was bringing his 4-3 scheme to the NFL.
"That time in football is when you really got the dominant defensive players inside," Johnson said. "The big, overpowering defensive linemen inside just disrupted everything. Cortez got teams looking for that dominant player."
There's that word again -- dominant.
"He was very dominant and could take over the game," said longtime NFL offensive line coach Howard Mudd, who coached for and against Seattle during Kennedy's career. "He just had great instincts about where the ball was and he was a pass-rusher so you would think, 'Gee, we could run screens on that guy.' But he smelled them out and he was always running into the screens."
Longtime NFL offensive line coach Alex Gibbs said offenses had to plan for Kennedy specifically or pay the consequences, or both. Gibbs coached the lines for three of Seattle's old AFC West rivals across 10 of Kennedy's 11 seasons. He was with Seattle briefly in 2010, and that is when he provided a testimonial.
"The Seahawks were a nightmare because I knew I was going to get them twice a year, and it was going to boil down to making a decision -- do I spend all my time with Cortez or do I deal with those other guys?" Gibbs said.
Complete player
Kennedy joined
John Randle
,
Bryant Young
and
Warren Sapp
on the NFL's all-decade team for the 1990s. He was a different type of defensive tackle, opponents said. They lauded him for his versatility.
"I knew that when I was going to go play against Cortez Kennedy, it was going to be a full-meal deal, a battle," said retired Pro Bowl center
Tim Grunhard
, who started 164 games for Kansas City from 1990 to 2000. "I knew when I was going against Warren Sapp, when you got him, you could block him. ... At times, he lined up as wide as any tackle ever. Cortez Kennedy lined up head-on you and went man to man and dominated you."
Asked to rank Kennedy among contemporaries, Wisniewski wanted to know which tackles appeared on the all-decade team for the 1990s. I ran through the names and asked Wisniewski to put Kennedy's abilities in perspective.
"(Kennedy) had that ability to stop the run, to play with leverage and have the quickness to hit the edge of an offensive guard and split the seams to put pressure on the quarterback," Wisniewski said. "Hands down, he was a much better player against the run than a John Randle, much better than a Warren Sapp. I didn't have to play against Bryant Young as many times. He was a much lighter guy, kind of high effort, 50-50 (against run and pass alike)."
Randle is already in the Hall of Fame. Sapp and Young are not yet eligible for consideration. Each was outstanding in his own way, but Kennedy was different.
Made teammates better
Kennedy collected 14 sacks in 1992 and 58 for his career even though Seattle asked him to do so much more than rush the passer. Opponents funneled more resources toward Kennedy after that 14-sack season, creating opportunities for his teammates.
Michael Sinclair
,
Sam Adams
,
Michael McCrary
and others benefited.
"He was such a powerful guy who could play, in essence, two gaps," Gibbs said. "He forced you to get two people on him in order to get through the seams, which gave the linebackers who played here a tremendous advantage. You couldn't get the combinations to block him. You always tried to get one of them off and his body frame was so wide and strong that we couldn't get there, so the linebackers made all the plays. He had a unique ability to control one and force another to free up his teammates to make a lot of plays."
Former Seahawks linebacker
Terry Wooden
said the same thing recently when I happened to be sitting near him on an airplane. According to Wooden, Kennedy would never seek to make a play on his own if it meant weakening the defense overall or compromising a teammate.
Durability and accolades
Kennedy played 16 games nine times, 15 games once and eight games in his only injury-shortened season. He matched
Reggie White
and
Bruce Smith
as the only defensive linemen with eight Pro Bowls during the 1990s. He went to as many Pro Bowls during the 1990s as
Jerry Rice
,
Deion Sanders
,
Emmitt Smith
, Bruce Smith and
Derrick Thomas
.
Kennedy was also the Associated Press' defensive player of the year on that 2-14 team, which featured one of the worst offenses in NFL history (Seattle was the only NFL team to field a top-10 defense in 1990, 1991 and 1992). Only White and
Lawrence Taylor
won the award previously while playing for losing teams.
According to the Seahawks, Kennedy played more than 90 percent of the defensive snaps for at least his first six seasons, including 97.2 percent in 1994.
Since sacks became an official stat in 1982, Kennedy and Hall of Famer Randy White are the only defensive tackles with at least 150 starts, 50 sacks and eight Pro Bowls. Again, though, the sack totals were never what defined Kennedy's contributions.
Grunhard put it this way: "When they are 330 pounds, at times their job is to tie you up. Their job is to clog up the middle. It is not fair when people say they are taking plays off. They are doing their jobs. There is a difference. Sometimes plays aren't designed for them to make the plays. Their job is to free up other people and he did a great job doing that. But when Cortez wanted to go and had the opportunity to go make a play, he was unstoppable. He was unblockable. That puts him in an elite level."
February, 1, 2011
2/01/11
6:46
PM ET
ARLINGTON, Texas --
D'Marco Farr
's eyes brightened when I asked the retired defensive tackle what he would say to Hall of Fame voters regarding his former
St. Louis Rams
teammate,
Marshall Faulk
.
[+] Enlarge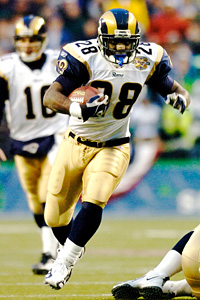 AP Photo/Paul SakumaFormer St. Louis Rams running back Marshall Faulk is up for Hall of Fame induction this Saturday.
Farr, attending Super Bowl media day as a member of the Rams' radio team, thanks Faulk more than any other teammate for the Super Bowl ring he wore Tuesday.
"For a time, Marshall Faulk was the best weapon in the NFL, a guy that could catch the ball out of the backfield, could run for power, run for speed -- could do it all," Farr said. "He was absolutely indefensible for a period of time. And how smart he is. He could be a head coach. When you talk about great players and where they come from, they are not trained, they are born. He is one of them. And those guys deserve to be in the Hall of Fame."
Hall of Fame voters will consider Faulk's candidacy Saturday, the first time Faulk is eligible for enshrinement.
Faulk finished his career with seven Pro Bowl appearances, 100 rushing touchdowns, 36 receiving touchdowns, more than 12,000 yards rushing and a 9.0-yard average on his 767 receptions. But you had to see him play to appreciate what set him apart from other backs.
"I saw Marshall do something I've never seen another running back do," Farr said. "He lined up in the slot and beat a cornerback on a post. He beat a corner on a post route! It was incredible. He could play corner. I swear, he could play linebacker if he wanted to."
Farr looked down at the massive jewelry on his right ring finger. He professed love for
Kurt Warner
,
Isaac Bruce
and
Torry Holt
. Then he continued.
"The first guy I think about when I put this thing on is Marshall," Farr said. "I thank him every single day for this thing -- every single day, whether he hears it or not."
January, 31, 2011
1/31/11
7:57
PM ET
DALLAS -- Bernie Miklasz and I covered much ground --
Aaron Rodgers
,
Marshall Faulk
,
Cortez Kennedy
, Hall of Fame voting in general, the NFC West and more -- during our conversation Monday from Radio Row at Super Bowl XLV.
101 ESPN: St. Louis has
the crystal-clear audio
.
Bernie and I are both Hall of Fame voters. He'll be presenting Faulk's case to voters Saturday. I'll be presenting Kennedy's case. We'll have much to talk about on the Hall of Fame front when voting takes place Saturday.

NFC WEST SCOREBOARD
Thursday, 9/4
Sunday, 9/7
Monday, 9/8