NFC West:

2011 NFL owners meetings
March, 22, 2011
3/22/11
12:06
PM ET
NEW ORLEANS --
Sam Bradford
and the
St. Louis Rams
will be learning their second offensive system in as many seasons together.
They will not want to make it three systems in three years, but what happens if a strong 2011 season launches new coordinator Josh McDaniels to another head-coaching job? The question, raised recently by regular blog commenter
egravning
, did not faze Rams coach Steve Spagnuolo over breakfast at the NFL owners meeting Tuesday.
Bradford
"I guess I have to take over the offense," Spagnuolo joked.
The coach then turned a little more serious: "If that happens, that is probably a good thing for everybody. We'll just wait and see."
McDaniels became available to the Rams after the
Denver Broncos
fired him as head coach. Shaky personnel moves and McDaniels' handling of situations off the field contributed to his demise in Denver far more than his coaching. The Broncos put up impressive numbers on offense with
Kyle Orton
at quarterback. I would expect him to do the same, and rather quickly, with Bradford as long as the Rams continue upgrading their offense. If that happens and McDaniels projects himself well, he could have opportunities elsewhere.
Bradford showed during his rookie season an ability to learn a new system and play more consistently than most rookies.
Orton's success suggests McDaniels' system might offer even more opportunities for growth. But repeatedly changing systems would probably delay any quarterback's development. That's why I've said it's important for the Rams to
develop a succession plan
in case McDaniels does become a head-coaching candidate again. So far, though, the Rams have not hired a quarterbacks coach. McDaniels has largely joined the existing staff.
"As a head coach, I thought Andy [Reid] did a great job of having someone on staff ready to step in," Spagnuolo said. "We feel comfortable there. You are getting way ahead of me there."
March, 21, 2011
3/21/11
8:07
PM ET
NEW ORLEANS -- Jim Harbaugh had just finished explaining why he thought football was the greatest game when the giggling began.
We were 13 minutes into a 15-minute interview session tacked onto another long day for the
San Francisco 49ers
' new head coach. Harbaugh had traveled to New Orleans from a charity event in Lake Tahoe, Nev., and he was two days into his first NFL owners meeting.
"It is the greatest game ever invented," Harbaugh had said. "It works every muscle of your body. You go to bed and sleep good after you have played football. You don't think about anything else except scoring a touchdown or making a play when you are out there on the field. I love it."
[+] Enlarge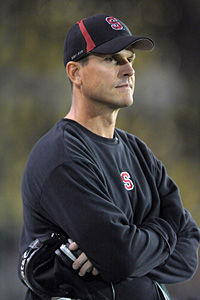 Kirby Lee/Image of Sport/US PresswireIt's clear from a conversation with Jim Harbaugh, who left Stanford to coach the 49ers, that he loves football.
Then came the giggling, which I figured was my cue, a 2-minute warning of sorts. Harbaugh had to be winding down. Hearing owners ramble on about labor relations and arcane rules changes would wear on any coach.
I glanced toward the 49ers' public-relations director and asked, lightheartedly, whether our 15-minute window had closed. There was no time for him to respond.
"It tests a man's courage," Harbaugh said.
At the time, I figured Harbaugh was joking about the courage it would take to extend him past the agreed-upon time limit. But after listening to a tape of our conversation, I realized Harbaugh was merely picking up where he had left off regarding his love for the game. He apparently hadn't noticed my little aside.
"You know, I could go on," Harbaugh said. "You start in the heat and go through a season that ends in the cold. The elements."
Now he was sounding more like an NFL Films narrative, without the dramatic intonations.
"Nothing makes you feel more like a man than when you defeat an opponent in the cold," Harbaugh went on. "Cold, bitter weather. Because now you have also not only beaten an opponent, but you conquered the elements as well. Hundreds of things I love about football."
There were times during our interview when Harbaugh ignored or did not see obvious cues, such as when I opened by asking what it's like to attend the NFL owners meeting as a first-time head coach. It had to be pretty cool.
"Well, it's informative," Harbaugh said. "It's been business-like. Business-like and informative. There is an agenda and people are packing it all in to, so far, a day and a half. There is no frills to this."
A computer could not have answered any more dryly.
Perhaps he had misunderstood. After settling into the job at the 49ers' headquarters, I noted, Harbaugh was now mingling with the other head coaches for the first time. I wondered whether the overall experience made his hiring as head coach sink in a little more. Has it been meaningful to him?
"It hasn't been nostalgic in any way," Harbaugh said. "It's really just trying to keep pace, learn and apply it to the task at hand."
Perhaps it's as simple as this: Football excites Harbaugh. The rest he endures.
Harbaugh's mind appeared to be running at all times. He tapped a pen on the end table next to him throughout the interview -- not rudely or to signal boredom, but more as though he were discharging excess energy. I counted 32 taps of the pen during one 11-second sequence.
Harbaugh is an equal-opportunity tapper. He tapped the pen when he spoke, too, including after I asked him about the importance of the tight end in his offense.
"In our philosophy, the tight end is a needed component because of the physical nature with which you want to play football," Harbaugh said.
His words became measured.
"The tight end. A fullback. Needed. Without those two positions, you tend more to be a finesse type of team."
Now he was rolling again.
"Especially if you can get a fullback, a man who lives a spartan life, who goes to bed and dreams about physical confrontation and getting from Point A to Point B to go hit somebody," Harbaugh said. "If you have that kind of face as your identity for your team, then you can play the kind of football that we are talking about."
Harbaugh traces his offensive lineage to Lindy Infante, who coached him as a player at Indianapolis, and Bill Walsh, who played a leading role in hiring him at Stanford and made famous the basic West Coast system Harbaugh is implementing with the 49ers.
Decades ago, critics slapped the "finesse" label on the West Coast system because it substituted short, precise passes for more manly running plays. The more offenses have gravitated toward three- and four-receiver personnel groupings in recent years, the more smash-mouth Walsh's approach appears by comparison. Harbaugh's background under Infante with Indianapolis and Bo Schembechler at Michigan are at play here. Infante worked under Marty Schottenheimer in Cleveland and Forrest Gregg in Cincinnati.
"It's a belief that the surest ways to win are if you can physically dominate an opponent, out-hustle them -- those are the surest ways to win," Harbaugh said.
Former 49ers coach Mike Singletary couldn't have said it better, but his background as a linebacker complicated efforts at implementation. With Harbaugh, the 49ers have a longtime former NFL quarterback with college head coaching experience and the proven ability to install a successful, creative offense.
"I feel that everything that has led up to this point where I am now -- playing, coaching, growing up with a dad who is a coach, a brother who is a coach, all that time, all those lessons, all that competition -- has prepared me for this one task, this one task of coaching the 49ers," Harbaugh said.
It's a huge challenge. The 49ers haven't been to the playoffs in nearly a decade. They won the last of their championships after the 1994 season.
Harbaugh won't be the only one giggling if he can turn them around.
March, 21, 2011
3/21/11
1:52
PM ET
NEW ORLEANS -- NFL draft watchers perked up when a certain head coach made specific requests during
Cam Newton
's recent workout for scouts.
Ken Whisenhunt was that coach. His
Arizona Cardinals
pick fifth overall. They definitely need a quarterback.
What was Whisenhunt hoping to find out?
"That was an opportunity to look at some of those things, see if he could make a certain type of throw that you want to see with a certain technique," Whisenhunt said Monday from the NFL owners meeting.
The idea, in short, was to see how Newton would respond without a script.
"You want to get those questions answered as best you can, whether it's his drops to the types of throws to a whole different set of things you are looking for, outside of a controlled workout," Whisenhunt said.
Whisenhunt turned coy when asked specifically what he wanted to see from Newton. He did acknowledge physical similarities between Newton and
Ben Roethlisberger
, the quarterback Pittsburgh drafted when Whisenhunt was a Steelers assistant in 2004. But he couldn't project whether Newton could become the same sort of player at the NFL level.
My feel on Arizona, Newton and the quarterbacks in this draft: The Cardinals will not see a prospect as safe as
Sam Bradford
or
Matt Ryan
appeared in recent drafts. As a result, Arizona will have a hard time using the fifth overall pick on the position.
The choices become more difficult if the lockout pushes free agency until after the draft. Teams cannot sign players or even know, for sure, whether some will become eligible for unrestricted free agency.
"Right now, you could say you have needs at every position because you don't know what is going to happen," Whisenhunt said.