NFC West:

2011 NFL preseason Week 2
August, 21, 2011
8/21/11
2:37
PM ET
ST. LOUIS --
Matt Hasselbeck
bit his tongue during and not after the
Tennessee Titans
' preseason game Saturday night against the
St. Louis Rams
.
[+] Enlarge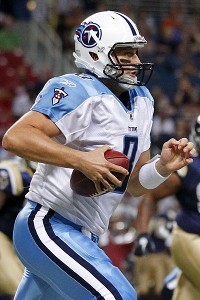 AP Photo/Jeff RobersonTitans QB Matt Hasselbeck came away from Saturday's preseason game in St. Louis impressed with the Rams' defense.
"These guys are really underrated," Hasselbeck said, speaking clearly despite the unsightly tongue injury he suffered during the game. "They have a very good defense, they are well coached and they give you a lot of different things to talk about."
The veteran quarterback and longtime Rams nemesis is beginning his first season with the Titans after 10 with the
Seattle Seahawks
. He won eight consecutive starts against the Rams from 2005 to 2009, then lost his only start against them last season as the Rams' improving defense shined during a 20-3 victory.
"They play so many different coverages, they use so many different blitzes and
(James) Laurinaitis
checks them in and out of stuff, and they are sound," Hasselbeck said.
Hasselbeck has long admired defenses he considered fundamentally sound. As much as he struggled early in his career against the exotic schemes Arizona employed before Ken Whisenhunt's arrival as head coach, Hasselbeck always felt there were ample opportunities to exploit it. And he did just that after figuring out where it was vulnerable.
"A lot of defenses are unsound in how they do things," Hasselbeck said. "These guys (the Rams) are really sound. They might not lead the league in sacks up front, but they do a nice job getting pressure. They play together as a defense. They don't give up big plays. Even when you get them, it's for 20 yards instead of for a touchdown."
The Rams allowed five pass plays of 40 or more yards last season. Three teams allowed fewer. San Francisco (11) and Seattle (11) were among seven teams that allowed more than 10. Arizona allowed seven. St. Louis did allow 15 rushing plays of at least 20 yards last season, more than all but seven teams. The Rams spent the offseason loading up on veteran defenders known for their strength against the run. They did not see the desired results Saturday night.
"I thought the run plays that hurt us the most were the cutback runs," Rams coach Steve Spagnuolo said. "We have to get that ironed out."
Hasselbeck said he could have returned to the game, but he had already played about as long as coaches projected. He was dodging a defender at his feet when he took a hit to the helmet, causing him to bite down on his tongue. The left side of his tongue was discolored and angry looking, but Hasselbeck was in jovial form after the game.
"Not all at once, not all at once," he told a small media contingent featuring two cameras and three or four reporters.
He then pointed to an uninhabited corner of the room, the way the president might during a White House briefing.
"You in the back," he said.
Hasselbeck's family has relocated with him to Tennessee. Hasselbeck wanted to re-sign with Seattle and said he didn't feel as though it was necessarily time for him to move on. But he has embraced his new team, particularly an offensive line superior to the frequently changing one he played behind in Seattle over the past couple seasons.
The Titans signed Hasselbeck to help get them through the short term while mentoring first-round pick
Jake Locker
for the long term. Veteran quarterbacks don't always do all they can to help the men who directly threaten their livelihoods. It was clear from watching Hasselbeck and Locker interact between their postgame media sessions that they've developed a comfortable rapport, at least. Locker cracked wise as Hasselbeck stepped to the podium, and both laughed (I cannot recall exactly what Locker said, but it wasn't the sort of thing an understudy would say in the absence of a rapport).
"I'm encouraged about this team," Hasselbeck said. "I feel really good about the talent level."
August, 21, 2011
8/21/11
10:24
AM ET
Looking back upon three things discussed
here
before the
San Francisco 49ers
'
17-3 victory
against the
Oakland Raiders
on Saturday night:


1. Progress on offense.
The 49ers opened the game with a 16-play drive to the Oakland 2. Their first four drives in the preseason opener totaled 12 plays. That is progress.
Alex Smith
completed 8 of 13 passes for 126 yards and one interception. He made good use of timing throws to beat pressure early in the game, another improvement. One pass for
Vernon Davis
on a quick slant drew a pass-interference penalty. Another found
Braylon Edwards
after the 6-foot-3 receiver pushed off without officials noticing. On the down side, Smith didn't see Raiders defensive end
Matt Shaughnessy
dropping into coverage on a third-and-8 play. Schaughnessy picked off Smith's pass intended for Davis, killing the 49ers' second drive. The highlight for Smith and San Francisco: Edwards' one-handed, diving grab for a 32-yard gain. Overall, the 49ers can feel better about how their offense is performing.
2. More Aldon Smith.
The 49ers' rookie first-round draft choice worked with the starters late in the first half. Before that, Smith affected the game without even being on the field. His presence on the roster and strong showing in the first preseason game gave the man ahead of him on the depth chart,
Parys Haralson
, ample incentive. Haralson stood out early in the game, including when he brought down Raiders quarterback
Jason Campbell
for a fourth-down sack in the red zone. Once Campbell left the game injured, backup
Trent Edwards
threw an interception into double coverage even though Raiders left tackle
Jared Veldheer
locked down Smith on the play. Early in the third quarter, Smith fought off Raiders tight end
Brandon Myers
to make a tackle against the run. Later, Smith beat backup left tackle
Seth Wand
to the inside, pressuring
Kyle Boller
into an incomplete pass on third-and-7.
3. Right guard Chilo Rachal.
The 49ers are seeking better consistency from their right guard. They got it during a 16-play drive to open the game. Rachal caught my attention early by peeling off his original man,
Richard Seymour
, to pick up
Tommy Kelly
. Rachal's awareness on the third-down play allowed Smith to find Davis for a reception past the first-down marker. Later in the drive, Rachal pulled to the right and impeded
Jerome Boyd
just long enough for
Anthony Dixon
to reach the corner for a 12-yard gain on second-and-10. As the drive wound down, Rachal trapped Shaughnessy to free
Frank Gore
for a 4-yard gain to the 2. On the 49ers' second drive, Rachal strung out Kelly long enough for Dixon to cut back and knife into the secondary for a 9-yard gain. The 49ers ran the ball almost at will and Rachal did his part from what I could tell. His replacement,
Tony Wragge
, helped spring
Kendall Hunter
for a 53-yard touchdown run.
August, 21, 2011
8/21/11
9:00
AM ET
Looking back upon three things discussed here before the Seattle Seahawks' 20-7 preseason loss against Minnesota on Saturday night:


1. Tarvaris' timing:
Quarterback
Tarvaris Jackson
didn't have much time to throw. More than once, he faced unblocked or barely blocked defenders coming free almost immediately. Sometimes he scrambled and threw on the run, once absorbing a hard hit that prevented him from finding a wide-open
Zach Miller
for what would have been a big gain. Jackson had time when throwing complete to
Mike Williams
for 17 yards to the Minnesota 2-yard line, but the drive ended on downs. Jackson completed only 11 of 21 passes for 75 yards overall. His underneath pass to
Golden Tate
appeared slightly behind its target, bouncing off Tate for an interception that Minnesota returned for a touchdown. The passing game hasn't hit stride yet. Jackson tried and failed to connect deep with
Sidney Rice
. The two connected on a couple shorter throws late in the first half. Backup
Charlie Whitehurst
had better numbers despite not completing a pass longer than 14 yards. Seattle averaged only 6.9 yards per completed pass, an unusually low figure.
2. Red Bryant's return.
The Seahawks' best run defender from 2010 played for the first time since suffering a knee injury against Oakland last season. Minnesota ran only three plays in the first quarter, so there wasn't much to choose from early. Bryant had no tackles and few chances to make any. The Vikings ran or threw away from Bryant on a few plays when I was watching him exclusively. They averaged 2.8 yards per attempt on 10 carries in the first half. Linebacker
Leroy Hill
stood out most, making a couple strong tackles against
Adrian Peterson
. Bryant did deflect a
Christian Ponder
screen pass late in the first half. Pressure on Ponder affected the throw.
3. Pass protection.
Don't be fooled by the stat sheet, which showed only one sack against Seattle quarterbacks. The Vikings hit Jackson repeatedly. They had 10 quarterback hits overall. There were some breakdowns in one-on-one matchups. Right tackle
James Carpenter
got away with a hold on one play. But there were also some issues that went beyond physical breakdowns. Defenders came free off the edge and Seattle appeared to have no one assigned to block them. Those things happen more frequently during preseason, when game-planning isn't a priority. The Seahawks were fortunate Jackson didn't suffer an injury. The Vikings slammed him to the turf with great force on the play when Miller, the tight end, was open in the right flat. Seattle will be better along the line once left tackle
Russell Okung
returns from injury.
August, 20, 2011
8/20/11
11:02
PM ET
Looking back upon three things discussed here before the St. Louis Rams' 17-16 preseason victory over Tennessee on Saturday night:


1. Three wide receivers:
Mardy Gilyard
,
Danario Alexander
and
Donnie Avery
are fighting for what could be one roster spot. Gilyard had a 30-yard kickoff return, an 18-yard punt return and a tackle for no gain while working with the punt coverage team. His 12-yard reception in the final minute moved the Rams into position for the winning field-goal attempt. Avery beat the Titans' second-team defense for a 19-yard touchdown reception in the third quarter. He mistimed his jump for a deep ball that might have been tough to come down with anyway. Alexander's nifty move along the right sideline produced a few extra yards. To be continued.
2. Steven Jackson's debut.
The Rams' Pro Bowl running back found little room against the Titans' defense. He carried six times for 10 yards. His lone reception gained four yards. There wasn't much to analyze. The Rams' first-team offense did very little after
Sam Bradford
's 83-yard scoring strike to
Brandon Gibson
on the first offensive play of the game.
3. Quinn off the edge.
The Titans' offensive line generally contained Rams rookie first-round draft choice
Robert Quinn
. Once the regular season begins, the Rams will likely work Quinn into the mix as a situational pass-rusher. Quinn played every-down defensive end with the backups in this game. The Rams dropped him into coverage on a third-and-13 play in the third quarter. Quinn came close to a sack on a third-and-8 play later in the quarter, but
Jake Locker
escaped and ran for a first down.
Programming note:
I'm heading to the Rams' and Titans' locker rooms. I'll revisit the other NFC West games when I have a chance to watch them more closely. Bandwidth limits complicated efforts to watch them all at once.
August, 19, 2011
8/19/11
11:14
PM ET
Looking back upon three things discussed here before the Arizona Cardinals' 28-20 preseason defeat at Green Bay on Friday night:


1. Pass-rush inflation:
The Cardinals did get pressure on
Aaron Rodgers
at times, but not from their outside linebackers.
Darnell Dockett
was active and dominant, appearing healthier than he was last season. Fellow defensive end
Calais Campbell
also got pressure.
O'Brien Schofield
repeatedly pressured
Matt Flynn
once the backups were in the game. That was a good sign for Arizona, but also a reflection of that inflation referenced in the lead-in to this item. Green Bay allowed five sacks in its first preseason game. This one offered more of the same. I'd be interested in seeing Schofield work with the first-team defense in the next preseason game.
Joey Porter
and
Clark Haggans
don't need the work as much at this point in their careers.
2. Running back ball security:
Ball security was the least of the Cardinals' worries at running back once rookie second-round choice
Ryan Williams
left the game on a motorized cart. Williams suffered an injured right knee after a Packers player landed on him. The Cardinals quickly announced that Williams would not return. They'll know more upon receiving MRI results. Arizona's ground game was generally strong against Green Bay.
Beanie Wells
ran hard and protected the ball through some hard collisions. It's looking like the Cardinals might need a lot more of that after Williams' injury.
Tim Hightower
, traded to Washington after the team drafted Williams, had a 58-yard run and a 1-yard touchdown run for the Redskins on Friday night.
3. Kevin Kolb affirmations:
The Cardinals' new quarterback wisely kept throwing the ball to
Larry Fitzgerald
, covered or not. The diving one-handed catch Fitzgerald made wasn't even a one-handed catch. He caught the ball between his forearm and shoulder pad. Kolb: "They had a drop-eight situation where the back was getting out underneath him, so I just tried to get it to a spot where he couldn't get it and I knew Larry was going to try to do something special, and he did. I didn't mean to put it out that far, but it is nice to have somebody on your side that can make those kinds of plays. Playmaking is not a problem for us. For us it is about cleaning up the details." There were times when Kolb held the ball too long, inviting pressure a couple of times and throwing too late for an open Fitzgerald another time. I thought Kolb's offensive line generally held up well in protection. Having
Clay Matthews
watching from the sideline had to help. The Cardinals sustained two long drives with Kolb in the lineup, but they settled for field goals on both of them. Penalties were a problem.
August, 19, 2011
8/19/11
10:03
PM ET
The
Arizona Cardinals
' offense took a hit Friday night when rookie running back
Ryan Williams
left the team's preseason game against Green Bay on a motorized cart.
Replays showed a Packers player landing on the back of Williams' lower right leg.
There was no immediate word on the severity of the injury, but replays left the impression the injury could be serious. Williams had dazzled during training camp and was expected to push
Beanie Wells
for the starting job eventually.
Arizona traded running back
Tim Hightower
to the
Washington Redskins
after the Cardinals used a second-round choice for Williams. Wells ran aggressively and effectively against the Packers. Injury problems have slowed him previously.
LaRod Stephens-Howling
and
Alfonso Smith
are the only other halfbacks on the roster.
Reagan Maui'a
and
Anthony Sherman
are fullbacks.
UPDATE:
The Cardinals said Williams injured his knee and would not return to the game.