NFC West:

2011 Quarterback Power Rankings
April, 26, 2011
4/26/11
2:05
PM ET
Peyton Manning
and
Tom Brady
need no defending for anyone selecting either as the best quarterback in the NFL.
An argument could easily be made for either.
[+] Enlarge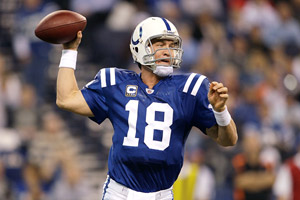 Andy Lyons/Getty ImagesPeyton Manning was the AP NFL MVP in 2003, 2004, 2008 and 2009.
Manning was my choice for reasons NFC South blogger Pat Yasinskas included in his piece breaking out
ESPN.com's Power Rankings for the position
. My take:
"Brady has the better stats over the last couple seasons, but the Colts would undoubtedly be far worse off than the Patriots if both teams had backups under center. Once that was established, Brady's recent postseason struggles became a deciding factor. These quarterbacks have, to an extent, switched roles recently. Manning has won a championship more recently than Brady has won one. Brady has seven touchdowns, seven picks and one victory in his last four playoff games. Manning has seven touchdowns, two picks and two victories in his last four."
It was a close call. The second part of my reasoning seems debatable. The first part -- that Manning is in a different category based on how much his team relies upon him -- has been well-established for years. I think it's enough to differentiate Manning as long as he's playing at a Pro Bowl level.
"I'm not sure why everybody needs to consider career achievements when filling out a Power Rankings ballot," AFC East blogger Tim Graham countered for the piece by Yasinskas. "Power Rankings are a snapshot of the moment and are expected to change regularly, not encompass years of work. But if the reason for selecting Manning ahead of Brady is recent playoff performances that go back a few years, then
Ben Roethlisberger
should be ahead of Manning with that logic. Roethlisberger has been to a pair of Super Bowls and won his second title more recently than Manning's only championship."
It's fine to consider career accomplishments to the degree they enhance a player's credentials. Brady and Manning did not rank first and second based solely on what they accomplished this past season. If we were taking snapshots,
Aaron Rodgers
would be the No. 1 quarterback of the moment, without question.
The Roethlisberger argument arguably applies to one aspect of my case for Manning, but focusing on it at the expense of weightier points doesn't advance the conversation. If we did go down that path, we would acknowledge that Roethlisberger, though clutch quite a bit of the time, has three touchdowns, five interceptions and a 69.9 rating across three Super Bowls.
Back to the broader discussion. It's the first part of my thinking -- the part about Manning's unquestioned value to his team -- that carries the debate from my perspective. It doesn't make Manning the only choice for the top spot, but it makes him a reasonable one. It's not as if Brady was far behind.
April, 26, 2011
4/26/11
11:35
AM ET
ESPN.com's Power Rankings for quarterbacks come out Tuesday and -- surprise, surprise -- no NFC West players received votes.
Not even
Sam Bradford
.
Our eight-man panel faced some tough decisions. NFC South blogger Pat Yasinskas will be touching upon those when the rankings go live.
In the meantime, what about Bradford? Seventy-eight percent of the first 3,035 respondents to
our NFC West poll
thought he would rank among the top 10 quarterbacks within the next couple seasons. Fourteen percent said he had already arrived as such, while 8 percent said he never would.
"I don't like the lack of 'longer than a couple of years,'"
Maneckn
wrote in the comments section beneath the poll. "I think there are too many good QBs in the league for him to break through in a couple of years."
Good point. It's easy to consider players "top 10" at their positions without listing the other nine and excluding strong candidates. It's like wondering how a player fell short in Hall of Fame balloting -- something I did routinely before becoming a voter -- without acknowledging the five-man limit on modern-era players. Even if six candidates were deserving, only five at a time could get in.
"
Josh Freeman
,
Joe Flacco
and
Matt Ryan
are all young and have shown great potential,"
Maneckn
wrote. "
Colt McCoy
and
Tim Tebow
played well last year under their respective circumstances.
Tom Brady
,
Drew Brees
,
Philip Rivers
,
Aaron Rodgers
and
Ben Roethlisberger
all have years left. We don't know how long
Peyton Manning
will play, but it wouldn't surprise me if he lasts till 40. And we haven't even gotten to
Jay Cutler
,
Eli Manning
,
Michael Vick
,
Kevin Kolb
,
Matt Schaub
..."
So, while it's easy to say Bradford should become a top-10 quarterback in the next couple years, it's harder to put in writing. But the overall assessment remains valid. Whether Bradford will rank one through 10, he showed enough as a rookie, most agree, to project as top-10 caliber in the not-too-distant future.
"As a 49ers fan, I am definitely nervous to have Sam Bradford in the division,"
BigBrad184
wrote. "The guy looks like he's the real deal. The pressure is now on the other three teams in the division to come up with their own legitimate franchise QB because Bradford should get there in the next few years, if not sooner."
Bradford has much to prove in his second season as he tries to avoid a sophomore slump,
EDTHG
wrote. That could be tougher than usual if the labor impasse prevents Bradford from working extensively with new coordinator Josh McDaniels this offseason. It's also important for the Rams to upgrade their weapons around Bradford.
"He's already within the top ten QBs you would want on your team right now,"
QBSamTheRam
wrote. "There are not 10 QBs that would be taken before him if there were a big re-draft in the NFL. He's not there performance-wise right now, although he will be soon."