NFC West:

2011 week 4 wrap ups
September, 2, 2014
Sep 2
8:00
AM ET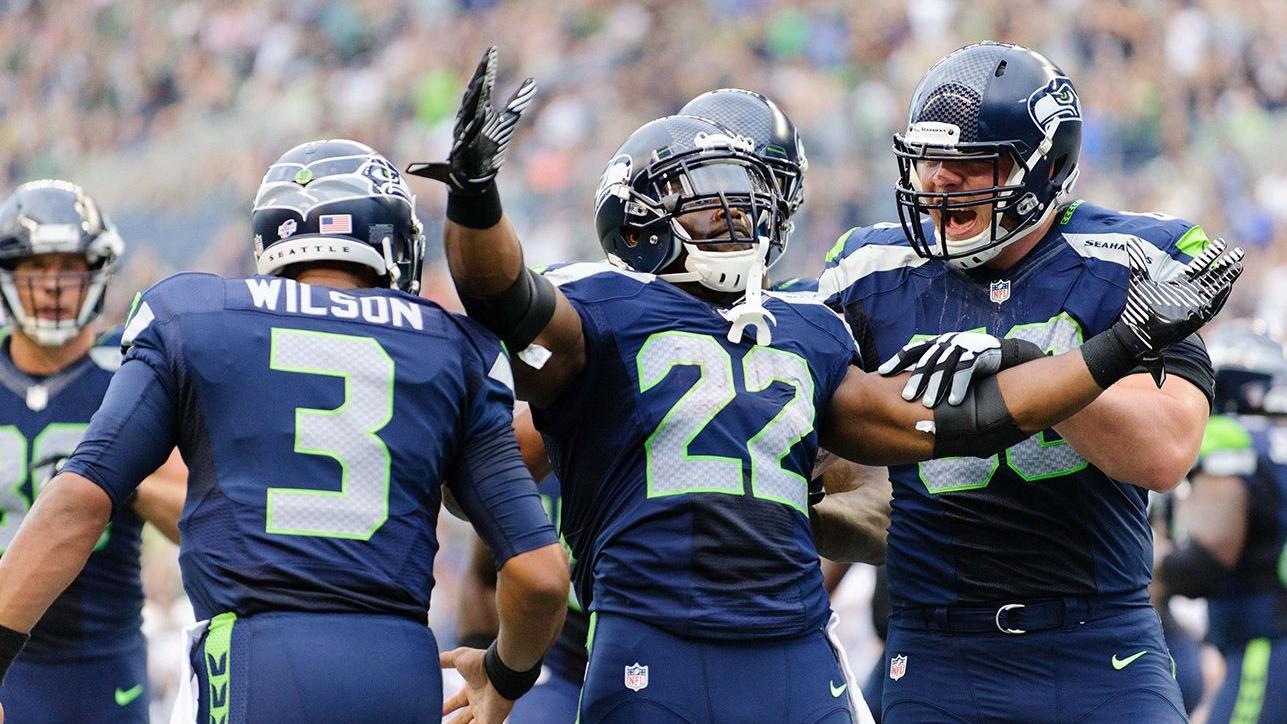 ESPN.com
Seattle Seahawks
reporter Terry Blount makes his game-by-game picks for the 2014 season.
Week 1: Green Bay Packers
All the pregame hype will center around the so-called Inaccurate Reception, the controversial Hail Mary catch by Golden Tate two years ago that won the game over the Packers at Seattle on a Monday night. Tate has moved on to Detroit, but the Seahawks now have too many weapons for the Packers to stop, no Hail Mary required. Prediction: Win
---
Week 2: at San Diego Chargers
The Chargers better hope they play a lot better than they did in the preseason game at Seattle, a 41-14 victory for the Seahawks on Aug. 15. San Diego will play better, but not good enough to beat a much better team. Prediction: Win
---
Week 3: Denver Broncos
The Broncos and their fans got a tiny bit of meaningless Super Bowl revenge in the preseason opener with a 21-16 victory over the Seahawks in Denver. Enjoy it while it lasts, boys. Repeating that outcome in Seattle is not an option. Prediction: Win
---
Week 5: at Washington Redskins
Traveling coast to coast to play on the road for a Monday night game is a tough task against any NFL opponent, and even tougher against quarterback Robert Griffin III. But the Seahawks catch a break in this one by coming off a bye week with plenty of time to prepare and be fresh for the journey. Prediction: Win
---
Week 6: Dallas Cowboys
Cowboys owner Jerry Jones gave Seattle a little bulletin-board material last month when he said the Seahawks were to blame for the increase in penalty flags during the preseason. There won't be near enough flags against Seattle for the Cowboys to win this one. Prediction: Win
---
Week 7: at St. Louis Rams
Any division game in the NFC West is a rugged battle. The Rams have a defensive line that gave the Seahawks problems a year ago. But they aren't strong enough overall to beat Seattle, even at home in their out-of-date dome. Prediction: Win
---
Week 8: at Carolina Panthers
The Seahawks were fortunate to win the season opener at Charlotte a year ago. That Panthers team was better than this one, but back-to-back road games against very physical defensive teams will end the Seattle winning streak. Prediction: Loss
---
Week 9: Oakland Raiders
Coming off their first loss of the season and returning home against an outmanned opponent, is there any doubt? Prediction: Win
---
Week 10: New York Giants
The Seahawks easily defeated the Giants 23-0 last year in New Jersey, a dress rehearsal for their Super Bowl victory at the same location -- MetLife Stadium. The Seahawks won't need a rehearsal to roll past the Giants in this one. Prediction: Win
---
Week 11: at Kansas City Chiefs
This likely will be a low-scoring game between two strong defensive teams. Odds are against any team that has to try to win by matching its defense against the Seahawks' D. Prediction: Win
---
Week 12: Arizona Cardinals
The last time the Cardinals played at CenturyLink Field was last December when they handed the Seahawks a 17-10 loss. That won't happen again unless the Seahawks get caught looking ahead to the 49ers game. The Seahawks don't look ahead. Prediction: Win
---
Week 13: at San Francisco 49ers
It's a Thanksgiving night, national TV game in the 49ers' shiny new stadium against the hated Seahawks. If San Francisco can't win this one, its time as a championship contender is over. Prediction: Loss
---
Week 14: at Philadelphia Eagles
This is the toughest part of the season for the Seahawks with back-to-back road games against likely playoff contenders. But the 10 days between games will help and be enough of a cushion to keep Seattle from losing two in a row. Prediction: Win
---
Week 15: San Francisco 49ers
This is a game that could decide which team wins the NFC West. No way the Seahawks lose to the 49ers twice in three weeks, especially not in front of a rabid full house of 12s. Prediction: Win
---
Week 16: at Arizona Cardinals
The Cardinals probably will be fighting for a playoff spot, and the Seahawks already will be in at 12-2. That difference will be just enough for Arizona to win at home in the same stadium where the Seahawks will win the Super Bowl a few weeks later. Prediction: Loss
---
Week 17: St. Louis Rams
For the second consecutive year, the Rams close the regular season in Seattle. And for the second consecutive year, the Seahawks will beat them without much trouble. Prediction: Win
---
Predicted Record: 13-3
October, 2, 2011
10/02/11
7:18
PM ET
Thoughts on the
Seattle Seahawks
'
30-28
home defeat against the
Atlanta Falcons
:


What it means:
The Seahawks fell to 1-3 overall and 1-1 at home, putting them in a rough spot heading into a road game against the
New York Giants
. But their offense made significant strides, giving the team hope. Seattle can build upon this performance despite the disappointing outcome.
Tarvaris Jackson
played his best game of the season, at least temporarily validating coach Pete Carroll's decision to stick with him after a mostly unproductive start to the season.
What I liked:
Seattle showed greater potential on offense.
Sidney Rice
's 52-yard scoring reception from Jackson served notice, again, that the Seahawks' big-ticket addition in free agency is a difference maker in the passing game. Jackson made an effort to get
Mike Williams
involved. Williams caught a touchdown pass before leaving the game with a head injury. Jackson also made a clutch scramble for a first down in Falcons territory when the Seahawks needed points in the fourth quarter.
Marshawn Lynch
, contained most of the day, broke free for an 11-yard scoring run as the Seahawks pulled within 27-21 late in the third quarter. Jackson's mobility helped buy time on a late scoring pass to
Ben Obomanu
as the Seahawks rallied to within 30-28. Also, receiver
Doug Baldwin
bounced back from a huge hit to make a 30-yard reception. He took another big hit, this one helmet to helmet, making a key reception in the fourth quarter. There was no flag. Baldwin returned to the game and kept making plays. He's been a huge find for Seattle.
What I didn't like:
The Seahawks had trouble mounting much of a pass rush even though the Falcons had allowed 13 sacks through three games, the same total Atlanta had allowed heading into Week 10 last season. Ryan's ability to operate without pressure put the Falcons in good position. Allowing two first-half rushing touchdowns to
Michael Turner
hurt even though Turner wasn't breaking off long runs as a general rule. The Seahawks are sometimes overdependent on
Chris Clemons
for sacks. A holding penalty against cornerback
Brandon Browner
helped the Falcons sustain a fourth-quarter drive while Atlanta was protecting a 30-28 lead.
Key play:
The Falcons' ability to beat pressure with a third-down dump pass while leading 27-21 early in the fourth quarter moved them into position for a field goal that gave them a 9-point lead.
What's next:
The Seahawks visit the New York Giants in Week 5 before having a bye in Week 6.
October, 2, 2011
10/02/11
4:29
PM ET
Thoughts on the
San Francisco 49ers
'
24-23 road victory
against the
Philadelphia Eagles
in Week 4:


What it means:
The 49ers are the best team in the NFC West after scoring a signature victory under new coach Jim Harbaugh. The offense the 49ers generated after falling behind 20-3 on the road against a good pass-rushing team showed they could open up the offense without imploding in a toxic cloud of
Alex Smith
turnovers. No team in the NFC West plays defense the way the 49ers play defense. Smith continues to minimize mistakes and has now shown an ability to make plays downfield.
What I liked:
Defensive end
Justin Smith
's hustle and athletic ability in tracking down receiver
Jeremy Maclin
to force a fumble when the Eagles were moving into range for the winning field-goal try could be the play of the season for San Francisco. The 49ers' defense gave up too many yards, but forcing key turnovers allowed San Francisco to stay in the game.
Frank Gore
, after struggling through the first three games, came through with his first 100-yard game of the season. He repeatedly made clutch runs in the late going to help his team win, making an extra effort on the go-ahead touchdown run. He played with heart. Alex Smith, who passed for 291 yards without an interception, found
Michael Crabtree
for a 38-yard reception against
Nnamdi Asomugha
. He found tight end
Vernon Davis
and receiver
Josh Morgan
for touchdowns. Harbaugh was on his game, twice winning replay challenges. And the 49ers' ability to win back-to-back road games for the first time since 2006 -- after Harbaugh insisted the team remain in the Eastern time zone all the while -- buys tremendous credibility for Harbaugh.
What I didn't like:
Jason Babin
collected three sacks and made it tough for the 49ers to finish their comeback. The Eagles'
Michael Vick
approached 400 yards passing. The Eagles made too many big plays in the passing game, including a 61-yarder to
DeSean Jackson
. That has been a problem area for the 49ers this season, particularly against Dallas and Philadelphia. The Cowboys and Eagles have big-play offenses, however, so some of the big plays are tolerable. An offsides penalty against
Ahmad Brooks
with 2:15 remaining stopped the clock and kept the Eagles' drive going, at least until Justin Smith's big play on Maclin.
What's next:
The 49ers are home against the
Tampa Bay Buccaneers
in Week 5.
October, 2, 2011
10/02/11
4:15
PM ET
Thoughts on the
St. Louis Rams
'
home loss
to the
Washington Redskins
in Week 4:


What it means:
This would have seemed unfathomable not long ago, but the 2011 Rams have often appeared as bad or worse than the 2009 team that finished with a 1-15 record. They are 0-4 and reeling heading into their bye week, with a trip to Green Bay waiting for them on the other side. It's tough to blame the Rams' problems solely on injuries. In other words, they are not
Danny Amendola
and a cornerback away from contending. The Rams will need to dominate their division schedule late in the season to dig their way out.
What I liked:
The Rams did not fall behind immediately, as they had against Baltimore a week earlier. This game was closer than that one. The Rams' pass defense prevented
Rex Grossman
from enjoying the spectacular success
Joe Flacco
enjoyed when he repeatedly hit deep passes for touchdowns. Cornerback
Justin King
, beaten deep by the Ravens, picked off a pass in the second half when the Rams needed a boost.
Sam Bradford
's 15-yard scoring pass to
Steven Jackson
in the fourth quarter made this a one-score game with 5:45 remaining.
James Laurinaitis
followed with another interception for the Rams, setting up in Washington territory in the final minutes.
What I didn't like:
Rarely did the Rams pose a threat on offense until it was nearly too late. Bradford found himself under pressure again, too often unable to find anyone open. He continued taking far too many sacks. And when he did find receivers down the field, they too often couldn't make plays for him. Steven Jackson's return to a more prominent role made little impact. Jackson had trouble getting anything going on the ground when the Rams needed production early in the game. The defense wasn't all that bad on the touchdown reception
Santana Moss
made to open the scoring. Moss made a good play on the ball. The Rams don't have anyone making those types of above-average-but-not-great plays. Meanwhile, the Rams' disappointing run defense continued to have problems, enabling
Ryan Torain
's fourth career 100-yard rushing performance. The Rams' defense would be in much better position if the offense would score a few points on occasion.
Told you so:
The Rams shrugged off concerns about their talent at receiver. It was going to be more about Josh McDaniels' system than raw talent at wideout. But with so many returning receivers coming off injuries, the Rams could have done more to protect themselves. It's not like having a healthy Amendola would strike fear in opposing defenses. The Rams need more offensive firepower.
What's next:
The Rams have a bye in Week 5 before visiting Green Bay in Week 6.