NFC West:

2011 Week 9 NFL power rankings
September, 2, 2014
Sep 2
8:00
AM ET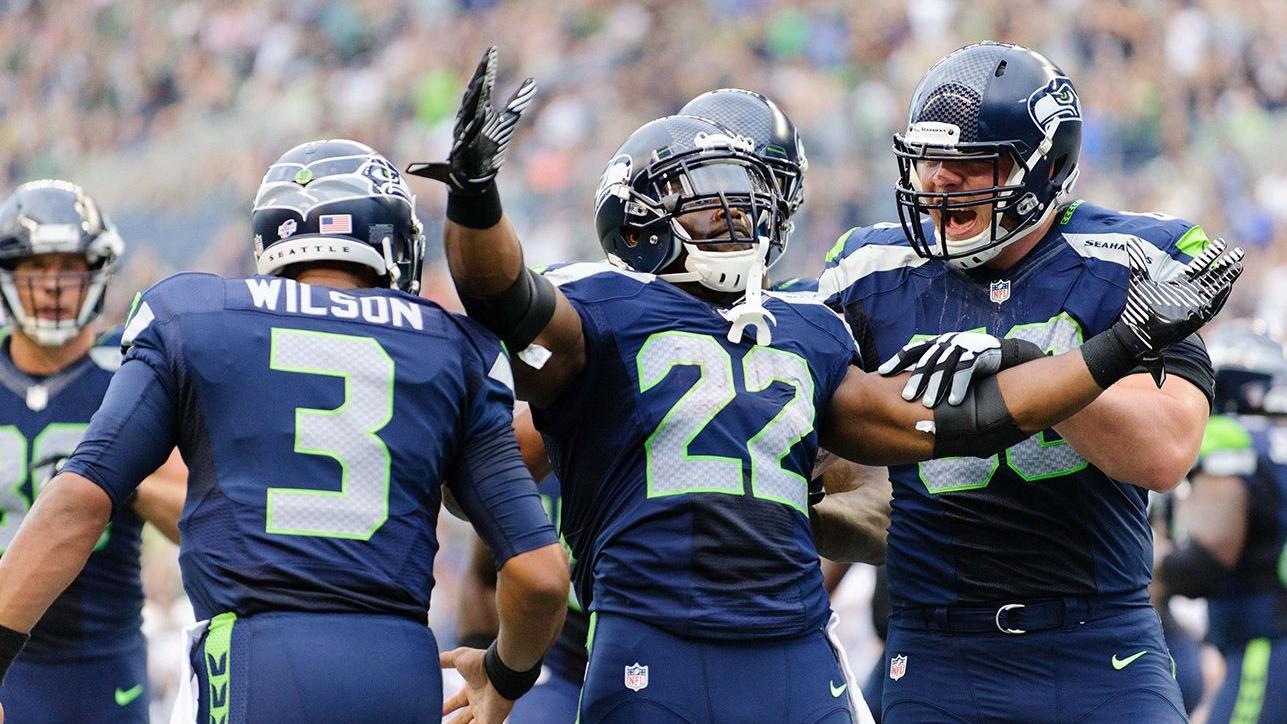 ESPN.com
Seattle Seahawks
reporter Terry Blount makes his game-by-game picks for the 2014 season.
Week 1: Green Bay Packers
All the pregame hype will center around the so-called Inaccurate Reception, the controversial Hail Mary catch by Golden Tate two years ago that won the game over the Packers at Seattle on a Monday night. Tate has moved on to Detroit, but the Seahawks now have too many weapons for the Packers to stop, no Hail Mary required. Prediction: Win
---
Week 2: at San Diego Chargers
The Chargers better hope they play a lot better than they did in the preseason game at Seattle, a 41-14 victory for the Seahawks on Aug. 15. San Diego will play better, but not good enough to beat a much better team. Prediction: Win
---
Week 3: Denver Broncos
The Broncos and their fans got a tiny bit of meaningless Super Bowl revenge in the preseason opener with a 21-16 victory over the Seahawks in Denver. Enjoy it while it lasts, boys. Repeating that outcome in Seattle is not an option. Prediction: Win
---
Week 5: at Washington Redskins
Traveling coast to coast to play on the road for a Monday night game is a tough task against any NFL opponent, and even tougher against quarterback Robert Griffin III. But the Seahawks catch a break in this one by coming off a bye week with plenty of time to prepare and be fresh for the journey. Prediction: Win
---
Week 6: Dallas Cowboys
Cowboys owner Jerry Jones gave Seattle a little bulletin-board material last month when he said the Seahawks were to blame for the increase in penalty flags during the preseason. There won't be near enough flags against Seattle for the Cowboys to win this one. Prediction: Win
---
Week 7: at St. Louis Rams
Any division game in the NFC West is a rugged battle. The Rams have a defensive line that gave the Seahawks problems a year ago. But they aren't strong enough overall to beat Seattle, even at home in their out-of-date dome. Prediction: Win
---
Week 8: at Carolina Panthers
The Seahawks were fortunate to win the season opener at Charlotte a year ago. That Panthers team was better than this one, but back-to-back road games against very physical defensive teams will end the Seattle winning streak. Prediction: Loss
---
Week 9: Oakland Raiders
Coming off their first loss of the season and returning home against an outmanned opponent, is there any doubt? Prediction: Win
---
Week 10: New York Giants
The Seahawks easily defeated the Giants 23-0 last year in New Jersey, a dress rehearsal for their Super Bowl victory at the same location -- MetLife Stadium. The Seahawks won't need a rehearsal to roll past the Giants in this one. Prediction: Win
---
Week 11: at Kansas City Chiefs
This likely will be a low-scoring game between two strong defensive teams. Odds are against any team that has to try to win by matching its defense against the Seahawks' D. Prediction: Win
---
Week 12: Arizona Cardinals
The last time the Cardinals played at CenturyLink Field was last December when they handed the Seahawks a 17-10 loss. That won't happen again unless the Seahawks get caught looking ahead to the 49ers game. The Seahawks don't look ahead. Prediction: Win
---
Week 13: at San Francisco 49ers
It's a Thanksgiving night, national TV game in the 49ers' shiny new stadium against the hated Seahawks. If San Francisco can't win this one, its time as a championship contender is over. Prediction: Loss
---
Week 14: at Philadelphia Eagles
This is the toughest part of the season for the Seahawks with back-to-back road games against likely playoff contenders. But the 10 days between games will help and be enough of a cushion to keep Seattle from losing two in a row. Prediction: Win
---
Week 15: San Francisco 49ers
This is a game that could decide which team wins the NFC West. No way the Seahawks lose to the 49ers twice in three weeks, especially not in front of a rabid full house of 12s. Prediction: Win
---
Week 16: at Arizona Cardinals
The Cardinals probably will be fighting for a playoff spot, and the Seahawks already will be in at 12-2. That difference will be just enough for Arizona to win at home in the same stadium where the Seahawks will win the Super Bowl a few weeks later. Prediction: Loss
---
Week 17: St. Louis Rams
For the second consecutive year, the Rams close the regular season in Seattle. And for the second consecutive year, the Seahawks will beat them without much trouble. Prediction: Win
---
Predicted Record: 13-3
November, 1, 2011
11/01/11
12:31
PM ET
Alex Smith
and the
San Francisco 49ers
outrank
Tom Brady
and the
New England Patriots
in ESPN's NFL Power Rankings entering Week 9.
Yeah, we saw that coming back in Week 1.
The 49ers were 26th then. The Patriots were first. Not now.
San Francisco, at 6-1, edged 6-2 Pittsburgh for the No. 2 spot behind Green Bay in the latest rankings. Both teams received two second-place votes, one third-place vote and two fourth-place votes. The first tiebreaker, head-to-head results, did not come into play. The 49ers prevailed on the second tiebreaker, overall record.
"I think the 49ers have earned it with their record," said voter Paul Kuharsky, who joined me in ranking the 49ers second. "I'm not sure I'd expect them to beat, say, New England or New Orleans, but I can't let my affection for some teams like the Pats and Saints this season over-influence my picture of right now."
Having watched the 49ers every week and the Saints some weeks, including in their unfathomable defeat to previously winless St. Louis, I think
Frank Gore
could rush for 200 yards against New Orleans. I think the 49ers would overwhelm the Saints' offensive line and handle them on special teams. More on San Francisco in a bit.
Five of the top six teams from last week changed position in the latest rankings.
The 7-0 Packers remained first following their bye. The 49ers moved up two spots from fourth after beating Cleveland for their fifth consecutive victory outside the NFC West. The Steelers moved up two spots to third after beating the Patriots. Baltimore moved up two spots to fourth, trailing Pittsburgh despite a dominating victory over the Steelers in Week 1.
The Patriots and Saints each tumbled three spots following defeats, but voter James Walker left New England third on his ballot. He joined Ashley Fox in ranking the Steelers second. John Clayton ranked Baltimore second and the 49ers third.
"Beating Tom Brady and the Patriots carries a lot of weight," Walker said in explaining why he ranked the Steelers two spots higher than the 49ers. "I don't think that's something the 49ers can do. Plus, the Steelers are more of a proven commodity, coming off a Super Bowl appearance."
Fox spent Sunday in Pittsburgh and came away impressed. She pointed to the Steelers' ability to keep Brady off the field.
"Had they been able to score touchdowns in the red zone, the game would've been a rout," Fox said. "It was as impressive a performance as I've seen so far this season. That's why I moved Pittsburgh up."
The 49ers were second on my ballot because they've produced a consistent formula for winning. They run the ball effectively, play phenomenal defense, dominate on special teams and keep turnovers to a minimum.
Questions about Smith's limitations at quarterback are valid. So far, however, he has come through. He threw the winning touchdown pass in the final two minutes to beat Detroit at Ford Field. At Philadelphia, he completed nine of nine passes for 179 yards and two touchdowns during the third quarter as the 49ers overcame a 20-point deficit to win.
And now, a closer look at the latest rankings ...
Rising (11):
Philadelphia Eagles
(+6),
Minnesota Vikings
(+5),
Kansas City Chiefs
(+3),
Atlanta Falcons
(+2),
Baltimore Ravens
(+2),
Cincinnati Bengals
(+2),
New York Giants
(+2),
Pittsburgh Steelers
(+2), San Francisco 49ers (+2),
Houston Texans
(+1),
St. Louis Rams
(+1).
Falling (13):
San Diego Chargers
(-6),
Dallas Cowboys
(-3), New England Patriots (-3),
New Orleans Saints
(-3),
Carolina Panthers
(-2),
Oakland Raiders
(-2), Tampa Bay Bucs (-2),
Washington Redskins
(-2),
Arizona Cardinals
(-1),
Denver Broncos
(-1),
Jacksonville Jaguars
(-1),
Seattle Seahawks
(-1),
Tennessee Titans
(-1).
Unchanged (8):
Buffalo Bills
,
Chicago Bears
,
Cleveland Browns
,
Detroit Lions
,
Green Bay Packers
,
Indianapolis Colts
,
Miami Dolphins
,
New York Jets
.
Deadlocked:
We broke two ties this week. The 49ers prevailed over the Steelers at No. 2. The Giants edged the Bears at No. 9, also on the second tiebreaker (better record).
Like minds:
All five panelists had the Packers first. Four of five panelists -- everyone but Fox -- had the Dolphins 31st and the Colts 32nd. She had them flipped.
Agree to disagree:
The Eagles and Raiders produced the largest disparity between high and low votes. Kuharsky ranked the Eagles 10th, 10 spots higher than Clayton ranked them.
"The Eagles have one of the biggest up arrows of anyone right now," Kuharsky said. "They are up because they are hot and look like the team I had ranked high at the start."
A look at the seven teams producing disparities of at least six spots between highest and lowest votes:
Eagles (10): Kuharsky 10th, Clayton 20th.
Raiders (10): Clayton 11th, Sando 20th.
Jets (9): Fox seventh, Kuharsky 16th.
Giants (8): Clayton eighth, Walker 16th.
Chargers (8): Fox 11th, Kuharsky 19th.
Lions (7): Walker fifth, Fox 12th.
Bills (6): Kuharsky fourth, Fox 10th.
Power rankings histories:
These
colorful layered graphs
show where each NFL team has ranked every week since the 2002 season.
Ranking the divisions
: The NFC North holds a narrow lead over the AFC North for the highest ranking on average, 10.9 to 11.0. The AFC East is third at 14.0. The NFC West lags at No. 8, behind the AFC South.
A voter-by-voter look at changes of at least five spots since last week:
Sando: Chargers (-6).
Clayton: Chargers (-9), Bengals (+10).
Kuharsky: Patriots (-5), Saints (-5), Vikings (+6), Eagles (+10).
Walker: Cowboys (-6), Chargers (-6), Saints (-5), Bengals (+5), Texans (+5), Eagles (+6).
Fox: Cowboys (-6).
For download:
An Excel file -- available
here
-- showing how each voter voted this week and in past weeks.
The file includes a "powerflaws" sheet pointing out potential flaws in voters' thinking by showing how many higher-ranked opponents each team defeated this season.
Baltimore, Buffalo and the Giants are the only top-10 teams with victories over teams ranked higher than them this season. Oakland, Kansas City, Tampa Bay and Jacksonville are the only teams with two victories over higher-ranked teams. No team owns three such victories.
A quick primer on the "powerflaws" sheet:
Column Y features team rankings.
Column Z shows how many times a team has defeated higher-ranked teams.
Change the rankings in Column Y as you see fit.
Re-sort Column Y in ascending order (1 to 32) using the standard Excel pull-down menu atop the column.
The information in Column Z, which reflects potential ranking errors, will change (with the adjusted total highlighted in yellow atop the column).
The lower the figure in that yellow box, the fewer conflicts.