NFC West:

2012 Black Monday
December, 31, 2012
12/31/12
2:03
PM ET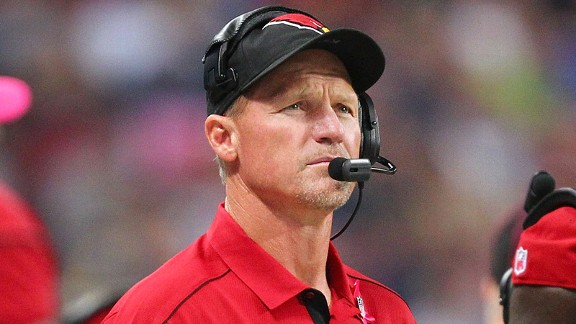 Dilip Vishwanat/Getty ImagesCoach Ken Whisenhunt was 45-51 in six seasons with the Cardinals.
Arizona Cardinals
coach Ken Whisenhunt and general manager Rod Graves
bet their jobs
on the
Kevin Kolb
acquisition in 2011.
They lost them in spectacular fashion.
Their firings Monday
set a new course for the organization. There is simply no defending the Cardinals' record at quarterback since Kurt Warner retired following the 2009 season.
Just about every quarterback the Cardinals tried got worse over time. The one Whisenhunt named to start this season,
John Skelton
, slipped so far that the team was naming him inactive late in the season, preferring instead to go with waiver-wire pickup
Brian Hoyer
and sixth-round rookie
Ryan Lindley
as the top two quarterbacks.
I think Whisenhunt was a good coach in many ways. He was emotionally consistent. He set standards and tried to hold players accountable to them, even when it meant benching established players. He seemed prepared for in-game situations and showed a firm grasp of the rules.
An Eagle Scout with an engineering degree from Georgia Tech, Whisenhunt was plenty sharp for the job. In the end, he wasn't good enough to win with the quarterbacks he helped select and failed to develop. Finishing with a 5-11 record twice in three seasons, including in 2012, spelled his demise following six seasons with the team.
Whisenhunt will go down in Cardinals history as the first coach to lead the team to a Super Bowl. He will go down in the Arizona-era history as the first coach to earn a second contract with the team. His 4-2 record in postseason games was impressive. He played a leading role in turning around an organization that hadn't won anything in years.
But in the final evaluation, there was zero evidence Graves and/or Whisenhunt were suddenly going to start acquiring and developing viable quarterbacks. Their failings in that one area explain why we're having this discussion one day after the 2012 regular season.
The Cardinals went 5-0 this season when they scored 20-plus points. They lost three games when the opponent failed to score 20.
No team with
Larry Fitzgerald
and the talented receiving corps should struggle as badly as the Cardinals did this season. Injuries compounded the situation, for sure. Arizona lost left tackle
Levi Brown
before the season. Running backs
Beanie Wells
and
Ryan Williams
struggled and missed extensive time because of injuries. Kolb had thrown eight touchdown passes with three picks before a Week 6 rib injury ended his season. The Cardinals connected for only three additional scoring passes from Week 7 to the end of the regular season.
There were times, I thought, when Whisenhunt and the offensive staff seemed to stubbornly stick with the pass-oriented approach Warner made work so famously. Arizona attempted 24 first-half passes and had 54 total dropbacks against St. Louis in Lindley's first NFL start. That approach didn't make sense, even though the Cardinals were low on options at running back as well. But those complaints were trivial in the absence of a legitimate quarterback.
Whisenhunt also could have used more from his staff.
Line coach Russ Grimm became a Hall of Famer as a player, but his coaching legacy in Arizona failed to meet high initial expectations.
Center
Lyle Sendlein
was one player the Cardinals developed into a very good starter up front. How many other success stories were there during Whisenhunt's run with the team? Brown, the fifth overall pick in 2007, never developed into what Grimm and the Cardinals believed. And when the front office stopped drafting offensive linemen, the team ran low on talent. That became critical as the QB situation deteriorated.
Meanwhile, division rivals Seattle and San Francisco sent four of their drafted linemen to the Pro Bowl this season.
Six years is a long time in the NFL. Sometimes, a coach runs his course in a place. Sometimes, a change benefits all involved. Coaches almost never get everything they want. That was presumably the case with Whisenhunt in Arizona. But when it came time to acquire Kolb at great cost and invest to keep Fitzgerald, the organization did its part.
I would expect the Cardinals to consider promoting Ray Horton from defensive coordinator to coach. I would expect them to consider promoting Steve Keim from vice president of player personnel to GM.
Those two won't fare any better in the end without at least an average quarterback. Seattle found
Russell Wilson
in the third round. San Francisco took
Colin Kaepernick
in the second.
The Cardinals move toward the 2013 draft with the seventh overall choice. They have needs on the offensive line and at outside linebacker, but mostly they need a quarterback. That hasn't changed since 2009.
January, 2, 2012
1/02/12
5:23
PM ET
Lots going on around the NFC and in the NFC West. Let's make the rounds ...
Those are a few of the issues percolating around the division. Back with more in a bit.
January, 2, 2012
1/02/12
12:55
PM ET
The
St. Louis Rams
' search for a new general manager and head coach is under way. The
case for change
was easily made, and that is typically the case when teams lose.
A look back at coaching changes from last offseason offers perspective.
Thirteen NFL teams finished the 2010 season with six or fewer victories.
Five hired new head coaches. Four of those five -- San Francisco, Carolina, Denver and Tennessee -- improved in the standings. One, Cleveland, got worse. The five teams produced a net gain of 17 victories from 2010.
Those improvements provide evidence to support coaching changes. There is more to this story, however.
Two of the 13 teams in question made changes during the 2010 season, then decided to keep their interim coaches. One, Dallas, improved by two victories. The other, Minnesota, got worse by three victories.
Here is the interesting part: Five of the six teams to keep their coaches after finishing 6-10 or worse -- Cincinnati, Detroit, Houston, Arizona and Buffalo -- improved their totals for victories. One, Washington, got worse by a single game. These six teams to stay the course produced a net gain of 17 victories from 2010, same as the five teams that hired brand new coaches.
Counting Dallas and Minnesota among the teams with new head coaches tips the balance in favor of teams that stayed the course. Put another way, teams replacing the head coaches they took into the 2010 season improved by 2.28 victories on average. Teams staying the course after finishing 6-10 or worse improved by 2.83 victories on average.
We can amplify certain aspects of these numbers to justify decisions one way or another. I present them merely as balance to natural perceptions that coaching changes are the key to subsequent improvement.
The 49ers obviously made the right move in hiring Jim Harbaugh to replace Mike Singletary. They improved from 6-10 to 13-3 and we could all see ways the coaching was improved. Other situations are more difficult to evaluate. Tennessee improved from 6-10 to 9-7 after replacing Jeff Fisher with Mike Munchak, but no one would have been shocked if Fisher had also gone 9-7 with a new veteran quarterback behind center.
The Rams will almost certainly improve after firing Steve Spagnuolo. It'll most likely take dramatic gains to convince me coaching was a primary reason for them.
January, 2, 2012
1/02/12
11:53
AM ET
The firings of coach Steve Spagnuolo and general manager Billy Devaney from the
St. Louis Rams
have become official. Team owner Stan Kroenke issued
a brief statement
confirming what had been expected.
"No one individual is to blame for this disappointing season and we all must hold ourselves accountable," Kroenke said. "However, we believe it's in the best interest of the St. Louis Rams to make these changes as we continue our quest to build a team that consistently competes for playoffs and championships."
[+] Enlarge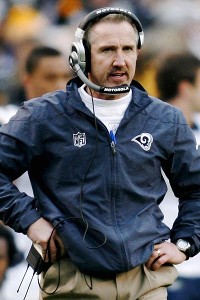 Charles LeClaire/US PresswireThe Rams are now headed in a different direction following Steve Spagnuolo's three seasons (10-38 overall) in St. Louis.
The Rams finished 2-14 this season, which means they were likely to improve in the 2012 standings whether or not they made a coaching change.
Carolina went from 2-14 in 2010 to 6-10 this season after firing head coach John Fox. It's impossible to know whether the Panthers would have improved by as much or more by staying the course. They could not have gotten much worse.
Three teams went 4-12 in 2010. Cincinnati improved five games after keeping Marvin Lewis. Denver improved four games after firing Josh McDaniels. Buffalo improved two games after keeping Chan Gailey. How did coaching moves play into those changes? Again, it's tough to know.
Two teams went 5-11 in 2010. Cleveland lost ground in the standings by one game after hiring a new coach, Pat Shurmur. Arizona improved three games after keeping Ken Whisenhunt.
The Rams can easily justify the changes they are making by pointing to the bottom line. The team went 10-38 with Spagnuolo as its head coach. Nothing more needs to be said in justifying the move.
Kroenke has been with the Rams for years, but he is relatively new to the position of majority owner. The situation is perfect for him to set a new course with his own people. The team has a young franchise quarterback.
Chris Long
and
James Laurinaitis
give the next coach two young defensive players to build around.
Robert Quinn
could be another.
The team's salary-cap situation has improved. Most of the veterans signed to make a push in 2010 are easily expendable from a financial standpoint. The Rams are in position to become one of the NFL's younger teams with an offseason roster overhaul. They will have to acquire and develop starters throughout most of their offense. They need help at outside linebacker and throughout their secondary, depending to some degree on health-related issues.
In the accompanying video, ESPN's Adam Schefter points to Jeff Fisher as one potential candidate. That would make some sense, given Fisher's experience as a head coach. Spagnuolo was a first-timer. Hiring a more experienced coach would be one way to set a new course. Someone with credibility on a national level might initially help to win over skeptical Rams public.
The weight of 10-38 prevented the Rams from credibly pointing to a long list of injuries that obviously affected their chances in 2011. No one cares much why teams lose. They want winners. All parties understand that, making Kroenke's announcement no surprise to anyone.