NFC West:

2012 Divisional Round
January, 14, 2012
1/14/12
11:38
PM ET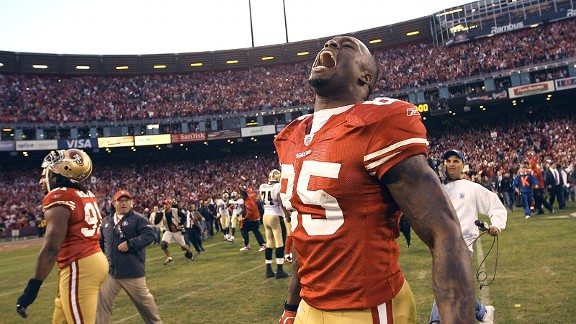 Ezra Shaw/Getty ImagesVernon Davis, in his sixth year with the 49ers, led his team to a win against New Orleans Saturday.
SAN FRANCISCO -- There could be no other way for the
San Francisco 49ers
.
Alex Smith
and
Vernon Davis
, once the weary symbols for a proud franchise in tatters, had to be the ones delivering San Francisco to its epic
36-32 victory
Saturday.
This was how the 49ers would atone for a lost decade -- Smith to Davis at Candlestick Park, the Niners advancing to the NFC Championship Game in Jim Harbaugh's magical first season as coach.
"The Catch" has company in 49ers lore.
Davis, having spent more time in his playbook than his thesaurus lately, proposed "The Grab" to describe the 14-yard touchdown pass he caught from Smith to shock New Orleans and all the doubters in a red sea of delirious 49ers fans.
That was the only time Davis, he of seven receptions for 180 yards and two scores, came up short all afternoon.
A quarter-century after
John Elway
authored "The Drive" for Denver, Smith and Davis did the Broncos one better, albeit without a Super Bowl berth on the line quite yet.
"The Drives" -- plural -- vanquished
Drew Brees
and the most prolific offense in NFL history. A 49ers team with five fourth-quarter comeback victories during the regular season needed Smith to outduel Brees not once, but twice in the final three minutes.
"It might be time to give Alex some credit, huh?" Harbaugh said.
Smith passed for three touchdowns, ran 28 yards for another and suffered no interceptions in the biggest game of his life. Brees was often brilliant, especially in the clutch, but he threw two picks and joined a growing list of elite quarterbacks coming up short against the 49ers.
Down 24-23 with 4:02 left, Smith beat the Saints' blitz with a 37-yard sideline strike to Davis -- a big-time throw befitting his status as a No. 1 overall draft choice. Then came the 28-yard touchdown run on a quarterback keeper, left tackle
Joe Staley
leading and leveling Saints safety
Isa Abdul-Quddus
.
"I've never felt so drained after a football game, and I consider myself to be a very in-shape lineman," Staley said.
Brees' immediate answer, a 66-yard scoring strike to
Jimmy Graham
, would have finished a team with a second-rate quarterback. It would have finished the 49ers in any of the previous eight or nine seasons. All Smith did was complete five of six passes in the final 1:32, including a 47-yarder to Davis and the 14-yard winner.
Time to reassess.
"He beat
Ben Roethlisberger
on 'Monday Night Football,' he beat
Eli Manning
in a big game, he beat Drew Brees, he beat
Matthew Stafford
," safety
Donte Whitner
said. "I think it's time to start mentioning him as a good quarterback in the National Football League."
The 49ers should not have needed validation for their 13-3 season, but a one-and-done showing against a team with an MVP-caliber quarterback would have strengthened familiar narratives about postseason football in the passing age.
The fact is, the 49ers put the game in Smith's hands to a degree that didn't always seem wise, but the confidence they showed in him became self-fulfilling -- as it was all season.
"We had a lot of confidence in Alex," Staley said. "You saw what he could do today against a great team. He came up huge. Played an amazing game."
The process began a year ago when Harbaugh reached out to Smith and even played catch with him, doing all he could to salvage a player-team relationship both sides previously thought was finally nearing an end. Smith's interest in returning despite all that had come before showed the mettle Harbaugh demanded from the position. Momentum built as Harbaugh heaped praise upon Smith all offseason, installed him as the starter and backed him even when the offense failed to exceed 226 yards in any of its first three games.
Later, with Smith putting up efficient passing stats but hardly carrying the offense, Harbaugh pushed him for the Pro Bowl — up there with
Aaron Rodgers
and Brees among the elites.
The 49ers called more than twice as many pass plays as runs against New Orleans. Instead of running out the clock before halftime, they pushed for more points and paid with their first turnover since Week 12, a Smith fumble when the Saints sacked him. Harbaugh and offensive coordinator Greg Roman obviously didn't buy the thinking that San Francisco would have to rush for 200 yards, keeping Brees off the field to better their chances.
[+] Enlarge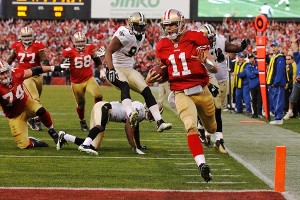 Cary Edmondson/US PresswireDespite his breakthrough 2011 season, the 49ers must decide if Alex Smith can lead the franchise to a Super Bowl.
"We were taking some shots all game long," Harbaugh said. "I thought Alex played extremely bold."
The Saints did what they do: blitz and blitz some more. They backed off some in the fourth quarter, but Smith completed all six of his attempts in the quarter when the Saints sent four or fewer rushers, according to ESPN Stats & Information.
The beauty Saturday was that Smith refused to gloat.
"We're still playing — that's what it means, and that feels great," Smith said, again wearing his Harbaugh-issued blue work shirt with the "Alex" patch on the front.
The shirts reflect the blue-collar mentality Harbaugh has sought to instill.
The game programs issued at Candlestick carried the old Bo Schembechler mantra: "The team, the team, the team."
This was a team victory, of course. The 49ers' defense forced three first-quarter turnovers and five overall.
Frank Gore
's 42-yard rush came when the 49ers needed it badly. Defensive end
Justin Smith
willed his way to a third-down sack when the game was slipping away from the 49ers' offense. Harbaugh pointed to the kickoff coverage team.
"We are a much more complete team than anybody gives us credit for," Staley said.
And what more could be said about Davis? No player on the 49ers had more growing up to do than the one San Francisco drafted sixth overall in 2006. Davis has gone from out of control to consummate team player and professional. His impassioned halftime speech came after the 49ers led only 17-14 despite forcing four first-half turnovers.
"One shot, that was the message," Davis said. "We only have one shot, and if we don't take advantage of it, we go home. There was a lot of fire in me at that moment. Something just hit me, and I had to let it out."
Davis backed up his talk. He beat safety
Roman Harper
for a 49-yard touchdown early. He had 47- and 37-yard catches late, a 20-yarder in the second quarter and, of course, the winner. The ever-secretive Harbaugh drew laughs by revealing the play's name to be Vernon Post. Davis, having endured the 49ers' recent past, was more reflective.
"Along the way, there has been a lot of stress, doubt and criticism," Davis said. "Especially for Alex. But when I look at that kid, I look at him as a warrior. You can just imagine a little kid standing there and getting picked on in grade school. Rocks thrown at him, spit on. Alex has been there. I just wish him all the best."
Smith allowed himself a fleeting moment of reflection.
"It's been such a great year, such a great group of guys, coaches and players," he said. "We love coming to work every day. I know I do. We get one more week, at least."
January, 14, 2012
1/14/12
8:16
PM ET
SAN FRANCISCO -- Thoughts after the
San Francisco 49ers
'
36-32 divisional playoff victory
over the
New Orleans Saints
on Saturday at Candlestick Park:


What it means:
The 49ers are headed to the NFC title game against the winner of the
New York Giants
-
Green Bay Packers
game Sunday. They will play at home if the Giants win. They will visit Green Bay if the Packers win.
Alex Smith
and
Vernon Davis
showed their playoff mettle in leading the 49ers back from fourth-quarter deficits not once, but twice. This will go down as one of the great games in 49ers history and in NFL postseason history.
What I liked:
Smith's winning 14-yard touchdown pass to Davis showed the 49ers were playing to win, not for overtime. On the 49ers' previous drive, Smith's 37-yard strike to Davis up the left sideline and 28-yard touchdown run on a beautifully executed keeper put the 49ers ahead with 2:11 remaining. The 49ers played the game on their terms early, delivering punishing hits while hawking the ball. They forced three first-quarter turnovers and built a 17-3 lead.
Dashon Goldson
outfoxed
Drew Brees
to pick off one pass.
Tarell Brown
made an athletic play for another interception. Smith capitalized on the turnovers, finding Davis for a 49-yard touchdown and
Michael Crabtree
for a 4-yarder that showed San Francisco has indeed made progress in the red zone recently.
Donte Whitner
in particular roughed up the Saints, knocking out running back
Pierre Thomas
with a concussion and pounding tight end
Jimmy Graham
. The defense held firm after the 49ers suffered their first turnover in six games, right before halftime.
What I didn't like:
The 49ers' defense, ranked fourth overall in yards allowed per game during the regular season, gave up go-ahead pass plays covering 44 and 66 yards in the final five minutes. The 49ers forced four first-half turnovers and still led by only three. Smith paid for the aggressive offensive plan, taking third-down sacks, including one that led to the 49ers' first turnover since a Week 12 game at Baltimore. Crabtree, after making his scoring grab, had trouble holding onto the ball on contested throws. The 49ers needed him to win those battles. Goldson went for the big hit on
Marques Colston
, but Brees led Colston away from trouble, producing a 31-yard gain when the 49ers led by only six points in the third quarter.
Frank Gore
had seven drops during the season and had a hard time throwing in this game, sending one back to Smith on a hop to sap the potential from a trick play. The 49ers' defense cracked with the game on the line, allowing
Darren Sproles
' go-ahead 44-yard touchdown reception.
Play calling raised eyebrows:
The 49ers' aggressiveness on offense led them away from the ground game. The early passing helped the 49ers take a 14-0 lead with scoring passes to Davis and Crabtree. Pass plays continued outnumbering runs as the game progressed, however, and the 49ers did not get into a rhythm on the ground. The 49ers had 29 pass attempts and 15 rushes through three quarters. They also had taken four sacks to that point, widening the disparity. The strategy was easy to question because the 49ers' wide receivers were not playing at a high level.
Defensive player of the year:
It would be tough to argue against the 49ers'
Justin Smith
, the team's most consistent and consistently dominant player. Smith's brute power won out when he sacked Brees on third down when the 49ers absolutely needed a stop in the third quarter. Later, with 49ers up only three, Smith drove Pro Bowl left tackle
Jermon Bushrod
into Brees for a sack. These were Reggie White-type plays at critical moments.
Injury notes:
The 49ers got receiver
Ted Ginn
Jr. back from injury, but Ginn spent as much time on the exercise bike as on the field, it seemed. His knee was a problem. Ginn had trouble getting much traction in the return game and was called for pass interference late in the third quarter. Officials flagged receiver
Kyle Williams
for offensive interference on the next play. Both calls appeared straightforward. The Saints declined both.
What's next:
The NFC title game.
January, 14, 2012
1/14/12
3:53
PM ET


SAN FRANCISCO -- Candlestick Park is filling up with San Francisco 49ers colors as kickoff approaches.

I shot a short video from the stands a bit earlier, when the stadium was quieter. The calm before the storm.
January, 14, 2012
1/14/12
3:11
PM ET
SAN FRANCISCO — The
San Francisco 49ers
and
New Orleans Saints
offered no surprises when declaring which players would be inactive for their NFC divisional playoff game Saturday.


Niners tight end
Delanie Walker
(broken jaw) and Saints receiver
Lance Moore
(hamstring) will not play. The Saints ruled out Moore on Friday. The 49ers did not officially rule out Walker at that time, but coach Jim Harbaugh had previously said Walker would almost certainly miss the game.
Also inactive for the 49ers: quarterback
Scott Tolzien
, receiver
Joe Hastings
, cornerback
Shawntae Spencer
, guard
Daniel Kilgore
, guard
Mike Person
and nose tackle
Ian Williams
.
For the Saints: cornerback
Leigh Torrence
, linebacker
Nate Bussey
, guard
Eric Olsen
, tight end
Tory Humphrey
, tight end
John Gilmore
and defensive end
Turk McBride
.
The 49ers will have receivers
Ted Ginn
Jr. and
Kyle Williams
after both missed late-season games with injuries. Their presence upgrades the 49ers on special teams as well. Walker's absence makes the 49ers' less dynamic in their two-tight end personnel packages. Walker was also a solid contributor on special teams.
January, 14, 2012
1/14/12
2:17
PM ET
SAN FRANCISCO -- Pete Carroll, Jeff Fisher and Ken Whisenhunt have all won playoff games as head coaches.
Their NFC West rival, Jim Harbaugh, can join them if the
San Francisco 49ers
defeat the
New Orleans Saints
in the NFC divisional round Saturday.
Two playoff victories this postseason would give the NFC West three head coaches with Super Bowls on their résumés.
Fisher and Whisenhunt made Super Bowl appearances as head coaches. The NFC East is the only division featuring more than two current head coaches with Super Bowl experience (Mike Shanahan, Andy Reid and Tom Coughlin).
The chart shows playoff victory counts for current head coaches, by division. Bill Belichick's 15 postseason victories give the AFC East a league-high 19.
Coughlin ranks second with nine. Shanahan has eight, followed by John Fox with six and four coaches with five, including Fisher. Whisenhunt is one of four coaches with four.
January, 14, 2012
1/14/12
11:48
AM ET
SAN FRANCISCO -- Must be a playoff game.


Traffic was backing up from Candlestick Park onto Highway 101 five-plus hours before the
San Francisco 49ers
' kickoff against New Orleans in the NFC divisional round. It's been years and years since that happened for a weekend game, to my knowledge. Some fans were camped out in RVs since midnight.
This morning, one fan barreling along at about 75 mph rolled down his window to wave a giant 49ers flag, only to have the crisp morning air rip it from his grasp. The flag flew onto the highway and struck another vehicle. Hey, no harm, no foul.
I pulled into the parking lot at about 8:10 a.m. PT -- well in advance of the 1:30 p.m. kickoff and before the scheduled opening of gates -- but cars were already flowing into the lots. I found a spot and had to ask the guy in a van occupying the bordering spot to move the swinging back door from his van (encroachment?). This fan was already grilling chicken. He offered me some, too (in retrospect, I should have taken him up on it.)
Bright sunshine is blasting through the pressbox glass. The field below looks better than I can recall it looking in recent seasons. Both end zones are mostly red, with black and white borders around the "49ERS" and a gold stripe running beneath the "ERS" -- a vintage look. Each 25-yard line features the NFL shield inside the silver outline of a football, with the word "DIVISIONAL" in all caps below. The customary 49ers logo with the team's initials marks midfield.
Temperatures are in the upper 40s and rising, with barely a trace of clouds visible from inside the stadium. The 49ers' cheerleaders are warming up down where the
New Orleans Saints
' players and coaches will stand during the game.
Not quite five hours til kickoff.
January, 14, 2012
1/14/12
10:30
AM ET
SAN FRANCISCO -- The best defenses can harass opposing quarterbacks without sending additional rushers.
The 49ers have done a pretty good job of it this season.
They have sent four or fewer rushers on 80.9 percent of opposing quarterbacks' dropbacks, the second-highest figure in the league, according to ESPN Stats & Information.
I would not expect a significant shift in philosophy when the 49ers face
Drew Brees
and the
New Orleans Saints
in their divisional playoff game Saturday. We should note, however, that Brees has been even better against four or fewer rushers than when teams gamble by sending added pressure. There could be a temptation to send extra rushers if Brees fares well against the standard pressure San Francisco has preferred this season.
The first chart compares the 49ers' regular-season defensive stats to Brees' passing numbers when sending no more than four pass-rushers. Brees leads the NFL in completion percentage, yards, touchdowns and total QBR against four or fewer. He completed 32 of 39 passes for 425 yards and three touchdowns in these situations against Detroit in the wild-card round.
Not that Brees is any slouch against five or more rushers. He ranks second in completion percentage, fifth in yards, fourth in touchdowns and third in QBR against five-plus rushers. The number of opposing rushers hasn't seemed to faze him much. It's been a pick-your-poison situation for opposing defenses.
I'm expecting the Saints to favor heavier personnel groupings, with an emphasis on hitting big plays against the 49ers' base defense.
The ability to get pressure up the middle is always important. It's arguably more important against Brees because he's so comfortable and effective when stepping up in the pocket against outside pressure.
We're about six hours away from kickoff as this item is posting. Someone please hit fast-forward. Really looking forward to this matchup.
I'll be heading to Candlestick Park shortly.