NFC West:

2012 Hall of Fame enshrinement
August, 4, 2012
8/04/12
7:46
PM ET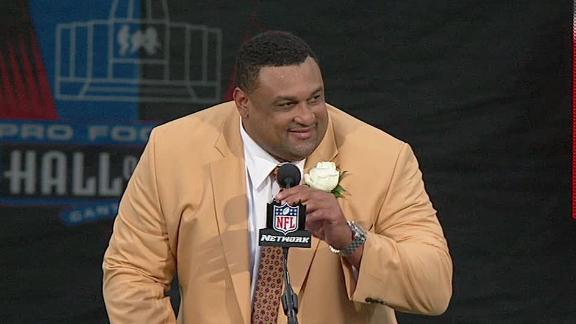 CANTON, Ohio -- Willie Roaf's father, Clifton, has just presented the former New Orleans and Kansas City tackle for enshrinement into the Pro Football Hall of Fame.
The video presentation for Willie Roaf was packed with emotion, especially when Clifton Roaf, his jaw quivering with emotion, called his son his hero.
A quick aside: Clifton Roaf, speaking over lunch Friday, recalled the time his son shut out Hugh Douglas, one of the better defensive ends in the NFL at the time. According to the elder Roaf, Douglas finished with no tackles. When the game ended, Douglas paid tribute to Roaf by crawling off the field. Now that is domination.
August, 4, 2012
8/04/12
7:39
PM ET
CANTON, Ohio -- Jack Butler stood and waved to the crowd while hundreds of fans wearing the Pittsburgh Steelers' throwback jerseys rose and cheered. The big screens at Fawcett Stadium showed Butler, 84, rising and soaking in their adulation.

That brought the first goosebumps of the 2012 Pro Football Hall of Fame enshrinement ceremony, at least for me.

Butler waited 50 years for his enshrinement. He and his oldest son, John, have been quite visible in Canton over the past few days. They've been so appreciative, so gracious, so humbled.

In speaking with John Butler at a reception Friday night, he said something about getting a couple of football cards featuring his father and giving them to my young sons. A couple of hours passed and that part of our conversation had faded from my mind. It was the sort of thing a lot of people would have said without really meaning it.

Our family left the reception, returning only briefly a couple of hours later in hopes of seeing a couple more Hall of Famers. The younger Butler found us and presented the two football cards -- both signed by Jack Butler, with "2012 HOF" written on them.
August, 3, 2012
8/03/12
6:00
PM ET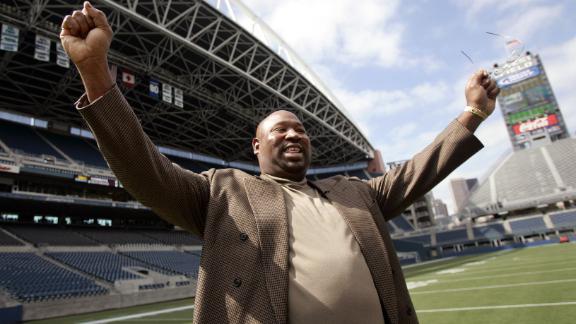 CANTON, Ohio -- Fans tuning in to watch Pro Football Hall of Fame speeches Saturday night can expect
Cortez Kennedy
to thank the late Robert Fraley, his former agent and mentor, for contributing so much to his life.
Fraley died in the plane crash that also killed golfer Payne Stewart in 1999.
Days after Fraley's passing, Kennedy paid tribute to his friend with a dominating performance for the
Seattle Seahawks
during a 27-7 victory over the
Green Bay Packers
at Lambeau Field. Kennedy also forced a fumble during that Monday night game.
Kennedy's close friendship with Fraley explains why the new Hall of Famer has selected Fraley's widow, Dixie, to present him at enshrinement. Kennedy reflected on his choice and on Seahawks' fans during the video above, shot during a media availability session Friday.