August, 6, 2012
8/06/12
1:11
AM ET
CANTON, Ohio -- The protection for quarterback
Kevin Kolb
was much better following the
Arizona Cardinals
' exhibition opener than during it Sunday night.
What it all means for the team's ongoing quarterback race hinges on how well Kolb responds to the chest injury he suffered only four dropbacks into a
17-10 defeat to the New Orleans Saints
in the Hall of Fame Game at Fawcett Stadium.
Cardinals coach Ken Whisenhunt stood up for Kolb while downplaying backup
John Skelton
's efforts.
"I think it's a little bit unfair to Kevin because we weren't doing as good a job up front early in the game," Whisenhunt said. "Then we settled down and played a little bit better. But he'll get his opportunities when we go forward. That's why you don't, it's careful to make judgments on that first experience."
[+] Enlarge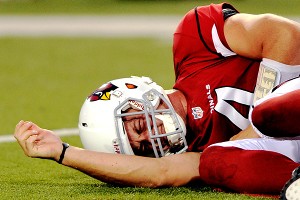 David Richard/US PRESSWIREKevin Kolb suffered a chest injury during the first quarter against the Saints.
There's no sense in a head coach amplifying the negative with four preseason games left to play. But at some point soon, Kolb will need to stay on the field and produce. Toe, head and chest injuries have knocked him from games with Arizona. A thigh injury suffered in practice last week turned out to be a non-factor.
Whisenhunt described the latest injury, initially announced as a rib contusion, as a bruised chest muscle. He suggested Kolb might not miss much time.
"It's going to all depend on how sore he is," Whisenhunt said. "I don't anticipate it being a problem. Whenever you get one of those, it's hard to torque, so we'll see how he responds. There's a chance he'll practice this week."
Player safety is a legitimate concern, but some hard NFL truths remain. Players cannot earn their peers' respect from the sideline. They must prove they can play through injuries. Quarterbacks especially must do this if they're going to win over a locker room. We saw
Tarvaris Jackson
do that last season in Seattle by playing through a torn pectoral muscle. We saw
Sam Bradford
do that for the
St. Louis Rams
, limping through a Monday night game at Seattle despite a high-ankle sprain that easily could have sidelined him.
It's impossible to know whether Kolb could have played through the toe injury that sidelined him last season. It would be irresponsible to suggest Kolb should have returned more quickly from the concussion that kept him off the field for the final three games. There was obviously no sense in Kolb gutting it out in a meaningless preseason game Sunday night, of course.
We just know this: Kolb keeps getting hurt, and he hasn't fared well enough when healthy.
"He's done a good job [in camp practices]," receiver
Larry Fitzgerald
said. "He's done a really good job competing. He's accurate. His ball's on time and he's having fun. That is important. He is out here with the guys enjoying football. That is really what you want to see. We have a lot of training camp left to go and a lot more games in preseason. I know he'll continue to improve."
The Saints picked off Kolb's first pass. They knocked him from the game not long after that, the fourth consecutive preseason and/or regular season that an injury has knocked out Kolb.
Kolb completed one of his four attempts for four yards and the one interception. He wasn't on the field long enough for anyone to read much into his 0.0 NFL passer rating. Skelton completed four of six attempts for 32 yards. He was the quarterback during a 14-play, 90-yard drive to
Alfonso Smith
's 4-yard touchdown run in the second quarter. Skelton completed four consecutive passes during the drive. Arizona ran for 60 of the 90 yards on the drive.
"[Skelton] did a nice job," Whisenhunt said. "He made a couple good throws, moved in the pocket. Like I said, I think the line settled down a little bit by the time John got in there. He had a little bit more time. But to his credit, I think he did a nice job."
The Cardinals will remain on the road, heading to Missouri for one practice with the
Kansas City Chiefs
, followed by a game against them Friday at Arrowhead Stadium.
Kolb's availability was a leading storyline for the Cardinals last season. That will be the case again this week.
August, 5, 2012
8/05/12
11:09
PM ET
CANTON, Ohio -- Looking back upon three things
discussed here
before the
Arizona Cardinals
' exhibition opener against New Orleans,
a 17-10 loss
to the New Orleans Saints in the Hall of Fame Game at Fawcett Stadium on Sunday night:


1. Kevin Kolb's performance.
The first item linked above included two questions for the Cardinals' quarterback. One, can he command the offense and finally appear comfortable running it? Two, can he make it through the game healthy after injuries derailed his 2011 season? Unfortunately, "no" and "definitely not" were the respective answers against the Saints. Kolb tossed an interception on his first pass attempt. Kolb, dropping back for his fourth pass attempt, suffered a rib contusion when New Orleans'
Sedrick Ellis
hit him. Kolb's night was finished, the latest damaging blow to his starting candidacy in Arizona. Injuries have knocked Kolb from preseason and/or regular-season games in four consecutive seasons.
2. Right side of the OL.
Rookie right tackle
Bobby Massie
played extensively. He matched up against third-year Saints defensive end
Junior Galette
and seemed to do well enough. New Orleans did get pressure against Massie a few times, including once when Massie
might have allowed a sack
(I did not see the play clearly). Massie cleared out Galette to spring running back
William Powell
into the clear. Another time, Galette wanted a holding call, but did not get one, when Massie appeared to hook Galette around the collar. Massie disengaged and held up his hands as if to show officials he wasn't holding.
Update:
Coach Ken Whisenhunt said he thought Massie struggled some while getting needed reps. The team is working with Massie to adjust his setup. The goal is to make Massie less mechanical, Whisenhunt said. That won't happen overnight or after a week of practices, but we should see progress as the preseason continues.
3. Cornerback competition.
William Gay
started opposite left cornerback
Patrick Peterson
, as expected.
Michael Adams
was the nickel corner with the starting group. Tackling was a problem for the defense overall, including at corner. Gay missed one tackle on running back
Mark Ingram
early. Adams was the left corner and
A.J. Jefferson
the right corner with the second unit.
Greg Toler
also worked with the second unit. He missed a tackle in the third quarter. Teams aren't getting as much contact work in training camps under the current labor deal. That makes it tougher to simulate timing and work on the fundamentals of tackling. Saints quarterback
Drew Brees
played little, so the Cardinals' secondary didn't get an extended look against top competition.
Update:
Whisenhunt liked the way his corners played the ball. He thought they were physical. He thought the Cardinals needed to do a better job tackling on check-down plays.
August, 5, 2012
8/05/12
9:32
PM ET
CANTON, Ohio -- The rib contusion
Kevin Kolb
suffered in the Hall of Fame Game on Sunday night was the latest injury setback for the
Arizona Cardinals
' potential starting quarterback.
It's not yet clear if Kolb will miss an extended period. The injury did knock him from the game against New Orleans, inviting a quick review of the oft-injured quarterback's medical file.
Kolb missed four starts last season after suffering a toe injury against Baltimore in Week 8. He missed the final three games of the season after suffering a concussion against San Francisco in Week 14.
With Philadelphia in 2010, Kolb suffered a concussion in Week 1 against Green Bay, missing two-plus games.
In 2009, also with the Eagles, a knee injury sidelined Kolb for the first two exhibition games.
Some injuries are unavoidable or close to it. Others can be avoided if a quarterback gets rid of the ball quickly.
It's tough to know initially if Kolb held the ball too long Sunday night. Kolb was running away from New Orleans'
Sedrick Ellis
when he threw a hurried pass to fullback
Anthony Sherman
for a 4-yard gain. Ellis caught Kolb and landed on him.
Kolb completed 1 of 4 passes for 4 yards and an interception.
August, 5, 2012
8/05/12
8:48
PM ET
CANTON, Ohio --
Arizona Cardinals
quarterback
Kevin Kolb
couldn't have scripted his 2012 exhibition opener much worse than this:
Kolb

First pass, interception.
Second pass, well behind receiver Andre Roberts.
Third pass, thrown away while Kolb was on the run from pressure.
Fourth pass, completed under duress to fullback Anthony Sherman, but with a price. New Orleans Saints defensive tackle Sedrick Ellis tackled Kolb and landed on him, driving Kolb's throwing shoulder into the ground. Kolb left the game with what the team called a rib contusion.
Overall, Kolb completed 1 of 4 pass attempts for 4 yards. He was ineffective while playing and unable to break the streak of injuries that have marked his Arizona career to this point.
John Skelton
has taken over for Kolb. His chances for winning the job have obviously improved, pending an injury update on Kolb from the Cardinals.
Rib injuries tend to be extremely painful. Players can often play through them, but only if they're willing to endure the excruciating pain. Some take pain injections, which themselves can be extremely painful when applied to the rib cage.
August, 5, 2012
8/05/12
5:42
PM ET
CANTON, Ohio -- The Hanover Township
website
representing Bartlett, Ill., describes highway commissioner Craig Ochoa as, among other things, "a 26-year veteran professional football and basketball referee working mostly in the Big 10 Football Conference and the Arena League."
This normally wouldn't interest visitors to the NFC West blog, and it still might not, but with the NFL's regular officials battling the league for a new contract, Ochoa will head up a replacement crew in the Pro Football Hall of Fame Game between the
Arizona Cardinals
and
New Orleans Saints
.
The crew also features umpire Tim Morris, head linesman Kevin Akin, line judge Esteban Garza, field judge Rusty Spindel, side judge Dwayne Strozier and back judge Mark Wetzel.
NFL athletes play much faster than those at the college level. Adjusting to that speed can be
a challenge
. The field here at Fawcette Stadium could present some challenges, too. It has six sets of hash marks and a giant Hall of Fame commemorative logo painted between the 40-yard lines, extending to the outside hashes.
A few players from each team are warming up. I haven't seen the game officials yet.
August, 5, 2012
8/05/12
12:34
PM ET
Three things to watch for in the Arizona Cardinals' preseason game against the New Orleans Saints at 8 p.m. ET:


1. Kevin Kolb's performance.
The Cardinals' quarterback competition includes
John Skelton
as well, so his performance also matters. But Kolb is the most intriguing variable on the team's roster this summer. Can he command the offense and finally appear comfortable running it? Can he make it through the game healthy after injuries derailed his 2011 season? We shouldn't expect an all-world performance right out of the gates. We shouldn't read too much into a seemingly shaky one, either. Quarterbacks and offenses in general can struggle during preseason if opponents decide to crank up the pressure or get creative. But perceptions matter for Kolb or any highly paid player trying to prove his worth. In a best-case scenario, Kolb connects with
Larry Fitzgerald
and rookie first-round choice
Michael Floyd
for meaningful gains. For reference, Kolb completed 4 of 7 passes for 68 yards in his 2011 Cardinals preseason debut. Skelton completed 6-of-10 for 94 yards and a touchdown in that game.
2. Right side of the OL.
The Cardinals have a new look on that side of their offensive line. Right guard
Adam Snyder
signed from San Francisco in free agency. Veteran
Jeremy Bridges
remains at right tackle for now after replacing
Brandon Keith
during the 2011 season. The team hopes rookie Brian Massey can grow into the starting role and take over for Bridges at some point in the near future. This game against New Orleans provides a first look. The Saints have been working with left defensive end
Cameron Jordan
to drop into coverage in zone-blitz packages, a change for him. We should still see Jordan, a 2011 first-round choice, get some pass-rushing reps against the right side of the Cardinals' line.
3. Cornerback competition.
The Cardinals know
Patrick Peterson
will be starting at left corner this season. They feel great about the likelihood of him emerging as a Pro Bowl-caliber force at that position. Arizona also likes the possibilities on the other side, but it's unclear how that race will settle out. Free-agent addition
William Gay
represents the known.
Greg Toler
, coming off ACL surgery, has starting potential. So does
A.J. Jefferson
, who made seven starts last season after Toler was injured. Throw in third-round choice
Jamell Fleming
, the team's most impressive rookie during minicamps, and the Cardinals have a genuine camp competition on their hands. The assumption is that
Michael Adams
would project more in a nickel role, not as a starter. He's as competitive as anyone in the Cardinals' corner mix.