NFC West:

2012 NFL Camp Confidential
August, 23, 2012
8/23/12
1:03
PM ET
FLAGSTAFF, Ariz. -- One quarterback at
Arizona Cardinals
camp was fighting to win back the starting job he'd never really earned. The team had paid millions to him, but questions persisted over his toughness, durability and leadership.

Another quarterback at Cardinals camp had outperformed his status as a late-round draft choice. He was bigger and had a stronger arm. Teammates responded more favorably to his presence on the field, it seemed, but he wasn't the most accurate passer, which was a concern.
If those descriptions stirred thoughts of
Kevin Kolb
and
John Skelton
, respectively, you'd be correct. But the same passages applied to the Cardinals' ill-fated 2010 quarterback race between
Matt Leinart
and
Derek Anderson
. Back then, Arizona cut Leinart, struggled with Anderson and finished with a 5-11 record.
The comparison naturally did not sit well with Ken Whisenhunt, the Cardinals' sixth-year head coach. He sees a team that has won with both Kolb and especially Skelton behind center. He sees a team returning a 1,000-yard rusher, a fleet of perimeter playmakers featuring the incomparable
Larry Fitzgerald
and a defense that dominated during a 7-2 run to finish last season.
"The biggest difference, in 2009, we were a damn good football team at 10-6, but how many [key] players did we lose after that year, five?" Whisenhunt said.
Four, if we count
Kurt Warner
,
Anquan Boldin
,
Karlos Dansby
and
Antrel Rolle
.
"This year, we didn't lose that," Whisenhunt said. "That is the biggest difference in how I feel from 2010 and the way I feel in 2012."
How the quarterback situation plays out will largely determine whether Whisenhunt is right.
THREE HOT ISSUES
1. Kolb's adjustment.
Going from Philadelphia's West Coast system to the Cardinals' offense has been tougher than anticipated for the Cardinals' would-be starting quarterback. The goal seems so simple: Find ways for Kolb to remain in the pocket and trust the offense. But the instincts Kolb developed with the Eagles keep getting in the way. That could explain what Raiders defensive lineman
Tommy Kelly
indelicately called "skittishness" -- the tendency for Kolb to bail from the pocket at the first sign of trouble.
Learning the Cardinals' offense hasn't been a problem. Unlearning what he did in Philly? That's another story.
"It's just the way they create the pocket, there versus here," Kolb said. "They teach us to really push up in the pocket in Philly. Two, three hitches up in the pocket when you get up there. You can see that. If you watch Mike [Vick], he has got two really big hitches into his throws. If it's not there, it's go or throw, you know what I mean?
[+] Enlarge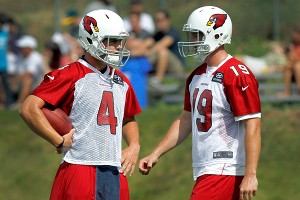 AP Photo/Ross D. FranklinJohn Skelton, right, appears to have the upper hand over Kevin Kolb for the Cardinals' starting quarterback job.
"Here, when you get to that 8-yard range [on a drop-back], they want you to hang in that vicinity and just stay there. It is just a different deal. A lot of it is rhythm. As a quarterback, you always want to be on rhythm."
Coaches would rather have Kolb throw the ball away immediately than take off running without clear purpose. The line has a hard enough time protecting Kolb when it knows the quarterback's location. Unscripted relocation has proved costly.
Kolb has a firm command of the offense. He's football savvy and fully capable of processing information at the line of scrimmage. That's what makes his difficulties confounding.
"There haven't been any problems mentally," quarterbacks coach John McNulty said. "He is on top of things, he anticipates things. I think sometimes it's not as clean or as clear as he wants and then all of a sudden you start moving. And when you make those big, violent moves when the line is not expecting it, then you're kind of on your own. If we're not making plays out of it, they're not worth doing, because all you're going to do is get hit or go backwards."
2. Shaky offensive line.
The Cardinals were auditioning left tackles as camp broke after
Levi Brown
suffered a potentially season-ending torn triceps tendon. For all the criticism Brown has taken over the years, he was clearly the best offensive tackle on the team. The line was a concern even before Brown's injury. Now, it's bordering on a crisis.
Jeremy Bridges
,
D'Anthony Batiste
,
Bobby Massie
,
D.J. Young
and
Nate Potter
are the other tackles on the roster. Bridges has started 55 regular-season NFL games. Batiste has started four. Massie and Potter are rookies. Young has no starts after entering the NFL in 2011 as an undrafted free agent.
One more time
: The Cardinals have drafted zero offensive linemen in the first three rounds over the past five drafts. They did not draft an offensive lineman in any round of the 2011 or 2010 draft. The 2012 draft didn't fall right for them when it came to adding a tackle early. They got Massie in the fourth round, which seemed like good value. He'll start at right tackle eventually, and perhaps right away.
3. Running back health.
Beanie Wells
and
Ryan Williams
are coming off knee surgeries. The Cardinals felt good enough about their prospects to sail through the offseason without addressing the position. That seemed a little risky.
Likely troubles in pass protection could lead the Cardinals to lean more heavily on their ground game, at least in theory. Wells and Williams would appear to carry greater injury risks than backs without recent knee troubles. Utility back
LaRod Stephens-Howling
was banged up during camp.
REASONS FOR OPTIMISM
The team showed dramatic improvement, particularly on defense, while finishing with that 7-2 record over the final nine games last season.
Sometimes momentum
doesn't carry over
. In the Cardinals' case, however, there are reasons to expect sustained improvement.
The 2011 team was breaking in a first-time defensive coordinator, Ray Horton, following a lockout-shortened offseason. Players needed time to grasp the concepts. They got better late in the season. They should be better yet following a full offseason.
Arizona has front-line talent at every level of its defense. End
Calais Campbell
, inside linebacker
Daryl Washington
and cornerback
Patrick Peterson
are dynamic young players on the rise. End
Darnell Dockett
and strong safety
Adrian Wilson
are in their 30s now, but both remain productive.
The team has gone 7-4 with Skelton as its starter. That figure doesn't even count Skelton's most impressive performance of the 2011 season, when he replaced an injured Kolb and helped Arizona upset San Francisco.
Skelton might not be pretty to watch, but six game-winning drives in 13 career appearances give him credibility in the locker room. Whisenhunt was with the
Pittsburgh Steelers
when the team won ugly with a young
Ben Roethlisberger
. Skelton is not Roethlisberger, but he is a big, strong quarterback with some moxie.
The Cardinals have big-play threats on offense. They finished last season with 15 pass plays of at least 40 yards, more than New England and every team but the
New York Giants
(18),
Detroit Lions
(16) and
Green Bay Packers
(16).
Greater consistency from the quarterback position isn't out of the question. If the Cardinals get it, they'll surprise skeptics.
REASONS FOR PESSIMISM
The team that finished last season on that 7-2 hot streak also went 1-6 to open the season.
And let's face it, the Cardinals, while unfortunate in a few instances early in the year, were fortunate to win seven of their final nine. They claimed four of those seven victories in overtime. Five came against teams with losing records at the time.
[+] Enlarge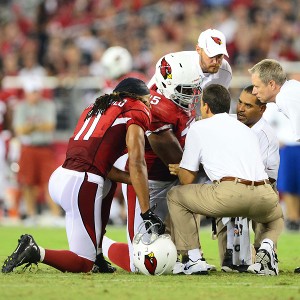 Mark J. Rebilas/US PresswireThe Cardinals may have lost arguably their best offensive tackle, Levi Brown, for the season.
The young talent on defense is backed up with the oldest reserves in the league. The offensive line is solid at center and left guard, but the other three positions should strike more fear in the Cardinals' quarterbacks than in the opposition. Removing Brown from the equation was devastating, given the already tenuous nature of the tackle situation.
Kolb hasn't been able to stay healthy or produce when on the field. That isn't going to change with the floodgates likely opening at both tackle spots.
Skelton has shown greater ability to keep his wits against pressure. Whichever QB starts will need every bit of resourcefulness he can muster against a schedule featuring
a long list
of able pass-rushers:
Jared Allen
(22 sacks last season),
Jason Babin
(18),
Aldon Smith
(14),
Chris Long
(13),
Chris Clemons
(11),
Julius Peppers
(11),
Cliff Avril
(11),
Trent Cole
(11),
Mark Anderson
(10),
John Abraham
(9.5),
Cameron Wake
(8.5),
Kyle Vanden Bosch
(8),
Justin Smith
(7.5),
Clay Matthews
(6) and
Mario Williams
(5).
OBSERVATION DECK
William Gay appears to be running unopposed at right cornerback. Opportunistic rookie Jamell Fleming, a third-round choice, will factor one way or another at the position. Fitzgerald: "[Fleming] is extremely talented. The thing I like about him is he can move around. They've got him playing inside a little bit, playing outside. What it shows you is that he is intelligent, he can pick up the defense. He understands terminology, what's going on, and he plays fast. And the ball just seems to find him."
Coaches noticed a big jump from the spring to June to training camp in Skelton's ability to handle pre-snap responsibilities. They hope that progress can help him fare better early in games. One theory holds that Skelton's grasp of a game would improve as he had a chance to study photos of opposing formations on the sideline between possessions. By the fourth quarter, he was up to speed. "We're trying to get to where we have the handle before the game," McNulty said.
Losing Brown hurt, but center Lyle Sendlein is arguably the offensive lineman Arizona can least afford to lose. He has started every game over the past four seasons and, like many centers, holds everything together up front. Left guard Daryn Colledge: "If we had to replace one guy, he would be the worst one probably on the whole football team. He is the key cog, especially for this offensive line. He is the captain and he is our guy. Without him, the wheels just might come off."
Sixth-round choice Justin Bethel, a free safety, looks like a keeper after making a positive impact on special teams.
Inside linebacker Stewart Bradley appears more comfortable in the Cardinals' defensive scheme, but the team still appears to value Paris Lenon as the starter next to Washington. That arrangement is more palatable after Bradley, one of the team's big free-agent signings in 2011, took a pay reduction.
First-round draft choice Michael Floyd hasn't stood out yet. Fitzgerald will continue to carry the passing game. Rob Housler will emerge as more of a threat at tight end. Andre Roberts and Early Doucet give the team two strong inside options. Getting Floyd going will be one key to unleashing Roberts from the slot. Roberts has good quickness and instincts. The Cardinals' quarterbacks like the way he moves within zones, but they need to do a better job locating him.
The Cardinals think they have a great one in Peterson. The physical attributes are obvious. Peterson also has the necessary desire. Arizona saw it last season when Peterson played through an Achilles injury suffered at Cincinnati.
This season as last, the Cardinals are counting on young outside pass-rushers O'Brien Schofield and Sam Acho. Schofield is fighting through knee problems, a potential concern given the career-altering surgery he underwent coming out of college. He played 38 percent of the defensive snaps last season. Arizona will need him to play a much higher percentage in 2012. Can Schofield hold up? Clark Haggans, 35, is the backup.
Arizona should be strong at nose tackle with a leaner Dan Williams and underrated backup David Carter at the position.
It's tough to envision Kolb emerging as the starter based on what we've seen to this point. There's no clear indication Kolb is close to breaking through. "The only thing I can do is stay patient, know that it's all part of God's plan," Kolb said. "My mentality is that I'm going to get through the bad to get to the good. Something good is going to come of it."
August, 16, 2012
8/16/12
1:35
PM ET
SANTA CLARA, Calif. -- One school of thought says the
San Francisco 49ers
got the most they'll ever get from quarterback
Alex Smith
last season.
What if last season was only the beginning?

That question ran through my mind while watching Smith fire passes on time and on target during a recent three-day stay at 49ers training camp. The answer became clearer every time Smith connected with newcomers
Randy Moss
and
Mario Manningham
, which was frequently. He appeared more accurate, more confident and more in command than I can ever recall seeing Smith during a training camp -- or any other time, for that matter.
"He's letting the ball go, he's making the right decisions and he's not afraid," tight end
Vernon Davis
said. "He's playing ball, he's having fun."
Of course, it figures a quarterback would look better throwing to proven targets than when operating without them.
Michael Crabtree
,
Kyle Williams
,
Brett Swain
and
Joe Hastings
were the only wideouts available to Smith in the NFC Championship Game last season. Williams, now fighting for a roster spot, ranked second among the 49ers' wide receivers with 20 catches during the regular season.
[+] Enlarge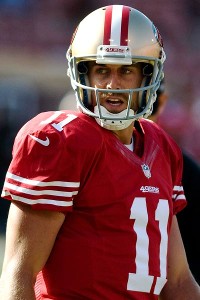 Ed Szczepanski/US PresswireThe 49ers brought in more weapons for Alex Smith to work with on offense.
Life for Smith is better now.
"If you watch our team last year, we were kind of one-dimensional as far as offense," left tackle
Joe Staley
said. "The passing game went through Vernon and Crabtree. The running game was Frank [Gore] and Kendall [Hunter]. We've added a lot of talent. The more weapons you have, the more versatile you can be. Our coaches are very creative."
Smith proved last season he could be a trusted extension of the 49ers' coaching staff. He threw five interceptions in 445 pass attempts, playing to the team's strengths on defense and special teams.
Smith has what offensive coordinator Greg Roman calls a "unique" ability to grasp a game's dynamics in real time for the purposes of managing risks. On the surface, that sounds like a creative way to avoid slapping the dreaded "game manager" label on a quarterback with limited skills. The 49ers don't see it that way at all. They think Smith has demonstrated all the intangibles great quarterbacks should possess: mental and physical toughness; an off-the-charts football IQ; a level head no matter the circumstances; a passion for preparation; and the ability to perform in the clutch. They see him leading an offense that wasn't as bad as advertised, one that should only get better.
"Without an offseason here, we finished 10th in the NFL in scoring [actually 11th] and fourth in time of possession," Roman said. "That is in spite of being poor on third down, which is pretty remarkable.
"We're going to be opportunistic, strike when we feel it's time to strike," he said. "The other part of it is, when we make decisions on offense, it's big picture. The offense, defense and special teams are all intertwined. But we have an offseason under our belt now and are working through our second camp together. We certainly expect a lot of ourselves this year."
THREE HOT ISSUES
1. Crowded offensive backfield.
Frank Gore
is going to get his carries.
Kendall Hunter
,
Brandon Jacobs
and
LaMichael James
will be competing for what's left over. Their roles haven't solidified, but Hunter has enjoyed a tremendous camp. He caught my attention this week by hauling in a deep pass up the sideline, the type of play running backs rarely make. Hunter is going to play. James, as a rookie, figures to need time.
Jacobs, signed from the
New York Giants
, has been getting work in short-yardage situations, an area in which
Anthony Dixon
struggled in the postseason.
After collecting two Super Bowl rings in five seasons with Kevin Gilbride as his coordinator, Jacobs has been blown away by Roman's ability to showcase each player's individual strengths. That is a recurring theme among 49ers players.
"That is what this staff does the best," Jacobs said. "'G-Ro' is a genius, man. I've seen it, mainly these last couple days, we started doing some different things on offense, things out of different formations and basically putting the defense in sets he wants them to be in, versus what they want to be in."
Based on what he's seen, Jacobs said he thinks Gore would have six or seven Pro Bowl appearances by now, instead of three, had this 49ers staff been in place the whole time.
[+] Enlarge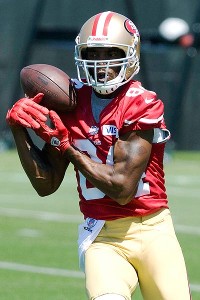 Ed Szczepanski/US PresswireAfter sitting out for a season, Randy Moss joined a revamped 49ers receiving corps.
2. Role for Randy Moss.
The passing game went through Crabtree and Davis last season. Both are in the primes of their careers. Neither figures to see his role diminish appreciably. With Manningham joining the mix and rookie first-round choice
A.J. Jenkins
lurking, a rotational role for Moss appears likely.
The sentiments Jacobs expressed regarding Roman and the 49ers' coaching staff could be important to keeping Moss from growing frustrated. Moss never has been one to suffer fools, even perceived ones, especially if the ball stopped coming his way. He did buy into "the New England way" when the Patriots' offensive staff was at its best and the team was winning. Moss also was catching balls left and right from an all-time great quarterback back then, circumstances the 49ers will not replicate.
The question then becomes whether Moss, 35 years old and coming off an idle season, will put team goals ahead of personal ones no matter what.
Davis, probably the most emotionally authentic player on the team, said he "loves" Moss for having "a great heart" and being a selfless teammate.
"Not only has he extended some knowledge to me, he has shown me that being great requires you to work even when you've had tons of success, with people saying you're a potential Hall of Famer, first ballot," Davis said of Moss.
3. Potential sophomore slump.
Aldon Smith
has incurred a DUI arrest, suffered stab wounds at a party and been carted off the Candlestick Park field with a preseason hip injury since setting a franchise rookie record with 14 sacks last season. That sounds like a sure-fire recipe for a sophomore slump.
Smith has been getting around slowly with the help of a forearm crutch. Hip injuries can be terribly painful. Athletes as lean as Smith have so little padding in that area. On the positive side, Smith has bounced back quickly from injuries in the past. He missed three games after suffering a cracked fibula during the 2010-11 season at Missouri.
The 49ers are asking Smith to transition from situational pass-rusher to full-time outside linebacker. Missed practice reps could slow that transition in the short term.
REASONS FOR OPTIMISM
The 49ers brought back all the important players from a team that finished 13-3 and reached the NFC Championship Game last season. They added weapons at receiver and running back after falling short offensively.
Both sides of the ball figure to benefit from a full offseason after scrambling to learn new schemes on the fly following the lockout.
The progress Davis showed late last season comes to mind as an extreme example. Adapting to yet another offense was tough in the beginning, but once he grasped the concepts more fully, there was no stopping him (10 receptions, 292 yards and four touchdowns over two playoff games).
Finishing 13-3 again would
break from precedent
, but all signs point to the 49ers as NFC West favorites.
Much will hinge on whether the offense improves, and to what degree.
The line appears in position to take a step forward. Four of the five starters played at least 92 percent of the offensive snaps last season. The new starter, right guard
Alex Boone
, is entering his third season with the team. The best offensive lines play together for years. This one increasingly has continuity. There's talent, too, with first-round choices in three of the five spots.
REASONS FOR PESSIMISM
Niners fans should be familiar with the warning labels by now.
Injuries: The 49ers were unusually healthy last season. Alex Smith took a league-high 44 sacks and somehow started every game. He started 16 games in a regular season for the first time since 2006 and the second time in his career. The defense suffered very few meaningful injuries in 2011-12, but the hip bruise Aldon Smith suffered last week highlighted the implausibility of a repeat on that front.
Turnovers: History says San Francisco's plus-28 turnover differential will be unsustainable.
Targets on backs: The 49ers are going from hunters to hunted. Opponents will be gunning for them. Opponents will also have fuller, more accurate reads on the schemes Jim Harbaugh and staff brought to the NFL from Stanford. The unconventional shifting and personnel combinations San Francisco unleashed on opponents might not have the same effect a second time around. That might have begun to happen last season, when the 49ers proved
far less dominant
when facing opponents a second time.
OBSERVATION DECK
Tarell Brown has been the best cornerback in camp. Teammates say he puts in the prep time. It shows when the 49ers do situational work. The more specific the situation, the better Brown seems to fare. Brown is also probably the 49ers' best corner in press coverage, an asset in short-yardage situations, whereas the other starting corner, Pro Bowl choice Carlos Rogers, tends to prefer off coverage.
Jacobs has run effectively in short-yardage situations. I did notice rookie linebacker Kourtnei Brown rocking Jacobs twice in one-on-one pass-rush drills during the team's recent Fan Fest practice.
When the 49ers enter their locker room from the practice field, a sign meets them with a list of five points: work hard, stay loose, stay focused, be accountable and take care of one another. The sign greeting them as they leave the locker room reads, "You are getting better or getting worse. You never stay the same."
Versatile corner Perrish Cox is making a strong push to unseat Chris Culliver in the nickel role. No matter what happens, Cox figures to play this season. He's made an impact on special teams as well. Seeking continued improvements in the secondary was additionally important with Aaron Rodgers, Matthew Stafford, Eli Manning, Jay Cutler, Drew Brees and Tom Brady on the schedule this season.
While Harbaugh has defended Jenkins from premature and unfair criticism, all indications point to a gradual assimilation for the receiver San Francisco selected in the first round. Veteran safety Donte Whitner: "When he gets there, I would compare him to a guy like Robert Meachem. He's not really big in stature, but he has a lot of speed. He has some quickness."
Safety Michael Thomas could be an undrafted free agent to watch for the 49ers this season. He knows the defense after playing for coordinator Vic Fangio at Stanford. Whitner: "If I was a betting man, at the end of the season, he'll be somewhere around this football team, whether it be on practice squad or on the 53[-man roster] because he wasn't drafted, he's not the biggest guy, not the fastest guy, but he has football instincts and he has football smarts. He's around the football in practice."
The 49ers do a good job maximizing roster spots. They used nose tackle Isaac Sopoaga at fullback in power packages last season. Staley and Sopoaga caught passes. Bruce Miller successfully converted from college defensive end to starting fullback. Defensive lineman Demarcus Dobbs is the latest project. He's working as a blocking tight end and could conceivably push Nate Byham for the third roster spot at that position. Harbaugh: "He's definitely far enough along. We still don't know what that ceiling is yet."
The defense has a firmer grasp of Fangio's playbook entering a second season together. The team had 42 defensive calls installed when this week opened. That's not an unusual number, but Fangio should be able to call more of them with confidence.
Every player I spoke with -- Alex Smith, Davis, Williams, Jacobs, Staley and others -- mentioned putting team goals before individual ones. Harbaugh and staff have ingrained that mindset in players. It's a storyline to watch now that the 49ers have additional offensive weapons, a strong personality in Moss and higher expectations overall.
August, 13, 2012
8/13/12
11:00
AM ET
RENTON, Wash. --
Terrell Owens
' arrival at
Seattle Seahawks
training camp commanded national headlines.
It commanded the Seahawks' attention, as well, not just on the field but also in the meeting room, where coach Pete Carroll made Owens the leading man in
an entertaining prank
.

When the Seahawks' first exhibition game kicked off Saturday night against Tennessee, the focus returned to where it needed to be: quarterback. Although Owens might not even earn a roster spot, let alone an important role on the team, the situation behind center will determine whether Seattle breaks from its recent 7-9 form.
The way
Matt Flynn
and
Russell Wilson
played against the Titans showed that Seattle has a chance to do just that. It was only one game, with a meaningless outcome, but it affirmed some of the evidence collected to this point.
Flynn, nondescript through organized team activities and minicamps, had responded favorably when Carroll gave him the first-team practice reps last week. He was sharp in practice and efficient while completing his first eight passes against the Titans. Flynn's lone interception resulted from a rookie running back failing to sell the play fake, allowing linebacker
Colin McCarthy
to drop into coverage without concern for the run.
Wilson, sensational for a rookie in the offseason program, hadn't stood out as much in camp, but when the lights went on Saturday night, he looked like the best player on the field. He showed the pocket presence needed to move just the right distance at just the right times and extending plays. He scored on a 32-yard bootleg and threw a 39-yard touchdown pass from the pocket. Only an ill-advised interception over the middle prevented a full Wilson lovefest from breaking out. But it's early, and Wilson is just getting started.
Seattle has seen enough to think one of its new quarterbacks can provide an upgrade from
Tarvaris Jackson
, who remains on the roster as insurance.
THREE HOT ISSUES
1. Owens or Edwards?
The Seahawks want a receiver with dominant size to fill the role
Mike Williams
played in the 2010 season. Owens is one candidate.
Braylon Edwards
is another. Second-year pro
Kris Durham
might still emerge as a third contender, but he has struggled to gain traction in camp.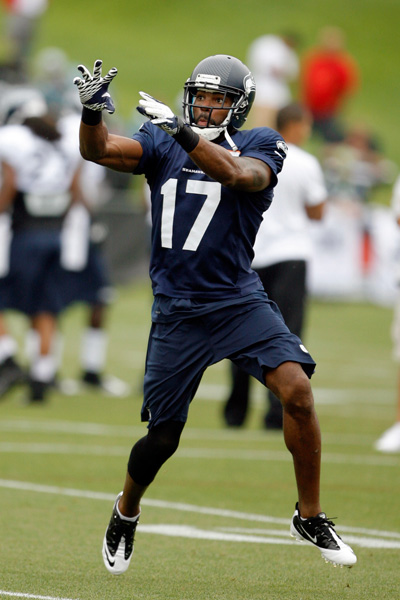 Joe Nicholson/US PresswireBraylon Edwards, on his fourth team in the past four seasons, has been impressive in camp.
Edwards has stepped up his game markedly after Owens' arrival, no coincidence. Edwards has to realize the Seahawks aren't going to keep two veteran receivers with no value on special teams. Owens has the bigger name and better credentials, but Edwards has the inside track for a roster spot. That is because Edwards is nine years younger and could project as a factor beyond this season. It's also because Owens has been a higher-maintenance player.
Edwards was scrapping like an undrafted free agent against Tennessee. He was a willing blocker -- too willing at one point, drawing a penalty. He rewarded Wilson's trust by making a strong play for that 39-yard touchdown reception. Owens will get his chance in the coming weeks. This competition is only beginning.
2. What to do with Jackson.
Carroll has shown sensitivity for Jackson after the veteran quarterback played through a torn pectoral muscle last season. The grit Jackson showed won respect in the locker room. As much as the team wanted to look at Flynn and Wilson this summer, Carroll gave Jackson an equal portion of the reps through the first week of training camp.
Carrying a three-man race through the exhibition schedule would have been impractical, which is why Flynn and Wilson took the meaningful reps in practice last week. It's also why Flynn and Wilson took all the snaps in the exhibition opener.
Jackson represents the known. He is the baseline for a team seeking improvement at the position. Jackson, for all his toughness, wasn't effective when it counted last season (zero touchdowns, six interceptions and nine sacks in the final two minutes of halves).
He is scheduled to earn $4 million for the 2012 season. Flynn and Wilson are going to be on the roster, most likely filling the top two spots. The team also likes developmental quarterback
Josh Portis
.
Something has to give, and logic says it'll be Jackson.
3. Health concerns at tight end.
The Seahawks envision running quite a few personnel groupings with two tight ends. Assistant head coach/offensive line coach Tom Cable values H-backs. The expectation this season was for
Zach Miller
and
Kellen Winslow
to provide Seattle with a diverse duo at the position. That still might happen, but, with Miller suffering from his fourth concussion in less than three years, there are suddenly renewed health questions at tight end.
Winslow's chronic knee problems limit how frequently he can practice. Although he hasn't missed a game to injury in the past three seasons, Winslow is 29 years old and doesn't figure to gain durability.
REASON FOR OPTIMISM
The Seahawks have upgraded at quarterback and in their ability to rush the passer. Those were the two areas most responsible for holding them back in the recent past. They're also more settled on the offensive line.
How much Seattle has upgraded at quarterback remains unknown, but even if Jackson were to somehow emerge as the starter in a sort of worst-case scenario, at least he would be healthy. The Seahawks aren't asking their quarterbacks to carry the team. They just want efficient play from the position. The early returns suggest that Flynn can provide that, and that Wilson might be able to provide more.
Newly acquired defensive tackle
Jason Jones
has already improved the pass rush. Rookie first-round choice
Bruce Irvin
has been the most difficult player to block in one-on-one pass-rush drills. He has the speed to beat tackles to the outside and better power than anticipated for a player weighing less than 250 pounds. The combination of Jones, Irvin and leading sacker
Chris Clemons
will be tough at home, in particular.
Seattle's defense already ranked among the NFL's top 10 in fewest points allowed, yards allowed and yards allowed per play. This was a mostly young defense on the rise even before Jones and Irvin arrived to address the pass rush.
REASON FOR PESSIMISM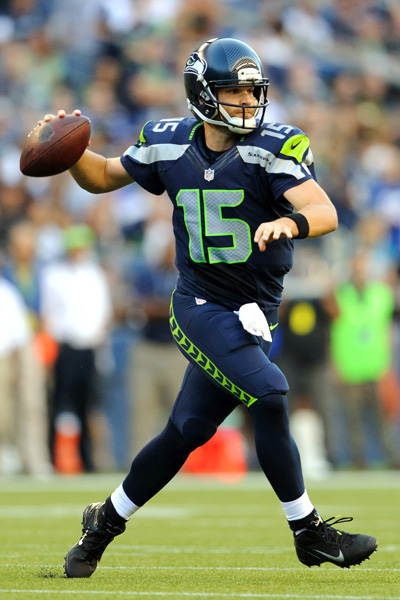 Steven Bisig/US PresswireMatt Flynn was 11-for-13 against the Titans on Saturday night, but he is still largely untested in the regular season.
Faith is involved in projecting how well unproven quarterbacks will perform.
A year ago, division-rival Arizona was convinced that
Kevin Kolb
would fix its problems. At the very least, the Cardinals would become average at quarterback, it seemed, which surely would be enough to make them a playoff contender.
Flynn might be better than Kolb, but what if he's not? What if it becomes clear a month or two into the season that Flynn, with only two career regular-season starts, isn't ready to manage an NFL offense from week to week?
Wilson has appeal as an alternative, but how far can a team with a 5-foot-10 rookie quarterback go in an NFC featuring
Aaron Rodgers
,
Eli Manning
,
Matthew Stafford
,
Drew Brees
,
Tony Romo
,
Matt Ryan
,
Michael Vick
,
Jay Cutler
and
Cam Newton
?
The Seahawks have a powerful ground game and a potentially dominant defense, but the NFL is a quarterback-driven league, right? The five most recent Super Bowls featured Eli Manning,
Tom Brady
,
Ben Roethlisberger
, Rodgers, Brees,
Peyton Manning
and
Kurt Warner
as the starting quarterbacks. No Super Bowl team was trying to decide between a player with two starts and a rookie third-round choice.
Even if Flynn or Wilson emerges as viable this season, Seattle could have the third-best quarterback in the division.
OBSERVATION DECK
The red noncontact jersey Sidney Rice wears in practice invites questions about his availability coming off two offseason shoulder surgeries. Rice seems to be moving and catching well. My read is that the team is being cautious and there are no pressing concerns.
Rice needs to do a better job of protecting himself. He tends to land awkwardly, exposing himself to unnecessary contact. The plan was for the shoulder surgeries to enable more aggressive weightlifting, allowing Rice to strengthen his lithe frame. Although the shoulders are a concern, Rice also suffered two concussions last season.
Seattle continues to show an uncanny ability to find important roles for obscure defensive players. Defensive end Red Bryant became a success story after converting from defensive tackle over the past couple of seasons. Clinton McDonald, a former college linebacker acquired from Cincinnati in the Kelly Jennings trade, is now a factor. McDonald stands ahead of Bryant, Brandon Mebane and Alan Branch as the fourth defensive lineman in the nickel package. McDonald is backing up Mebane in the base defense.
Bryant's outgoing personality makes him a natural leader on defense. Mebane, his quieter teammate on the line, emerged in that area last season after the team released veteran linebacker Lofa Tatupu. Said Leroy Hill: "A lot of times in the huddle, Mebane is the one talking. It's odd because he never did that role, but last year he stepped up and people fell in behind him. ... People listen to what he's got to say."
Left guard John Moffitt could miss the next few weeks after requiring elbow surgery. My initial take was that his replacement, Deuce Lutui, would provide an upgrade, in pass protection especially. One question is whether Lutui fits the profile for Cable's zone-blocking scheme. Moffitt appears to be a better fit that way. Lutui might be best suited for center, but the team is set there with Max Unger, who signed a long-term extension.
Seattle has apparently hit on two seventh-round choices this year. Greg Scruggs has a chance to stick on the defensive line, and J.R. Sweezy has improbably made a quick conversion from college defensive lineman to NFL guard. Seattle gave Sweezy time with its starting line against Tennessee, and he played surprisingly well. Sweezy projects as a good run-blocker for Cable's scheme. Rishaw Johnson is another obscure offensive lineman to watch.
We've made it this far without mentioning Marshawn Lynch, the offensive player Seattle relied on most heavily last season. Rookie Robert Turbin has gotten more attention as the projected backup. The Seahawks haven't heard whether Lynch will face a suspension in relation to his pending DUI case. Teams wouldn't have to fear the ground game nearly as much if Lynch missed time.
At middle linebacker, rookie Bobby Wagner remains the favorite to start in my view. He has outstanding speed and strong hands for taking on blocks when necessary. Veteran fullback Michael Robinson compared Wagner to a young Patrick Willis. Wagner's preseason debut was a bit of an adventure, however. He overran a few plays and didn't stand out.
The offensive line should be fine as long as left tackle Russell Okung remains healthy. Okung was looking good early in camp one year ago, only to suffer an ankle injury in an Aug. 11 preseason game against San Diego. The torn pectoral he suffered late last season counts as a fluke. Philadelphia's Trent Cole, frustrated by Okung's edgy style, unleashed a judo move on him. The longer Okung can go without landing on the injury report, the better Seattle can feel about his long-term prospects.
Cornerback Walter Thurmond and offensive lineman James Carpenter could make an impact later in the season. Both are coming off serious injuries, and neither will be a factor early in the season. Playing Carpenter at left guard has long-term appeal. He and Okung would form a massive combination on the left side. Carpenter is still limping around with a heavy brace on his surgically repaired knee, however.
Carroll's commitment to competition shows up in his willingness to play young players at key positions, including middle linebacker and quarterback. The effect is felt throughout the roster. Lutui: "Rookies, first-year guys, he puts them in. I've never seen that on any level. That pushes the older guys. Everybody is not comfortable. Everybody is not complacent. It doesn't matter if you have a new contract. Everybody is on an edge. You know you have to better yourself, and that is good to see."
August, 2, 2012
8/02/12
12:00
PM ET
EARTH CITY, Mo. -- Jeff Fisher experienced plenty during 16-plus seasons as an NFL head coach, but his initial team meeting in St. Louis represented a career first.
The Rams' new leader was addressing a room filled with players he didn't know.

"That was different, but you could tell within the first three minutes of him being up there, with his presence, that the team was his," assistant head coach Dave McGinnis said.
Fisher won over the Rams, and not with a fiery speech or with bold promises.
"It's something that you can't put your hand on and touch it, but it's palpable," McGinnis said.
It's called quiet confidence born of experience, and it's what the Rams needed from their next coach after posting a 15-65 record over their previous five seasons, all under less experienced leadership. There's an authenticity to Fisher that resonates. Quarterback
Sam Bradford
first saw it during a nearly two-hour meeting with Fisher, conducted before Fisher agreed to take the job.
"I think the biggest thing for me when we met was, there was no nonsense," Bradford said. "Everything that he has said has been valuable information. There is never that talk just to talk. That is what everyone really respects about him."
Thanks to Fisher, the feeling at Rams camp has shifted from "if" the team can right itself to "when" it will happen.
THREE HOT ISSUES
[+] Enlarge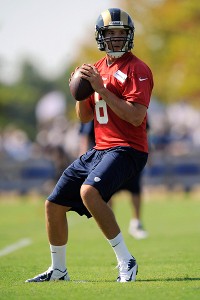 Jeff Curry/US PresswireQB Sam Bradford has some new young talent to work with this season at the skill positions.
1. Can the Rams help Bradford?
It's easy to forget that Bradford had two 300-yard passing games in his first five starts last season. The high-ankle sprain he suffered in Week 6 changed the trajectory of his season. Bradford wasn't the only one hurting. The Rams suffered more losses to injury in a season than all but one NFL team since 2002, according to Football Outsiders. They had no chance.
The plan this season will be to take pressure off Bradford with a run-first offense. That approach represents a philosophical about-face from the thinking former coordinator Josh McDaniels promoted last season. McDaniels' offense would have worked better under different circumstances. In retrospect, the Rams lacked the personnel to make it work, particularly after losing key players to injury.
The offensive personnel could be better this season. Young prospects at running back (
Isaiah Pead
) and on the perimeter (
Brian Quick
,
Chris Givens
) give the team fresh options. But no one is quite sure what the team has at wide receiver. It's also unclear whether young tackles
Rodger Saffold
and especially
Jason Smith
can give Bradford the protection he needs when the Rams do put the ball in the quarterback's hands.
The Rams have additional first-round draft choices over the next couple seasons. There's a good chance they'll use them mostly to bolster the offense. In the meantime, they'll protect Bradford through the design of their offense.
2. Another year, another offensive scheme.
The Rams are learning their third offensive system in three seasons. Last season, the idea was for Bradford to help get the Rams into the perfect offensive play for whatever defense the opponent was running. This season, Fisher and new offensive coordinator Brian Schottenheimer want the Rams to run the ball for the sake of running it, even against loaded fronts.
This could be the Rams' most run-oriented offense from a philosophical standpoint since the team moved to St. Louis for the 1995 season. Longer term, it's fair to wonder whether this is the best offense for a franchise quarterback to realize his full potential as a passer. For now, though, the philosophy will play to the team's offensive strength (
Steven Jackson
) while minimizing a primary weakness (pass protection).
"This offense is ground, pound and we're in your face," Jackson said. "Regardless of how much a team studies about us, they are probably going to be able to tell, out of this formation, this is what they like to run. So now the mentality has gone from trying to be tricky or crafty to more so, 'This is my hole, this is where I'm going, stop me.' Completely different attitude."
3. Are the Rams OK at outside linebacker?
St. Louis is set at middle linebacker with
James Laurinaitis
, a player the organization wants to build around (expect a new contract for him soon). The question is whether the outside linebackers --
Jo-Lonn Dunbar
and
Mario Haggan
and
Rocky McIntosh
-- represent much of an upgrade for a team seeking to improve its run defense.
Another question: How much does it really matter? The league isn't exactly brimming with elite outside linebackers in traditional 4-3 schemes. The position has been de-emphasized. The Rams will run their defense through Laurinaitis. Dunbar will remain on the field with him on passing downs.
The Rams could use ascending young talent on the outside. They had too many more important needs this offseason to justify throwing precious resources at a position of lesser value.
REASON FOR OPTIMISM
[+] Enlarge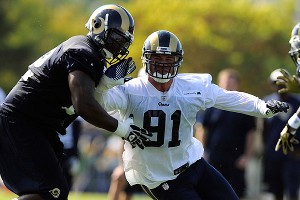 Jeff Curry/US PresswireLeft end Chris Long, coming off a 13-sack season, anchors a promising young defensive line.
Head coach and quarterback are the two most important figures in a football operation. The Rams have the right people in those positions. That gives them a chance.
The Rams also have the pass-rushing talent Fisher needs to run his aggressive defense. Left defensive end
Chris Long
is coming off a 13-sack season. On the right, 2011 first-round choice
Robert Quinn
is serving notice, at least in practice, that he's the best pure pass-rusher on the team. His ability to close on the quarterback even when off-balance or falling sets him apart from most.
I wondered coming into camp whether last season inflicted irreparable damage to Bradford. That was not the case. There hasn't been a more impressive player on the practice field to this point. It's stunning, in retrospect, that a team with such a talented quarterback could suffer through a 2-14 season. So many things had to go wrong.
Day after day, play after play, Bradford impresses even the most seasoned observers. Receivers coach Ray Sherman, most recently with the
Dallas Cowboys
, has been around accomplished quarterbacks throughout his coaching career. The list includes Warren Moon, Joe Montana, Steve Young, Boomer Esiason, Randall Cunningham, Brett Favre, Steve McNair and
Tony Romo
. He used the word "special" to describe Bradford.
"His temperament is just so calm," Sherman said of Bradford. "He has a demeanor about him and Brett was like that -- when he spoke, guys listened. They tune in. They know, 'We take care of this guy, he's going to take us a long way. He's going to do some special things.'"
REASON FOR PESSIMISM
Look at the schedule. Road games against Detroit and Chicago in the first three weeks. Green Bay, New England and San Francisco during a three-game stretch at midseason. Four of the final six games on the road. Only seven true home games overall, the New England game having been moved to London.
No one said this job would be easy for Fisher and his veteran staff.
Danny Amendola
looks like the best receiver on the team. He's a terrific slot receiver, but with an 8-yard career average per reception, he won't strike fear into opponents. Quick and Givens, though promising draft choices, are rookies nonetheless. It's an upset if either becomes a force right away and a bonus if veteran
Steve Smith
fights through recent knee troubles to become a factor.
Bradford has the talent to rack up yardage when healthy, but he might not have the weapons to finish drives with touchdowns. Think back to the game at Green Bay last season. Bradford threw for 328 yards with a 64.4 completion rate at Lambeau Field, but the Rams still lost, 24-3.
Also, the Rams are going to a run-first offense at a time when the passing game is king in the NFL.
"Sitting in our first offensive meeting, it was made clear that our identity as an offense, we're going to be known as being a physical unit that can run the ball versus whatever," Bradford said. "It doesn't matter if people put 8-9 in the box, we're going to run the ball. That's what we're going to do, and we're going to pound them and we're going to wear them out, and then we're going to take our shots."
OBSERVATION DECK
Rookie cornerback Janoris Jenkins might already be one of the three or four most talented players on the team. He's starting opposite free-agent newcomer Cortland Finnegan. "He is game-ready," Finnegan said. "I think he's one of those special guys."
Brandon Gibson has been one of the better receivers in camp. That was the case a year ago, and it might have said something about the quality of the position overall. I'm looking at Gibson as a barometer for the position this season. It's good for the Rams if other receivers pass him on the depth chart.
The Rams won't know for sure until they put on the pads, but they're hopeful rookie defensive tackle Michael Brockers can be more than just a run stuffer. They need him to factor as an inside pass-rusher as well. Having three relatively recent first-round picks on the defensive line -- Long, Brockers and Quinn -- gives Fisher and the defensive staff talent to work with.
Speaking of the defensive staff, I never heard Gregg Williams' name come up once during the first four days of camp. The NFL suspended Williams before he could get much work done as defensive coordinator. Fisher has never been one to panic. He's as cool as they come. The Rams moved on long ago. McGinnis: "I've been with Jeff when we were 10-0, and I've been with him when we were 0-6 and came back and won eight of our last 10. He doesn't change. That type of self-confidence is transferable to a group. It's transferable to individuals. That excites me."
Jackson, down to 235 pounds with 5.1 percent body fat, appears fresh in camp at age 29. Thomas Jones was that age when he rushed for 1,119 yards in Schottenheimer's offense with the Jets. Jones followed up that season with 1,312 yards at age 30, and 1,402 yards at age 31.
Rookie running back Pead stands out as an obvious talent. He's shifty. The question is whether he can pick up the offense quickly enough for the team to trust him in pass protection. The academic calendar at the University of Cincinnati prevented Pead from participating in organized team activities. He's behind from that standpoint, but he's got talent, and Schottenheimer likes using two backs. Those Jets teams referenced above had enough carries left over for secondary backs to gain 400-500 yards per season.
Long and Quinn had their way with the Rams' offensive tackles in pass-rushing situations. That could change some once players put on pads. Offensive linemen can become more aggressive at that point. I would expect the trend to continue, however. I'm expecting Long and Quinn to reach double-digit sacks.
Defensive end Eugene Sims played 25 percent of the Rams' defensive snaps last season. Look for that number to rise in 2012. The Rams' new staff likes his athleticism.
Jason Smith needs to become more patient as a pass protector at right tackle. He too frequently wants to bury the opponent. That's not necessary in pass protection. It's dangerous, in fact. Line coach Paul Boudreau went into the archives to produce a highlight reel showing former Rams great Orlando Pace letting opposing rushers come to him. Smith lacks Pace's talent, but if he can emulate Pace's patience, the Rams will have a better chance keeping Bradford upright.
"Gee-zee" would be rookie kicker Greg Zuerlein. Some are calling him "Greg the Leg" as well, and for good reason. Zuerlein has been powering through field goal tries from the 60-yard range. He made 23 of 24 attempts at Missouri Western State last season, including all nine tries from 50-plus yards. We'll see how it translates to the NFL. For now, though, the Rams aren't missing veteran Josh Brown.
The Rams have the youngest roster in the NFL, including the youngest specialists. They could be counting on a rookie, Johnny Hekker, to punt away from Patrick Peterson. That sounds risky, and it is, but the results can only get better. Peterson returned two for touchdowns against the Rams last season.