NFC West:

2012 NFL preseason Week 3
September, 2, 2014
Sep 2
8:00
AM ET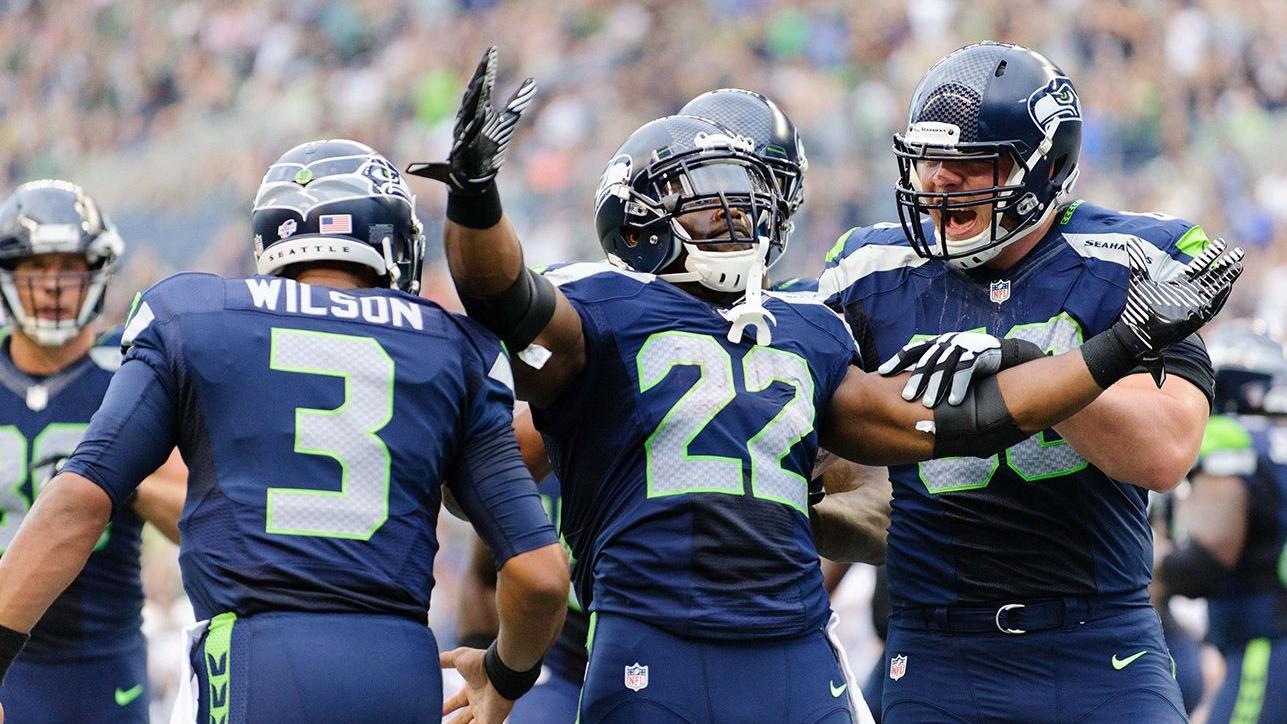 ESPN.com
Seattle Seahawks
reporter Terry Blount makes his game-by-game picks for the 2014 season.
Week 1: Green Bay Packers
All the pregame hype will center around the so-called Inaccurate Reception, the controversial Hail Mary catch by Golden Tate two years ago that won the game over the Packers at Seattle on a Monday night. Tate has moved on to Detroit, but the Seahawks now have too many weapons for the Packers to stop, no Hail Mary required. Prediction: Win
---
Week 2: at San Diego Chargers
The Chargers better hope they play a lot better than they did in the preseason game at Seattle, a 41-14 victory for the Seahawks on Aug. 15. San Diego will play better, but not good enough to beat a much better team. Prediction: Win
---
Week 3: Denver Broncos
The Broncos and their fans got a tiny bit of meaningless Super Bowl revenge in the preseason opener with a 21-16 victory over the Seahawks in Denver. Enjoy it while it lasts, boys. Repeating that outcome in Seattle is not an option. Prediction: Win
---
Week 5: at Washington Redskins
Traveling coast to coast to play on the road for a Monday night game is a tough task against any NFL opponent, and even tougher against quarterback Robert Griffin III. But the Seahawks catch a break in this one by coming off a bye week with plenty of time to prepare and be fresh for the journey. Prediction: Win
---
Week 6: Dallas Cowboys
Cowboys owner Jerry Jones gave Seattle a little bulletin-board material last month when he said the Seahawks were to blame for the increase in penalty flags during the preseason. There won't be near enough flags against Seattle for the Cowboys to win this one. Prediction: Win
---
Week 7: at St. Louis Rams
Any division game in the NFC West is a rugged battle. The Rams have a defensive line that gave the Seahawks problems a year ago. But they aren't strong enough overall to beat Seattle, even at home in their out-of-date dome. Prediction: Win
---
Week 8: at Carolina Panthers
The Seahawks were fortunate to win the season opener at Charlotte a year ago. That Panthers team was better than this one, but back-to-back road games against very physical defensive teams will end the Seattle winning streak. Prediction: Loss
---
Week 9: Oakland Raiders
Coming off their first loss of the season and returning home against an outmanned opponent, is there any doubt? Prediction: Win
---
Week 10: New York Giants
The Seahawks easily defeated the Giants 23-0 last year in New Jersey, a dress rehearsal for their Super Bowl victory at the same location -- MetLife Stadium. The Seahawks won't need a rehearsal to roll past the Giants in this one. Prediction: Win
---
Week 11: at Kansas City Chiefs
This likely will be a low-scoring game between two strong defensive teams. Odds are against any team that has to try to win by matching its defense against the Seahawks' D. Prediction: Win
---
Week 12: Arizona Cardinals
The last time the Cardinals played at CenturyLink Field was last December when they handed the Seahawks a 17-10 loss. That won't happen again unless the Seahawks get caught looking ahead to the 49ers game. The Seahawks don't look ahead. Prediction: Win
---
Week 13: at San Francisco 49ers
It's a Thanksgiving night, national TV game in the 49ers' shiny new stadium against the hated Seahawks. If San Francisco can't win this one, its time as a championship contender is over. Prediction: Loss
---
Week 14: at Philadelphia Eagles
This is the toughest part of the season for the Seahawks with back-to-back road games against likely playoff contenders. But the 10 days between games will help and be enough of a cushion to keep Seattle from losing two in a row. Prediction: Win
---
Week 15: San Francisco 49ers
This is a game that could decide which team wins the NFC West. No way the Seahawks lose to the 49ers twice in three weeks, especially not in front of a rabid full house of 12s. Prediction: Win
---
Week 16: at Arizona Cardinals
The Cardinals probably will be fighting for a playoff spot, and the Seahawks already will be in at 12-2. That difference will be just enough for Arizona to win at home in the same stadium where the Seahawks will win the Super Bowl a few weeks later. Prediction: Loss
---
Week 17: St. Louis Rams
For the second consecutive year, the Rams close the regular season in Seattle. And for the second consecutive year, the Seahawks will beat them without much trouble. Prediction: Win
---
Predicted Record: 13-3
August, 26, 2012
8/26/12
7:51
PM ET
Looking back on three things discussed here before the San Francisco 49ers' 29-24 preseason victory Sunday at Denver:


1. Starting QBs.
Peyton Manning
played his best game of the preseason, completing 10 of 12 passes for 122 yards and two touchdowns. The 49ers, playing without top pass-rusher
Aldon Smith
, did not pressure Manning much. When they did, Manning showed he could deliver the ball downfield before withstanding a big hit that snapped his head back, putting to the test his surgically repaired neck.
Alex Smith
's day for the 49ers wasn't quite as good. A short snap from center
Jonathan Goodwin
wound up on the ground, where the Broncos recovered it. Smith took a huge hit while delivering a short third-down pass for a conversion. Smith hung in, eventually finding
Vernon Davis
for a 44-yard touchdown. He completed 5 of 7 passes for 69 yards and did not throw an interception. Smith was pretty good. Manning was ... Manning.
2. Two-way threat.
I'm guessing
Demarcus Dobbs
will emerge as the third tight end and part of the rotation on the defensive line, saving a roster spot for the 49ers.
Konrad Reuland
, also competing as the third tight end, did get into the game with the first-team offense, ahead of Dobbs. That doesn't necessarily tell us anything. Reuland had a 16-yard reception. But with the 49ers using defensive linemen as extra blockers, they appear in position to keep Dobbs as the third and final tight end on the 53-man roster.
3. Perrish's push.
The 49ers' secondary struggled against Manning, but when backup
Caleb Hanie
came into the game, 49ers cornerback
Perrish Cox
stood out right away. Cox picked off a pass, his second interception of the preseason. Cox wasn't perfect as a tackler, but he appears to have created a role for himself within the 49ers' sub packages.
August, 25, 2012
8/25/12
11:16
PM ET
Looking back on three things discussed here before the St. Louis Rams' preseason game Saturday night, a 20-19 defeat at Dallas:


1. Center of attention.
Veteran
Scott Wells
, sidelined by knee surgery for much of the offseason, made his preseason debut after signing with the Rams in free agency. He called out line adjustments, pointing about the field as centers typically do.
Wells played
Jay Ratliff
to a stalemate on an early third-and-7 (left guard
Quinn Ojinnaka
gave up a sack on the play). The Cowboys'
Kenyon Coleman
got past Wells with a quick first step, but Wells held on. Coleman did not disrupt the play.
Wells played a couple series and seemed to do fine. There were no botched center exchanges when he was in the game.
2. Offensive draft choices.
Rookie running backs
Isaiah Pead
and
Daryl Richardson
got into the game early. Pead had a 47-yard kickoff return. He didn't find much room to run while working with the first-team offense. Richardson fared better. The blocking for Richardson might have been better, but he also impressed with powerful strides. Richardson ran with determination through the play. He carried 10 times for 51 yards.
Pead bobbled a pass and couldn't get away from defenders in the open field. But he did run hard in the red zone during a fourth-quarter drive ending with a touchdown pass from
Kellen Clemens
to
Austin Pettis
. Pead finished with nine carries for 22 yards.
The Rams did not get their young receivers involved early. Rookie second-round choice
Brian Quick
left the game in the second half after taking a crushing hit to the midsection, but he returned and contributed with a 39-yard reception. Fourth-round choice
Chris Givens
did not catch a pass.
3. Roster battles.
Undrafted rookie safety
Rodney McLeod
seemed to improve his case for a roster spot, although evaluating secondary play can be tricky. McLeod made a positive first impression with an early tackle on special teams. He made a diving pass breakup on a risky third-down pass thrown over the middle in the fourth quarter.
At tight end,
Mike Hoomanawanui
made two receptions for 23 yards. One of his potential competitors for a roster spot, rookie
Mike McNeill
, threw the key downfield block on one of those receptions.
Clemens, the No. 2 quarterback, played deep into the fourth quarter. He completed 6 of 9 passes for 68 yards and the one score.
Austin Davis
finished up and led a quick touchdown drive, completing 4 of 5 passes for 53 yards. Davis showed pocket awareness. The offense perked up when he entered the game.
August, 24, 2012
8/24/12
11:00
PM ET
Looking back on three things discussed here before the Seattle Seahawks' preseason game Friday night at Kansas City (they led 44-7 in the fourth quarter when I filed this):


1. Russell Wilson's efficiency.
The rookie quarterback led Seattle to three field goals and three touchdowns on his first six possessions. Wilson played another series with the backups. That one included a 40-yard strike to
Terrell Owens
before the drive ended with a missed 51-yard field goal. Wilson completed 13 of 19 passes for 185 yards and two touchdowns. He ran twice for 58 yards, including once for a 31-yard gain on third-and-7.
This had to be enough for Wilson to emerge as the favorite to start on a night when
Matt Flynn
sat out to rest a sore throwing elbow. If not, what more did Wilson need to do?
Update:
After the game, coach Pete Carroll indicated he would not name a starting quarterback at this time.
Wilson got receiver
Sidney Rice
involved early. He ran the two-minute offense effectively before halftime. Wilson connected on downfield throws with Owens,
Braylon Edwards
,
Kellen Winslow
,
Anthony McCoy
and
Golden Tate
. Winslow and
Charly Martin
caught scoring passes. Wilson completed passes covering 40, 32, 25 and 21 yards.
Wilson did miss McCoy over the middle on a second-and-15 play, but otherwise, he was mostly on the mark. Seattle had to like what it saw from Wilson and two other rookies, right guard
J.R. Sweezy
and running back
Robert Turbin
. Sweezy's aggressive run blocking stood out. Turbin ran with power and also showed surprising speed in pulling away from Kansas City linebackers to break a 25-yard scoring run. Turbin carried 14 times for 93 yards.
With Flynn out,
Tarvaris Jackson
made his 2012 exhibition debut, taking over late in the third quarter.
2. WRs revisited.
Edwards looked good again. Owens struggled until making an improbable overhead catch while putting on the brakes along the sideline. Owens resembled a man slipping on a banana peel. The play required skill and concentration. Teammates cheered loudly along the sideline after the catch.
Earlier, Owens could not make a catch when defended well along the right sideline. He missed another chance on a third-down pass thrown slightly behind him, but a penalty for roughing the passer kept the drive going for Seattle.
Golden Tate held onto a contested ball for a 14-yard gain, and his 92-yard punt return for a touchdown was most impressive.
3. Pass-rushers.
Rookie
Greg Scruggs
collected a sack early. Seattle held
Matt Cassel
to 4.9 yards per pass attempt, pressuring him occasionally without collecting sacks.
The Chiefs converted five times on third down during a 17-play, 80-yard touchdown drive against Seattle's starting defense.
Mike Morgan
and
Cordarro Law
did collect sacks for Seattle later in the game.
August, 23, 2012
8/23/12
9:47
PM ET
Looking back on three things discussed here before the Arizona Cardinals' preseason game Thursday night at the Tennessee Titans:


1. Skelton's rhythm.
Horrible pass protection from the starting offensive line, notably left tackle
D.J. Young
, made it tough for
John Skelton
to find a rhythm early. Skelton did show an ability to throw on rhythm when given time, including when he found tight end
Jeff King
over the middle. But he also overthrew his target for an interception on the Cardinals' second play. Skelton faced too many third-and-long situations thanks to sacks, a poor running game and a holding penalty. Rookie receiver
Michael Floyd
dropped a slightly off-target pass on third-and-3 to kill another drive. Skelton completed 4 of 10 passes for 41 yards and the one pick. He did not make a strong case for the starting job.
Kevin Kolb
took over and had no chance on his first possession. The pass protection was that bad. Arizona changed out its tackles from that point forward. Kolb responded by showing immediate improvement. He did a good job staying in the pocket initially. That had been a problem for him. Bad habits die hard, however, and Kolb hurt his cause by rolling right and throwing back toward the middle of the field, resulting in an interception.
Kolb didn't let the mistake rattle him, however -- he played freely after the pick. Going to a two-minute offense probably helped. Kolb went out and played without thinking so much, it appeared. Kolb bailed from the pocket a couple times, but he made it work -- especially when finding
Larry Fitzgerald
with an across-the-body deep ball while rolling left. That play gained 53 yards. Kolb capped the drive with a touchdown pass to
Andre Roberts
. He completed 9 of 12 passes for 95 yards in the first half.
Was that drive to end the half enough to boost Kolb into the lead in his race against Skelton? It had to help, but ...
Kolb opened the second half with the starters and promptly threw a pick for a Tennessee touchdown. Arizona gave Kolb another chance, continuing with the no-huddle attack. The approach seemed to keep the Titans' pass rush in check, but this was also a case of Arizona starters working against Tennessee backups. Kolb's pass to
Todd Heap
converted a fourth-and-1, but the drive ended after officials incorrectly administered offsetting penalties instead of penalizing only Tennessee for having 12 defenders on the field.
2. Beanie Wells' debut.
Wells found little running room for the most part. He did accelerate well around the right side, launching himself for extra yardage. Getting through the game healthy had to be the top priority. Wells seemed to come out OK. Gaining 12 yards on six carries won't jump off the stat sheet, but there wasn't much running room for the Cardinals' backs in the first half.
3. The offensive tackles.
The Cardinals found out Young isn't the short-term answer on the left side. Young struggled badly against multiple defenders, including
Kamerion Wimbley
. The Cardinals did not help him.
D'Anthony Batiste
came into the game at left tackle ahead of schedule. The pass protection improved. Rookie
Bobby Massie
took over on the right side. The Batiste-Massie combination appeared far preferable. That could be the combination Arizona considers going with heading into the season, unless coaches decide veteran
Jeremy Bridges
provides a better option.