NFC West:

2012 Week 4 coverage
September, 2, 2014
Sep 2
8:00
AM ET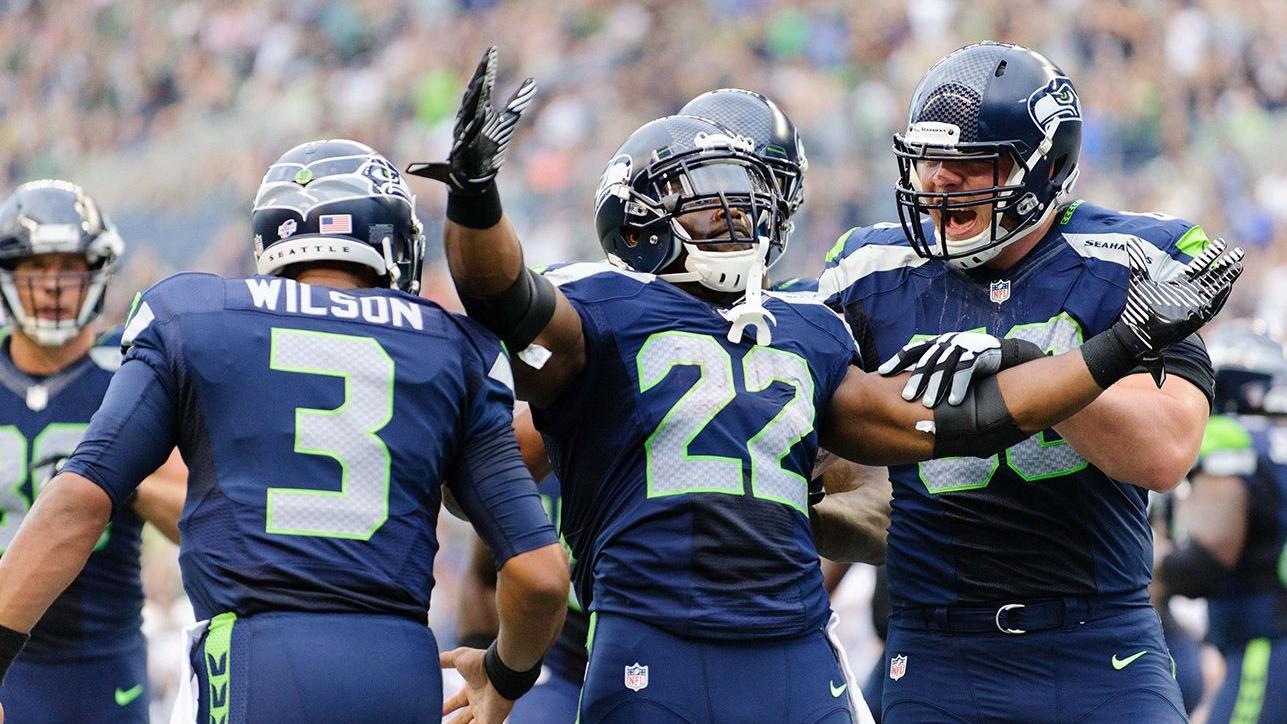 ESPN.com
Seattle Seahawks
reporter Terry Blount makes his game-by-game picks for the 2014 season.
Week 1: Green Bay Packers
All the pregame hype will center around the so-called Inaccurate Reception, the controversial Hail Mary catch by Golden Tate two years ago that won the game over the Packers at Seattle on a Monday night. Tate has moved on to Detroit, but the Seahawks now have too many weapons for the Packers to stop, no Hail Mary required. Prediction: Win
---
Week 2: at San Diego Chargers
The Chargers better hope they play a lot better than they did in the preseason game at Seattle, a 41-14 victory for the Seahawks on Aug. 15. San Diego will play better, but not good enough to beat a much better team. Prediction: Win
---
Week 3: Denver Broncos
The Broncos and their fans got a tiny bit of meaningless Super Bowl revenge in the preseason opener with a 21-16 victory over the Seahawks in Denver. Enjoy it while it lasts, boys. Repeating that outcome in Seattle is not an option. Prediction: Win
---
Week 5: at Washington Redskins
Traveling coast to coast to play on the road for a Monday night game is a tough task against any NFL opponent, and even tougher against quarterback Robert Griffin III. But the Seahawks catch a break in this one by coming off a bye week with plenty of time to prepare and be fresh for the journey. Prediction: Win
---
Week 6: Dallas Cowboys
Cowboys owner Jerry Jones gave Seattle a little bulletin-board material last month when he said the Seahawks were to blame for the increase in penalty flags during the preseason. There won't be near enough flags against Seattle for the Cowboys to win this one. Prediction: Win
---
Week 7: at St. Louis Rams
Any division game in the NFC West is a rugged battle. The Rams have a defensive line that gave the Seahawks problems a year ago. But they aren't strong enough overall to beat Seattle, even at home in their out-of-date dome. Prediction: Win
---
Week 8: at Carolina Panthers
The Seahawks were fortunate to win the season opener at Charlotte a year ago. That Panthers team was better than this one, but back-to-back road games against very physical defensive teams will end the Seattle winning streak. Prediction: Loss
---
Week 9: Oakland Raiders
Coming off their first loss of the season and returning home against an outmanned opponent, is there any doubt? Prediction: Win
---
Week 10: New York Giants
The Seahawks easily defeated the Giants 23-0 last year in New Jersey, a dress rehearsal for their Super Bowl victory at the same location -- MetLife Stadium. The Seahawks won't need a rehearsal to roll past the Giants in this one. Prediction: Win
---
Week 11: at Kansas City Chiefs
This likely will be a low-scoring game between two strong defensive teams. Odds are against any team that has to try to win by matching its defense against the Seahawks' D. Prediction: Win
---
Week 12: Arizona Cardinals
The last time the Cardinals played at CenturyLink Field was last December when they handed the Seahawks a 17-10 loss. That won't happen again unless the Seahawks get caught looking ahead to the 49ers game. The Seahawks don't look ahead. Prediction: Win
---
Week 13: at San Francisco 49ers
It's a Thanksgiving night, national TV game in the 49ers' shiny new stadium against the hated Seahawks. If San Francisco can't win this one, its time as a championship contender is over. Prediction: Loss
---
Week 14: at Philadelphia Eagles
This is the toughest part of the season for the Seahawks with back-to-back road games against likely playoff contenders. But the 10 days between games will help and be enough of a cushion to keep Seattle from losing two in a row. Prediction: Win
---
Week 15: San Francisco 49ers
This is a game that could decide which team wins the NFC West. No way the Seahawks lose to the 49ers twice in three weeks, especially not in front of a rabid full house of 12s. Prediction: Win
---
Week 16: at Arizona Cardinals
The Cardinals probably will be fighting for a playoff spot, and the Seahawks already will be in at 12-2. That difference will be just enough for Arizona to win at home in the same stadium where the Seahawks will win the Super Bowl a few weeks later. Prediction: Loss
---
Week 17: St. Louis Rams
For the second consecutive year, the Rams close the regular season in Seattle. And for the second consecutive year, the Seahawks will beat them without much trouble. Prediction: Win
---
Predicted Record: 13-3
September, 30, 2012
9/30/12
7:33
PM ET
GLENDALE, Ariz.
--
Thoughts on the
Arizona Cardinals
'
24-21
overtime win against the
Miami Dolphins
at University of Phoenix Stadium:
What it means:
The Cardinals improved to 4-0 for the first time since 1974 with one of the more remarkable victories in a long line of them at University of Phoenix Stadium.
Jay Feely
's overtime field goal gave the Cardinals only their fifth victory in 81 chances since 1988 when trailing by 13-plus points at halftime. This victory kept the Cardinals alone atop the NFC West.


What I liked:
Kevin Kolb
overcame eight sacks and a crushing fourth-quarter interception to throw the tying touchdown pass with 22 seconds remaining in regulation. This had the feeling of a defining performance for Kolb, who now has two fourth-quarter drives to the tying or winning touchdown this season.
Arizona continued to produce outstanding results with its blitzes from inside linebackers
Daryl Washington
and
Paris Lenon
. Washington forced a critical turnover in the final three minutes of regulation. Lenon forced an interception with pressure in overtime.
The Cardinals battled back from a 13-0 halftime deficit to make the game competitive in the third quarter. Kolb's 24-yard throw to
Andre Roberts
against a Dolphins blitz required quick thinking. That play sustained Arizona's drive, and Kolb finished that drive with a scoring pass to
Larry Fitzgerald
.
Strong safety
Adrian Wilson
made big plays in his return from injury. A third-and-long sack in the second half helped keep Arizona in the game. Wilson ran over Dolphins running back
Daniel Thomas
before taking down quarterback
Ryan Tannehill
. Wilson also made a diving attempt to pick off a pass. He snatched the back half of the ball. Officials ruled the play a pick, but replays convinced them to reverse the ruling.
Cornerback
Greg Toler
picked off Tannehill, atoning for what seemed like a debatable interference call against Toler.
The Cardinals made an effective adjustment to quickly take a 14-13 lead in the fourth quarter. They shifted to heavier personnel, ran the ball on first down, then connected on deep play-action passes for
Rob Housler
(33 yards) and Roberts (46-yard touchdown). Those plays showed what Kolb can do at his best.
Cornerback
Patrick Peterson
's 61-yard fumble return gave Arizona possession at the Miami 3-yard line while holding a 14-13 lead midway through the fourth quarter. That play seemed to put the Cardinals in prime position to put away the Dolphins, if not for a turnover on Arizona's ensuing possession.
What I didn't like:
Cornerback
William Gay
struggled against Dolphins receiver
Davone Bess
and others lining up against him, including
Brian Hartline
. The Cardinals' previous opponents didn't seem to target Gay as frequently. The Dolphins went after him from the beginning and forced the Cardinals to shuffle their personnel. This was the first time Arizona really missed cornerback
Richard Marshall
, who signed with Miami during the offseason and was on the field for the Dolphins in this game.
Peterson made uncharacteristic blunders as a return specialist. He risked a turnover early by failing to call for a fair catch when there was no room for a return. He muffed other punts. Peterson even fair-caught a ball at the Arizona 3-yard line, an inexplicable lapse. Peterson returned four punts for touchdowns last season. He made little impact as a returner in the first three games and was a negative factor in this one. Perhaps he's trying to do too much.
The running game continued to falter. The Cardinals went to a no-huddle offense for stretches.
Ryan Williams
wasn't part of that package, further reducing the running threat. Miami entered this game leading the NFL in yards per carry allowed. Arizona was without running back
Beanie Wells
and tight end
Todd Heap
. Arizona was one-dimensional on offense.
Rookie right tackle
Bobby Massie
surrendered three first-half sacks working against Dolphins defensive end
Cameron Wake
. Miami lists Wake at right defensive end, but he has played primarily on the left side this season. That was the case Sunday. Arizona had to help Massie in protection after Wake's fast start. Wake collected a fourth sack against Massie in the fourth quarter when the Cardinals did not help the rookie.
Kolb had been a little careless in the red zone and it finally caught up with him in stunning fashion. The fourth-quarter pick he threw from the 3-yard line proved devastating. Instead of building on a 14-13 lead, the Cardinals watched Tannehill connect with Hartline for an 80-yard touchdown on the next play. A two-point conversion staked Miami to a 21-14 lead, a crushing swing.
Stunning stats:
Hartline caught 11 passes for 245 yards and a touchdown. Bess caught seven passes for 123 yards. Tannehill topped 400 yards passing. All this against an Arizona defense that had contained
Tom Brady
and
Michael Vick
, while holding all three previous opponents to fewer than 20 points.
Head-scratching decision:
The Dolphins' decision to pass the ball while protecting a 21-14 lead in the final three minutes proved costly. Washington sacked Tannehill and forced a fumble. Teammate
Vonnie Holliday
recovered. Washington has emerged as one of the best defensive players around. Joe Philbin also chose to ice the kicker with a timeout before Feely's winning field goal try, despite some evidence the tactic isn't always effective.
What's next:
The Cardinals visit the
St. Louis Rams
on Thursday night.
September, 30, 2012
9/30/12
4:01
PM ET
Thoughts on the
San Francisco 49ers
' 34-0
road victory
over the
New York Jets
in Week 4:
What it means:
The 49ers improved to 3-1 while easing concerns that arose following a 24-13 defeat at Minnesota the previous week. They showed they could impose their formula for winning on a lesser opponent, controlling the game with a creative rushing attack and smothering defense. They also put themselves in very favorable position heading into a three-game homestand.


What I liked:
The 49ers showed creativity and variety in the their ground game. They mixed second-year quarterback
Colin Kaepernick
into the game plan and got a first-half touchdown run from him. Earlier, a 17-yard run from Kaepernick helped change field position. The 49ers even ran an option play featuring
Alex Smith
pitching to
Kyle Williams
for a 9-yard gain in the red zone. An end-around to receiver
Mario Manningham
produced a 28-yard gain. These types of plays, run from an ever-changing selection of personnel groupings and formations, defined the 49ers last season.
Smith was effective throwing outside the yard-line numbers to Manningham and
Delanie Walker
. He entered this game having completed 31 of 46 passes for 323 yards with four touchdowns and no picks when throwing outside the numbers, according to ESPN Stats & Information. The trend seemed to continue.
On defense, the 49ers shut down the Jets' rushing attack despite playing without starting nose tackle
Isaac Sopoaga
. They made the Jets one-dimensional and prevented quarterback
Mark Sanchez
from functioning at even a mediocre level. Sanchez was averaging 4.4 yards per pass attempt with a 41 completion percentage when
Frank Gore
essentially put away the game with a 2-yard scoring run for a 17-0 lead with 2:49 remaining in the third quarter.
The decision to run the ball with Gore on fourth-and-1 from the 2 paid off when Gore scored for that 17-0 lead. I would have liked the call even if the 49ers had fallen short. Their defense was dominating. Sanchez wasn't going to lead a 98- or 99-yard touchdown drive in that situation, most likely.
What I didn't like:
Gore had a hard time getting going. He had only 39 yards on his first 14 rushes, with none of those rushes covering longer than 6 yards. Gore did have success late in the game as the 49ers pounded away to protect their lead. San Francisco's offense struggled on third down, counter to gains made in that area over the previous two games.
Interesting call:
The Jets'
Santonio Holmes
suffered an injury and, in retrospect, was giving himself up when he flipped the ball to the ground following a reception. No 49ers defender had touched him, however, and the 49ers'
Carlos Rogers
returned the ball for a touchdown. Had Holmes given himself up on the play? Those are judgment calls, and in this case, officials said the play remained live. The play gave the 49ers a 24-0 lead.
What's next:
The 49ers face the
Buffalo Bills
at Candlestick Park.
September, 30, 2012
9/30/12
3:57
PM ET
Thoughts on the
Week 4 game
between the
Seattle Seahawks
and
St. Louis Rams
at the Edward Jones Dome
:
What it means:
The Rams showed they won't be an easy out for NFC West opponents, particularly in the Edward Jones Dome. They showed that coach Jeff Fisher and staff can give the team an edge. They also moved into a tie with Seattle at 2-2 in the NFC West. This game showed the Seahawks' vulnerability pending improvement in the passing game. They're a defensive team and a rushing team, but not much of a threat in the passing game.


What I liked:
Both teams scored on their opening drives. The Seahawks came out throwing and put
Russell Wilson
's talents to use during an 80-yard drive to a touchdown. The Rams answered on their first possession with
Greg Zuerlein
's 58-yard field goal. Neither offense has functioned particularly well of late, so getting points early was a bonus.
The Rams maximized several scoring opportunities to gain an edge against a generally stronger opponent. They won the tactical battles, it seemed. They fooled Seattle with a touchdown pass to
Danny Amendola
on a
fake field goal
. When Seattle threw incomplete and took a sack with 49 seconds left in the first half, the Rams leveraged the gift into a 48-yard field goal. And when Seattle failed to recover an onside kick to open the second half, St. Louis turned the favorable field position into Zuerlein's 60-yard field goal.
Seattle's ground game and the Rams' third-down offense were highlights at times.
Marshawn Lynch
topped 100 yards rushing. He and
Robert Turbin
overpowered the Rams' defense. Turbin ran over safety
Quintin Mikell
and through linebacker
James Laurinaitis
on one memorable play. Lynch's 18-yard scoring run over the left side was another highlight. Lynch broke tackles regularly.
Rams quarterback
Sam Bradford
sometimes held the ball too long, but the Rams converted five of their first 12 chances on third down. Their ground game also improved late as
Steven Jackson
found some creases even though Seattle's defensive front continued to dominate at the line of scrimmage.
Seattle's defense did not allow a touchdown (its special teams did).
What I didn't like:
Both teams suffered interceptions following poor plays or miscommunications involving receivers. The Rams squandered a likely scoring drive when Bradford threw for
Brandon Gibson
along the sideline, only to have Gibson continue his route down the field.
Richard Sherman
made the easy pick for Seattle. For the Seahawks, receiver
Doug Baldwin
couldn't handle a short pass thrown behind him, enabling the Rams'
Trumaine Johnson
to intercept it.
Seattle's final shot at victory ended when tight end
Anthony McCoy
tripped, allowing
Bradley Fletcher
to pick off Wilson's pass.
Any team running the ball as well as Seattle was should have found greater opportunities in the passing game. Seahawks coach Pete Carroll has said he's the reason for the team's conservative offensive approach, and that the philosophy will change once Wilson gains experience.
What's next:
The Rams are home against Arizona on Thursday night. The Seahawks visit Carolina on Sunday for their second consecutive game kicking off at 10 a.m. PT.