NFC West:

2013 Camp Confidential NFC
August, 4, 2013
8/04/13
11:00
AM ET
SANTA CLARA, Calif. -- For the first time since 2004, the
San Francisco 49ers
are conducting training camp without
Alex Smith
as part of the quarterback equation. Throw in a long, growing list of injuries, and the NFC West's most established team is tougher to recognize.

I spent two days in camp without seeing starters
Aldon Smith
,
NaVorro Bowman
,
Patrick Willis
or
Jonathan Goodwin
practice. Receiver
Michael Crabtree
was already out, of course.
A.J. Jenkins
,
Mario Manningham
,
Kyle Williams
and
Kendall Hunter
also were not practicing. Third cornerback
Chris Culliver
, meanwhile, suffered a torn ACL.
Fortunately for the 49ers, it's still early August. They know how to develop talent and coach to players' strengths. But for San Francisco to win a third consecutive NFC West crown, the team could use better luck with injuries from this point forward.
Beyond the injury concerns, all signs point toward a continued rise for quarterback
Colin Kaepernick
. This is becoming his team because of the way he works and because he's such a talent. Offensive and defensive players alike say so. Kaepernick often shows up for work before 6 in the morning. He dusts teammates up the hills they run in nearby San Jose.
Outsiders tempted to brand Kaepernick -- after 10 NFL starts -- as a one-read quarterback or a read-option quarterback aren't seeing what coordinator Greg Roman is seeing.
"He doesn't look at things in a rote fashion," Roman said. "He can see big picture. He understands the trickle-down. Say you give him a play, he is going to look at it in his mind versus all different coverages. All those little acetates are going to fall down at once in his mind, and then he understands the impact and 'hey, maybe we should put this guy in this spot, let him run this and let what's-his-name do this.' He is very interactive."
The 49ers still plan to use two backs frequently and lean hard on the running game, but it's not so much because a young quarterback is limiting their options. The collaborative aspect Roman referenced is telling in that regard.
"Last year, I started to bounce things off him because I started to really trust him," Roman said. "I liked what I was hearing and seeing. Now, he has a hand in the pot, too. That is what you want. He is the quarterback. You can evolve with him, and he'll be part of that evolution process. I just love getting him thinking, because he is great."
THREE HOT ISSUES
[+] Enlarge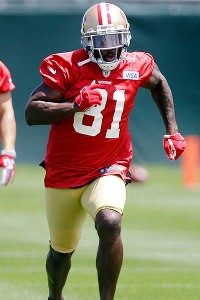 AP Photo/Marcio Jose SanchezAs injuries mount at receiver, the offseason signing of Anquan Boldin looks better by the day.
1. Attrition at wide receiver.
Every 49ers fan should be sending letters of gratitude to general manager Trent Baalke for acquiring receiver
Anquan Boldin
before the team absolutely, positively had to have him.
The situation at receiver is going to improve as Williams, Jenkins and Manningham in particular get healthy. Crabtree might even return late in the season.
For now, though, the 49ers have the following behind Boldin at the position:
Austin Collie
,
Lavelle Hawkins
,
Charly Martin
,
Chad Hall
,
Ricardo Lockette
,
Marlon Moore
,
Kassim Osgood
,
Chuck Jacobs
and
Quinton Patton
, who has one healthy hand and is running routes under orders
not
to catch any passes.
The 49ers need Jenkins to be a factor, but that's not going to happen until the 2012 first-round choice returns from a sore hamstring. Jenkins got safety
Donte Whitner
's vote when I asked Whitner which of the young wideouts would emerge. Whitner said he thought Jenkins' speed would allow him to "take the top off" opposing defenses. Again, that can't happen with Jenkins on the sideline.
San Francisco does have the ability to use two tight ends and/or two running backs, lessening the need for multiple wideouts.
2. Secondary concerns.
Culliver's injury and free safety
Dashon Goldson
's departure in free agency could make the 49ers worse in the secondary for the short term. The team has leaned on its dominant front seven to protect the back end. That will be the preferred formula this season.
Pushing first-round pick
Eric Reid
into the lineup at free safety sounds good in theory. He's going to be the starter eventually. Why not let him play?
Craig Dahl
has much more experience.
C.J. Spillman
and
Trenton Robinson
are in the mix, too.
One consideration: San Francisco opens the season against
Aaron Rodgers
,
Russell Wilson
and
Andrew Luck
before making a trip to St. Louis, where the Rams beat the 49ers last season. The 49ers will want to let the safety race play out through preseason before making a decision.
At corner,
Nnamdi Asomugha
appeared likely to step into Culliver's spot as the third corner, but
Tramaine Brock
was the player defensive coordinator Vic Fangio called upon first.
Tarell Brown
and
Carlos Rogers
are the starters, with Rogers shifting inside in sub packages.
As for Asomugha? He made plays on the ball when I visited practice, but the ever-direct Fangio offered a mixed assessment.
"He's had some good days out here and some days where you weren't sure if he was going to still have it," Fangio said. "I think we're kind of in between with him right now. Hopefully, he'll be able to still have some gas left in his tank to go out there and play like he did prior to going to Philadelphia. So, I think the jury is still out there."
Fangio passed on an opportunity to blame Asomugha's struggles with the Eagles on the scheme Philadelphia was running.
"I think there's some of that, but Nnamdi is at this stage in his career where some guys start losing, their physical skills start to diminish. We just have to see if that's entering into his picture, too, or not."
3. Potential defensive tweaks.
Defensive ends
Justin Smith
and
Ray McDonald
rank among the NFL's top five defensive linemen in total snaps played over the past two seasons, counting playoffs. The heavy use might have contributed to the torn triceps Smith suffered late last season.
The defense wasn't the same with Smith on the sideline, and was limited upon his return. The plan this season calls for expanding the rotation along the line.
Ian Williams
and free-agent addition
Glenn Dorsey
will be key to making that happen. And once second-round choice
Tank Carradine
gets healthy, San Francisco will have another option to help keep its veterans fresh.
The 49ers have gone away from the more traditional 3-4 scheme they employed when
Aubrayo Franklin
was their two-gapping nose tackle a few years back. They still run a base 3-4, but the front is more aggressive in getting up the field. Dorsey, who appeared miscast in the 3-4 scheme Kansas City ran after drafting him fifth overall in 2008, should fit better with San Francisco.
"You have a lot more freedom," Dorsey said of the 49ers' scheme relative to the Chiefs' old scheme. "There's not just staying on blocks. It's taking on blocks and you get to penetrate a lot more, go off in gaps and stuff like that and then move around. A lot of stunts and stuff. It's fun."
REASON FOR OPTIMISM
The 49ers have the front office, coaching staff, quarterback, offensive line, running backs and defensive front seven to contend for a championship. They also have one of the NFL's most dynamic tight ends,
Vernon Davis
. Just about every team in the league should envy the 49ers' roster even with the injury concerns. Kaepernick appears supremely driven. He should improve given the support system around him. Also, the 49ers have most of their tougher-looking games at home, where they should be expected to win a high percentage of the time. A relatively easy road schedule could help San Francisco gain in the standings against Seattle and St. Louis. Those teams face
tougher road schedules
.
REASON FOR PESSIMISM
[+] Enlarge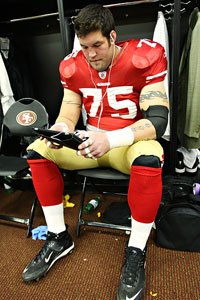 Michael Zagaris/Getty ImagesThe 49ers have been resourceful in finding starters like Alex Boone.
The injury situation is a concern. Competition within the NFC West will be fierce. The 49ers have more questions to answer this offseason after parting with
Delanie Walker
, Goldson and a few role players. Change isn't always bad, of course. This organization has consistently found upgrades such as
Alex Boone
and Bowman when flushing out starters. Still, there is some uncertainty, at least until the 49ers see how the replacements perform. And if the pace of injuries keeps up, the incline could become too steep.
OBSERVATION DECK
British Olympic discus champion Lawrence Okoye will need time to develop. His musculature stands out even among his fellow defensive linemen, but his football inexperience shows on the practice field. He's still learning technique and how to make his 6-foot-6 frame work for him.

Boone, listed at 6-8 and 300 pounds, is about as impressive looking as Okoye. He had the other linemen laughing and shaking their heads when he ended a post-practice soak in a ground-level ice tub by launching his body upright from a lying position in one violent motion, sending water and ice flying. He stuck the landing, too.

Strong safeties and fullbacks tend to relish contact. I enjoyed watching Whitner and Bruce Miller cross paths at speed during drills featuring only minimal contact. They clipped one another hard enough to pop their pads without putting themselves at risk for injury or attracting heat from coaches.

One of the traits separating Frank Gore from other running backs is his ability to maneuver amid heavy traffic on inside runs. Left tackle Joe Staley: "I've never seen a better runner in NFL history between the 'A' gaps. He finds that tiniest crease. One of the other things that sets him apart is that he can make cuts in the 'A' gaps, too. You see other runners go through the 'A' gaps and they just try to smash into someone and it's a 3-yard gain. Frank gets to that 'A' gap and he makes a quick cut and all of a sudden a 3-yard run turns into a 12-, 14-yard run."

Back in March, 49ers coach Jim Harbaugh had high praise for Lockette, a receiver the team signed from the Seattle Seahawks last season. I took note when Harbaugh appeared to be offering forcefully delivered corrections to Lockette during practice. The head coach probably wouldn't bother if he thought the player wasn't worth the trouble. Harbaugh obviously sees something in Lockette, but how will that translate?

Left guard Joe Looney and center Daniel Kilgore worked together with the starting offensive line Friday while starters Mike Iupati and Jonathan Goodwin sat out (Goodwin is recovering from injury, while Iupati sat out a few plays after limping off). Seeing Looney and Kilgore work together with the starters brought into focus the line's longer-term future. Will the team work out a contract extension for Iupati? Players such as Kaepernick and Aldon Smith could become higher priorities to re-sign after this season. Just a thought.

Change-of-pace running back LaMichael James is catching the ball well at this point.

It's not yet clear how quickly second-round pick Vance McDonald will develop as a reliable blocker. Boldin's ability in that area provides flexibility.

Players off-limits to contact typically wear black jerseys so teammates know to avoid hitting them. Patton, a rookie fourth-round pick, was in another category. He was running pass routes as usual, but the coaching staff told him to let the quartebacks' passes sail past him. The team wants Patton to get reps without risking further injury to a finger. Patton caught one pass anyway. I saw him catch another ball with one hand. Patton was the only player wearing a blue jersey, making him particularly easy to spot.

Arizona Cardinals kicker Jay Feely, 37, recently said one of the team's rookies confessed to mistaking Feely for an assistant coach all offseason. I'll admit to briefly mistaking the 49ers' 38-year-old kicker, Phil Dawson, for a team staffer when he arrived at the post-practice interview tent wearing running shoes with no socks and a pullover on his 5-foot-11 frame. Dawson, who is new to the 49ers, said he obsesses over weather conditions, to the point that he is constantly checking them using an app whose manufacturer he wouldn't reveal. Although Candlestick Park is known for rough conditions, the winds blow almost constantly at team headquarters -- something to keep in mind when the 49ers move into their new stadium across the street in 2014.

Linebacker Nick Moody, a sixth-round pick, has stood out early, but he's transitioning from safety and will need time to develop. Fangio put it best: "I think he's got a lot of good tools in his toolbox. He just isn't a union carpenter yet."

The talk of tight end Davis taking reps at wide receiver was pretty much just that: talk. Davis will remain a tight end. However, I did see him line up outside the yard-line numbers a couple times in one practice. He has the speed to do that on occasion. His route-running has improved over the years as well. A third season in the same offense is another important factor for expanding Davis' game. Still, he's going to be a tight end.
August, 2, 2013
8/02/13
11:21
AM ET
GLENDALE, Ariz. --
Carson Palmer
's relationship with his new head coach, Bruce Arians, is unlike any the
Arizona Cardinals
quarterback has experienced in 10 NFL seasons or even in college under Pete Carroll at USC -- except for a nine-start period in 2011.

That 2011 season under Hue Jackson in Oakland was the only other time Palmer played for an offensive-minded head coach. In nine starts, Palmer posted a higher Total QBR score (64.8) than four of the seven quarterbacks accorded Pro Bowl honors.
Coincidence? Palmer, a week into his first training camp with Arizona, doesn't think so. He has played under Carroll, Marvin Lewis and Dennis Allen, all defensive coordinators before they became head coaches.
"There are so many defensive head coaches," Palmer said. "I had Hue for nine games. It was great. We lit it up on offense. We just didn't win."
Plenty of successful quarterbacks have played for defensive-minded head coaches, of course, but at this stage of his career, the 33-year-old Palmer wants to clear away all potential impediments to success. He wants his head coach to see the game the way he sees it, as a quarterback. Arians played the position at Virginia Tech.
"[Arians] is not sitting in the film room and saying my five-step drop was too shallow here or too deep there," Palmer said. "He's all about eyes and where the ball is coming out. That is the first time I've had that. To see it through his eyes and see what he expects and see what he thinks is something that takes time to get used to. It's phenomenal for me."
Palmer has much to prove. The metrics say he's been below average in recent seasons. The win-loss record says he's been worse. The Cardinals' quarterbacks over the past three seasons set the bar low enough for Palmer to clear it, but by how much?
THREE HOT ISSUES
[+] Enlarge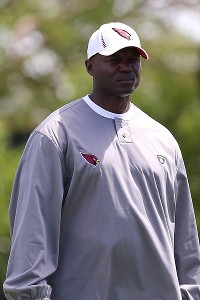 Christian Petersen/Getty ImagesCan new defensive coordinator Todd Bowles keep the Cardinals defense operating at the same high level as last season?
1. Life without Ray Horton.
The Cardinals ranked third in defensive
EPA
with Horton as coordinator last season. Arians beat out Horton for the head coaching job and cast off Horton in favor of his own coordinator, Todd Bowles. The switch was a clear
downgrade on paper
, but you'd never know it after a trip inside the Cardinals' locker room.
"Everybody is excited about this defense," nose tackle
David Carter
said. "Last year, everybody was like, 'I don't like the defense, but I'm going to play it because I have to.' Now, it's like, 'Hey, you want me to do what? OK, sure, I'll do that!' "
According to Carter, Horton was trying to replicate the
Pittsburgh Steelers
' 3-4 scheme in the absence of the proper personnel. He sees Bowles tailoring the defense to fit the Cardinals' personnel, which is better suited for attacking up the field.
"We don't have the type of personnel to hold up and mirror technique and two-gap," Carter said.
The Cardinals have continued to add players who appear best suited for a 4-3 scheme. It's increasingly clear the 3-4 and 4-3 labels can be a hindrance to understanding how teams play defense. Teams don't necessarily commit 100 percent to the traditional core principles of either scheme.
2. Arians' vertical passing game.
Conventional wisdom says Arians' preference for the deep passing game will expose an immobile quarterback to excessive punishment behind a questionable offensive line. That could happen, and no one would need an explanation.
Let's also acknowledge the role quarterbacks play in sack avoidance.
Consider Pittsburgh Steelers quarterback
Ben Roethlisberger
. He took sacks on 8.8 percent of drop-backs over the three seasons before Arians became his coordinator. The rate was 8.5 percent for Roethlisberger over four seasons with Arians running the offense.
Palmer's career sack rate was 4.7 percent with Cincinnati and 4.6 percent with Oakland. In 2012, he took 26 sacks in 591 drop-backs playing behind a Raiders line that wasn't necessarily more talented than the one Palmer has in Arizona this season.
And if Palmer takes a few extra hits while looking for
Larry Fitzgerald
and
Michael Floyd
well down the field?
"That is my game," Palmer said. "My strength isn't making a guy miss and getting out and running for a first down on third-and-12. The strength of my game is, I'm 245 pounds, I absorb hits, I'll stay in the pocket and hold it to the very last second for a guy to come out on a certain concept -- not taking a sack, but holding onto the ball and waiting for the guy to get open to get that completion."
3. Who starts on the offensive line?
First-round draft choice
Jonathan Cooper
will be the left guard.
Lyle Sendlein
will be the center. For the first time in a while, the Cardinals could have multiple decent options elsewhere on the line. The key word is decent, not great.
Levi Brown
and
Daryn Colledge
must play well to justify their high salaries. That could be tough for Colledge, who is battling a nerve problem in his leg. The Cardinals need both veterans, but their longer-term futures are cloudy at best. It's clear that Arizona wants to keep adding youth to the line, which was badly neglected over the previous five drafts. Right now, neither is assured a starting spot.
The two young tackles from last season,
Nate Potter
and
Bobby Massie
, provide experienced young depth at worst. One or both could wind up starting.
Arizona does not list an offensive line coach, but three assistants are coaching the position, including coordinator Harold Goodwin. I think the line is getting more thorough coaching under the current setup than when Russ Grimm had been the line coach. Grimm's a Hall of Famer and he built a reputation as a top line coach, but the results simply weren't there in Arizona.
REASON FOR OPTIMISM
Palmer represents
a three-victory improvement
over his immediate predecessors if he plays the way he played for Oakland last season. The rest of the team should respond favorably to an upgrade at the most important position. The offensive line is healthier and deeper than it was a year ago. First-year general manager Steve Keim has brought a more proactive approach to personnel. The Cardinals have made themselves better throughout the roster as a result.
REASON FOR PESSIMISM
The current NFC West is no place to attempt a rebuilding project. Even if some defensive players didn't like the previous scheme, there's no denying the results. Arizona's defense ranked among the NFL's top five in interception rate, third-down conversion rate, red zone efficiency, Total QBR, passing yards, sack rate and first downs. Bowles'
Philadelphia Eagles
ranked a respective 32nd, 32nd, 27th, 32nd, 14th, fourth and 22nd in those categories during his run as coordinator from Week 7 through season's end. Also, Bowles won't have inside linebacker
Daryl Washington
for the first four games because of his suspension for violating the NFL's substance abuse policy.
OBSERVATION DECK
[+] Enlarge

AP Photo/Rick ScuteriCoach Bruce Arians wants more "explosive" plays from Michael Floyd and the Cardinals offense.

The emphasis on big plays is obvious in practice. Palmer frequently pushes the ball deep to Fitzgerald and Floyd. Arians has told players he wants six to eight explosive plays per game. He defines explosive plays as passes covering at least 25 yards and rushes covering at least 15 yards. Arizona tied for the league low with 32 drives featuring at least one play fitting Arians' explosive profile, according to ESPN Stats & Information. The league average was 45 such drives, and San Francisco was two off the league high with 58, while Seattle had 45 and St. Louis had 35. Arians' Indianapolis Colts had 46. His Steelers ranked 11th with 230 such drives from 2007 through 2011, when Arians was coordinator.

Floyd opened camp by catching all three of the "50-50" passes Palmer threw his way. Palmer defines those throws loosely as jump balls into coverage, passes in which the receiver and defender should, in theory, have an equal chance at the ball.

Arians wants a physical camp when the team is in pads. He had every non-specialist, non-quarterback and uninjured player on the team, including Fitzgerald, engaged in what amounted to close-quarters combat on the team's first day in pads.

Rob Housler, who led NFC West tight ends in receptions last season, is the player Fitzgerald points to as among the most impressive in camp to this point. Fitz: "I know you have seen the Jimmy Grahams and Antonio Gateses and Vernon Davises and these tight ends who can do receiver-type angles, routes, things like that. [Housler] is turning into that type of guy. He has 4.4 speed, he can run with the best of them and he's improving in his blocking. He is coming into his own. That is exciting. To have a tight end that can do that is going to open up other things."

Rookie Earl Watford, a fourth-round draft choice, struggled getting into position in one-on-one pass-rush drills on the one day early in camp when I charted every rep.

Cornerback Patrick Peterson has already been to the Pro Bowl as a returner and as a cornerback. His timing and spacing in coverage has improved, allowing Peterson to better challenge routes. Watching Peterson work at receiver in camp, I don't see how Arians will resist using him on offense to some degree. Peterson appeared more natural in his route-running than some of the young receivers. I was standing with Keim, the GM, when Peterson thrilled the crowd with a reception in practice. Keim: "He is so natural. Watch him running routes, particularly stops and digs. You watch him drop his weight at 219 and accelerate out of the break, that's not what cornerbacks do. He can come out here and just run a route and you're just like, 'He looks like Percy Harvin running a route. How does he do that?' "

The newly acquired John Abraham worked with the second team and was trouble for the offense. He was moving through the backfield so quickly on one play that he collided with defensive lineman Matt Shaughnessy, who was rushing from the other side. Abraham signed a two-year deal with a $2.325 million average.

Rookie second-round choice Kevin Minter is going to deliver big hits on special teams, it appears. He "decleated" fellow backup linebacker Zack Nash during one punt return.

Fifty-one of the 90 players in camp weren't with the Cardinals at any point last season. Arizona focused on signing younger veteran players to one-year deals during what amounts to a transition year. The team signed no unwieldy contracts this offseason. The turnover means watching practice without a roster printout can be a confusing experience. Defensive end Calais Campbell: "I wish I knew everybody's name. I don't."

Bowles' defense requires the safeties to be more vocal in making adjustments based on personnel and formations. Bowles was a safety in the NFL for eight seasons. Rashad Johnson: "In the past, we more likely would come out in a call and if we got motion, we would just stay in it. We wouldn't change the coverages or change our look based on that. Now, we do things based off the personnel and based off what guys are giving us."

Palmer appears to have a good rapport with Andre Roberts, who figures to factor from the slot. The quarterback compared Roberts to T.J. Houshmandzadeh, his former teammate in Cincinnati, based on body type, route running and football smarts. Palmer: "It's almost like they have played quarterback all the way 'til they got to the NFL. They understand it from your perspective. Andre has that kind of IQ. He just gets it. He sees it, feels it, gets it, he reacts. That is a special trait."

The praise in camp for players such as Housler, Floyd and Roberts highlights just how horrible the quarterback play was last season. Even Fitzgerald had an off year. The Cardinals need Palmer to get much more from these players.
July, 30, 2013
7/30/13
11:30
AM ET
RENTON, Wash. -- This training camp marks the
Seattle Seahawks
' first since 2009 without some form of a starting quarterback competition. So comfortable, mature and in command is
Russell Wilson
this summer that you'd swear he's been the starter for a decade.
It's sometimes as though Wilson is 24 years old going on 42.

Wilson naturally took the driver's seat in the van Seattle players used when shuttling to the offseason practices Wilson organized in Los Angeles. While teammates joked around in the back like kids on a field trip, Wilson was their chaperone.
Asked during this camp what he knew of
San Francisco 49ers
quarterback
Colin Kaepernick
from their time together shooting a commercial and appearing at the ESPYS, Wilson, nearly 13 months Kaepernick's junior, described his rival as someone who loves football and is a good person to be around.
"Great kid," Wilson added.
Reporters can forget about prying a colorful quote from the player teammates have nicknamed "the robot" for his methodical approach to the job. Wilson has been known to favor coachspeak even inside Seattle's quarterback meeting room.
"We joke around all the time," backup
Brady Quinn
said. "There are some times when he'll state the obvious. We try to make sure he realizes that is a given. Like, for example, 'Hey man, guys gotta stay healthy this year.' Well, yeah. They always need to stay healthy. That's a big part of a team doing well, people not getting hurt. Times like that, you've gotta keep him on his toes, make him laugh a little bit, give him a hard time."
One year after Wilson won a three-way competition against
Matt Flynn
and
Tarvaris Jackson
, the player receiver
Sidney Rice
sometimes calls "the president" is running unopposed at this Seahawks camp.
"He's a champion when he steps out there on that field, even in practice," Rice said. "I've seen him run, I believe, 80 yards on one play on a scramble to try to get away and get us a first down. He is going to do whatever it takes. You have seen him running down the sideline blocking for
Marshawn [Lynch]
numerous times. That is the kind of guy you want leading your team."
THREE HOT ISSUES
[+] Enlarge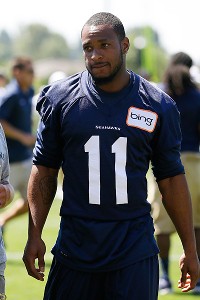 AP Photo/Ted S. WarrenThe Vikings aren't sure what to expect from their former receiver, Percy Harvin, who is expected to be in Seattle's lineup on Sunday.
1. Percy Harvin's health.
The Seahawks were already a good team before they acquired Harvin. They became a popular pick for the Super Bowl once the versatile receiver and return specialist joined their roster in March. Now, with Harvin seeking a second opinion that could lead to season-altering surgery on his sore hip, those projections seem a little more tenuous.
How Harvin will proceed from here is not clear. His sometimes rocky past in Minnesota invites questions and fuels his critics. Is he smartly erring on the side of caution, as coach Pete Carroll seemed to suggest in initial remarks about the injury? Or, is this another one of those tough-to-explain Harvin plot twists like the ones that seemed to pop up regularly during his Minnesota tenure? With Harvin set to seek that second opinion Tuesday, Carroll noted that safety
Kam Chancellor
played through a similar injury last season. Was he saying Harvin should do the same?
"Guys around here trust [Harvin] and believe in him," Rice said. "It's nothing like coming out here and taking days off and doing his own thing. I don't think he's that type of person. You get that perception from people that don't really know what's going on, and they just hear stuff and they just create their own [impression]."
Harvin is, by all accounts, plenty tough and competitive. If this is an injury Harvin can manage, it appears he'll do so on his terms, not on the Seahawks' terms. That surely wouldn't surprise the Vikings, even though Rice, himself an ex-Viking, said his teammate is misunderstood.
2. Bruce Irvin's position.
There has been some confusion, at least on my end, regarding the role Seattle envisions for 2012 first-round draft choice Irvin. The team drafted Irvin with plans to use him initially as a situational pass-rusher, and later as the successor to
Chris Clemons
in the "Leo" position as a stand-up rusher in Carroll's defense.
Irvin collected eight sacks as a rookie in the situational role, as planned. He'll continue to play that role within the nickel defense while adding responsibilities as an outside linebacker in base packages. It's not so much that Irvin will be playing the strong side or weak side. Rather, he'll be one of two outside linebackers positioned on the line of scrimmage in what will look like a 3-4 scheme. He'll be asked to set the edge in the running game, rush the passer, match up man-to-man or cover the flat.
First, though, Irvin will have to serve a four-game suspension for violating the NFL's policy on anabolic steroids and related substances.
3. Depth on the offensive line.
The Seahawks drafted offensive lineman
James Carpenter
25th overall in 2011 when they could have taken a quarterback such as
Andy Dalton
or Kaepernick. Finding Wilson a year later absolved the team from second-guessing on the quarterback front, but the Carpenter selection was still looking like a regrettable one heading into this camp. Injuries were threatening Carpenter's career, and he wasn't exactly dominant even when healthy in his rookie season.
Perceptions are beginning to change after Carpenter reported to camp in good enough shape to participate fully from the beginning. I noticed Carpenter running from one drill to the next when he could have jogged. It seemed like evidence Carpenter was feeling good and was eager to salvage his career. He's been working with the starting unit at left guard between Pro Bowlers
Russell Okung
and
Max Unger
. Adding a healthy Carpenter to the mix would upgrade the line's longer-term prospects.
REASON FOR OPTIMISM
Seattle has one of the NFL's best quarterbacks, best running backs and best defenses. That's a winning combination just about every time. Last season, Wilson struggled through his first few games while hamstrung by remedial game plans. He did not start to hit his stride until Week 8 at Detroit. Wilson did not break out all the way until leading 97- and 80-yard touchdown drives to win at Chicago in Week 13. That's the quarterback Seattle will have behind center from the beginning this season. That is why the Seahawks like their chances.
REASON FOR PESSIMISM
Potential depth issues at tight end, offensive tackle, weakside linebacker and defensive end (for now, while Clemons rehabs and Irvin faces a suspension) probably aren't serious enough to send the Seahawks plummeting into mediocrity. However, the margin for error within the NFC West figures to be small. Harvin, at his best, was supposed to put Seattle over the top. Now, the Seahawks can't be sure they'll have him for the regular season.
OBSERVATION DECK
[+] Enlarge

Steven Bisig/USA TODAY SportsRed Bryant, who had treatment for sleep apnea this offseason, says he has better stamina in practices.

Defensive end Red Bryant appears more comfortable, for good reason. Bryant had treatment for sleep apnea this offseason after former trainer Sam Ramsden, now the Seahawks' director of player health and performance, recommended testing for larger players. Bryant, who wears a continuous positive airway pressure (CPAP) mask when he sleeps, says he's feeling refreshed and has better stamina later in practices. This is a pivotal season for Bryant, who struggled with a foot injury last season after signing a $35 million extension. At Carroll's suggestion, Bryant has recommitted to his identity as a dominant run-stuffer after feeling pressure to improve as a pass-rusher upon signing his new contract.

Rookie fourth-round receiver Chris Harper didn't seem to be a factor in the first couple days of camp. The first time I really noticed him was when he caught a touchdown pass on the third day of practice. Perhaps not coincidentally, that was also the first day this summer that the Seahawks practiced in pads. Harper, oddly proportioned for a receiver at 6-foot-1 and 234 pounds, relishes the physical part of the game. Some young receivers flourish in shorts and struggle in pads. Harper might have it the other way around.

The Seahawks claimed off waivers former Arizona Cardinals outside linebacker O'Brien Schofield despite a $1.3 million salary and a history of injuries. Seattle had a middle-rounds grade on Schofield entering the 2010 draft even though Schofield was rehabbing from a torn ACL suffered in Senior Bowl practices. The Cardinals used a fourth-round pick on Schofield just ahead of the range where Seattle was considering taking him. The Seahawks are continually looking for "Leo" defensive ends in the 6-3 and 245-pound mold. Schofield, 26, fits the profile and has a chance to earn playing time in a rotational capacity while Clemons recovers from knee surgery and Irvin serves a suspension.

Irvin's speed showed up in practice when he chased down rookie running back Christine Michael to force a fumble some 40 yards past the line of scrimmage. Michael ran the 40-yard dash in 4.43 seconds at the combine. He has appeared to be one of the more explosive players in camp. Irvin caught him despite outweighing Michael by about 25 pounds, 245 to 220. Raw speed isn't the question for Irvin. He has plenty. The question is whether he can handle some of the coverage and run-stopping responsibilities associated with his evolving role.

Remember those offseason stories about Lynch skipping chunks of the voluntary offseason conditioning program? They're pretty much irrelevant now, as anticipated.

Nothing has changed the perception that Jackson will beat out Quinn for the No. 2 job behind Wilson. Trading Jackson a year ago was tough in some respects because Jackson was so popular among teammates. I see no reason for the Seahawks to make the same decision again unless Quinn vastly outplays Jackson.

Between the practice field and the locker room sits a cart with a laptop connected to a sensor atop a stand. The setup from GPSports allows teams to monitor player performance in real time. Team owner Paul Allen's other professional Seattle sports team, Sounders FC, has used the technology. The GPSports website says systems include a GPS, accelerometer, magnetometer, heart rate sensor and a wireless transmitter. The company says its product can "accurately measure distance, speed, acceleration, heart rate, bodyload and impacts all in real time."

Former Cardinals receiver Stephen Williams is doing what he sometimes did while with Arizona: impressing during camp by making spectacular leaping catches. Williams has the talent, but he has been unable to make it transfer to the regular season. Working with a top NFL quarterback cannot hurt. Williams arrived in Arizona the year after Kurt Warner retired.

Linebacker K.J. Wright has stood out in past camps, but not so much in this one, except for the big hit he delivered on rookie fullback Spencer Ware.

Speaking of Ware, he has some work to do before making veteran fullback Michael Robinson expendable, at least from early indications. The offense didn't look the same or as good with Robinson and tight end Zach Miller sitting out. Robinson and Lynch have a special feel for one another. Ware, more of a halfback type for most of his college career, has dropped a few passes and is still adjusting to the physical nature of the position.

The offseason buzz about rookie Jesse Williams possibly starting at defensive tackle seems to have subsided for the time being. Veteran Tony McDaniel and 2012 fourth-rounder Jaye Howard have stood out more.

Is that really assistant head coach/offensive line Tom Cable? He has dropped a significant amount of weight since having back surgery, and he said after one practice, "You can't imagine how nothing hurts on me. It's awesome."

Richard Sherman, although sometimes combative when facing receivers, projects unfiltered joy other times. He is the player most likely to groove along to the music Carroll plays at practice. Sherman thrilled the crowd during one practice when he picked off a pass and lateraled to Earl Thomas during the return. Football is fun to Sherman, and it shows.

There aren't many open passing lanes in practice against the Seattle defense. This team is stacked at cornerback. If this keeps up in preseason, and there's enough depth that it should, Seattle could be in position to trade one of its backups.

NFC WEST SCOREBOARD
Friday, 8/22
Saturday, 8/23
Sunday, 8/24