NFC West:

2013 NFL combine
February, 25, 2013
2/25/13
11:00
AM ET
NFL teams spent Sunday watching running backs and wide receivers work out at the NFL scouting combine. As always, teams are looking for players with big-play ability.
But what is a big play?
In my experience, NFL teams tend to see them as runs covering 12-plus yards and passes covering 16-plus yards.
Bernie Miklasz of the St. Louis Post-Dispatch used different measures in a recent piece suggesting the
St. Louis Rams
need to
find a game-breaking player
in the draft. But the idea is the same across the board. The longer the play, the better for offenses.
I've put together a couple charts showing where NFC West teams stood last season in big plays, using NFL teams' definition of them. The Rams had 102, which is about the same as they had in 2011 (100) and 2010 (100). They had 89 in 2009.
Rams quarterback
Sam Bradford
led the NFC West with 66 of these 16-plus completed passes. Seattle's
Russell Wilson
was second with 64. San Francisco's
Colin Kaepernick
(41) and
Alex Smith
(32) combined for 73.
John Skelton
(26),
Kevin Kolb
(20),
Ryan Lindley
(12) and
Brian Hoyer
(4) combined for Arizona's total of 62.
The
San Francisco 49ers
had 126 total big plays, up from 108 in each of the previous two seasons. Seattle had 121, a rise from 95 in 2011, 100 in 2010 and 80 in 2009. Arizona had 84, down from its totals in 2011 (103), 2010 (102) and 2009 (122).
The first chart shows totals for last season. The chart below shows individual NFC West leaders, also from last season.
The Seahawks and 49ers pumped up their totals for rushing with additional quarterback runs covering at least 12 yards. Wilson (14) and Kaepernick (11) combined for 25 of them. Smith added two for the 49ers. Kolb had five. Bradford had three.
We can revisit in the future whether the 12- and 16-yard cutoffs are most meaningful. I just know those are the cutoffs teams cite when evaluating players and offensive production.
February, 24, 2013
2/24/13
7:30
PM ET
The
San Francisco 49ers
cannot trade
Alex Smith
before March 12, but with word coming that
a deal could be lined up
, let's consider the possibilities.
First, rules do allow teams to talk about trades and even agree to them informally before the trading period begins. So, it's possible the 49ers have done that during the NFL scouting combine. But the NFL trading period remains 16 days away. Teams cannot enter into binding agreements until then. We shouldn't get too worked up about potential trades until the 49ers and another team say they've reached agreement.
Draft analysts have been saying for some time that the 2013 class of college quarterbacks was relatively unimpressive. Those college prospects, by most accounts, have not changed minds at the combine. For that reason, teams needing quarterbacks have additional incentive to lineup veteran options.
Seattle's
Matt Flynn
could also be an option for teams, but he hasn't played much. Smith posted a 19-5-1 starting record with the 49ers over the past two seasons.
CBS Sports' Jason LaCanfora reported via Twitter than the 49ers have been telling other teams they've got a trade agreement just about worked out. If so, the 49ers could be telling other teams the truth. They also could be trying to stimulate the market. There's no way to know for sure in the absence of more concrete information.
February, 24, 2013
2/24/13
12:30
PM ET
General managers and coaches have been known to send figurative smoke screens from the NFL scouting combine regarding their draft intentions.
On the surface, at least, the rest of the NFC West has to hope Arizona general manager Steve Keim is serious when he says the Cardinals would
consider drafting a guard
with the seventh overall choice in the 2013 NFL draft.
No NFL team has taken a guard among the top seven overall choices since the
Kansas City Chiefs
used the seventh pick of the 1986 draft for West Virginia guard Brian Jozwiak. Jozwiak started three games in three seasons before suffering a career-ending hip injury.
Some of the tackles drafted among the top seven overall choices have transitioned to guard in the NFL. The Cardinals used the second pick of the 2001 draft for
Leonard Davis
, who had played tackle in college. They moved him to guard, with so-so results. Davis went to Pro Bowls years later with Dallas.
Michael Vick
was the first overall choice in that 2001 draft.
Justin Smith
,
LaDainian Tomlinson
and
Richard Seymour
joined Davis among the top six overall choices. Each would have brought more value to the Cardinals than even a Pro Bowl-caliber guard, in my view.
Steve Hutchinson
, drafted 17th overall by Seattle, was the best guard in that 2001 class.
As the chart shows, teams rarely draft college guards among the top seven picks. That is because teams value other positions higher than they value guard. Teams figure even a great guard isn't going to help the team as much as a very good player at many other positions.
"If you think he is a Pro Bowl guard, how high is too high?"
Keim said
in explaining his reasoning. "If you're convinced that player is a Pro Bowl talent and an elite type player, you take him and don't look back. People say that's too high to take a guard or take a tight end. But I don't subscribe to that theory."
The Cardinals have used free agency to target guards
Daryn Colledge
and
Adam Snyder
in recent offseasons.
Division-rival San Francisco used the sixth pick of the 2006 draft for tight end
Vernon Davis
, who has grown into a very good player. Arizona used the 10th pick that year for quarterback
Matt Leinart
. In that case, drafting a tight end would have made more sense than drafting a quarterback. I think that is one of the points Keim is addressing. He'd rather have a Pro Bowl guard than a disappointing player at a position of greater value.
That is a reasonable position to take. Still, all else equal, the Cardinals would be better off getting a good player at a position of greater value. Their NFC West rivals would have an easier time preparing to face a top guard than they would have preparing for a top player at most other positions.
February, 22, 2013
2/22/13
4:00
PM ET
The question becomes inevitable each February for those covering or working for the NFL.
"So, what do you do during the offseason?"
It's a reasonable question from those whose NFL experience consists of a few hours each Sunday from September through the Super Bowl in early February.
Of course, the NFL scouting combine begins two weeks after the Super Bowl. Free agency begins a couple of weeks after that. The draft follows five or six weeks later. From there, minicamps bridge most of the gap until training camps open in late July and early August.
There really isn't much of an offseason. Some offseasons feel busier and more compelling than the seasons themselves.
In that context, I see no downside to the NFL seeking a more evenly paced and structured offseason featuring the combine in March, free agency in April and the draft in May. The time between the Super Bowl and combine would expand, but the NFL would promote regional combines in the interim.
"Under the proposal, all NFL teams also would kick off training camp on the same summer day, making it the official launch of the football season,"
ESPN's Adam Schefter reports
. "The idea is to lengthen the NFL offseason and make sure football is relevant during a longer offseason period with one big event in each month."
The league thinks a more structured offseason would allow for greater promotion of each event and greater profits. NFL players would have to sign off on the changes. Moving back the start of free agency could affect the window for players to maximize their value.
"We haven't seen any kind of proposal,"
George Atallah of the NFL Players Association said
via Twitter. "If I had a nickel to react to every idea that was hatched at combine, well ..."
February, 22, 2013
2/22/13
1:00
PM ET
At his best,
Beanie Wells
can be a big, physical runner with a wicked stiff-arm and a strong nose for the end zone.
Wells was not at his best last season.
The
Arizona Cardinals
running back had 88 carries for 234 yards and five touchdowns in eight games. He was on the field for 152 snaps, a career low and down from 583 in 2011, when Wells rushed for 1,099 yards and 10 touchdowns.
"I think Beanie had a tough stretch this year because of the injuries," Cardinals general manager Steve Keim told reporters from the NFL scouting combine. "He showed a lot of grit, a lot of toughness late in the year when he was able to. He's had some injuries, so he had a difficult time with his cut ability and his lateral movement, but Beanie is still a big horse who can finish runs and create yardage after contact, which is something that excites us."
That last comment ran counter to my perception of Wells last season.
Of the 74 backs with at least 200 yards rushing last season, Wells ranked 73rd in yards after contact per rushing attempt, according to ESPN Stats & Information. Wells was at 1.12 yards per carry after contact. Only New Orleans scatback
Darren Sproles
had a lower average (1.0) among those 74 players. The average for those 74 players was 1.7.
Adrian Peterson
was at 2.9.
Keim was alluding more to the ability Wells has shown in the past, when he was healthier. Wells averaged 2.2 yards per carry after contact in 2011. The average was 1.9 in 2010 and 2.1 as a rookie first-round choice in 2009.
Wells is scheduled to earn $1.4 million in base salary for 2013, the final year of his contract. The comments from Keim made it sound like the team was leaning toward sticking with Wells for another season, but that could change depending upon what happens in free agency and the draft. The team has envisioned fielding a strong one-two punch in the backfield with Wells and 2011 second-round choice
Ryan Williams
, but injuries have intervened. Williams has missed 29 of 32 games.
"I saw Ryan in our weight room the other day, and he's doing fantastic," Keim said. "He's a guy that, watching film with Bruce [Arians], because he got injured early in the season, you forgot the type of run skills Ryan had. We watched him against Philadelphia, we watched him against New England, his lateral quickness, his natural run skills, his avoidability is something he brings to the table. Plus, he's a three-down back. We're expecting big things out of Ryan moving forward."
February, 21, 2013
2/21/13
12:13
PM ET
A reporter asked new
Arizona Cardinals
coach Bruce Arians about the NFC West during an NFL scouting combine news conference Thursday.
"It's a dynamic division with two really good young quarterbacks," Arians said, "but moreso they have great defenses."
Russell Wilson
,
Colin Kaepernick
and
Sam Bradford
give the NFC West three young starting quarterbacks. Wilson is 24. Kaepernick is older than Bradford by five days. Both are 25.
We can assume Arians was referencing Wilson and Kaepernick as the "two really good young quarterbacks" in the division. Both made playoff appearances last season. Both ranked among the leaders in Total QBR and passer rating.
It's easy to forget, however, just how young Bradford remains after three seasons with the
St. Louis Rams
. I didn't realize or had forgotten that Bradford was slightly younger than Kaepernick.
Also Thursday, Arians said he thought the Cardinals' problems along the offensive line have been overstated. He said he thinks the line will benefit quite a bit from
Levi Brown
's return from injury. He said the line situation was "not near as dire" as advertised.
February, 20, 2013
2/20/13
9:04
AM ET
The NFL scouting combine has traditionally served another purpose beyond evaluating college prospects.
For years, team executives and agents have used the event as a springboard into free agency. That might not be the case to the same extent this week because the gap between the combine and the March 12 start to free agency is longer than it has sometimes been in the past.
"Most agents don't think a lot of re-signings will happen during this year's combine,"
ESPN.com's John Clayton wrote
. "That won't stop teams from trying to get deals done. General managers and negotiators will be busy. Teams can start designating franchise players this week. Negotiations will be conducted to get teams under the cap. Players will be released. Trades can't be formalized until March 12, but deals can be discussed to set up potential trades."
Free agency began Feb. 26 in 2009 and March 4 in 2010 before the lockout affected 2011. The signing period opened March 16 last year.
This year, the combine should help Seattle and San Francisco get a better feel for trade markets relating to their backup quarterbacks. Both teams could benefit if the combine confirms fears that the 2013 quarterback draft class isn't particularly strong. Both teams' general managers will have opportunities to speak with their counterparts from other teams.
February, 19, 2013
2/19/13
3:30
PM ET
The
San Francisco 49ers
finished the 2012 season with an NFL-high four wide receivers who entered the NFL as first-round draft choices.
[+] Enlarge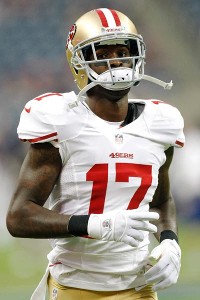 Brett Davis/USA TODAY SportsWill the 49ers utilize receiver A.J. Jenkins more in his second season than they did his rookie year?
One of them,
Michael Crabtree
, enjoyed a breakout season with 1,105 yards during the regular season, plus 20 receptions for 285 yards and three scores in the playoffs.
It's still fair to wonder whether wide receiver ranks high on the 49ers' list of needs heading into the NFL scouting combine and free agency.
Randy Moss
is 36 years old and without a contract.
Mario Manningham
is coming off season-ending knee surgery.
Ted Ginn
Jr. projects as a return specialist if he stays with the team. And then there is 2012 first-round draft choice
A.J. Jenkins
, the No. 1 variable in assessing the 49ers' level of need at the position.
If Jenkins steps into the lineup and produces, the 49ers could feel pretty good about their receiving situation, particularly with tight ends
Vernon Davis
and
Delanie Walker
(a potential free agent) expected to factor prominently as targets. But after Jenkins played in only three games and had zero receptions as a rookie, we're left to wonder how much he'll factor in 2013.
"I wasn't sold on him as a first-rounder in the draft and I'm still not sold on him," Bill from Redding, Calif., wrote in the NFC West mailbag.
Bill wanted to know whether I thought the 49ers had made a bad pick, and where I saw Jenkins fitting into the offense in the future.
The chart below shows where Jenkins' first-year production fit relative to other receivers drafted 25th to 35th overall over the past decade. Jenkins (30th overall) and New Orleans'
Robert Meachem
(27th in 2007) were the only ones without a reception. Meachem missed his rookie season after undergoing knee surgery.
Jim Harbaugh and the 49ers' other coaches have been vague when pressed for specifics on what Jenkins could do to improve his chances for playing time.
The 49ers have some credibility on such matters. Their 2012 draft choices hardly played last season, mostly because they weren't needed.
Second-rounder
LaMichael James
was very good when injuries pushed him into a prominent role late in the season. However, I would have expected Jenkins to get some reps once the 49ers lost Manningham and
Kyle Williams
to injuries. That did not happen, and it suggests the staff wasn't convinced Jenkins would be ready.
February, 19, 2013
2/19/13
12:00
PM ET
»
NFC combine preview
:
East
|
West
|
North
|
South
»
AFC
:
East
|
West
|
North
|
South
NFL Nation previews the 2013 scouting combine by identifying the most important thing for each team to learn about its greatest area of need.
Arizona Cardinals:
Quarterback is the most obvious and critical need area for the Cardinals. The team can use this combine to figure out whether any of the prospects at the position would warrant the seventh overall selection. Conventional wisdom says Geno Smith and Matt Barkley aren't promising enough to justify selecting so early.
As we discussed
earlier Tuesday, the Cardinals' division rivals from San Francisco showed two years ago how it's done at No. 7. They bucked expectations to select a quarterback that early, choosing
Aldon Smith
instead. The 49ers then found their quarterback,
Colin Kaepernick
, in the second round. The Cardinals head to this combine needing to fall in love with a quarterback for the right reasons. It happened for Seattle last year (
Russell Wilson
), and it happened for the 49ers with Kaepernick. Neither was a first-round selection, but both were players each team badly wanted to select in the early stages.
St. Louis Rams:
Offensive line is probably the greatest need area. The Rams proved last season they could function offensively in the absence of front-line talent along the line. Line coach Paul T. Boudreau prides himself in rewarding the best players regardless of draft status. Coach Jeff Fisher's teams have never used a first-round choice for an offensive lineman when Fisher was a head coach. Fisher's teams have used two second-round selections (2005, 1996) and two third-rounders (1997, 1999) for the position. It's still important for the Rams to identify starting-caliber linemen for drafting in 2013. Lane Johnson (Oklahoma) and D.J. Fluker (Alabama) are two tackles whom analysts project as potentially available when the Rams are scheduled to select with the 16th and 22nd overall selections. Would either one be worthy of such a high selection? Alabama guard Chance Warmack is another lineman to consider.
San Francisco 49ers:
Defensive line has to be a primary focus area for the 49ers at this combine.
Justin Smith
will turn 34 in September and will be coming off arm surgery. He and fellow defensive end
Ray McDonald
rank among
the NFL's top four
in most snaps played by defensive linemen over the past two seasons. Depth along the line needs reinforcing even if Smith returns to top form and plays another couple of seasons at his customary high level.
Kentwan Balmer
and
Ricky Jean Francois
are the only true defensive linemen the 49ers have selected in any round over the past five drafts. Balmer was a bust. Jean Francois can become a free agent this offseason. With that in mind, the 49ers head to the combine looking to identify defensive linemen worth drafting as early as 31st overall. UCLA's Datone Jones and Georgia's John Jenkins are two guys to investigate further.
Seattle Seahawks:
Defensive line and receiver are two positions for the Seahawks to keep in mind heading to Indianapolis for the combine. Improving the pass rush was a priority even before the team's sacks leader,
Chris Clemons
, suffered a torn ACL against Washington during the wild-card playoff round. The team could stand to improve its pass-rush push on the interior and exterior alike. Seattle gets much credit for landing impact players throughout its three drafts under general manager John Schneider and coach Pete Carroll. However, 2012 first-rounder
Bruce Irvin
stands as the only true defensive lineman the current regime has selected in the top three rounds. Fourth-rounders
Jaye Howard
and
E.J. Wilson
were the only ones drafted in the first six rounds. Trading for Clemons and converting
Red Bryant
from tackle to end eased pressure to target the defensive line in past drafts. The pressure is there now. Seattle has boldly bucked convention with some of its draft picks. Is there a defensive lineman in this draft with the unusual traits Carroll seems to value?