NFC West:

2013 NFL Week 1 Double Coverage
September, 6, 2013
9/06/13
12:00
PM ET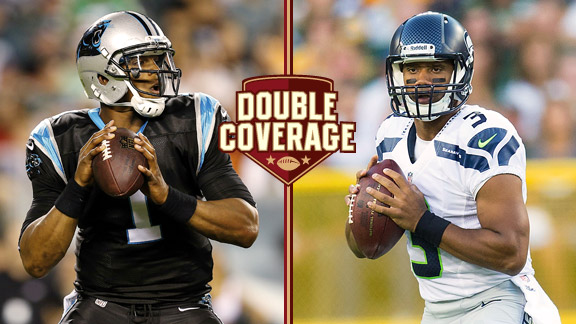 AP Photo, USA TODAY SportsCarolina puts Cam Newton's athleticism on the line versus confident Seattle QB Russell Wilson.
The
Seattle Seahawks
are the sexy pick to win the Super Bowl, with the hot quarterback featured in GQ magazine. The
Carolina Panthers
are the wannabe team with the once-hot quarterback who has lost some of the luster off his cover-boy status.
But there's one thing these teams have in common as they prepare to open the 2013 NFL season on Sunday at 1 p.m. ET.
Slow starts.
Carolina has the worst opening-day record in the league at 6-12. Seattle ranks 30th, with only the
New Orleans Saints
and Panthers behind them. The winner will at least emerge with a chance to change that.
So how do they stack up in what appears a mismatch? Panthers team reporter David Newton and Seahawks reporter Terry Blount are here to tell you.
Let's get right to the question most people are asking: Who is the better quarterback? Carolina's
Cam Newton
or Seattle's
Russell Wilson
?
Newton:
I know Wilson and the Seahawks are the sweethearts of the league after making the playoffs last season. But if I were starting a team, I'd take Newton, and not because we share the same last name. I know the Panthers would. They talked last season about drafting Wilson to back up the first pick of the 2011 draft before Seattle got him in the third round. Backup! Look, Wilson is a solid player who is surrounded by a better supporting cast than Newton has had in his first two seasons and has again this year. Wilson does some great things with his arm and legs. He makes good decisions. Newton would kill for his completion percentage of 64.1 last season. But Newton is one of those special players who, at 6-foot-5 and 245 pounds, can do things the 5-11, 206-pound Wilson can only dream of. Go back and look at the 72-yard touchdown run Newton capped with a flip into the end zone in a 30-20 victory against a one-loss Atlanta team last season and you'll see what I'm talking about. Wilson's biggest edge comes in leadership, and I believe you'll see Newton step it up in that department this year. I see his stock on the rise. Of all the first-year quarterbacks who made the playoffs last year, Wilson is my choice to have a sophomore slump.
Blount:
Newt, I honestly tell you that the Seahawks coaches and players would take Wilson every day of the week, and frankly, I think so would most NFL coaches. In the more than 30 years I've covered sports, I've never met a more impressive young man than Wilson. He's just one of those once-in-a-generation-type athletes who you look at him and listen to him, then you say, "This guy is going places in life." Yes, Cam has more experience, and, obviously, more size. He's an exceptional athlete, a man that Seattle coach Pete Carroll called "a phenomenal talent." But he isn't the team leader that Wilson is, and won't make as many good decisions at key moments as Wilson will.
Let's turn to a team question. Which team will show more improvement this season? Not the better record, but bigger step forward? The Seahawks, who were 11-5 and a playoff team? Or the Panthers, who were 7-9?
Blount:
That's a tough one. I think Carolina could finish with a winning record this season and possibly make the playoffs, which would be a nice improvement over 2012. But since I picked Seattle to go 12-4 and reach the Super Bowl this year, I'll have to go with the Seahawks.
Newton:
Definitely a tough one. I don't see Carolina making the playoffs, but I do see the Panthers coming close to a winning record. And they will improve on defense with the return of
Jon Beason
at linebacker and more talent at tackle. How much they improve overall depends on the progression of the offensive line, which didn't look good during the preseason. Seattle has all the pieces to make a Super Bowl run, but I still think the Seahawks are the second-best team in their division, behind San Francisco. They did so many good things last year it's hard to see them making a substantial improvement. If they do, it really will be Super Bowl or bust.
Now to the game. Last year, Seattle won 16-12 in a defensive struggle in Week 5. Do you see this game being similar?
Newton:
Definitely. And if it's not, Seattle could make it ugly, because Carolina can't win a shootout. The strength of both teams is defense. We're probably looking at two of the top 10 units in the league. Both are used to practicing against the run-option that Newton and Wilson ran well at the end of last season, so they'll be prepared to handle it. The key for Carolina to make this a defensive battle will be the secondary. Will it be the unit that had a league-high 10 interceptions during the preseason, or the one that was soft most of last season?
Blount:
The defenses typically are ahead of the offenses at the start of the season, so that could play into a matchup with two strong defensive units. However, I do expect this game to have a little more scoring than the one last year, because I think both quarterbacks will play better than they did in that game. You're spot-on about the secondary, Newt. I think both secondaries are the key. Seattle might have the best defensive backs in the league and the Panthers looked much improved. But no secondary can cover these receivers forever. What this could come down to is which defensive unit does a better job rushing the passer and which is better able to contain two of the best running quarterbacks in the league.
September, 6, 2013
9/06/13
12:00
PM ET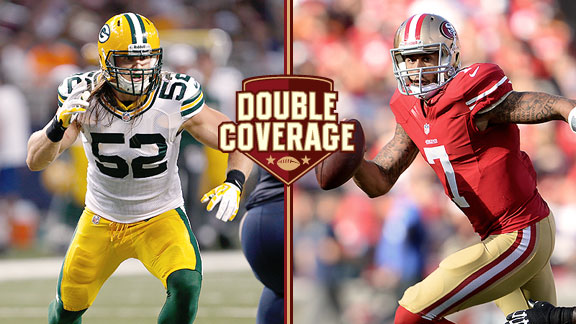 AP PhotoClay Matthews and Green Bay had all offseason to digest what Colin Kaepernick did to them in January.
The final season at venerable Candlestick Park begins in style as the
San Francisco 49ers
host the
Green Bay Packers
on Sunday.
It is a rematch of an NFC divisional playoff game in the same building. The 49ers completely outclassed the Packers on Jan. 12, as first-year starting quarterback
Colin Kaepernick
and crew had their way with a defense that looked slow and lost in a 45-31 San Francisco victory.
Packers team reporter Rob Demovsky and 49ers team reporter Bill Williamson have plenty to discuss. To the questions:
Williamson:
Rob, I think we have to start this off with this simple query: Can the Packers stop the read-option of a Kaepernick-led offense?
Demovsky:
Bill, that's what everyone has wanted to know since Kaepernick rushed for 181 yards against them in the playoff game. The number 579 -- the total yards of offense the 49ers piled up that day -- has been burned into the brains of the Packers' defensive players. Almost every day in practice during training camp, the defense went off to one end of the field by itself and worked against the read-option. But the Packers haven't seen any of it in live action since that playoff game, so at this point, there's no way to know whether they're any better equipped to handle it now.
Williamson:
That's the thing. Green Bay will be coming into this game nervous. The read-option has been on the minds of this coaching staff and its players all offseason, yet the Packers don't know for sure if they can handle it any better than they did the last time they saw Kaepernick. Kaepernick and his coach, the always-confident Jim Harbaugh, believe in their system and their personnel. They are going to challenge the Packers right away. I fully expect Kaepernick to come out gunning to make a statement -- a full-tilt San Francisco offense. If Kaepernick has early success, it could open the offensive floodgates. Now, if the Green Bay defense holds Kaepernick early, the Packers will get a confidence boost and should hang around all day.
Rob, just how confident do you think the Packers will be if they get a ton of read-option right away?
Demovsky:
Clay Matthews
said this week that the Packers know they have to take their shots at the quarterback when he tries to get outside the pocket, and if they do, perhaps they can get Kaepernick to sit in the pocket more, which ultimately is their goal. They want to make him a pocket passer if at all possible. That's their best chance for success.
There are other issues to this game, of course. Bill, considering the fact that the Packers will start a rookie,
David Bakhtiari
, at left tackle and a former undrafted free agent,
Don Barclay
, at right tackle, how big of an advantage does a pass-rusher like
Aldon Smith
have against Green Bay?
Williamson:
Other than Kaepernick and
Aaron Rodgers
, Smith might be the most important player on the field Sunday. He can change the game by himself, as his 33.5 sacks in two NFL seasons attests. Bakhtiari and Barclay have an incredible challenge ahead of them. It is also bad news for Green Bay that 49ers defensive tackle
Justin Smith
is healed from a triceps surgery. Aldon Smith had all 19.5 of his sacks in the regular season with Justin Smith playing with him, and none in 2012 without him. Having the Smith & Smith show together could mean a long day for Rodgers.
Demovsky:
But won't the 49ers have to respect the Packers' running game a little bit more with the addition of rookie
Eddie Lacy
? He looks like their first legitimate running back since Ryan Grant in 2009. If the Packers can establish Lacy on first down, they might be able to keep themselves out of obvious passing situations, and then Aldon Smith wouldn't be able to tee off and jet-rush up the field on every second and third down.
Williamson:
That is certainly the Packers' hope. It is clear that getting their ground game back on track was a focal point of the offseason. This is a passer's league, but getting yardage on the ground and keeping Kaepernick off the field will surely help Green Bay's cause as much the relief that it would give Rodgers. But here's the rub -- San Francisco is a monster against the run. The 49ers allowed just 3.7 yards per rush last season, third-best in the NFL. The Packers will be hard-pressed to break their streak of 43 regular-season games without a 100-yard rusher.
Demovsky:
Bill, we've spent a lot of time talking about how the Packers are going to defend Kaepernick & Co., but don't forget that January's playoff game was tied 24-24 midway through the third quarter, and the Packers' offense was having a decent day -- Rodgers throwing for 257 yards, two touchdowns and an interception. Can the 49ers secondary hold up against Rodgers and the likes of
Randall Cobb
,
James Jones
and
Jordy Nelson
?
Williamson:
A fine point. Look, the Packers are legitimate. They will not be embarrassed in this game. Rodgers is the best player on the planet. He and his receivers must be accounted for. If the 49ers are vulnerable on defense, it might be in the secondary, where they have the oldest defensive backs in the league. Can older players like
Carlos Rogers
and
Nnamdi Asomugha
(who may be slowed by a collarbone injury) keep the Green Bay passing game honest? If Green Bay is going to win this game, it's going to be because Rodgers is unstoppable. That's possible.
Rob, as we have discussed the major talking points of this anticipated matchup, an intriguing side story has developed. The Packers have brought in a pair of former 49ers backup quarterbacks in
Seneca Wallace
and
Scott Tolzien
. Do you think they can help Green Bay pull out a victory from the meeting room?
Demovsky:
I doubt Wallace can. He wasn't even with the 49ers for a full week. But you'd better believe they've grilled Tolzien about the 49ers. In fact, I wouldn't be surprised if that's the biggest reason they brought him in, and if they end up cutting him from the practice squad in a week or two. Now, Tolzien probably won't know much about the 49ers' game plan for this week, but considering he was with them for both meetings against the Packers last season, he likely has a good working knowledge of how Harbaugh wants to go after Green Bay.
Williamson:
I'm with you. These moves add some strategy elements, but this is going to be a big-boy game pitting two of the NFL's finest teams against one another. Once the game starts, this thing is going to all about
Patrick Willis
,
Vernon Davis
, Kaepernick, Rodgers and Matthews.
September, 6, 2013
9/06/13
12:00
PM ET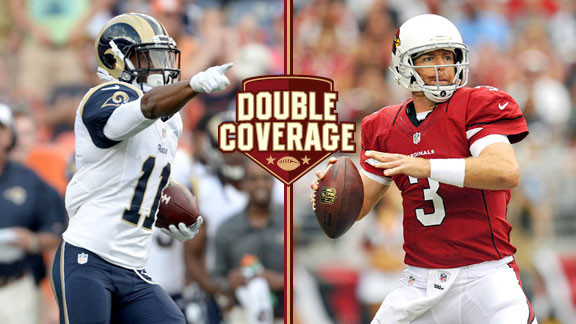 USA TODAY SportsTavon Austin and Carson Palmer were part of overhauls on offense for the Rams and Saints.
The St. Louis Rams and Arizona Cardinals are widely regarded as the afterthoughts of the difficult NFC West Division.
Sure, both teams have done enough to draw optimism from their respective fan bases but when it comes to high expectations, neither team is supposed to keep pace with chic Super Bowl picks Seattle and San Francisco.
If the Rams or Cardinals intend to keep pace with the Seahawks and Niners, it would serve them well to beat the other to open the season.
Rams reporter Nick Wagoner and Cardinals reporter Josh Weinfuss discuss the important topics that will shape Sunday's outcome.
Nick Wagoner:
Sitting here in St. Louis, it looks like it's been a busy offseason out there, the type that I'm used to seeing around here. The Cardinals had a major makeover in the front office and with the coaching staff. The obvious first question here is what type of impact has new coach Bruce Arians made since his arrival?
Josh Weinfuss:
Pretty much from the get-go, Arians has changed the culture throughout the organization. He's not a micromanager. All he cares about is winning football games. Arians cleaned house almost immediately and brought in his own staff, save for two holdovers -- quarterbacks coach Freddie Kitchens and defensive assistant Ryan Slowik. But it was more than the personnel he changed. The mindset was different, too. Players were excited again after losing seasons two of the past three years, and Arians established respect throughout the locker room quickly. He was open and honest with the players, even if it wasn't what they wanted to hear, and the players appreciated it, some even relished in it.
It's not like you haven't seen some change there in St. Louis. With the loss of
Steven Jackson
and
Danny Amendola
, how has the Rams' offensive identity changed this season?
Wagoner:
After eight years of Steven Jackson punching the clock and picking up 1,000 yards or more on the ground, things are quite a bit different in that regard. The Rams are faster with tight end
Jared Cook
and receivers
Tavon Austin
and
Chris Givens
. They've added those guys to give quarterback
Sam Bradford
every chance to succeed. The offense has been rebuilt to feature Bradford and allow him to take the next step. While offensive coordinator Brian Schottenheimer says the tempo and style of offense will change from game to game and be more game-plan specific, there's little doubt the offense will look much different than it has been around here in some time.
Speaking of building around quarterbacks,
Carson Palmer
is an obvious upgrade at quarterback but how much will that improve the offense?
Weinfuss:
I think it'll improve the offense more than most people think, but for a few reasons. Not only will the Cardinals now have a capable quarterback who threw for 4,018 yards and 22 touchdowns last season -- they'll have consistency. The Cardinals trotted out four different starters in 2012 and there was no unity that kept the offense together. Combined, they threw for 3,383 yards and 11 touchdowns -- that's 635 fewer yards and half as many scores. In Arians' downfield offense, having a big arm and a smart quarterback is as important as any factor. And Palmer showed during the preseason that he can launch it.
You talk about the new weapons around Bradford, but
how will the addition of left tackle Jake Long help the Rams' offense, specifically the running game?
Wagoner:
The Rams did everything they could during the preseason and training camp to ensure Long is healthy and ready to go when the season begins. They limited his reps in practice to keep him fresh, and he responded with solid performances in the three preseason games in which he appeared. He says he feels as good as he has in three years and from talking to him, he's got something of a chip on his shoulder. He was told for years he was an elite tackle then people began doubting him last year. He looks poised to bounce back and be effective in pass protection and the run game.
While we're on the topic of offensive lines, it certainly seems to be the ongoing saga out there. The Rams had nine sacks last year when Arizona came to town. Has the offensive line improved enough to keep Palmer upright on a consistent basis?
Weinfuss:
The short answer is yes. The long, complicated answer is we'll see. Last year the Cardinals allowed a league-high 58 sacks, but that was with a patchwork offensive line that saw seven different starters. This year, the unit is more solidified with the return of
Levi Brown
, who missed last season with a torn triceps, and the addition of free agent right tackle
Eric Winston
, who has started every game since 2008. The biggest question mark will be the interior. First-round pick
Jonathan Cooper
is out for the year with a broken leg, which forced
Daryn Colledge
to move from right guard back to left and opened the door for
Paul Fanaika
at right guard. He was out of football last season. Overall, this year's line is a veteran, improved unit and I expect it to protect Palmer, who was sacked 26 times last year, better than he's seen in a while.
Let's flip to the other side of the ball. How much can the Rams rely on solid corner play to make up for having no starting experience at safety?
Wagoner:
Well, the Rams have talent and experience returning at every position on the defense except for safety. Rookie
T.J. McDonald
and second-year undrafted free agent
Rodney McLeod
are the likely starters Sunday and they have a total of zero starts between them. They do have veteran
Cortland Finnegan
to provide leadership in the secondary and McDonald seems wise beyond his years. Still, it may be tough on those young safeties against Arians' vertical passing attack. McDonald figures to play more of the box safety role and McLeod is a better fit as a center-field type on the back end.
NFC WEST SCOREBOARD
Thursday, 9/4
Sunday, 9/7
Monday, 9/8