NFC West:

2013 NFL Week 13 Double Coverage
April, 10, 2014
Apr 10
10:00
AM ET
By
ESPN.com staff
| ESPN.com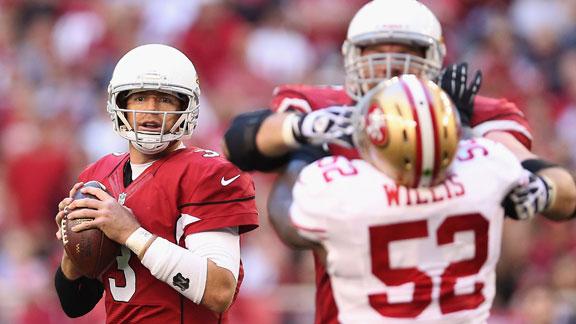 Catch us if you can.
That's a message the
Seattle Seahawks
could send out to the rest of the NFC West.
It is also something the
San Francisco 49ers
might say to the
Arizona Cardinals
and the
St. Louis Rams
. But the Cardinals and Rams might have a statement of their own: We're coming for you.
By almost everyone's estimation, the NFC West is the best division in the NFL. It includes a Super Bowl champion in Seattle along with a team in San Francisco that, arguably, came up one play short of reaching its second consecutive Super Bowl.
It also includes a team in Arizona that won 10 games, one of which was a victory at Seattle -- the Seahawks' only home loss in 2013. And there's a team in St. Louis that won two of its last three games to finish 7-9 while playing most of the season without starting quarterback
Sam Bradford
.
So the question heading into 2014 is whether the Cardinals and Rams are in position to catch the Seahawks and 49ers. Have Arizona and St. Louis closed the gap on what might be the NFL's two best teams?
The Cardinals have been active in free agency, signing cornerback
Antonio Cromartie
, offensive tackle
Jared Veldheer
, tight end
John Carlson
, receiver/kick returner
Ted Ginn
, running back
Jonathan Dwyer
and offensive lineman
Ted Larsen
.
Clearly, the competition in this division keeps getting better.
The four writers who cover the division for ESPN.com's NFL Nation -- Terry Blount in Seattle, Bill Williamson in San Francisco, Josh Weinfuss in Arizona and Nick Wagoner in St. Louis -- take a look at where things stand in the NFC West on four key topics. We also polled our Twitter followers to find how they viewed the issues.

The Cardinals have made significant moves in free agency. The Rams, aside from keeping Rodger Saffold, have mostly stood pat. Which is closer to the playoffs?
Terry Blount: This is a no-brainer for me. The Cardinals are a team on the rise with one of the NFL's best coaches in Bruce Arians. He took a 5-11 team and transformed it to 10-6 in one season. He was 9-3 at Indianapolis in 2012 while filling in for Chuck Pagano. Arizona was 7-2 in its last nine games and won three of the last four, with the only loss being 23-20 to the 49ers in the season finale. The Cardinals could become a serious challenger to the two-team stronghold of Seattle and San Francisco. However, I do believe the Rams will have a winning season if they can hold their own in the division games.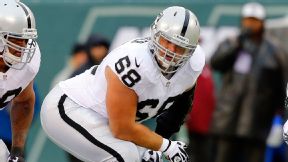 Nick Wagoner: It's hard to evaluate this without seeing what happens in the draft, especially with the Rams having two premium picks. Even then it would be unfair to judge right away. Still, I have to go with the Cardinals. They were trending up at the end of the season and patched a big hole with offensive tackle Jared Veldheer. Losing Karlos Dansby was a blow, but adding cornerback Antonio Cromartie to a talented stable at the position makes them better. The Rams, meanwhile, are clearly counting on a whole lot of in-house improvement and a big draft. Keeping Saffold was important (and lucky), but it seems risky to pin all hopes on a leap to the playoffs on a group of young players all making a jump at the same time.
Josh Weinfuss: Arizona is the easy answer, and that's not because I cover them. The Cardinals were 10-6 last season and the first team kept out of the postseason. All the Cardinals have done this offseason is fix deficiencies and plug holes. Their offensive line got markedly better with the addition of left tackle Jared Veldheer. Their wide receiver corps and kick return game were solidified with Ted Ginn, and they now have one of the best cornerback tandems in the league with Antonio Cromartie coming on board. General manager Steve Keim looked at what went wrong in 2013 and went to work on fixes. It should put the Cardinals over the playoff hump.
Bill Williamson: It has to be Arizona. The Cardinals were so close to making the playoffs last season. They would have likely been dangerous in the postseason too. I like the way this franchise is shaping up. It seems like it is well run and well coached. The roster is also getting deep. Carson Palmer will have to be replaced sooner or later, but the Cardinals are on to something. The Rams certainly have some nice pieces and are probably the best fourth-place team in the NFL, but they aren't close to matching what Arizona has going for it.
@joshweinfuss With the offseason the @AZCardinals have had I'd go with them. The rams are a solid offense away but AZ got the pieces needed.

- Joshua Bodrero (@JBodrero) March 25, 2014
---

The Seahawks and 49ers played for the NFC title in January. Any reason to believe either won't return to the postseason?
Blount: They were the two best teams in the NFL last season, and there's no legitimate reason to think they won't be among the best in 2014. Seattle has lost 10 players who were on the Super Bowl roster, but other than wide receiver Golden Tate, none of them were on the team's priority list to keep. The 49ers move into a shiny new stadium. The only question for San Francisco is the precarious relationship between coach Jim Harbaugh and team executives. Who knows what the future holds there, but it shouldn't matter on game day.
Wagoner: Aside from some debilitating injuries, it's hard to see how either team has taken a major step back. The Seahawks have lost some good players in free agency, but even those players seemingly already had replacements in place. Nobody does a better job of developing talent than Seattle. The Seahawks still have holes to patch on the offensive line and losing receiver Golden Tate is a blow, so there could be some hope the offense will regress. But the defense makes it all go, and it doesn't look like it's going to lose any of its most prized components. As for the Niners, they are the more likely of the two to take a step back, but it's hard to see them taking enough of one to fall out of the postseason. For most of their key free-agent losses they were able to quickly come up with a replacement as good or better than the player lost, and retaining Anquan Boldin says they are looking to make another run at the Super Bowl. Plus, they will have a fully healthy Michael Crabtree ready for the season. Until proven otherwise, these two teams remain the class of the NFC and probably the NFL.
Weinfuss: The only reason either of them won't make the playoffs in 2014 is because the Cardinals or Rams will take their place. The gap between the top and bottom of the NFC West has closed significantly this offseason, making the West much like the Southeastern Conference in college football; everybody will beat up on each other. It's likely the West, if it's anything like last season, can see three teams in the playoffs -- its champion and the two wild cards. If one of the teams between Seattle and San Francisco were not to make it, it's tough, but I think Seattle might slip. The Seahawks lost a significant part of their defensive line and will be going through a Super Bowl hangover. That's risky to deal with and still make the playoffs. On the other hand, San Francisco will be hungry from losing to Seattle in the NFC Championship Game.
Williamson: I believe these are the two best teams in the NFL. So it's difficult to fathom that either team won't find its way into the playoffs, barring major injuries. Arizona, though, could create an issue for the Seahawks and 49ers. The Cardinals are going to win a lot of games, so both Seattle and San Francisco have to be careful or things could get tricky. In the end, I can see all three teams making the playoffs. This is the reason this division is so intriguing and so fun: Every game is critical. There is just not much room for error. Look at the 49ers last year. They went 12-4, but a 1-2 start hamstrung them. They could never fully recover despite having a great overall regular season. The same intensity will be a factor in 2014 in the NFC West.
@TerryBlountESPN The Cards and Rams are pretty good. They'll be fighting for 2nd place behind the Seahawks.

- Danny «" (@Dah_knee) March 26, 2014
---

Will Rams quarterback Sam Bradford come back strong from an ACL injury, and what effect will he have on St. Louis having its coveted breakthrough year?
Blount: I think Bradford will be fine as far as the ACL goes, but this is a make-or-break year for him in my view. Bradford was playing pretty well before his injury last year, but the verdict still is out whether he can be an elite quarterback. He enters this season with the best supporting cast he's ever had, but playing in this division with teams that emphasize physical defensive play makes it difficult to show improvement.
Wagoner: All indications from the Rams are that Bradford's rehab is coming along well and he's on schedule to make his return in plenty of time for the start of the regular season. He apparently had a clean tear of the ACL, but he has been rehabbing for a handful of months and should resume throwing soon. Bradford's healthy return means everything to the Rams' chances in 2014. Believe it or not, this is his fifth season in the NFL and, much like the team, this is the time to make some noise. The Rams attempted to open up the offense in the first quarter of 2013 with Bradford to miserable results. They switched to a more run-oriented attack in Week 5 and the offense performed better. Bradford also played better as the run game opened up play-action opportunities in the passing game. It will be interesting to see if the Rams choose to go a bit more balanced with Bradford at the controls or if they continue at the same run-heavy pace they played with backup Kellen Clemens. Either way, Bradford's contract has two years left on it. If he wants a lucrative extension, this is the time to prove he's worth it.
Weinfuss: Short answer, yes, Bradford will come back strong. Just look at how he started in 2013. He was on pace for a massive year statistically before he got hurt. If he can pick up where he left off, Bradford will return with a bang and show he's still one of the better quarterbacks in the league. As we've seen, a top-tier quarterback can be the difference between sitting idle in the standings and having a breakthrough year. With the talent that surrounds the Rams, with tight end Jared Cook, running back Zac Stacy and wide receivers Tavon Austin, Chris Givens and Austin Pettis, among others, Bradford may singlehandedly help close the gap between the Rams and the top of the NFC West.
Williamson: I have to be honest: I'm not a big Sam Bradford guy. I think he's just OK. Just OK doesn't cut it in this division, especially considering the defenses he has to play six times a season in the NFC West. He's serviceable, but he's not the answer. Given the state of this division, I cannot envision a scenario where Bradford is the reason the Rams become the class of the NFC West. I think they can get by with Bradford for the short term, but the Rams are going to have to start thinking about the future at this position much earlier than expected when Bradford was the No. 1 overall pick of the 2010 draft.
@nwagoner @Ryan_STL1 he's going to be the reason whether they go to the playoffs or not. If it doesn't happen this year it's time to give up

- Nick Green (@duttynick) March 24, 2014
---

If you had to start a team with either Seahawks QB Russell Wilson or 49ers QB Colin Kaepernick, whom would you choose?
Blount: You must be kidding. Give me Wilson every time, every day in every situation. Yes, Kaepernick is 5 inches taller than Wilson. Is there really anyone left who thinks Wilson's lack of height matters? Wilson also is at his best in pressure situations. He lives for it. And he is a more polished person on the field, and off it, than Kaepernick. That's not an observation. It's a fact. But this isn't a rip on Kaepernick. You would be hard-pressed to find any 25-year-old as polished as Wilson. The 49ers can win a Super Bowl with Kaepernick, and probably will soon. But if I'm starting a team, whether it is in football or almost any other life endeavor, I'll take Wilson without a doubt.
Wagoner: Wilson. For those of us covering other teams in the division, it's hard not to admire what he brings to the table. He presents himself as the consummate professional, and even opponents praise him for his work habits, intelligence and ability. He's already got the Super Bowl ring, and it's easy to see how he could add a few more. He's not all the way there in terms of his potential either, and it's probably safe to assume he's just going to keep getting better as his career goes along. That's nothing against Kaepernick, who is a unique talent in his own right, but there aren't many young quarterbacks in the league worth choosing over Wilson.
Weinfuss: Russell Wilson would be my pick, mainly because of his poise and maturity behind center. Colin Kaepernick is undoubtedly talented, but I get the sense he still has a lot of growing to do as a quarterback. He's tough to bring down, especially in the open field, but when he's pressured in the pocket, Kaepernick seems to panic and I wouldn't want that in a quarterback. I also think Wilson, despite his physical stature, is built to last. He's heady enough to stay out of harm's way, and his poise in the huddle will go a long way in leading a team.
Williamson: I'd take Kaepernick. I know it's a tough sell right now, since Wilson's team has beaten Kaepernick and the 49ers three of the past four times they've met, including the NFC title game, and the fact that Wilson has won a Super Bowl. I respect the value of Super Bowl wins and believe quarterback is the most critical position in sports. I'm sure I will smell like a homer with the Kaepernick pick. But moving forward, I just think Kaepernick has a higher ceiling. I think he can take over games more than Wilson can at a higher rate. Players built like Kaepernick and as athletic as Kaepernick just don't exist. He is special. He works extremely hard at his craft and is well coached. I'd take him, and I wouldn't look back. This isn't a knock on Wilson. He is proven and is going to be great. But if I'm starting a team, I'm taking Kaepernick, and I bet more general managers would agree than would disagree.
@BWilliamsonESPN Wilson. Controls the game & makes all the plays. Kaeps athletic advantage will fade overtime as Wilson's mental edge grows.

- HTB (@HoldenTyler) March 25, 2014
November, 29, 2013
11/29/13
12:00
PM ET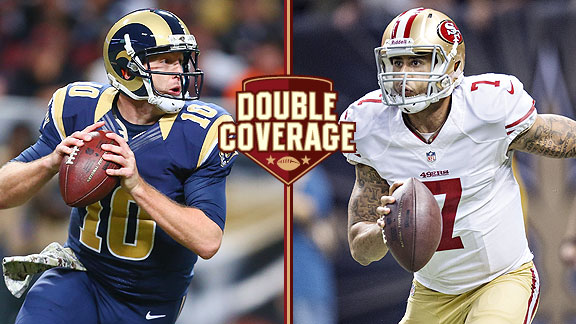 Getty ImagesKellen Clemens and Colin Kaepernick both know limiting mistakes will be key on Sunday.
The
San Francisco 49ers
had their way with the
St. Louis Rams
in Week 4, winning 35-11 on the road.
However, the 49ers aren't looking back at that game as much as they are recalling their 2012 series with St. Louis. The Rams beat the 49ers in St. Louis and the two teams tied in San Francisco last season.
ESPN.com St. Louis Rams reporter Nick Wagoner and 49ers reporter Bill Williamson discuss what to expect in this meeting.
Wagoner:
After destroying the Rams the first time out, the Niners seemed to get on a roll but have had some struggles, too. By this point in the season, do you have a good feel for who this team is?
Williamson:
I really don't see the 49ers as just a difficult-to-read team. They are a strong team. I know a lot was made of their recent two-game skid. But the 49ers lost to Carolina and New Orleans by a total of four points. The 49ers literally were one play away from winning both of those games. Yes, the 49ers are 7-4 and they are not perfect, but this is still an upper-level team. Nick, do you get the sense the Rams are confident going into this game?
Wagoner:
They have plenty of reasons to be after blowout wins against legitimate, albeit injured, playoff contenders in Indianapolis and Chicago. The Rams' first meeting with the Niners was something of a wake-up call for them and they have mostly been trending in a positive direction since despite some close losses along the way. They have discovered an offensive identity and the defense has been playing better. Although the Niners blew them out in the first meeting, the Rams also have fond memories of how they competed with them last year. I would expect them to go in believing fully they can win this game.
Receiver
Michael Crabtree
appears to be heading toward a return. Do you expect to see him on Sunday? How much has his absence hurt the team?
Williamson:
He is now active. Of course, the big question is if he will play Sunday. 49ers coach Jim Harbaugh has indicated Crabtree will play. I truly don't expect him to play much. He is still working his way back from a torn Achilles he suffered in May. He is not 100 percent. He should improve steadily, but it may be a mistake to think Crabtree will be ready to make a huge impact Sunday. But there is no doubt the 49ers miss him and need him back. Nick, do you think the Rams are preparing for a big dose of Crabtree?
Wagoner:
I think the Rams' primary concern as it pertains to Crabtree right now is making sure they have the healthy and productive bodies they need in the secondary. Cornerback
Trumaine Johnson
is dealing with a concussion and they recently placed
Cortland Finnegan
on injured reserve with an eye injury. The Rams have struggled with elite receivers this year so if Crabtree didn't play much, that would be a good thing for them, especially given the success
Anquan Boldin
had in the first meeting. The Rams are also working with rookie safety
T.J. McDonald
to knock the rust off after he returned from a broken leg suffered in the first game between the teams. The Rams have lots of questions in the secondary right now so every little bit helps.
Falling in line with that, how do you evaluate
Colin Kaepernick
's second season as a starter? Are the issues he's had common growing pains or are they things that will be difficult for him to improve as he moves forward?
Williamson:
There's no doubt Kaepernick has struggled some this season. But I think a lot of it has been a lack of receiving weapons. Kaepernick will be fine once he gets a full complement of receivers. He can make every throw and he plays well within the 49ers' system. The coaches are pleased and see limitless potential. But he does have to improve in reading defenses and working on his progressions. But, overall, he's far from a liability. Nick, the Rams' defense has been good; do you think it can cause Kaepernick into making enough mistakes for St. Louis to stay in this game?
Wagoner:
Well, that's precisely what they are going to have to do to stay in the game. The defense has played much better in recent weeks, I believe in no small part as a response to the loss of quarterback
Sam Bradford
, but also a more aggressive approach to defense in general. The defensive line is the strength of this team and it has been on fire here lately.
Robert Quinn
might be the best defensive player in the league and
Chris Long
is playing well opposite him. The key, though, will be for the good version of the Rams' unpredictable run defense to show up. They have been up and down but when they are good and they force opponents into third-and-long, the defensive line feasts. To me, it all starts there, then they can do their thing against Kaepernick.
November, 29, 2013
11/29/13
12:00
PM ET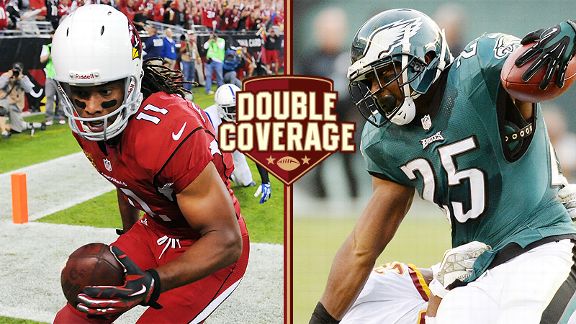 Getty ImagesLarry Fitzgerald and LeSean McCoy will look to keep their teams streaking on Sunday.
Bruce Arians and Chip Kelly come at their news jobs from very different places.
Kelly was the hot college head coach of the moment, hired by Eagles owner Jeffrey Lurie to replace the institution that was Andy Reid. Arians was a college head coach, too, at Temple back in the 1980s. He got his job with the
Arizona Cardinals
, though, based upon years as an often-overlooked NFL assistant.
And now here they are. Arians' Cardinals are 7-4 with a four-game winning streak, while Kelly's Eagles are 6-5 after a three-game winning streak. Their teams meet at Lincoln Financial Field Sunday in a game with major NFC playoff implications.
ESPN.com reporters Josh Weinfuss, who covers the Cardinals, and Phil Sheridan, who covers the Eagles, take a closer look at the matchup.
Phil Sheridan:
Bruce Arians is best known in Philadelphia as one of the rare coaches to survive a stint at Temple University. Nationally, he's known for winning the Coach of the Year Award after filling in for Chuck Pagano last year in Indianapolis. How has he conducted business and how much of this four-game winning streak results from that?
Josh Weinfuss:
I think all of it. Arians is the ultimate players coach and from everything I've heard about him from former players and current Cardinals who were with him in other places, he hasn't changed a bit. He'll tell the players like it is and if they can't handle it, they have to figure out a way to deal with it. He's not big on the sugarcoating, and the players appreciate it. As a head coach, he's taken a little bit from each of the coaches he worked for and put it into play in Arizona. He's learned how to delegate and put together a staff that complements him very well. On top of it all, he's an offensive genius who stayed patient with this team while they learned his scheme, and it's paying off.
On the topic of schemes, is Kelly's high-octane offense here to stay or will he need to adapt as the season progresses?
Sheridan:
Probably a little of both. Kelly already has adjusted to some degree. The foundation of his approach seems to be figuring out how a defense is designed to stop his offense and then exploiting whatever weaknesses and mismatches created by that design. When teams played man coverage and pressed to eliminate his bubble screens, Kelly shrugged and started throwing deep. When the Giants and Cowboys found a weakness in his run-blocking scheme, Kelly adjusted and got
LeSean McCoy
back on track. Kelly seems to enjoy the cat-and-mouse game with opposing coaches. That said, the foundations of what he does -- creating mismatches and exploiting weaknesses -- are as old as football. He just has some intriguing ways of getting there.
While we're on that side of the ball, how has Todd Bowles been able to win the hearts and minds of a defense that thrived under former coordinator Ray Horton? And how important is having
Karlos Dansby
back in the fold?
Weinfuss:
Bowles made one minor change up front and he's been the glimmer in the defensive line's eyes ever since. He went from a multi-gap system to a one-gap scheme, which has taken out the thinking from football. Now, the Cardinals front line can just rear back and go, and the changes are obvious.
Darnell Dockett
is having his best season in a while,
Calais Campbell
has emerged as one of the toughest defensive ends in the league and nose tackle
Dan Williams
has plugged the holes in the middle, forcing plays out to the edges -- and right into the hands of guys like
John Abraham
,
Matt Shaughnessy
,
Daryl Washington
and, of course, Dansby. He's playing at the lowest weight of his career and he's been able to fly around, going from sideline to sideline with relative ease for a guy who's been in this league for 10 years. While everything for the Cardinals' defense starts up front, each level has been benefiting from the line's presence.
Let's stay on defense. The Eagles have the worst pass defense in the league. How can they muster enough plays to slow the Cardinals' recently high-flying passing game under
Carson Palmer
?
Sheridan:
Josh, that could be the question that determines the outcome of this game. The only answer I have is that, somehow, that's just what the Eagles' defense has been doing in the seven games since
Peyton Manning
hung 52 points on them. They give up a lot of yards, but they haven't given up more than 21 points in a game since then. They've been good in the red zone and have started generating pressure and, in turn, turnovers. Palmer provides a very good measuring stick. The Eagles have thrived against the
Mike Glennon
s and
Scott Tolzien
s of the world, although in fairness they played well against
Eli Manning
and
Tony Romo
, too. But Palmer and that
Larry Fitzgerald
fellow definitely represent the kind of test the Eagles must pass before being considered a good defense.
Speaking of Palmer, the NFC Offensive Player of the Week, there seems to be a Kurt Warner vibe at work here -- veteran guy getting one more shot to prove he still has it. Warner did -- does Palmer? What's the ceiling on the offense with him at the helm?
Weinfuss:
All the evidence from the past four games points to yes -- Palmer does have a Warner-esque resurgence in him, but that's only because the Cardinals' offense is finally working. If it was still struggling, we'd be talking about Palmer being replaced either now or after the season. Crazy how that works. Palmer is the perfect quarterback for a Bruce Arians scheme. He has a big arm and can make throws on a dime. And those two things will carry this offense as far as it can until Palmer makes bad decisions. Even though the bad decisions have been cut down during the Cards' four-game winning streak, it would be na´ve of anybody to think they're totally done with. Arizona is just getting lucky. Twice against the Colts, Palmer had probable interceptions dropped, and against Jacksonville two weeks ago, a well-timed timeout by Arians saved Palmer from a potentially costly interception. If Palmer can take chances without making ill-advised throws, the ceiling is quite high, especially with the depth at receiver, tight end and running back.
A lot of University of Arizona fans out this way are loving the fact that
Nick Foles
is starting and playing well. Is he Mr. Right for the Eagles in Kelly's offense or Mr. Right Now?
Sheridan:
That's the question that will haunt the Eagles through the offseason. Foles has had some of the luck you described Palmer having. That seven-touchdown game against Oakland was partly the product of some of the worst defensive football I've ever seen (and I watched
Nnamdi Asomugha
jog through two years here). But Foles is smart, he's accurate and you can see him gaining confidence and comfort with every game. Clearly, he is not the quarterback Chip Kelly would order from the factory. But as he continues having success and winning games, you have to wonder how far Kelly is willing to tailor his offense to Foles for the long haul. It's the decision that will define the Kelly era, at least for the next few years. My gut says Foles is a good NFL quarterback, but Kelly will make a move to find his guy at the earliest possible convenience. If Foles keeps this up, though, my gut might be proven wrong.
November, 29, 2013
11/29/13
12:00
PM ET
For a Monday night game in early December, this is as good as it gets. The 10-1
Seattle Seahawks
play host to the 9-2
New Orleans Saints
in a game that could decide home-field advantage for the NFC playoffs.
The last time these teams faced each other was in a playoff game following the 2010 season, which Seattle won 41-36.
Drew Brees
passed for 404 yards and two touchdowns for the Saints, and
Marshawn Lynch
rushed for 131 yards, including the legendary 67-yard "Beast Quake" touchdown run in the fourth quarter for the Seahawks.
If this game is anything like that one, it will be one heck of a show.
The Seahawks will have to try to stop Brees with a reworked secondary after a week in which two Seattle cornerbacks (
Walter Thurmond
and
Brandon Browner
) ran afoul of the NFL's substance-abuse policy. Thurmond was replacing Browner as a starter due to Browner's groin injury.
The whole suspensions issue put a damper on a big week. Now everyone will see whether the Seahawks can overcome it or whether Brees will make them pay.
ESPN.com Seahawks reporter Terry Blount and Saints reporter Mike Triplett look at the key issues entering the game:
Blount:
Mike, this is a great matchup between the veteran Brees and a young quarterback who idolized him in
Russell Wilson
. Wilson always saw Brees as someone he could emulate, a player who, like him, wasn't tall but had a great arm and great leadership qualities. As someone who sees Brees every week, how do you compare them?
Triplett:
I don't know that much about Wilson, but I certainly see why he would choose Brees to emulate. It's remarkable how Brees, at just 6-foot, has been able to not only succeed in the NFL but truly dominate. It would take me too long to rattle off all the reasons why Brees is so successful. For one thing, he's as competitive and driven as any athlete I've ever been around. That shows in his work ethic both in the offseason and during the season. He also sees the field (through passing lanes since he can't peek over the top) and anticipates things about as well as any quarterback who has ever played the game. He's not as mobile as Wilson, but he's elusive in the pocket and avoids sacks. I'd say both guys are proof that those intangible qualities count for a lot in the NFL, even if you don't have prototypical size.
I haven't seen the Seahawks' offense light up scoreboards in the few games on national TV this season, especially early in games. Can Wilson keep pace if the Saints are able to put points on the board?
Blount:
Most of the time, he hasn't needed to because the defense has played so well. However, after watching him now for two seasons and seeing his growth, I believe Wilson is capable of doing whatever he needs to do to win football games. He has proven it over and over. Three times this season he has led the team to a fourth-quarter comeback, and he's done it seven times in his brief NFL career. Wilson never is going to be the type of guy, like Brees, who puts up huge passing numbers. That's not what they want him to do in an offense that wants to run the football with Lynch. But Wilson has demonstrated he can adjust the game plan to fit the needs of the moment. Frankly, he is one of the best I've ever seen at finding a way to win.
The Seahawks have a lot of weapons on offense, and now have added
Percy Harvin
to the mix. Obviously, Rob Ryan has a done a good job in getting New Orleans' defense back on track. How do you see him approaching this game against Seattle's power running game with Lynch and a mobile quarterback in Wilson?
Triplett:
I know this: Ryan will definitely have a plan. He is one of the league's most innovative game-planners. Former player Scott Fujita described him as a "mad scientist." We saw that quality more than ever two weeks ago when the Saints played the
San Francisco 49ers
. Ryan unveiled two new packages for that game, including a five-linebacker formation to corral the 49ers' run game and the threat of the read-option. We may see the same thing this week, or maybe a new wrinkle since he likes to be unpredictable. I know the Saints' defensive players will be amped to prove they're just as good as the more-hyped Seahawks defense. Ends
Cameron Jordan
and
Akiem Hicks
, outside linebacker
Junior Galette
and cornerback
Keenan Lewis
are having breakout years, in particular.
Seattle's defense has obviously been outstanding this year as well. How do you think they'll hold up against the Saints' versatile offense? Who might match up against tight end
Jimmy Graham
and running back/receiver threats
Darren Sproles
and
Pierre Thomas
, among others?
Blount:
The first thing to watch is how the backups in the secondary handle going against a wily veteran like Brees. No doubt he's going to test
Byron Maxwell
and
Jeremy Lane
. And Graham is a major concern. The Seahawks have struggled at times this season against tight ends. In this case, they might have cornerback
Richard Sherman
shadow Graham as much as possible. And this is a big test for strong safety
Kam Chancellor
. The key for the Seahawks is the defensive line, much improved over last year, getting to Brees and taking some of the pressure off the depleted secondary.
Mike, if you had to name one area in which the Saints must outplay the Seahawks in order to win the game, what would you pick?
Triplett:
Easy one: turnovers. I know you could say that about every team in every game. But it's especially huge in this matchup. For one, the Seahawks lead the NFL with 26 takeaways. I imagine that's why they're second in the NFL in points scored (27.8 per game) even though they don't have a prolific offense. The Saints need to set the pace in this game and try to force Seattle to keep up with their offense. They can't afford to give away any freebies or short fields. And based on what we've seen from the Saints this season, I think they can do that. Their run game started slowly but has improved. And they showed a patient offensive approach in a Week 5 victory at Chicago and in their last two wins against San Francisco and Atlanta. The Saints have turned the ball over just 13 times, and they lead the league in average time of possession.
Terry, how do you think the Seahawks will handle this game if they don't set the tone? To be honest, I expected a bit of a sophomore slump from Wilson and the Seahawks, since we see it so often in the NFL. Why have they been able to avoid that? And do you think there's any risk of the pressure affecting them in a game of this magnitude?
Blount:
None whatsoever, Mike. In fact, Wilson thrives on games like this. He is at his best when things seem their worst, along with playing at a high level in the most difficult situations and the high-pressure games. That character trait is what makes Wilson such an exceptional athlete. He never gets rattled. Seattle fullback
Michael Robinson
said Wilson has the one trait all great quarterbacks need: "A short memory."