NFC West:

2013 NFL Week 9 Double Coverage
November, 1, 2013
11/01/13
12:00
PM ET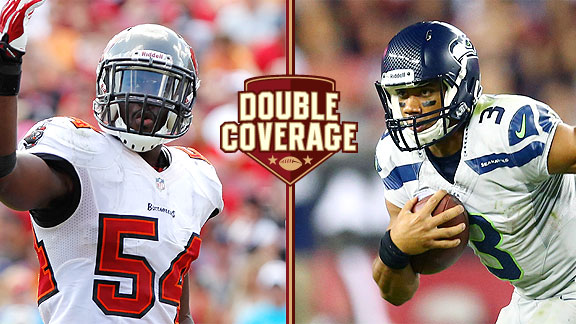 USA Today SportsThe key for Lavonte David and the Bucs is to try to pressure Russell Wilson and to attack a line that gave up seven sacks on Monday.
Despite getting outplayed in almost every statistical category Monday night at St. Louis, the
Seattle Seahawks
defeated the Rams 14-9 and reached the midpoint of the season at 7-1 after a rough stretch of four road games in five weeks.
Now Seattle returns to CenturyLink Field against the winless
Tampa Bay Buccaneers
, hoping to win at home for the 12
th
consecutive time. It looks like a mismatch, but so did the Rams game.
The Seahawks still have backups starting at both offensive tackle spots and now are missing receiver
Sidney Rice
, who tore an ACL on Monday night. Rice is in the last year of his contract with the team and probably has played his last game with Seattle.
Receiver
Percy Harvin
should return soon after undergoing hip surgery three months ago, but it probably won't be this weekend. Nevertheless, the Seahawks should win this game.
Blount:
Pat, a lot of people thought the Bucs would have a new head coach by the time the team got to Seattle, but Greg Schiano is hanging on. If Tampa Bay comes here and loses by a big margin, is that the end for him?
Yasinskas:
Terry, I've been pointing to the Seattle game for several weeks as a possible end for Schiano. I think he's still employed in large part because the Bucs are putting forth an effort. But I could see that changing on a long road trip against a good team and in a hostile environment. The interim route rarely works out well. But if this team lies down in Seattle, I can see ownership pulling the plug on Schiano.
Aside from the loss to Indianapolis, Seattle seems to have been nearly perfect. But there's no such thing as perfect in the NFL. What are the Seahawks' biggest weaknesses?
Blount:
Without question, it's the offensive line. It's not just weak right now. It's awful. Obviously, missing
Russell Okung
and
Breno Giacomini
is a big part of it, but having to go with backups at the tackle spots is not the only issue. Neither starting guard has played well, and center
Max Unger
, who had an arm injury earlier this season, hasn't played up to his Pro Bowl level of last year. It will improve when Okung and Giacomini get back in a few weeks, which will enable the Seahawks to move
Paul McQuistan
back to one of the guard spots instead of being out of position at left tackle. But it has to improve dramatically if Seattle hopes to live up to the Super Bowl expectations.
Pat, speaking of the Seattle line, it's obvious right now that the way to stop the Seattle offense is to load the box and blitz like crazy against the backup tackles, along with the rest of the offensive line that hasn't played well.
Russell Wilson
didn't have time to breathe at St. Louis. Do you see this as Tampa Bay's strategy on Sunday?
Yasinskas:
I think the Bucs will try a similar approach, but I'm not sure they'll have as much success as St. Louis did. The defensive line hasn't been generating much of a pass rush. Linebackers
Lavonte David
and
Mason Foster
have been effective as blitzers, and I think you'll see the Bucs use them as pass-rushers.
Terry, how much does losing Rice hurt the receiving corps?
Blount:
When Harvin gets on the field, assuming he's healthy, the Seahawks won't miss Rice. In fact, they'll be much better with Harvin's speed and versatility. Rice never has lived up to expectations here. He hasn't played nearly as well this season as receivers
Golden Tate
and
Doug Baldwin
. But if Harvin still isn't ready to come back, it hurts Seattle's depth at the receiver spot and enables any defense to use more double coverage on Tate and/or Baldwin. But this also could be an opportunity for
Jermaine Kearse
to shine. He's been a big surprise this season in limited play.
Pat, obviously, the Bucs aren't going anywhere this season. They spent a ton of money to bring in some top players on defense like
Darrelle Revis
and
Dashon Goldson
. What do you see as the team's goal for the rest of the season, and what do the Bucs hope to accomplish going forward in 2013?
Yasinskas:
It's been a hugely disappointing year for a team with eight players on the roster who have been to the Pro Bowl. This team's struggles aren't entirely due to a lack of talent. Schiano prides himself on being a disciplinarian, but this team has struggled with mental mistakes and penalties. The thinking is that playing smarter will translate into some wins. But those might be coming too late to save Schiano's job. There is a segment of the fan base that wouldn't mind seeing the Bucs go winless so that they get the first overall pick in the 2014 draft.
Terry, the Seahawks are third in the league in pass defense, and we've heard a lot about their secondary. Is rookie quarterback
Mike Glennon
walking into the ultimate ambush?
Blount:
That's what everyone thought Monday night for Rams backup quarterback
Kellen Clemens
, but he played pretty well most of the game. Clemens made two overthrows that became interceptions but came within one goal-line play of upsetting the Seahawks at the end of the game. The Seahawks do a great job of mixing things up and disguising coverages, but they do take chances to come up with turnovers. If Glennon doesn't recognize things quickly, they will make him pay.
October, 31, 2013
10/31/13
12:00
PM ET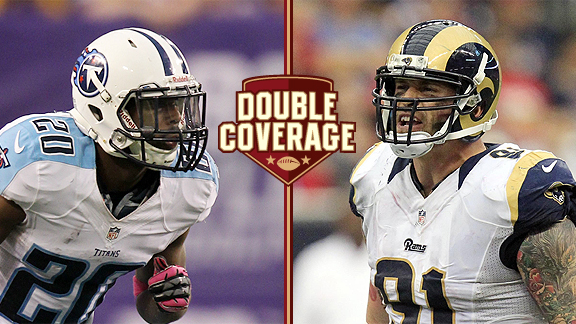 USA TODAY SportsTitans CB Alterraun Verner and Rams DE Chris Long are two of the league's best at their positions.
.
Any time the
St. Louis Rams
and
Tennessee Titans
meet, memories of Super Bowl XXXIV are sure to come to the fore. In one of the greatest Super Bowl finishes of all time, the Rams emerged with their lone championship during their time in St. Louis.
A lot has changed since, but neither team has managed to get back to the promised land and it seems like a long shot either will this season. This week, the Rams and Titans renew acquaintances at the Edward Jones Dome in St. Louis. ESPN.com Rams reporter Nick Wagoner and Titans reporter Paul Kuharsky discuss some things worth watching, including an interesting role reversal for one of the key figures in that Super Bowl.
Wagoner:
Well, it's pretty obvious what the big story is going to be this week. Jeff Fisher is facing his former team for the first time since taking over as the coach in St. Louis. As is to be expected, Fisher is downplaying that whole angle, but you were around him a lot in his years in Nashville. Do you expect Fisher to have a little something extra for his old team this week?
Kuharsky:
It would be so much better if it were in Nashville. Then we'd have the crowd reaction as a part of it, too. Still, it's intriguing. He will definitely have something (or some things) drawn up that he feels will uniquely exploit the schemes and styles of his former underlings Mike Munchak, Jerry Gray and Gregg Williams. If those things work, I'd expect Fisher will then talk about how one of his assistants who was once in Tennessee -- Chuck Cecil, Dave McGinnis or even Ray Sherman -- was instrumental in the design. Fisher didn't leave with hard feelings, and I believe he wishes the organization well. Still, any proud former employee in this sort of circumstance wants to outperform the former employer. He's talked about it meaning more for the guys on the roster who were once Titans.
Jared Cook
had a monster opening day but has been quiet since.
Cortland Finnegan
missed some time hurt. What's the status of those guys?
Wagoner:
Cook has really struggled dealing with teams giving him more attention and, more specifically, being physical with him at the line of scrimmage and downfield. He stopped on a route last week against Seattle, and it resulted in an interception. The Rams have gone back to more of a power running scheme that has also limited his snaps because he doesn't bring much to the table as a blocker. Finnegan won't say it, but I believe he was banged up at the beginning of the season; his first four games were downright brutal. He returned last week against Seattle, and for now he's working exclusively in the nickel as the team's third corner rather than just bumping inside in those situations. Given that he's only a little more than a year into a monster contract, it's hard to categorize him as anything but a disappointment for the price.
A lot will be made of the Fisher-Tennessee connection, but I'm more intrigued by the Gregg Williams situation. The way things went down with him and the Rams, and between Williams' son Blake and the Rams, had to have created some tension on all sides. What has Williams' impact been down there in Tennessee, and what exactly is his role?
Kuharsky:
By title, he's senior assistant/defense. In practice, he's not-quite defensive coordinator. Gray is still calling the plays, but Williams' influence is undeniable. This defense had no personality or attitude last season. Now it's the backbone of the team. It mixes it up and disguises its looks up front, it blitzes more often and it plays far more man-to-man.
Bernard Pollard
has been a great fit who has talked with swagger and backed it up. Some guys most people have never heard of -- defensive end
Ropati Pitoitua
and middle linebacker
Moise Fokou
-- have been very good additions. Williams certainly had a say in bringing those guys in. He has stayed in the background and seems comfortable there. I would imagine he and Gray are excited to put together a plan to make
Kellen Clemens
uncomfortable.
How do you think Clemens will respond in his second start since
Sam Bradford
went down?
Wagoner:
To paraphrase one of the great philosophers of our time, Mr. Dennis Green, Clemens proved last week against Seattle that he is what we thought he was. He's a tough, gritty, consummate professional who can occasionally extend plays with his legs and make something happen. He's also consistently inaccurate, a bit indecisive and has a knack for costly turnovers (though his two interceptions Monday night weren't completely his fault). Another week to work with the starters should help, but he was a bit sore after Monday night's game against Seattle. The Rams don't need him to throw for 300 yards and five touchdowns, but they do need him to convert in the red zone and not turn the ball over.
There are something like 16 players from the Fisher era remaining in Tennessee, one of whom is running back
Chris Johnson
. The Rams have been better defending the run the past two weeks, but they need to prove they can keep doing it. It appears Johnson has struggled after the team made efforts to help him in the offseason. What's going on with Johnson, and is he (and the Titans' offensive line) capable of taking advantage of the Rams' run defense?
Kuharsky:
The Titans are built on a philosophy of throwing it when they want to, not when they have to. That's a mistake because the revamped line and Johnson are not equipped to run it they way they think they can. Jets fans get a kick out of this, but to a large degree the Titans' hope things will get better comes from
Shonn Greene
. The bigger back was brought in as a compliment to CJ, but he got hurt in the opener and made it back only the week before the bye; he has hardly played. They need him to emerge and contribute. Based on current numbers, the Rams are the third-softest run defense the Titans will have seen this season. If they can't run Sunday, it will really speak to their issues.
Chris Long
and
Robert Quinn
looked really good against Seattle. Have they been giving everyone problems like that?
Wagoner:
Quinn certainly has. Through the first half of the season, he's really starting to realize his immense potential. I believe he's the Rams' best player right now, and have felt that way since the beginning of the season. He's an athletic freak who gives slower tackles problems. He feasts on inferior players, but he can get it done against good tackles as well. Long was banged up earlier in the season but has battled through it and is starting to find his stride. Given the situation on offense right now, the Rams need this duo to take over games on a regular basis and set the tone for a defense that, before last week, had largely disappointed this season.
.