NFC West:

2013 preseason reaction Week 2
August, 18, 2013
8/18/13
12:33
AM ET
Looking back on three things discussed here before the Seattle Seahawks' second exhibition game of the 2013 preseason, a 40-10 victory at home against the Denver Broncos on Saturday night:

1. The starting QBs.
Peyton Manning
and
Russell Wilson
combined to complete 19 of 28 passes for 290 yards with three touchdowns, no interceptions and one sack. Manning took a hard hit from Seahawks linebacker
Bobby Wagner
and was slow to rise following the play, but he finished that drive with a touchdown pass to
Wes Welker
and played extensively thereafter. Wilson's perfectly delivered 33-yard sideline strike to
Golden Tate
against
Champ Bailey
was a highlight for Seattle. Both quarterbacks impressed and both played extensively, one reason this game felt more intense than the typical preseason matchup.
2. No-huddle defense.
The Seahawks forced a three-and-out on the Broncos' first possession, but Manning had little trouble directing Denver's offense from that point forward.
Ronnie Hillman
's fumble near the goal line killed one drive after 14 plays and 79 yards. The Broncos lost two fumbles on their first four possessions. Seattle's defense gets some credit for that, but not for handling the Broncos' fast-paced offense.
3. Winfield factor.
The Seahawks sought to upgrade their nickel defense when they signed slot corner
Antoine Winfield
in free agency. Winfield was the nearest defender when Manning completed an 11-yard touchdown pass to Welker, but it wasn't clear to me whether Winfield had the coverage exclusively or if he was passing off Welker to another defender. Either way, Welker scored from the slot on the play. While with New England last season, Welker caught 10 passes for 138 yards and a touchdown against Seattle.
Note:
I filed this in the third quarter because there was nothing more to see in relation to these three areas of interest.
August, 18, 2013
8/18/13
12:20
AM ET
ST. LOUIS -- For the second consecutive week, the Rams participated in a sloppy preseason game and walked out with a loss.
This time it was a
19-7 decision to Green Bay
on Saturday night.
Some quick hits and reaction from Saturday night's game:

Quarterback
Sam Bradford
was sharp again but missed chances in the red zone clouded that performance a bit. Bradford finished 8-of-12 for 155 yards with no touchdowns or interceptions and a rating of 109.7. That effort included a picture-perfect strike to receiver
Chris Givens
for a gain of 57 yards. But that work was partially forgotten as the Rams failed to finish the drive with a touchdown after Bradford missed a wide-open
Tavon Austin
in the flat for a would-be score and fumbled the snap on fourth-and-goal at the 1.
Clearly, the Rams would like to put some points on the board, namely in the form of touchdowns. On the bright side, they did create some big plays with the completion to Givens and a 37-yard strike to tight end
Jared Cook
. Those big plays have Bradford excited about the offense's potential.
Tackling was again an issue for the Rams. The hope is that the preseason provides enough opportunities for any tackling rust to get knocked off but there wasn't much progress from Week 1 to 2 in that regard. On Green Bay's first two offensive plays, the Rams had safety
Darian Stewart
and defensive tackle
Michael Brockers
miss tackles. Cornerback
Trumaine Johnson
later got in on the act with two whiffs of his own. The Rams took extra time in practice to work on tackling at "thud" tempo when they had the pads on last week and may have to do so again this week.
Running back
Isaiah Pead
got an extended look, starting the game but also playing into the third quarter. He had some good moments and ball security was not an issue on any of his 12 touches. Running room was hard to come by but Pead was strong in pass protection.
Speaking of the running game and a lack of room to run, the offensive line struggled to get much push at all. While that group did fine in pass protection, there was nowhere for Pead or any of the backs to run with the first group.
Rookie starting linebacker
Alec Ogletree
stayed in the game longer than the rest of the defensive starters and, at first glance, made some strides from last week. He was more reliable tackling and seemed to be better with communication and in his assignments. The Packers did gash the Rams with the tight end in the passing game, an area where Ogletree is supposed to be an asset.
Austin was far more involved this week as Bradford targeted him seven times. Austin came up with four catches for 28 yards and should have had a touchdown. Austin flashed some of the speed and agility that he's shown regularly on the practice field but also spent a bit too long looking to make a move and not running. You don't want him to change his game too much but it's going to be harder for him at this level to take the circuitous routes he sometimes took to the end zone in college.
With Pead taking most of the snaps, presumptive leading running back
Daryl Richardson
didn't get much work. When he came in, he did make a nice catch on a wheel route for a gain of 24 yards. It was a good sign for Richardson, who had a couple of drops last week in Cleveland.
The preseason is usually a time for abundant penalties and the Rams again proved that to be true. They were flagged nine times for 52 yards. That was an area coach Jeff Fisher wanted to see cleaned up after last week but he didn't get his wish. Of particular concern should be the continued illegal formation flags the Rams have drawn. Although only one of those penalties was accepted, the Rams had three flags thrown for that violation.
Competition for the backup quarterback job appears to be gaining little to no clarity.
Kellen Clemens
got the first chance to work with the second team offense and struggled mightily.
Austin Davis
came on in the fourth quarter and was a bit better, getting the Rams on the board with a touchdown pass to
Nick Johnson
.
Looking for a name of a little known player or undrafted rookie who seemed to be pretty active and make a strong impression? Defensive end
Gerald Rivers
got a lot of playing time in the absence of backup
Eugene Sims
and generated fairly consistent pressure in his opportunities. Linebacker
Ray-Ray Armstrong
was also active.
Perhaps most important, the Rams made it out of the game without any serious injuries. The Rams removed Stewart from the lineup as a precaution for some hamstring tightness.
August, 17, 2013
8/17/13
11:39
PM ET
ST. LOUIS -- Looking back on five things discussed
here
before the Rams' second exhibition game of the 2013 preseason, a
19-7 loss
to the
Green Bay Packers
at the Edward Jones Dome.
1.Right tackle redux
. As expected
Joe Barksdale
got the start in place of the injured
Rodger Saffold
at right tackle. Barksdale really didn't do anything notable but that's a good thing given his position. He was solid in pass protection as quarterback
Sam Bradford
was not sacked or hit.
The Rams would probably like to get more out of Barksdale and the entire offensive line in the run game, though. When the starting line was on the field, the Rams generated 15 yards on 11 carries and running back
Isaiah Pead
gained 11 of those yards on his first attempt.
Behind Barksdale, the Rams went with
Brandon Washington
with the second unit. Washington had played guard almost exclusively in his time with the Rams before getting reps at right tackle this week in practice.
Chris Williams
got some work at right tackle to open the third quarter and allowed a sack.
[+] Enlarge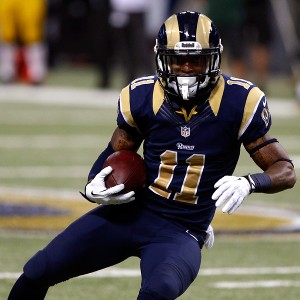 AP Photo/Seth PerlmanTavon Austin saw more action in his second preseason game, catching four of seven targets.
2. Spread it around.
Despite plenty of excitement about the debuts of pass-catching weapons
Tavon Austin
and
Jared Cook
, that duo barely got any opportunities in the opener last week against Cleveland. Bradford targeted Austin once against the Browns and Cook did not factor at all.
That changed a bit Saturday night, as the Rams looked in Austin's direction a lot. He finished with four catches for 28 yards on seven targets. Cook got his first target in a game as a Ram and cashed it in for a 37-yard catch and run.
Austin, Cook and
Chris Givens
were the only receivers targeted by Bradford, who also threw to running backs Pead and
Daryl Richardson
.
3. Going deeper.
Rams coach Jeff Fisher wanted to give some of his younger players down on the depth chart an opportunity to play with the first-team offense and followed through on that on both sides of the ball.
Pead was the primary example of that as he started in place of Richardson and got the bulk of the work with the starters. He carried nine times for 14 yards and added a catch for 10 yards in his time with the first group.
There wasn't much room to run for Pead or any of the backs but he did solid work in pass protection.
Elsewhere,
Shelley Smith
started at left guard as he and Williams continue to rotate in competition for that job.
Rodney McLeod
got work with the first-team defense at safety and, with backup end
Eugene Sims
a pregame scratch, undrafted rookie
Gerald Rivers
got some chances as well.
4. Looking at linebackers.
As expected, veteran
Will Witherspoon
got the start at outside linebacker instead of
Jo-Lonn Dunbar
. Although Dunbar is eligible to play and came in with the second unit, getting the first group in sync before the regular season takes priority.
Rookie starter
Alec Ogletree
fared better than he did in Week 1, posting four tackles in unofficial statistics. He played longer than the rest of the starters, playing the entire first half.
Undrafted rookie
Ray-Ray Armstrong
got to work with the second unit in the continued absence of
Jabara Williams
, who was a pregame scratch. Fellow rookie
Jonathan Stewart
came up with a live ball recovery after a punt return miscue.
5. Corner three.
Although it may not be a full-blown competition for the nickel cornerback job between
Trumaine Johnson
and rookie
Brandon McGee
, Johnson didn't distance himself from McGee with his performance Saturday night.
Johnson came in as the third corner, a position he'd held almost exclusively until recently in practice. McGee got some reps with the first-team defense as the third corner in a couple of practices this week and could get more after Johnson whiffed on a couple of tackles in the open field.
Johnson did finish with four tackles but it probably wasn't the type of performance he hoped to have to ensure that he stays in his role.
McGee was relatively nondescript in his limited work with the second defense.
August, 17, 2013
8/17/13
8:52
PM ET
Looking back on three things discussed here before the Arizona Cardinals' second exhibition game of the 2013 preseason, a 12-7 victory over the Dallas Cowboys at University of Phoenix Stadium:

1. Bo Jackson or Deion Sanders
. Pregame comparisons between Arizona cornerback
Patrick Peterson
and those two sporting legends could not be fulfilled all in one meaningless game, of course. The Cardinals did work Peterson into their offense as a regular receiver, not as a gimmick player or within a trick-play context. That is the expectation for Peterson this season. Peterson gained 6 yards on a backwards pass (officially a rushing attempt). The Cardinals' failure to produce in the red zone will give them something to focus on beyond whatever role Peterson might play as a receiver.
2. Rookie free safety.
Third-round choice
Tyrann Mathieu
started at free safety and played three quarters without making the obvious impact plays the Cardinals expect him to provide as his career progresses. That doesn't mean much in the bigger picture. Mathieu is just getting started and it's tough to know whether a safety was correct in his assignments. We're left to watch for standout plays. Mathieu did lead the team in tackles with seven, no surprise given how deep into the game he played. Mathieu lost 3 yards on a punt return after making a questionable decision to return the ball.
3. The home crowd.
This was Bruce Arians' University of Phoenix Stadium debut as the Cardinals' head coach. His team collected six turnovers and won, but as an offensive-minded head coach, Arians will want his offense to produce better results regardless of venue. The Cardinals are home Aug. 24 against the
San Diego Chargers
. That game will feature Arians' offense and a Chargers offense coordinated by Arians' predecessor in Arizona, Ken Whisenhunt. That game might be better for monitoring crowd reaction.
August, 16, 2013
8/16/13
10:33
PM ET
Looking back on three things discussed here before the San Francisco 49ers' 15-13 exhibition victory Friday night against the Kansas City Chiefs at Arrowhead Stadium:

1. QB comparison.
There wasn't much to compare because these teams took vastly different approaches to the game. The 49ers removed quarterback
Colin Kaepernick
after one series. The drive started with
Frank Gore
breaking a 52-yard run. It ended with a field goal after Kaepernick overshot receiver
Chad Hall
for what should have been a touchdown. That was it for Kaepernick. Four plays, three points, two pass attempts, one completion and zero basis for meaningful analysis. Former 49ers starter
Alex Smith
played the full first half for the Chiefs and struggled, even against the 49ers' backups. At least three dropped passes hurt his cause. Smith completed 7-of-16 attempts for 62 yards, or 3.9 yards per attempt. The 49ers sent blitzes after Smith and roughed him up a few times, including when
Tony Jerod-Eddie
leveled his former teammate with a helmet-to-helmet hit.
2. Jenkins and WRs.
Second-year receiver
A.J. Jenkins
was slow to gain traction for a second week in a row. Super-sized Chiefs corner
Sean Smith
roughed up Jenkins to break up one early pass. Smith also picked off a pass intended for Jenkins. It appeared as though quarterback
Colt McCoy
might have been expecting Jenkins to break off his route against pressure. Whatever the case, McCoy threw to one spot while Jenkins was continuing up the field. Jenkins did a good job reacting to trip up Smith, preventing a potential touchdown return. Jenkins also provided a block to help McCoy pick up a first down. All in all, however, Smith and the Chiefs' starting secondary smothered Jenkins throughout the first half. Jenkins did make a 21-yard reception against the Chiefs' backups early in the third quarter, but a holding penalty against offensive lineman
Daniel Kilgore
negated the play.
3. Rookie outside linebacker.
Third-round choice
Corey Lemonier
got to Alex Smith with a strong inside rush against Chiefs rookie tackle
Eric Fisher
. I went into the game focused on Lemonier, but second-year inside linebacker
Michael Wilhoite
was the defensive star for San Francisco in the first half. He stopped running back
Cyrus Gray
for a 1-yard gain. He broke up a pass to
Dwayne Bowe
in the red zone. Wilhoite also made a tackle for a 4-yard loss on a punt return. The 49ers appear to have found a promising young backup for their all-world inside linebackers.
Note:
I'm filing this after the third quarter because we're deep enough into the game for the key analysis to stand. I'll update if necessary.

NFC WEST SCOREBOARD
Friday, 8/22
Saturday, 8/23
Sunday, 8/24